Many of us have a habit of making a to-do list before starting our day. It helps us in planning and completing our daily tasks ahead of time. What if I tell you that this habit is also helpful in online streaming? Moreover, many streaming platforms are availing of such features too. This feature is a blessing for sports fans as they track their team's matches in advance. Furthermore, when it comes to sports, we all have a soft spot for FuboTV.
The platform is a wonderland for sports fans and is home to all major leagues. In addition, it also provides a My Stuff feature, which allows subscribers to add their upcoming games in a separate section. Today, we'll learn more about this feature in this guide.
Besides this epic feature, FuboTV also covers a wide range of devices. In fact, users can enjoy the platform on their Xbox One. If this intrigues you, then check out our streaming guide over here. Now without any further ado, let's get started with our guide down below.
Is "My Stuff" essential on FuboTV?
There are some features on every platform that may not seem essential but are very helpful. My Stuff comes under this range of features as it helps to sort out our favorite shows, upcoming sports events, etc., from an extensive library. Moreover, people who share their accounts with family and friends can save titles in this section without worrying about mix-ups.
Now let's quickly see how to use this feature in the next section of this article.
Steps to add titles to FuboTV's My Stuff
Today, we can use FuboTV through its application and official site. Let's look at the process for both of them:
For FuboTV application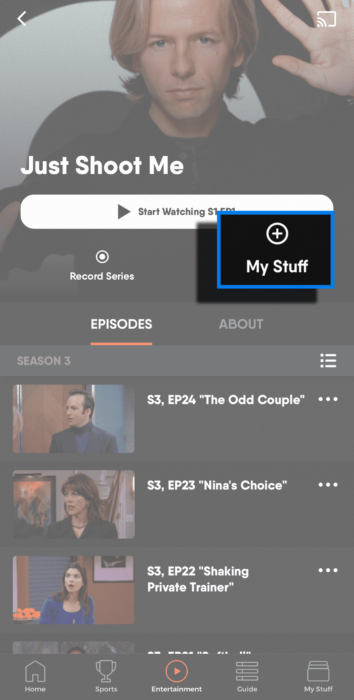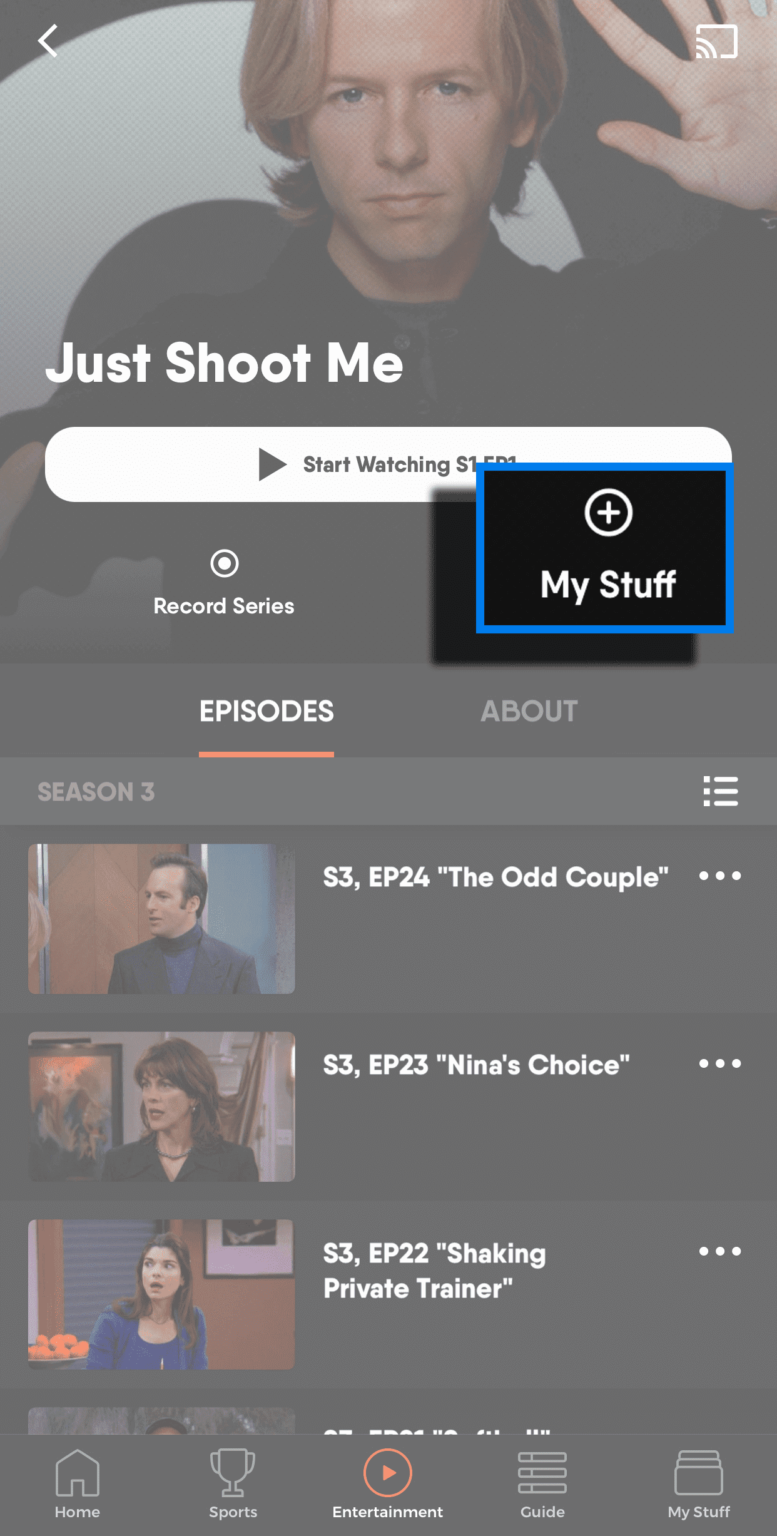 1. Install the FuboTV app on your device and log in with your credentials.
2. Now select the title you want to watch on the platform.
3. Finally, tap "My Stuff" to add it to your personalized list.
For FuboTV website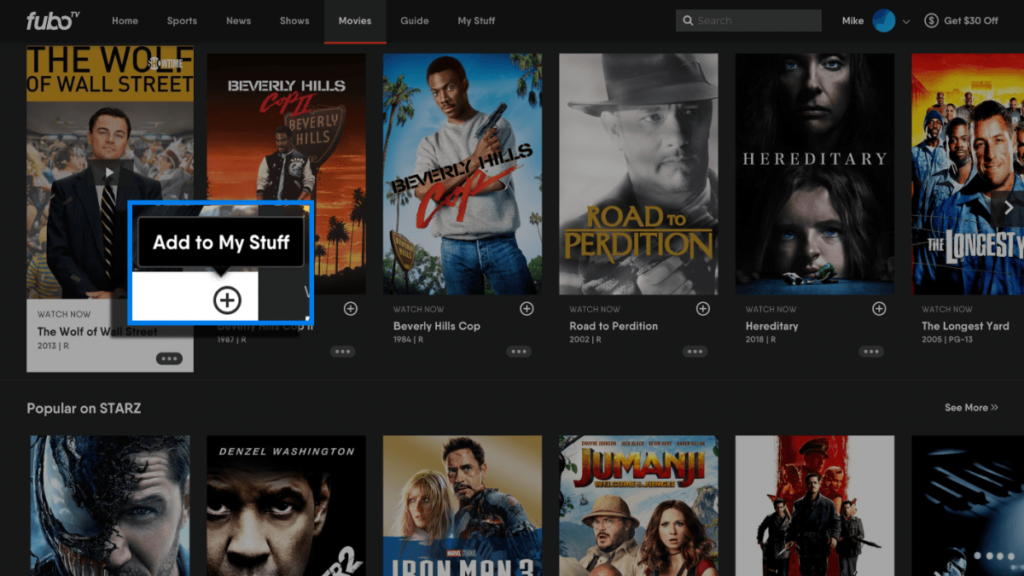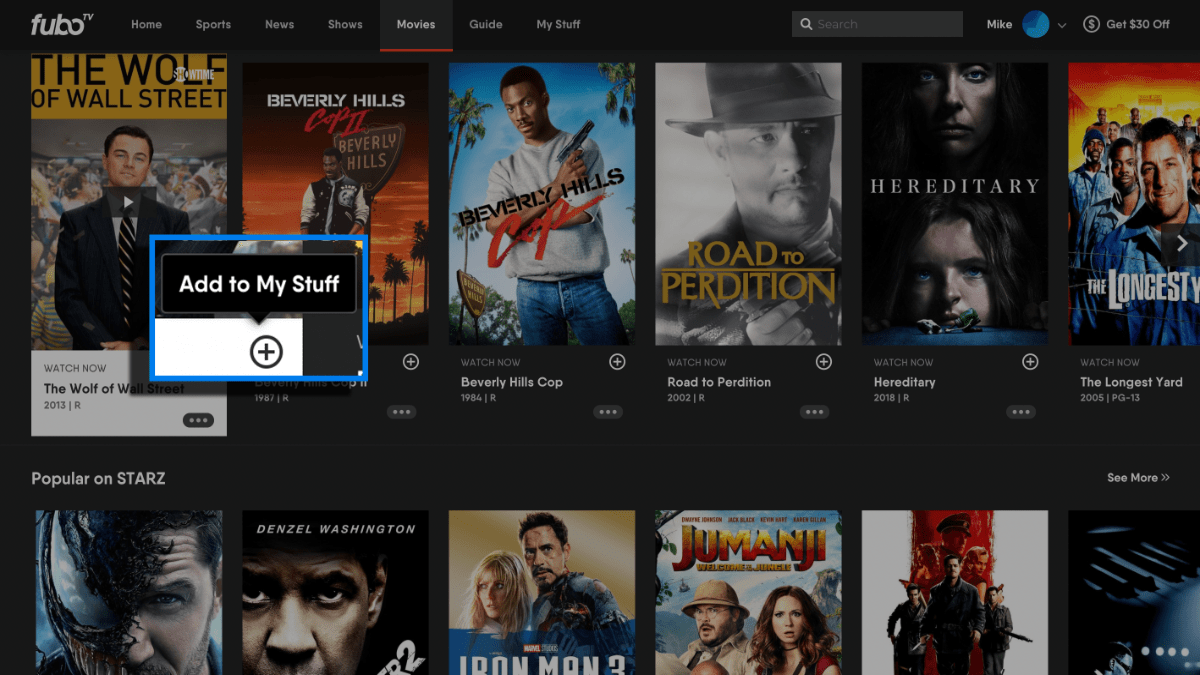 1. Log in to the official website.
2. Now, highlight the title you want to watch on the platform.
3. Finally, tap "+" to confirm the process.
Now the question arises of how to remove titles from this section. Check out these steps in the next section of this article.
Steps to remove titles from FuboTV's My Stuff
For FuboTV application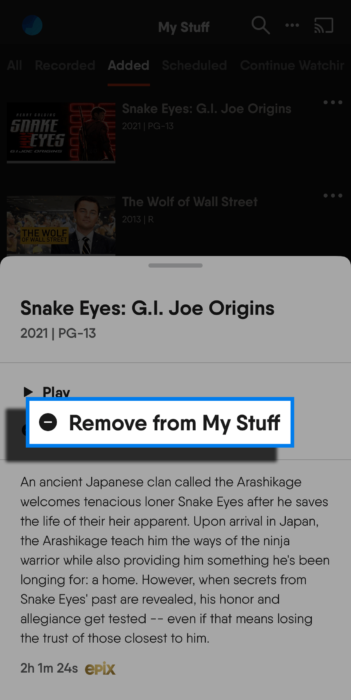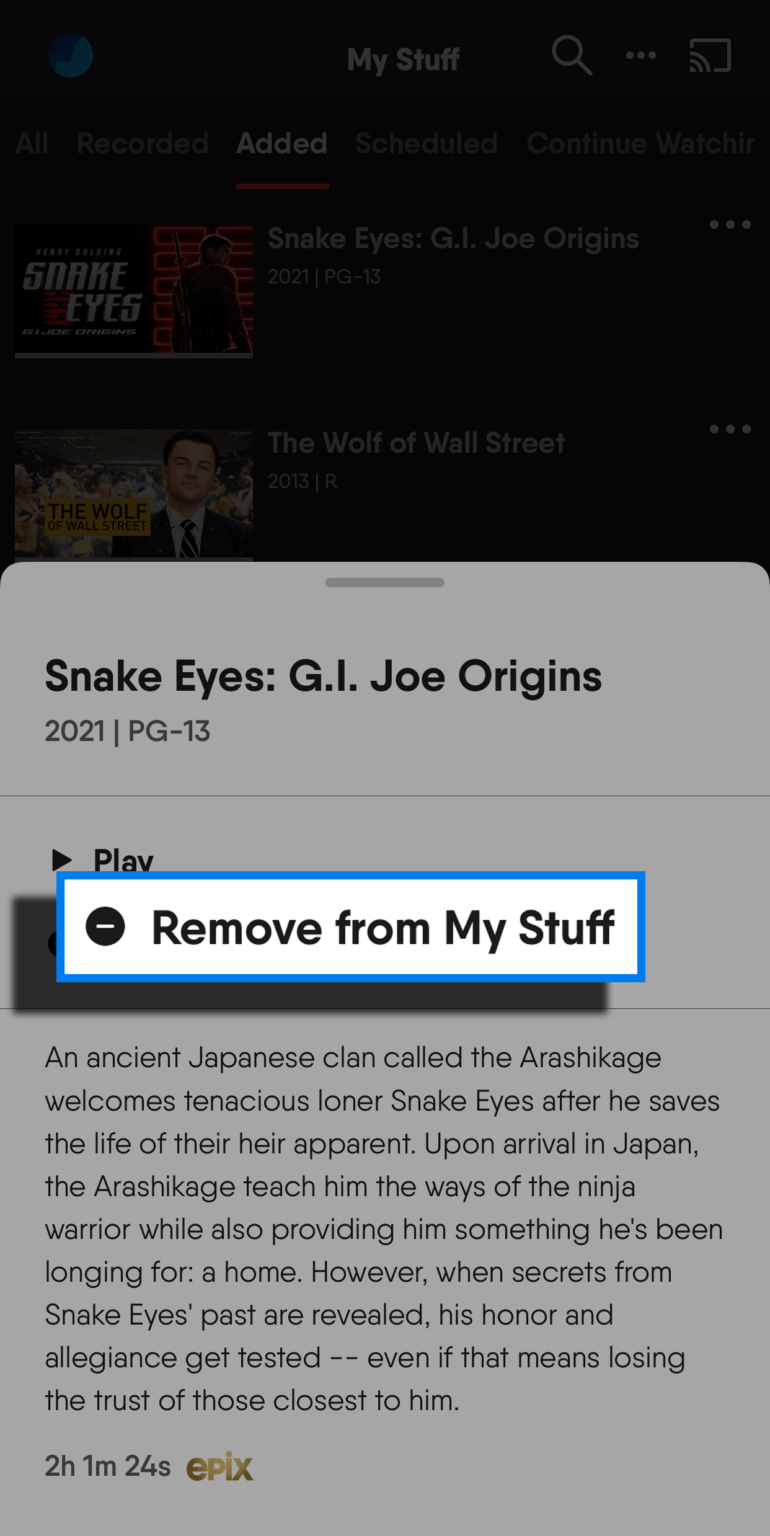 1. Open the FuboTV app and navigate "My Stuff."
2. Navigate to the "Added" section and tap the"⋮"icon beside the title.
3. Finally, select "Remove From My Stuff" to delete the program.
For FuboTV website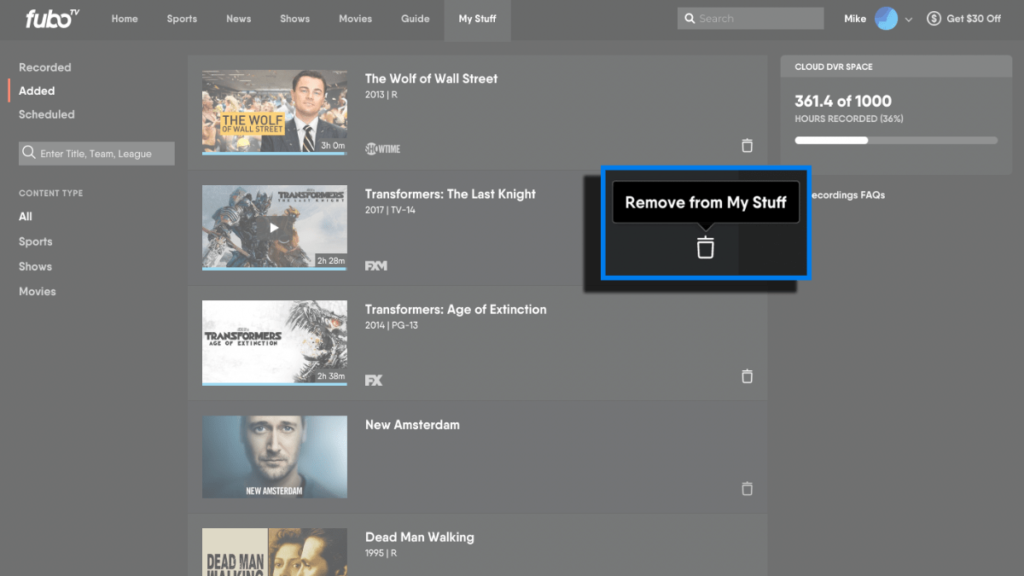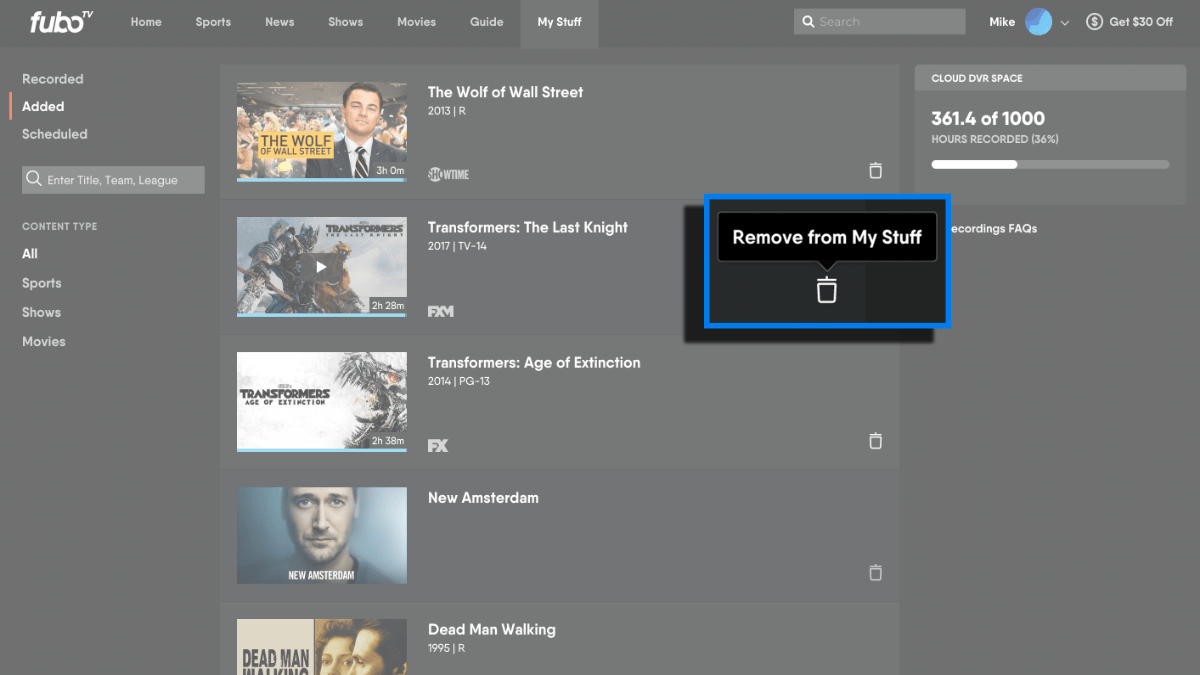 1. Navigate to "My Stuff" on the homepage.
2. Now, simply select the bin icon beside the desired title, and you're done.
Many other platforms like Hulu and Netflix also provide this feature under the name of "My Stuff" and "My List," respectively. However, FuboTV's version of this function is quite different. Check out the difference down below.
Is FuboTV's My Stuff different from Hulu & Netflix's similar features?
Since "My Stuff" is a general feature, it is available on all platforms. Although several platforms have given it various names, the task is still the same. Moreover, FuboTV and Hulu's My Stuff features are exactly the same. They both show added and recorded titles in this section. However, Netflix's "My List" feature is quite different as it does not show the recorded section because the platform does not support recordings.
That's all we have for this guide. Let us know your thoughts in the comments section below.