With the increasing competition in the streaming market, every platform needs a unique factor to rise above all. Netflix has an excellent interface, Prime Video has affordable subscription plans, and Disney+ has Marvel's exclusive content. This unique factor plays an essential role in engaging the audience on the platform. Similarly, Hulu and Paramount+ are providing live TV options on their forums.
We can watch intriguing shows, news broadcasts, and sports events without paying for the cable on these services. However, the competition between these giants only gets tougher with their impeccable features. Moreover, the two services have given us incredible original shows and films, including 1923, Tulsa King, The Handmaid's Tale, Letterkenny, etc.
So, today we'll find the best among these champions by comparing their prices, free trials, live tv, library, etc. With that being said, let's get started with our detailed guide down below.
Paramount+ vs. Hulu
1. Pricing
When it comes to subscription plans, Paramount+ offers two different plans for their customers. However, Hulu provides a variety of plans for its subscribers. Let's check them out below:
Paramount+
| | | |
| --- | --- | --- |
| Subscription Plans | Price/month | Advertisements |
| Essential Plan | $4.99 | Yes |
| Premium Plan | $9.99 | No |
Hulu
| | | |
| --- | --- | --- |
| Subscription Plans | Price/month | Advertisements |
| Basic Hulu | $7.99 | Yes |
| Hulu | $14.99 | No |
| Hulu+Live TV | $69.99 | Yes |
| Hulu+Live TV | $82.99 | No |
If we carefully observe these prices, Paramount+ is leading with its 'Essential Plan' in this field. While Hulu might be costly, it also provides a more extended free trial than the previous one. Let's check out their free trials and offers in the next section of this article.
2. Free Trial
Where Paramount+ offers a 7-day free trial, Hulu gives out 30-day free streaming access to new users. Free trials are essential for analyzing the platform's interface before investing. It's a good sign that Hulu is trying to gain the audience's trust by availing more time.
Regarding discounts and offers, the two giants give out student discounts, making their basic plans much more affordable.
3. Geographical Availability
Paramount+ will be the winner in the category, as Hulu is only available in the US. So let's see by how much margin Paramount+ is leading over the latter:
| | |
| --- | --- |
| Paramount+ | Hulu |
| US | United States |
| UK | |
| Ireland | |
| Canada | |
| Australia | |
| Italy | |
| Latin America | |
| Nordics | |
| Middle East | |
The area restriction has always been Hulu's drawback, but they're trying to overcome it by providing their titles to several regions via, Disney+ and other platforms. If you want to use Paramount+ outside these areas, check out our guide here.
4. Library
The two platforms are well-known for their original films and shows. So let's check out the best titles below:
Paramount+
The streaming platform claims to offer content from popular channels like BET, CBS, Nickelodeon, MTV, etc. Furthermore, they have more than 30,000 films and episodes on the platform. The most popular ones are:
Top Gun
The Wolf of Wall Street
Top Gun: Maverick
Star Trek: Picard
Evil
Criminal Minds
Real World Homecoming
For Heaven's Sake
Hulu
On the other hand, Hulu claims to offer more than 70,000 films and episodes. Let's have a look at the most popular ones:
Family Guy
George & Tammy
Bob's Burgers
2020
Black Adam
Fury
Dead For A Dollar
Everything Everywhere All at Once
5. Live TV
While all the streaming platforms focus on providing new titles, not many focus on replacing the cable. However, our two platforms have considered it and are providing Live TV features for their users.
Paramount+
Owned by CBS, Paramount+ is home to all their channels. In addition to news and entertainment, they also cover live sports events, including NFL games, The Masters, PGA Tour, etc. Furthermore, they offer several channels like:
BET
CBS
Nickelodeon
MTV
Comedy Central
Smithsonian Channel
Hulu
Hulu Live TV includes access to live sports events like NFL, NBA, etc., and several channels, including:
BET
Bravo
Comedy Central
E!
Freeform
Hallmark Channel
6. Interface
The interface plays a vital role in choosing the platform. It helps us find the titles easily on our screen, and the user-friendly experience also helps gain customers' trust. While both have almost the same interface, there are a few changes. So let's have a look at them.
Paramount+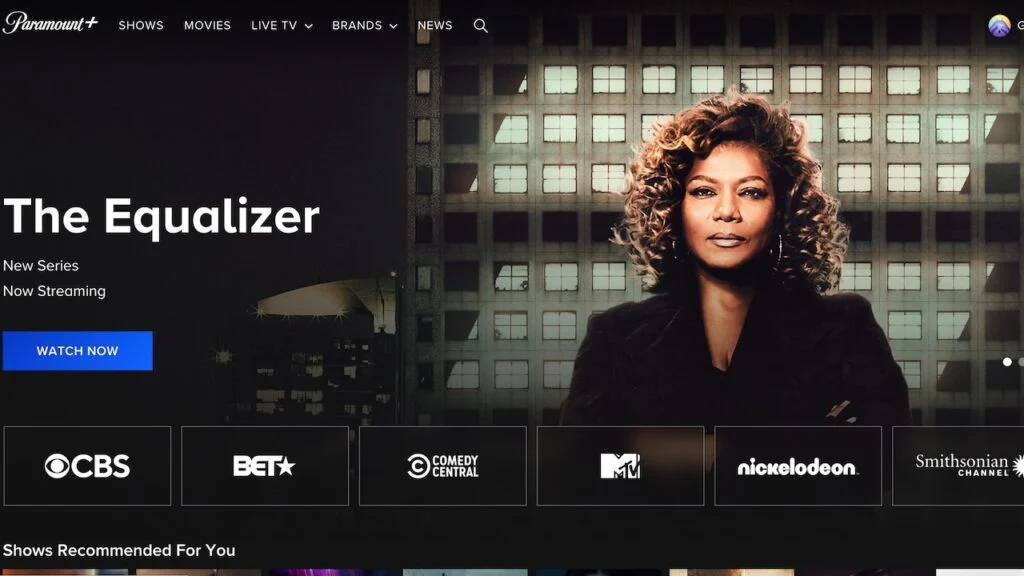 As we can see, the Paramount+ interface has a taskbar at the top separating TV shows, films, Live TV, etc. Furthermore, it also offers recommended shows based on your liking.
Hulu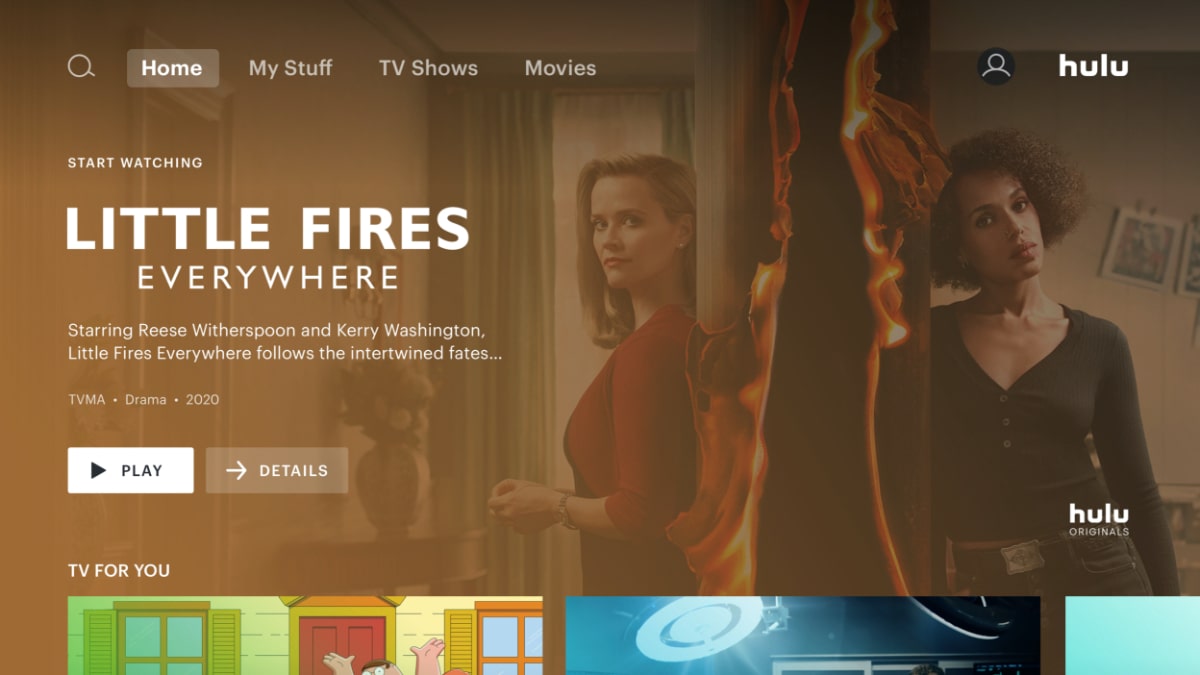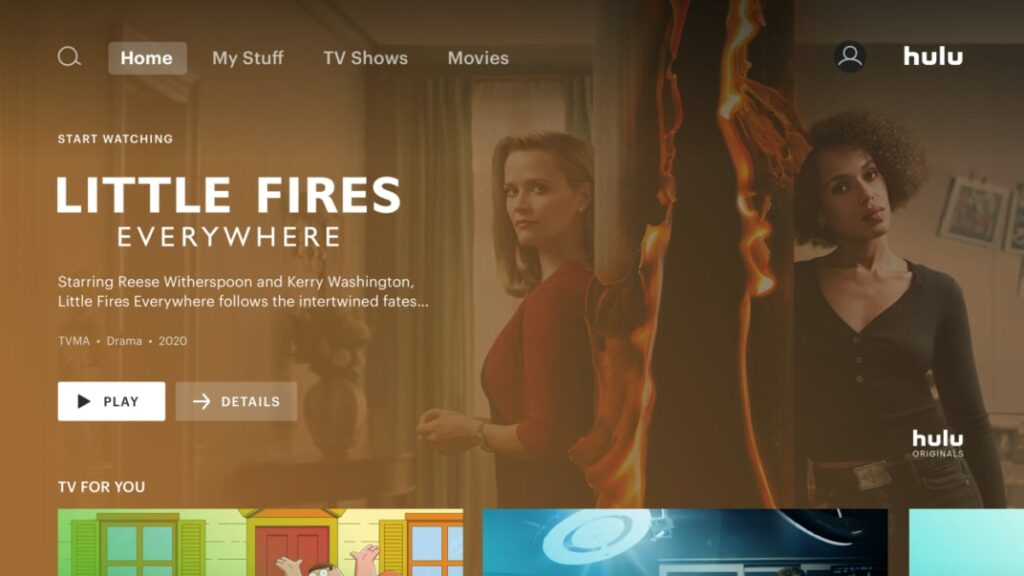 Without any complications, Hulu's interface is quite friendly and easy to use. In addition to original titles, they recommend TV channels based on your interest. Moreover, the streaming platform offers a separate section for TV shows, films, etc.
7. Offline Viewing
While both giants provide offline viewing facilities, it only comes with selected plans.
| | | |
| --- | --- | --- |
| Platform | Subscription Plans | Cost/month |
| Paramount+ | Premium Plan | $9.99 |
| Hulu | Hulu Plan (No Ads) | $14.99 |
| Hulu | Hulu+Live TV (No Ads) | $82.99 |
8. Simultaneous Streaming
| | | |
| --- | --- | --- |
| Platform | No. of Profiles | Simultaneous Streaming |
| Paramount+ | 6 | Two devices at a time |
| Hulu | 6 | Two devices at a time |
Note: If you buy Hulu's 'Unlimited' add-on at an additional cost of $10 per month, you can stream on multiple devices simultaneously.
9. Supported Devices
Both platforms are accessible on almost all devices. So check out this list to find yours:
Amazon Fire Sticks and Cubes
Android and iOS devices
Apple TV
Chromecast
Gaming consoles
LG Smart TVs
Roku devices
Samsung Smart TVs
Vizio Smart TVs
We hope you can easily select the best streaming service based on your requirements. After accumulating the data, we can safely state that both streaming services are equally good. Ultimately, it all comes down to the user's budget and taste. We highly recommend you try their free trials before investing any money.
That's all we have for this article. Let us know your thoughts in the comments section below. While you're here, check out our complete streaming guide on Paramount+ versus Peacock.