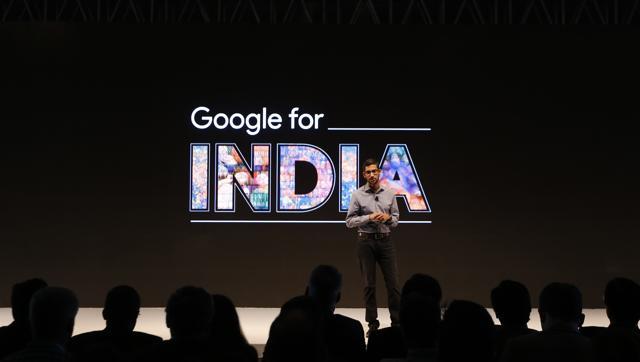 Short Bytes: During his India visit, Google CEO Sundar Pichai addressed a keynote titled as "Google for India" in New Delhi on Wednesday, in which he discussed Google's future plans concerning the Indian Digital Space. Read the article to know about everything.
I
was in 4th standard when I typed Google.com on my new desktop for the first time. I can still recollect those moments only to feel nostalgic about the long journey I've covered with Google. It has helped me at every stage of my digital life, whether it was the
first email I sent,
or my first glance at a YouTube video. Its awesomeness still amazes me – how Google knows what I'm
about to type in the search box
– truly fascinating!
Google, an Alphabet company now, has its presence in India since almost a decade and now it wants to express more of its love towards the country. In the keynote "Google for India", hosted by Google's new boss Sundar Pichai, he revealed his plans to expand Google's operations in India in the coming years.
We've already seen Google's efforts since a couple of years, they've rolled out services like YouTube Offline, Offline feature in Maps, streamlined Search, etc. to provide an uninterrupted internet experience in India's underdeveloped internet infrastructure.
Pichai, a Chennai-born metallurgical engineer and Stanford graduate, is on his first India visit after since he was appointed as Google's CEO, following 11 years of his contribution. He is the man behind the management of Google's world famous products like Chrome, Android, Chrome OS, Maps, and many more.
In the keynote, Pichai focused on his plans to make Google more "Indian", with apps and products specifically developed for India. He wants to bypass the linguistic diversity that exists in the nation. The fact, Android's latest Indic keyboard now supports 11 Indian languages, signifies his viewpoint.
From the Google for India Keynote
WiFi at Railway Stations
A few months back, Google announced its intentions to provide WiFi services at 400 railway stations across India, a boon for the passengers during their connection time. Pichai mentioned they've been successful in running a pilot at the Mumbai Central railway station and Wi-Fi services will start by the end of January 2016. The project is in compliance with the government of India's Digital India Campaign which was inaugurated by PM Narendra Modi. Pichai committed inclusion of 100 railway stations under the project by the end of 2016.
The Internet for Women
Pichai explained Google's plans to help rural women get online and learn how to use the internet, estimated to complete within a span of three years. The rural internet program, which is currently on a pilot run, will become full-fledged to include 300,000 villages.
In India there is a common belief, if you educate a woman, you educate a whole family. For that purpose, Google has already launched their Helping Women Get Online initiative, featuring information about using basic computer functions. The HWGO website helps women learn how to send emails, watch videos and eventually, become an internet pro.
If we have a look at the stats in the IAMAI report, the rural internet is mostly dominated by males who account for 88% of the total rural users. In terms of individual growth rate, the ladies have shown a commendable 61% increase, considering the opportunity and availability of internet-connected devices. The gentlemen are also doing well with a 71% growth rate. Mostly, the population aged between 18 to 30 years is very interested in using the internet in rural areas, contributing to 75% of the total internet population in these areas.
Custom Apps for India
Pichai also focused on the need to create India-centric products and apps which will benefit the users and the company. He quoted the example, how the YouTube Offline feature created for India was praised all around the world.
Google is working on enhancing Chrome to something more than just a web browser, a platform that can be used to code memory-efficient web applications for low-end smartphones, Flipkart Lite is one such application.
New Office, more Jobs, and cash inflow
Google will have a new campus in Hyderabad with all the perks, kitchens, and cool spaceships they have at Mountain View. Also, Google in partnership with the National Skill Development Corporation of India will launch an Android training program for around 2 million developers, so as to give them an idea about coding apps for Android.
They also have some good news for the engineers, as they'll be hiring more of them at their Bangalore and Hyderabad locations.
Google Capital, venture wing of the company, will invest a serious amount of cash over the next few years to propel the realization of Google's myriad ambitions. A $20 million investment will be utilized to fund various start-ups, with a $20,000 limit per start-up.
It makes a lot of sense to invest in India as what we build here will have global usage.
– said Pichai.
If we observe the recent trend, the internet penetration in India has been stellar. Referring to the stats, by the end of this year, India will surpass the US in terms of the internet population. According to a report published by the Internet and Mobile Association of India, there will be an online population of 402 million by December 2015.
India's online population grew from 300 million to 400 million in a span of one year. The report says, 71% of the online population is contributed by the gentlemen while it is 29% for the ladies. The male growth rate is 54% while the female online population has been growing at the rate of 46%, a nice figure indeed. The major rise in the internet adaptation is contributed by the availability of low-cost smartphones from various companies like Micromax, Motorola, YU, etc.
"India is one of the largest growth markets for the search giant Google globally," said Sundar Pichai, while he was delivering the keynote in Delhi. Currently, with a population of about 1.2 billion, India serves as one of the largest potential markets for tech titans like Facebook, Microsoft, and Google. We've already witnessed their escalating interest in the past few months. Facebook's Zuckerburg, Microsoft's Nadella and finally Google's Pichai – all these big names have invested their efforts in popularizing their services in India.
Although, great efforts are being imparted by these MNCs in order to harness their interests from the huge potential underlying the Indian soil, but it should be noted that a large part of the population is contributed by rural areas. And the biggest challenge is to motivate that population, which currently focuses on conventional methods only, and they have their rigid belief and reluctance to adopt new technological trends, provided the reason, they find no use of it.
Google also wants to bring its much-sensationalized internet balloons to India. Google CEO Sundar Pichai's Wednesday meeting, on his current India visit, with the Telecommunications and IT minister Ravi Shankar Prasad, saw a blue-fruited outcome when Indian government gave an in-principle nod to the Google's project Loon.
Google's project Loon is an R&D project with a mission of furnishing internet access to rural and remote areas. Balloons are placed at an altitude of about 18 KMs above the earth surface and can be controlled wirelessly. This network of balloons acts as an aerial wireless network with up to 4G-LTE speeds covering a diameter of around 40 KMs over the ground. Such projects can prove to be of great benefit in Indian space, where the internet is monopolized by telecom operators who provide below average services and only want to use their customers as a money machine.
Pichai concluded with the following lines:
I just want to say, thank you. This country has given me and Google so much; I hope we can give much more in return to India in the months and years ahead.
Clearly, the Indian digital space is on the verge of a big transformation that is more of a necessity than an opportunity as one would presume. Google's enhanced focus and immense interest in the Indian market is well invigorated by the fact that Google has been unable to find its presence in China, after the communist government reportedly kicked out Google from the Chinese market. But whatever it may be, delights are for the Indian citizenry, with loads of apps and services designed specifically for their nation.
And the CEO said,
Google is barely getting started in India.
Also Read: How To Play Google's Star Wars Game Right Now Using Your Phone As Lightsaber
Write your views in the comments section below.