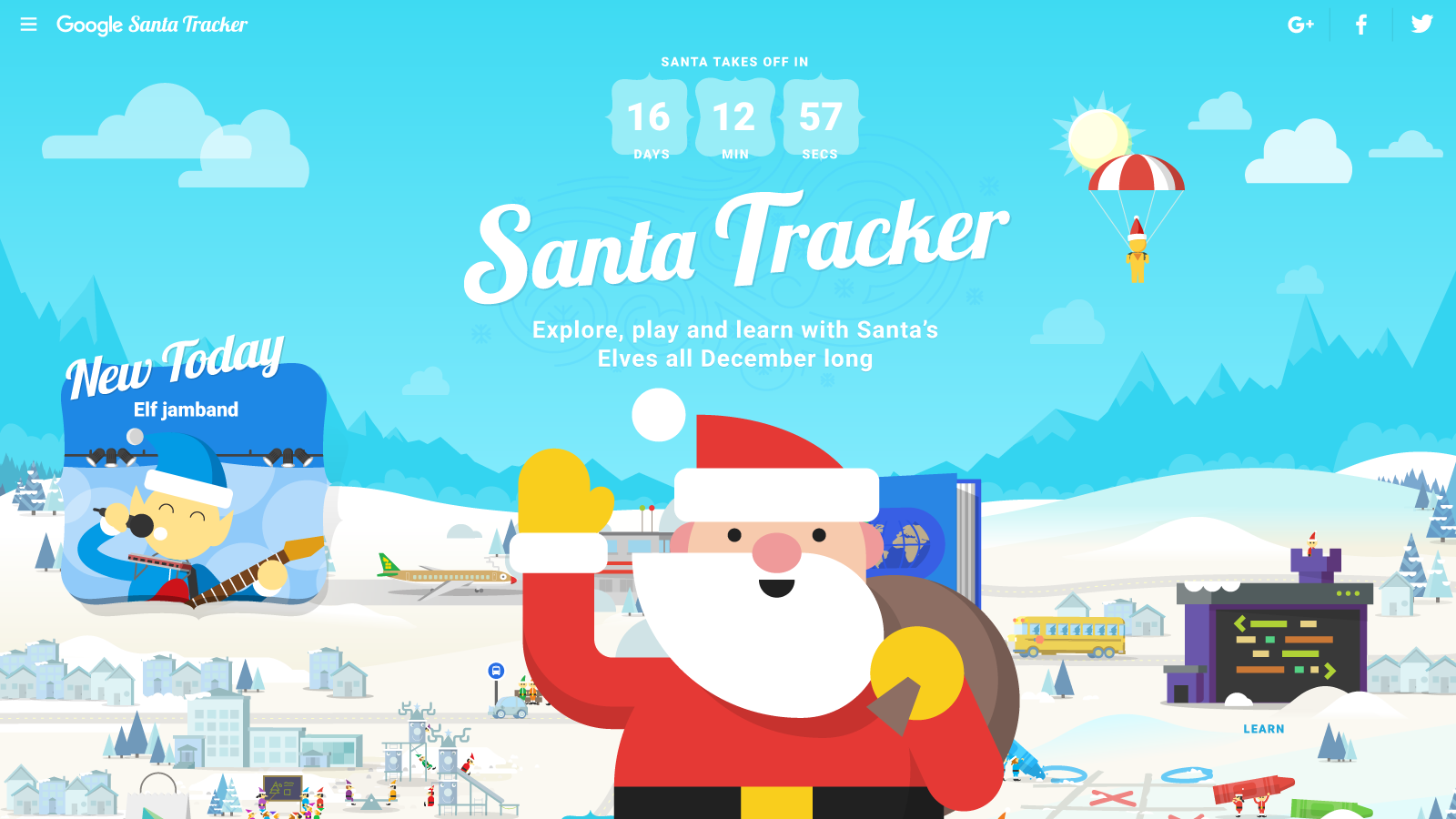 Short Bytes: Its Christmas time and Google is there to celebrate the big day with its Santa Tracker. The Santa Tracker allows you to constantly track Santa's location while he is delivering gifts on his around-the-world journey. There are lots of educational games and Santa videos to delight you and you'll find yourself apprised with some interesting Christmas historical traditions all around the world.
H
ere is a Christmas Bonanza from the kitchen of our beloved
Chef Google
. This time, it's the Santa Tracker by Google and it is their 11th consecutive attempt in order to kill the boredom faced by kids staring at their clocks and waiting for the Santa Claus.
The name Santa Claus was given to a Greek Christian St. Nicholas, who lived in the 4th century. A famous story from that time features St. Nicholas climbing down through a chimney and putting bags of gold inside hanging stockings to surprise a family in need and since then known as the giver of gifts. It is quite beguiling to admire about Santa riding on his sleigh. Now, you can have one for yourself. The German automaker Mercedes has come up with an opportunity for you design your own Santa-class sleigh.
The Google Santa Tracker website will take you to Santa's Village. As a free advice, I would like to you to pack a zero-degree jacket as you'll have to face extreme cold once you are on the North Pole. As soon as you land on the airport, you'll find yourself on a conveyor belt ready for being dressed as a Santa. You change the speed of the conveyor belt if you find yourself impatient.
Once you're on Santa's dashboard – featuring the latest and greatest in Google Maps technology and sleigh engineering – read about Christmas traditions all around the world, just click the large blue book and a world map will be presented in front of you. Alongside the historical traditions book, there is a large coding mansion which will transform you into a coding warrior. As you scroll down, there are games, apps, YouTube videos to indulge you into the world of Santa. Google was well aware of the situation that you'll definitely count the number of games, so they numbered them.
These games are designed by Santa's developer elves so as to check your geographical know-how. Sincere efforts are made to create exciting games for kids while sticking to Google's education focused intentions, teaching them some stuff while they curiously sleigh through the village.
The Santa Tracker on the website provides you information about Santa's journey around the world. You can click the gifts lying at different places all around the world and the Santa Tracker will display information about them.
Additionally, you can click the menu button on the left side and install the Santa Tracker extension for your Chrome web browser. The extension will allow you to keep a track on Santa's journey without the need of opening the Santa Tracker website every time. You can read the privacy policy stuff which I bet, doesn't bother you much.
Google has tried to homogenize the Santa Tracker experience across all of its platforms, whether it is Google Maps, Android Wear, Google Search, or Chromecast. They've also optimized the website for mobile devices and if you are lucky enough to have the cardboard or know how to make one, then you can track your Santa that too.
Have a look at this Santa's Back YouTube video:
Also Read: This Is The World's Most Engineered Christmas Tree With Floating Decorations
fossBytes wishes you Merry Christmas.