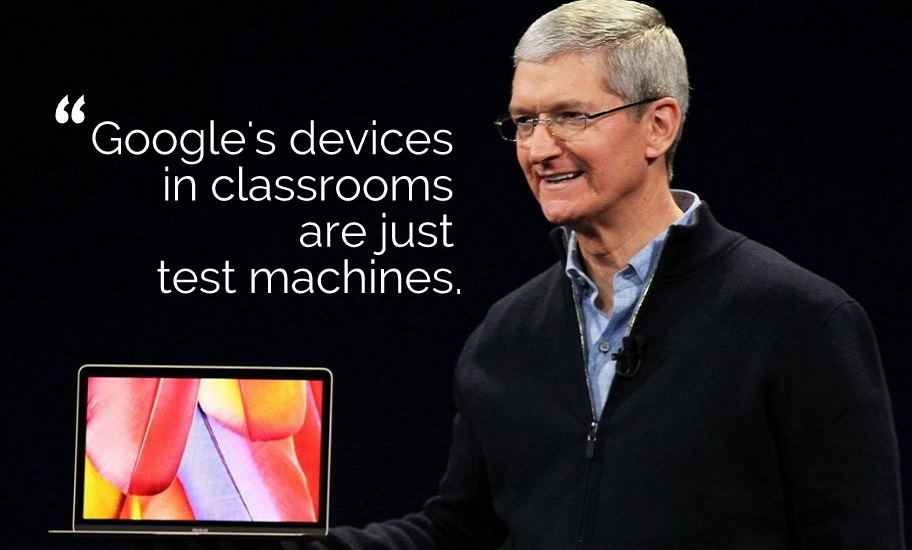 Short Bytes: Even though iPads are said to offer better ways to learn in classrooms, Google Chromebooks are giving a tough competition to the Apple devices. However, Apple CEO has refused to accept Google's supremacy and labeled the Chromebooks as just a bunch "test machines".
Apple CEO Tim Cook doesn't like being challenged by his competitors. In the past, we have seen him rejecting a perfect hybrid device Microsoft Surface Book by calling it 'deluded' and questioning the purpose a PC's existence. For a moment, even if we leave its arch rival Microsoft aside, Apple is facing stiff competition from Google in the classrooms.
The education market has been a familiar territory for Apple since the very early days of Mac. While Google Chromebooks have emerged as the most popular devices in the American classrooms, Apple CEO is finding it hard to digest this fact. He refrained himself from mentioning Google's name directly, but he took the opportunity to hint that Chromebooks are cheap and offering a compromised experience to the students.
He went on to tag Chromebooks as "test machines" that let the students take the standardized tests. Talking to Buzzfeed News, Apple CEO said, "Assessments don't create learning. We are interested in helping students learn and teachers teach, but tests, no."
As American classrooms are shifting towards an assessment-driven curriculum, Apple is losing its command on the education sector. Due to budget concerns, the schools are being attracted towards cheaper Chromebooks and ditching the costlier Macs and iPads. The absence of keyboards input in iPad is another discouraging factor as mandated tests need a keyboard.
Prices of Chromebooks are half as expensive as iPads and they come with a plethora of programs like Google's Apps for Education, Gmail, Calender, Docs and more.
As a part of the Hour of Code celebration event, Tim Cook interacted with kids and stressed on the importance of coding. "Hi, I'm Tim, and I work at Apple," Cook told the students. "Coding is a really important language to learn — as important as English, someday."
By estimating the present day momentum, Google has predicted that Chromebooks will surpass all the other classroom devices combined by the end of 2015.
What are your thoughts about this Apple vs. Google fight in the classrooms? Tell your views in the comments below.
Also read: Here's How Microsoft Mocked Apple At Windows 10 Device Launch Event