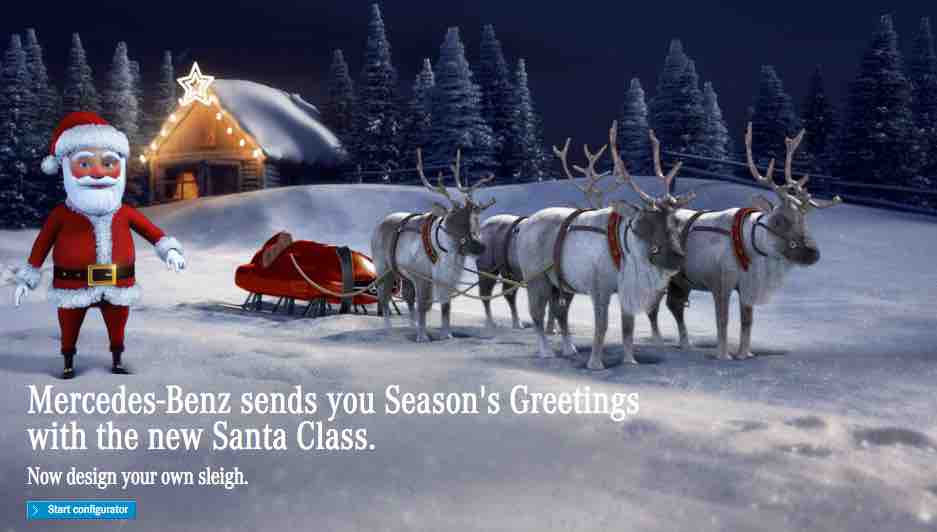 Short Bytes: This Christmas, take a break and configure your personalized Mercedes Santa Sleigh E-Card and send it your loved ones and give them a surprise. Here's how to create one!
E
ver wondered of riding a sleigh in the snow-laden mountains? Ever wondered of carrying a Christmas gift to a small wooden cottage shining yellow bright on the edge of a frozen lake? If yes, then here is a chance to send a brand new Mercedes Santa Sleigh E-card to your well-wishers this Christmas.
You can now build your Santa-Class sleigh in a number of ways. Well, you might be having a penchant for the A-class or S-class of Mercedes cars but the time has come to explore the Santa-class sleigh also.
There are three types of bodies available: Silver arrow, F 015, G-class. Next you need to choose the colour of your sleigh. But hold on these colours are not so classy but they are inspired by the Christmas mood. These colour choices are Reindeer nose red, Pine needle green, silent night black, Angel's hair silver metallic, Jingle bells gold. Is not that so beautiful and cool?
Next, Mercedes take you to the type of runners you want for your sleigh. The choices are Exclusive, avant-garde and AMG. So once you have chosen your runners type also, you go to the next section and it's called 'Drive'.
Now do not burst into the laughter. Hold your breath and take a look at the drive style. 4Matic has 4 reindeer, Hybrid has a combination of reindeer and horses. But looks like AMG has kind of bulls to pull your sleigh.
The sweetest part of assembling your vehicle at this stage is choosing an equipment package. The safety plus package has a cherub with wings (So cute!) then, Navigation system has a shining trail of a golden star and intelligent light system has a snowman.
It's not over yet. You can also customize your message by sending these card in the form of a deer carrying your Christmas message or in plain text. So, here is the link to create your own card and celebrate the festive mood of Christmas.
I sent mine. Did you send one too? :D