With a complete GUI (Graphical User Interface) and native apps, a desktop environment is the heart of any major Linux distro. One of the great things about the Linux community is: it always gives you more, and just like how there are a plethora of Linux distros to choose from, you also get to choose from various desktop environments.
Choosing the best desktop environment is as important as choosing the best Linux distro, and unlike Windows and macOS, you can customize every corner of the Linux desktop as per your will. You won't have to deal with copyright infringement even if you fork the project, change the source code, and release it with a new name. For example, Cinnamon is a customized desktop derived from GNOME 3.
This article glances at some of the most prominent and best desktop environments you can install on any Linux distribution. We'll also compare one environment with another to help you decide which desktop environment will be the best for you.
This isn't a "best desktop environments" list. Rather, it contains popular desktop environments and their brief reviews to help you choose the best one according to your needs.
Best Linux Desktop Environments You Need To Try In 2022
1. KDE Plasma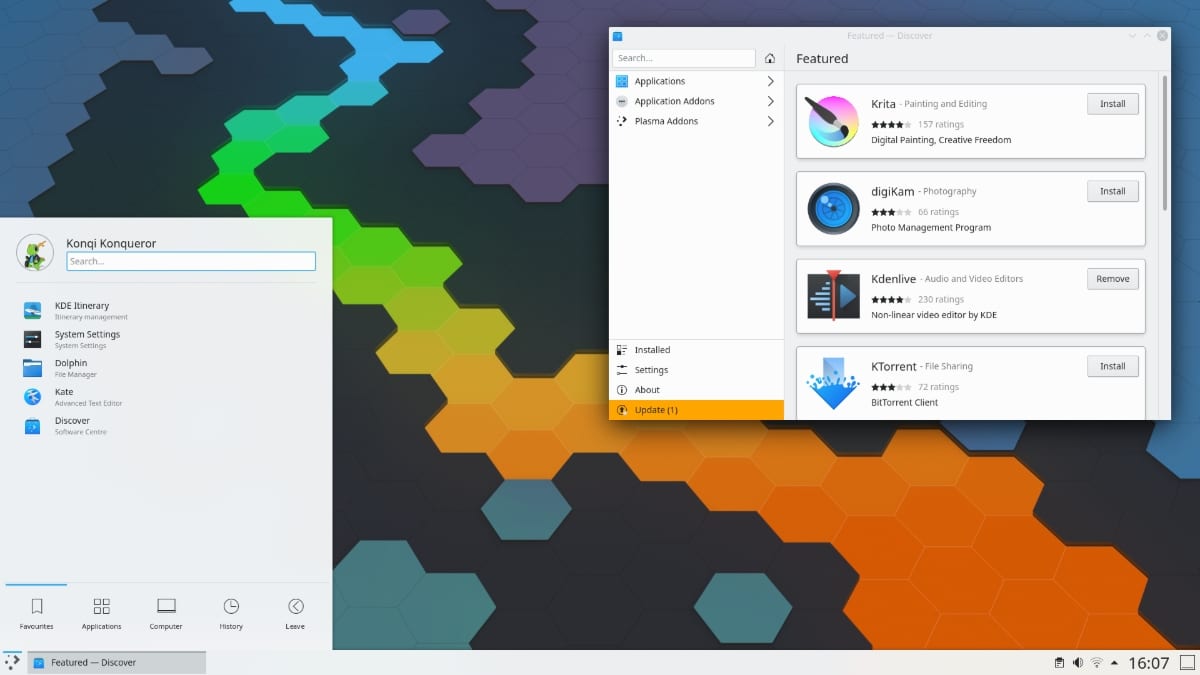 The Plasma Linux desktop environment by the KDE software community is one of the most customizable graphical desktop environments. Compared to other desktops, it has the most modern look and feels. It's available for the Linux family of operating systems.
KDE Plasma also ships tools and utilities that are collectively known as KDE Applications. It contains several notable software such as default and most advanced file manager Dolphin and Okular document viewer.
With the latest Plasma 5.19, you can preview the image file directly from the default KDE Konsole terminal. This feature-rich and powerful desktop environment is home to many desktop widgets. It offers users the freedom to add multiple panels on the desktop.
Jump Lists are another addition to the task manager allowing you to access the main options for a program by performing a right-click on its launcher icon. KRunner is the launcher on this top Linux desktop, which acts as a mini command line. In addition to opening and closing apps, you can also execute shell commands using the launcher.
You can also access your Android and Blackberry devices wirelessly on this Linux desktop environment using the KDE Connect application. This allows you to fetch device notifications, check battery status, transfer screenshots to clipboards, and access storage.
The KDE Plasma comes as a default Linux desktop environment in several Linux distros such as OpenSUSE and Manjaro KDE. Besides, there's also an official Ubuntu flavor with KDE called Kubuntu.
Pros
Modern and polished user interface
Highly customizable
Good native applications
Cons
Not a great option for old computers with low horse power.
Too many customization options can be overwhelming for new users.
2. GNOME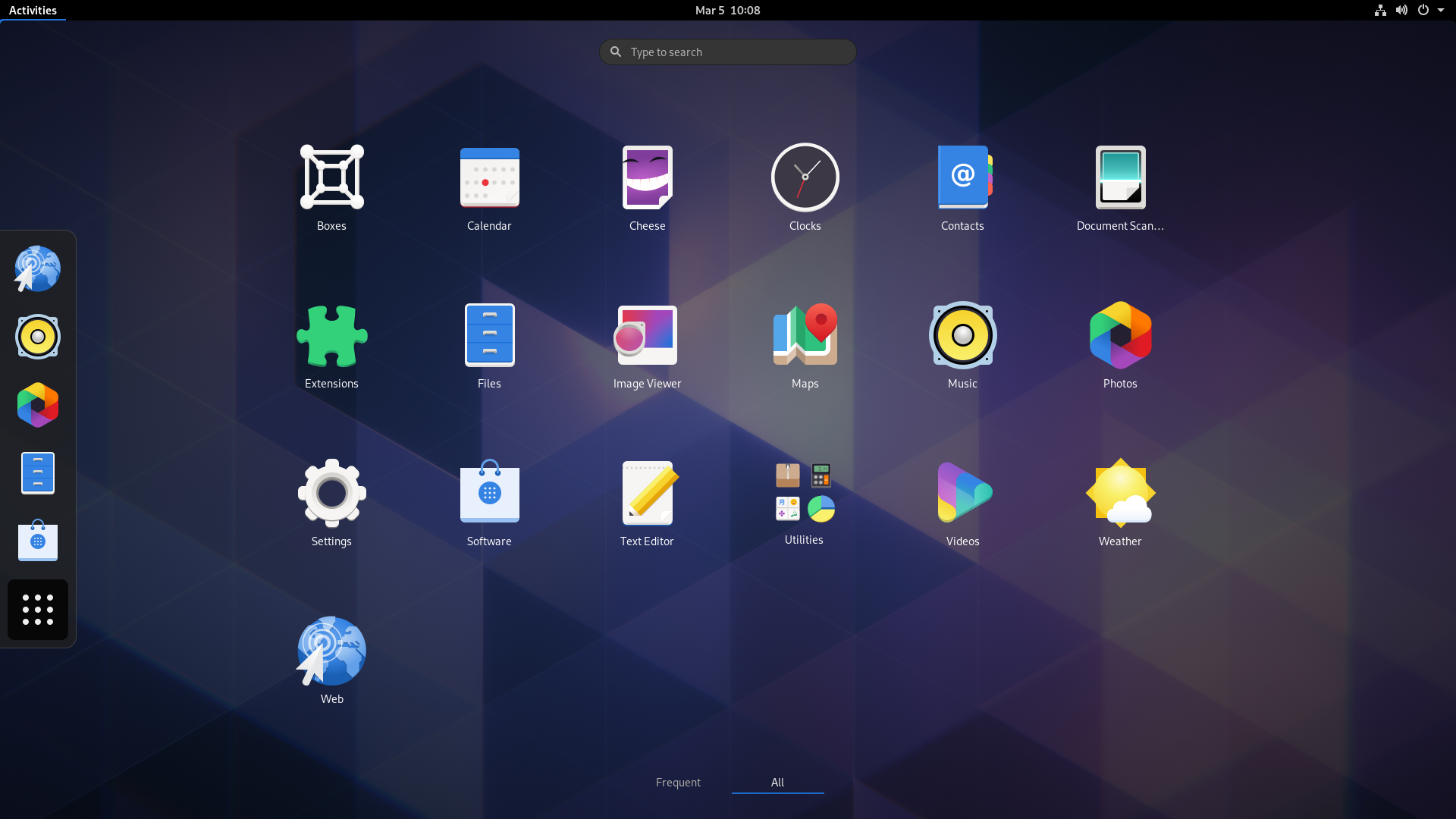 GNOME is an acronym for GNU Network Object Model Environment. This popular desktop environment is slightly younger than KDE, and it is made up of only free and open-source software (FOSS). It is designed to provide simplicity, ease of access, and reliability to the users. These things have contributed to GNOME's popularity and placing it alongside KDE for the best desktop.
The GNOME Project develops GNOME, and it is based on the GTK+ toolkit with a focus on productivity as per GNOME's Human Interface Guidelines. This customizable desktop environment uses the X Window System display server and supports the modern Wayland display protocol.
Similar to KDE, GNOME also ships a suite of native GTK-based applications. The best part of GNOME is the extension that allows you to extend your desktop functionality to the next level.
With the latest GNOME 40, you get new app icons, revamped stock apps, new trackpad gestures, and many other features.
One of the reasons behind the popularity of GNOME is its choice of major Linux distributions such as Ubuntu, Fedora, Manjaro, Red Hat, and Debian.
Pros
Mobile or Tablet touch-friendly graphical interface
GNOME shell extensions support
Default adoption by top Linux distros
Native support for GTK-based applications
Cons
Heavy desktop environment. Not suitable for older computers.
3. Cinnamon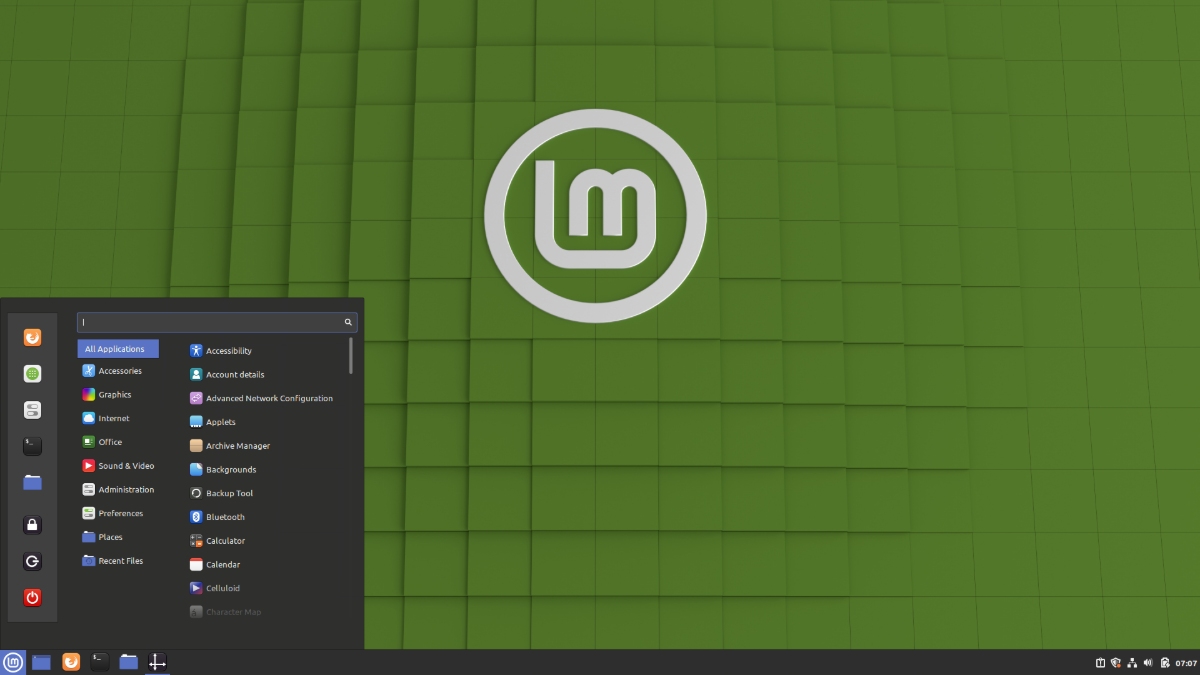 Cinnamon is undoubtedly also one of the most popular and best Linux desktop environments alongside GNOME and KDE. All the credit goes to the Linux Mint community, who forked out the GNOME 3 shell and customized it to build and develop such a finer desktop.
The Linux mint team couldn't go for the GNOME shell as it didn't fit their goals, but there was no alternative. That's when an improved version of the GNOME shell was created and was called Mint GNOME Shell Extensions (MGSE). But MGSE didn't meet the expectations of the Linux Mint team, and they started the Cinnamon project to create a forked graphical shell.
Cinnamon has matured into a complete desktop environment over time, but some people still believe it's a graphical shell. It is all about user experience, full of animations and effects. Cinnamon is one such desktop that gives an easier and more familiar experience to people transitioning from Windows.
This is one reason Linux Mint shipping Cinnamon (by default) tops our list of best Linux distributions for beginners alongside Ubuntu. Besides Linux Mint, other Linux distros have also adopted Cinnamon to give users slick and full control of a desktop. This includes unofficial Ubuntu variant Ubuntu Cinnamon Remix, Fedora (as a spin), EndeavourOS, and Manjaro Linux.
Pros:
Clean and Windows-like UI
Fast and snappy
Desklet
Easy theming and designing
Cons:
The UI leaves much more to be desired and is not that modern-looking and intuitive.
4. MATE
MATE and Cinnamon desktop environments have many similarities in terms of their histories and origins. Like Cinnamon, MATE is also forked out from GNOME 2 to deliver features that GNOME 3 lacked at that time.
MATE is a very lightweight desktop environment with an intuitive and attractive interface. It follows the recursive acronym tradition and stands for MATE Advanced Traditional Environment.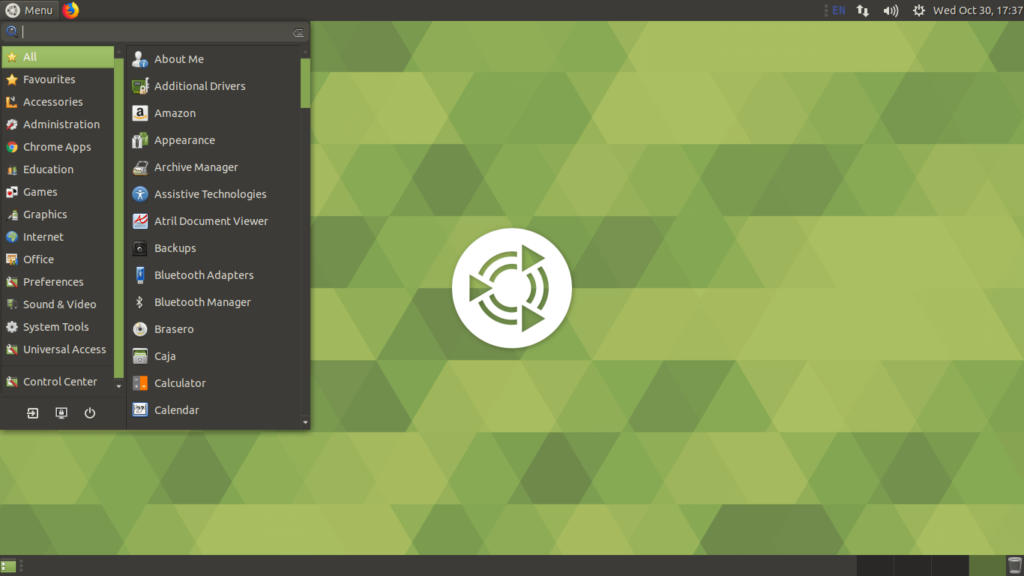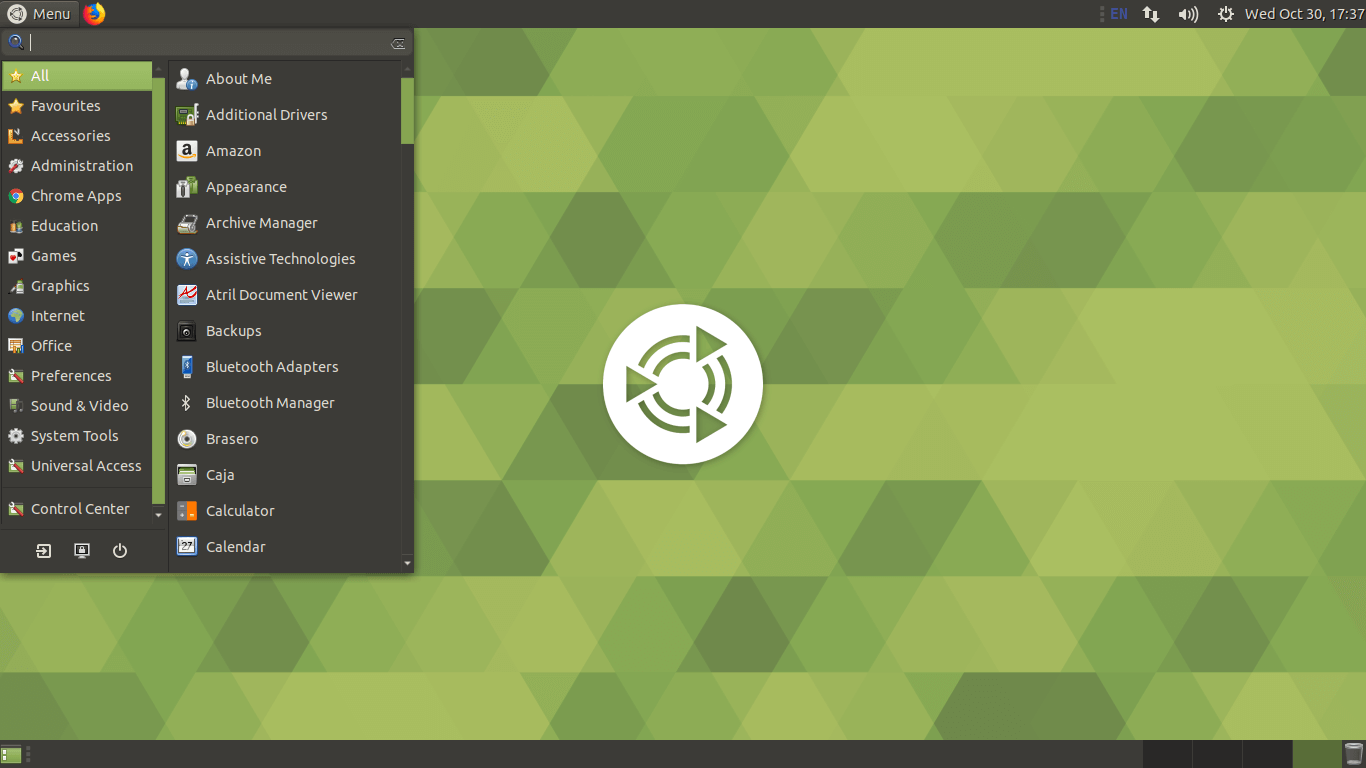 MATE Linux desktop also comes with many forked versions of GNOME Core Applications and many developed-from-scratch applications. The forked packages have been renamed to avoid conflict with GNOME 3.
MATE Linux desktop environment's biggest feature is that it doesn't eat your hardware resources. Unlike GNOME, you can run it on your budget machines having a scarcity of hardware like Raspberry Pi.
The most popular and official Ubuntu flavor, Ubuntu MATE, features the MATE desktop environment. Moreover, other Linux distributions such as Linux Mint, Fedora, Debian, and Manjaro Linux also come with MATE desktop editions.
Pros:
Simple and easy to use
Lightweight
Conventional applications
Cons:
Not the most modern-looking UI.
5. Xfce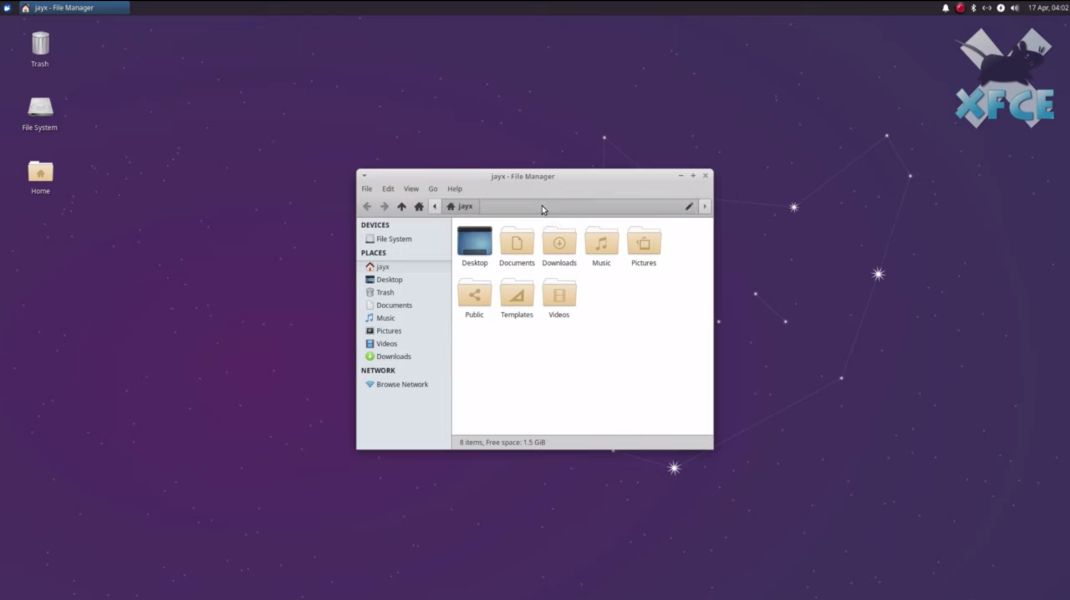 Xfce is another desktop environment that especially aims for machines with limited hardware resources. This lightweight desktop environment is designed according to the standards proposed by freedesktop.org. Adhering to its purpose, Xfce lacks animations and special effects. But it doesn't fail to include all the necessary components and features one would expect from a popular lightweight desktop environment.
Though it consumes fewer system resources, you still get a visually appealing and user-friendly graphical interface. Additionally, Xfce also provides numerous applications and plugins that you can use to extend your desktop the way you like.
For example, a terminal emulator, text editor, sound mixer, application finder, image viewer, iCal based calendar, and a CD and DVD burning application.
Another important feature of Xfce is support for several UNIX platforms. You can compile it for Linux and other UNIX-like operating systems such as NetBSD, FreeBSD, OpenBSD, Solaris, Cygwin, and macOS X. There is also an official Ubuntu flavor, Xubuntu, that features Xfce desktop.
Pros:
Simple and easy to use
Best suited for old hardware
Several UNIX-like platforms support
Cons:
User experience could be better. Lacks any sorts of animations which makes it feel very plain to use.
6. Deepin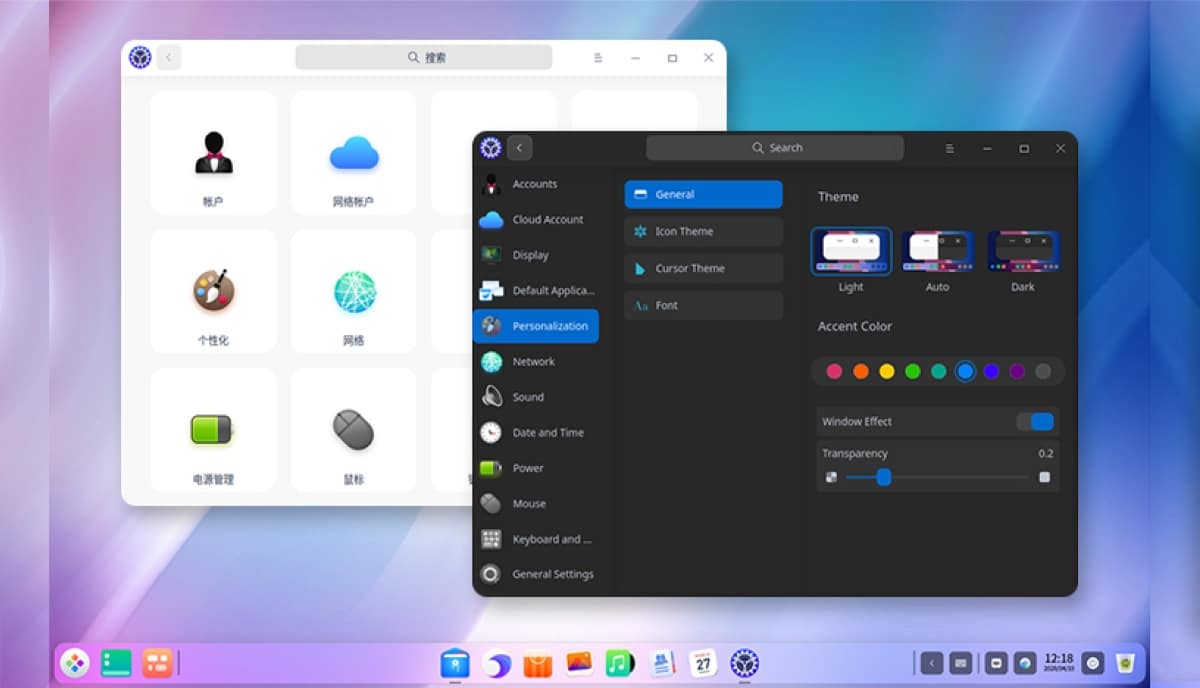 If you're looking for a visually attractive desktop, Deepin is the best Linux desktop environment that also looks like macOS. Deepin Desktop Environment (DDE) is the most beautiful desktop developed by Deepin Technology Co., Ltd. It is a default desktop in Deepin Linux distribution by the same company.
Besides its elegance, it also provides animations and a layout that increases its looks and feel. UbuntuDDE is the latest Linux distribution that combines the power of Ubuntu and Deepin desktop. However, it is also available to install on other Linux distributions like Arch Linux and Fedora.
Pros:
Most beautiful macOS-like user interface
Applications are written using Deepin GUI toolkit
Seamless Deepin dock and control center
Cons:
Consumes way too many system resources; hence, is not suitable for older computers.
7. Pantheon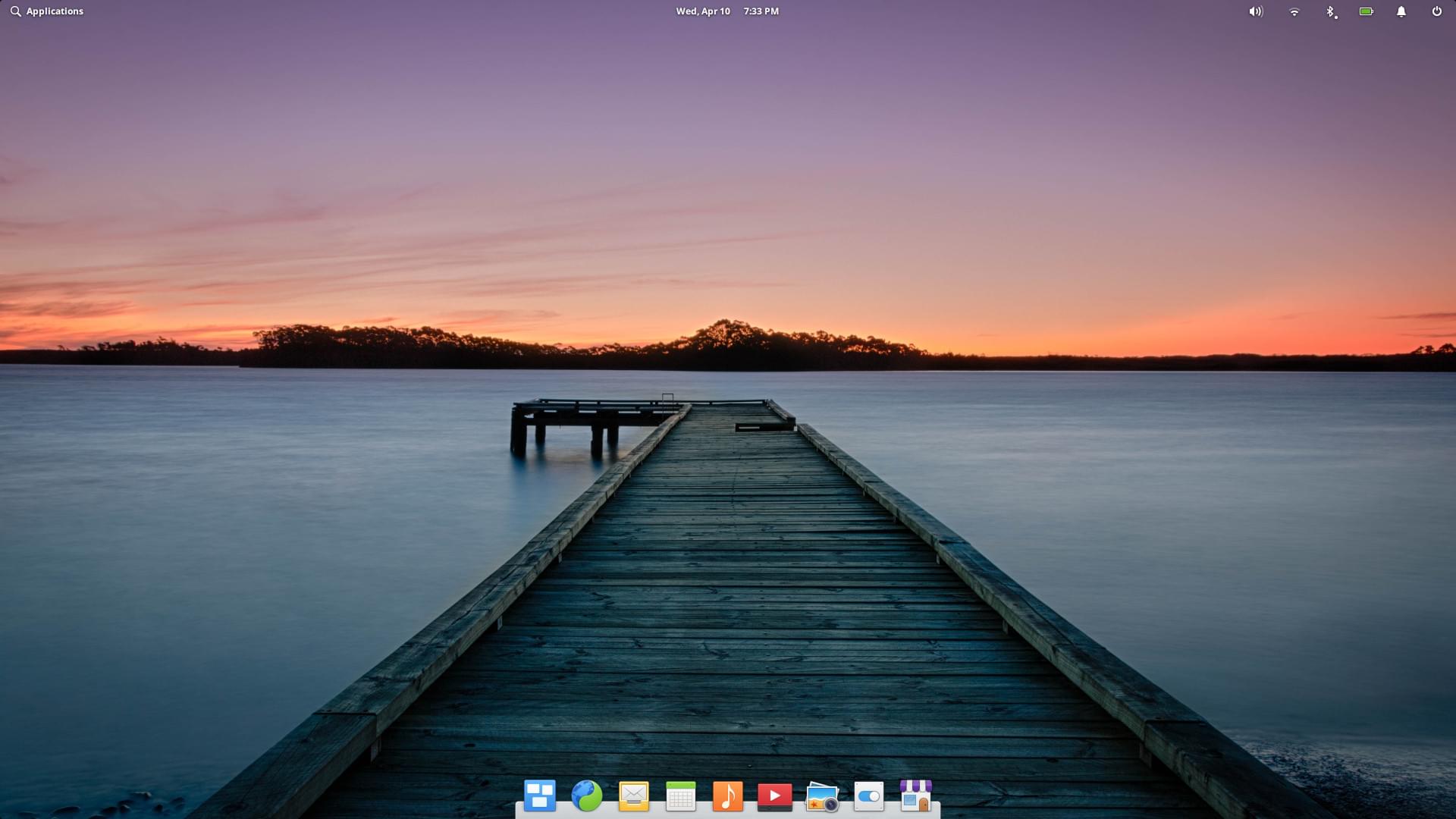 If you have ever heard about the Ubuntu-based Elementary OS, which is often called the most beautiful Linux distro, you might be aware of its default desktop environment, Pantheon.
It's core applications – written in Vala and C – are either designed from bottom to top or find their roots in the GNOME applications. Pantheon's design follows a philosophy of minimizing the need for the command line.
Like Deepin desktop, it's also considered an elegant and macOS-like desktop. The bottom of the desktop screen features a macOS-style dock where the users can hook their favorite applications.
The plus point of elementaryOS is low hardware resource demand. If you want a lightweight desktop environment without compromising on the looks, Pantheon can be a good choice.
Pros:
Clean and attractive UI
macOS resemblance
Minimal and lightweight
Cons:
Not a lot to talk about, but getting used to the Apps' Windows and styles could take some time.
8. LXQt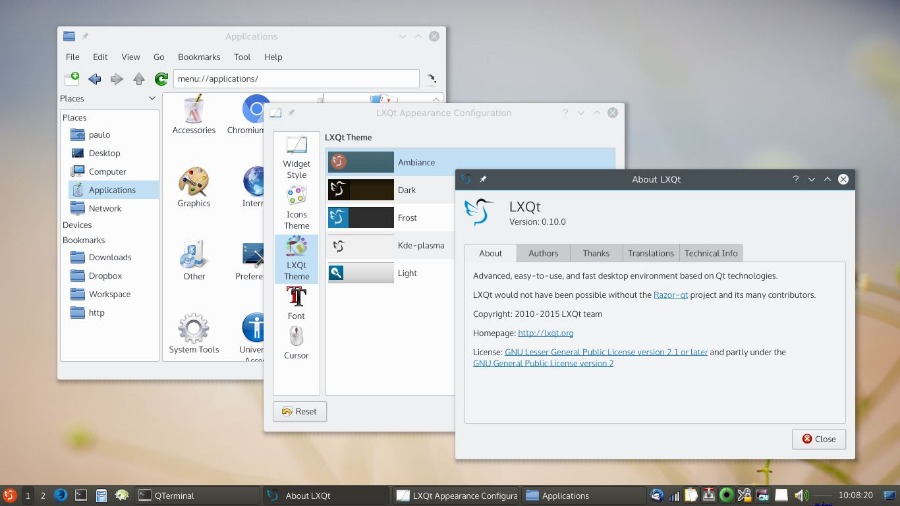 Sprung out as LXDE derivative in 2014, the LXQt desktop environment finds its home on the Linux distros designed to carry the "lightweight desktop for Linux" tag.
The applications and components for this desktop environment are designed using Qt and KDE Frameworks 5. LXQT (Lightweight QT) desktop environment might not please the users who find comfort in a good-looking user interface flaunting its graphics on their machines. But, it would run on older machines with lower display resolution and a scarcity of hardware resources.
LXQT is also considered an alternative to Xfce. It is also shipped by default in not to the official and most popular Ubuntu flavor, Lubuntu. However, compared to Xfce, few Linux distribution releases edition with LXQT desktop.
Pros:
Fast and lightweight
Decent user interface
Less resource consumption
Cons:
Not the most intuitive UI experience.
9. Budgie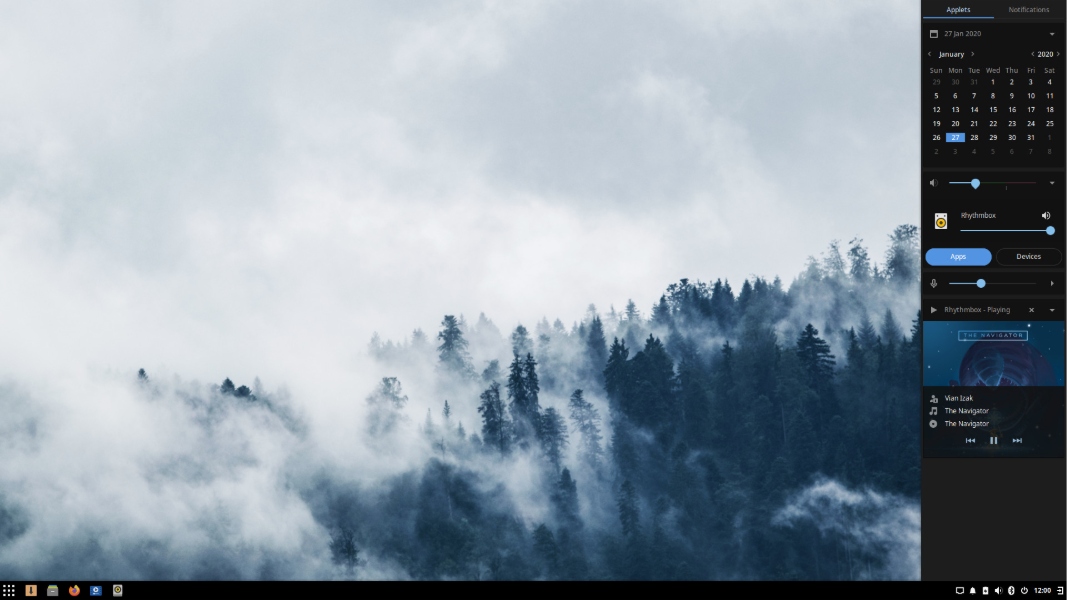 This desktop environment is the face of the Solus family maintained by the Solus Project. I've covered this distro in numerous distro lists before, and it is one of the best non-Ubuntu distros for beginners.
The USP of Budgie is Raven — A combined area for notifications, widgets, and various customization options. It allows easy access to the calendar and different control options for volume, audio playback, power options, etc. Besides Cinnamon, Budgie is another of my favorite desktop environments.
Ubuntu Budgie is an official Ubuntu flavor that features the Budgie desktop by default. But like other desktop environments, not a lot of major distributions support Budgie out-of-the-box. Hence, if you want a Budgie desktop, you should most probably use either Ubuntu Budgie or Solus OS.
Pros:
Feature-rich and luxurious desktop using the most modern technologies
Unified home for notifications
Beautiful user interface
Cons:
Limited availability across distributions. Requires manual install.
10. Enlightenment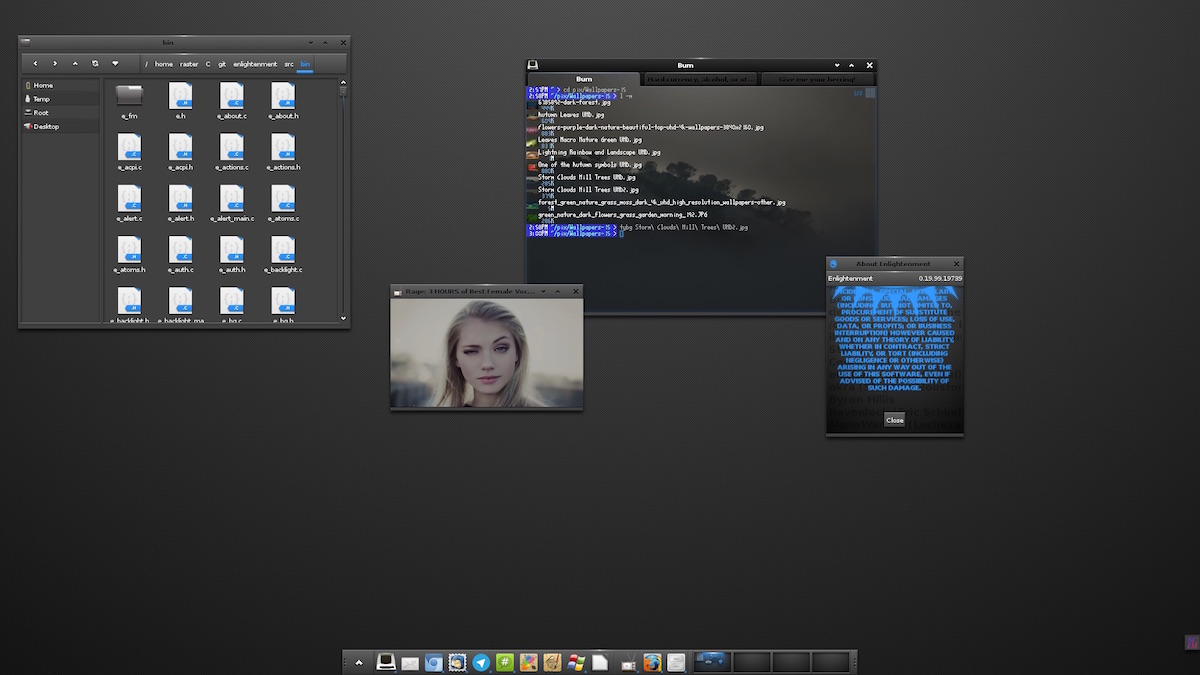 Started long back in 1996 as a project to build a Window Manager for X11, Enlightenment, or simply called E, provides a graphical shell that can be used along with desktop environments like KDE and GNOME.
In case you choose to use it along with EFL (libraries), it can act as a full-fledged Linux desktop environment. Bodhi Linux, a popular and lightweight Linux distro, earlier shipped with Enlightenment as the default desktop; now it uses an Enlightenment fork named Moksha desktop.
With the latest Englightenment 0.24.1, this Linux desktop environment project is currently improving the Wayland support with an aim to transition move from X11 to Wayland eventually.
Enlightenment is primarily developed on the GNU/Linux platform. Hence, most GNU/Linux distributions, including platforms like Tizen supports Enlightenment straight out of the box. If you install an Enlightenment desktop, you also get a range of applications written using EFL like Terminology terminal emulator, Rage media player, and Ephoto image viewer.
Pros:
Simple user interface
Lightweight and fast
Editor's Recommendation:
As mentioned earlier, there are tonnes of choices in the Linux world, and the question "Which is the best Linux desktop environment" doesn't have a definite answer. However, there are some excellent choices in this comparison that you can choose based on your requirements.
If you're looking for a power-packed and feature-rich desktop environment, go for KDE or Cinnamon, which also resembles the Windows-like interface. If your computer system has low hardware resources, you can choose a lightweight Linux desktop like MATE or Xfce.
So, which Linux desktop environment is your favorite? Don't forget to share your views.
FAQs
1. What is the most widely used Linux desktop environment?
A. GNOME and KDE are two of the most widely used desktop environments because most Linux distributions ship with the same. Out of both, KDE is the most customizable.
2. What is the most stable desktop environment?
A. Almost all the desktop environments are pretty stable, but if we had to pick the most stable DE, we'd probably choose GNOME.