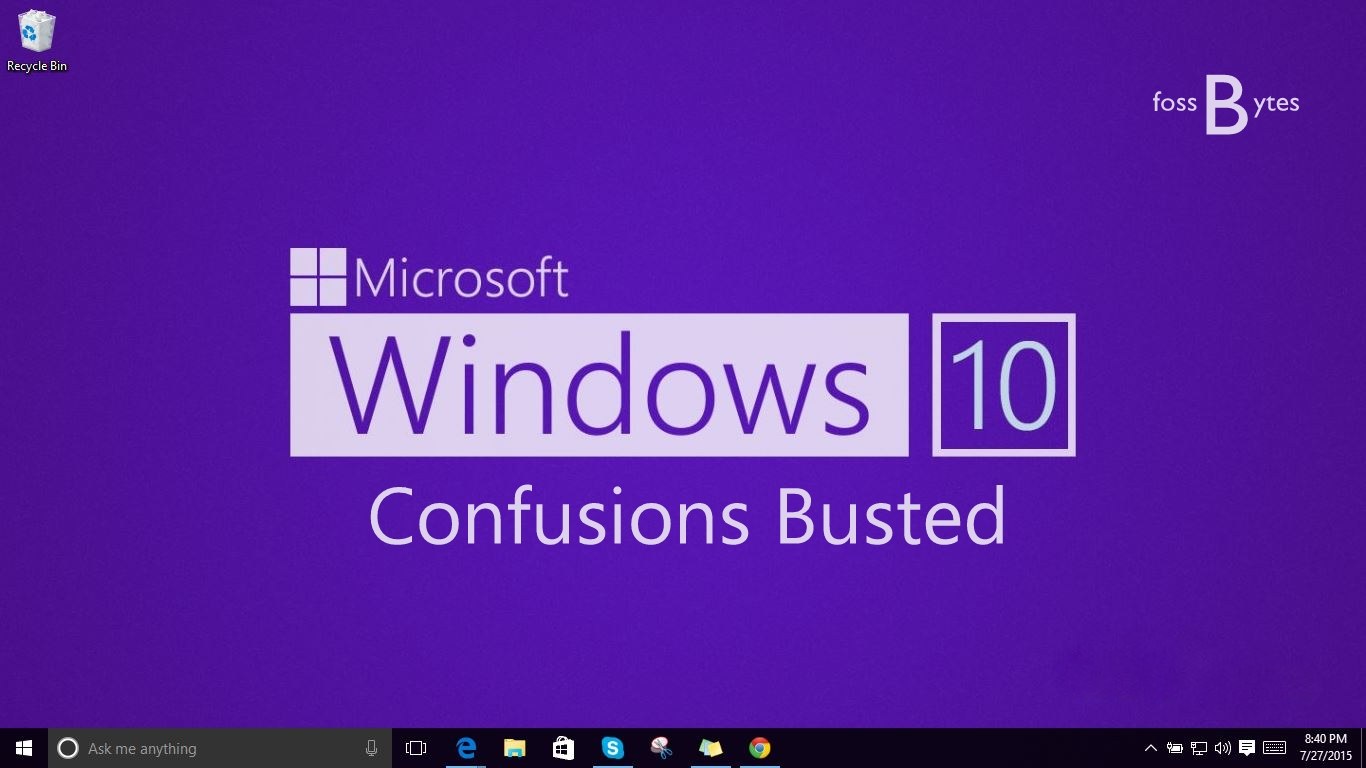 Short Bytes: Now, Windows 10 is launched and Microsoft is convincing as much as users to take the advantage of its free Windows 10 upgrade offer. Now that Windows 10 terms of license agreements are out, we are here to bust the biggest Windows 10 upgrade confusions.
M
icrosoft has been really unclear in the past regarding its update process. The Windows 10 "as a service" concept has generated confusions like pricing, free security updates and fixes, Windows 10 upgrade path, non-genuine Windows 10 upgrade and much more.
Will I Get Windows 10 for free?
This is one of the most discussed questions at online forums and our readers too constantly ping on our Facebook page regarding the same. Just like the earlier versions, Windows 10 comes with the rights to install and run Windows 10 on a single licensed device.
Microsoft has made clear that any PC running Windows 7, 8, or 8.1, will be getting free Windows 10 upgrade. No hidden means.
I repeat, if you have a genuine copy of Windows 7,8, or 8.1- you'll get Windows 10. Period.
Read more here.
What will happen if I upgrade my pirated Windows OS?
Well, you'll be seeing a display message on the right-bottom of your screen saying- "This is not a genuine copy of Windows." Just in case you buy a new system and you get this hologram on your PC, do return it. You'll be able to work as usual on the pirated copy, but Microsoft hasn't said anything about the regular updates- so don't get your hopes high.  Read more here.
When will I get Windows 10 upgrade?
Windows 10 is officially being released on July 29. But, not everyone will be getting the upgrade immediately as Microsoft is releasing the upgrade in phases. If you are a Windows Insider and you're testing Windows 10 Preview, you'll be getting the OS before everyone else.
For those who have reserved their Windows 10 upgrade copy, but ain't running Windows 10 Preview, they'll have to wait for some time.
Read more here.
Is my PC compatible with Windows 10? Hence, upgradable?
Windows 10 upgrade requires almost the same hardware needed to run Windows 7 or 8. Take a look at the basic requirements:
Processor: 1 gigahertz (GHz) or faster
RAM: 1 gigabyte (GB) (32-bit) or 2 GB (64-bit)
Free hard disk space: 16 GB
Graphics card: Microsoft DirectX 9 graphics device with WDDM driver
A Microsoft account and Internet access
Read more here.
I've heard that Windows 10 is the last version of Windows? Is that correct?
Yup. Windows 10 is the last version of Windows. Microsoft has said that there won't be any Windows 11 or Windows 12 or anything else. Microsoft wants to change the basic idea of an OS. Redmond says Windows 10 won't be just an OS, it will be delivered as a service. And, this service model will be governed by the updates.
Read more here. 
How to reserve my free copy of Windows 10?
Till now, you should've done this. Well, if you haven't reserved your free copy of Windows 10, look for the upgrade icon in the taskbar and click on it. If you don't see any Windows 10 upgrade icon, you can follow the method explained in next question.
How To Get Windows 10 Upgrade Icon If Missing?
Click here to know the Windows 10 upgrade icon method in detail. The method is actually an answer provided by Microsoft on of its forums.
Update: Stop Waiting! Know How to Install Windows 10 Without Windows Update
Will I pay regular update fee after Windows 10 upgrade?
No. Windows 10 updates are free. Just like the older versions of Windows, Windows 10 comes with a 10 year update support that will be divided into two parts. According to an update to Windows Lifestyle Fact Sheet, Microsoft has said that Windows 10 will come with ten years support. In its update, Microsoft has said that it will provide "mainstream security" support until 2020 and "extended security" support until 2025.
Read more here.
Out of the different Windows 10 versions, which one I'M going to get?
I won't talk much and let these tables speak: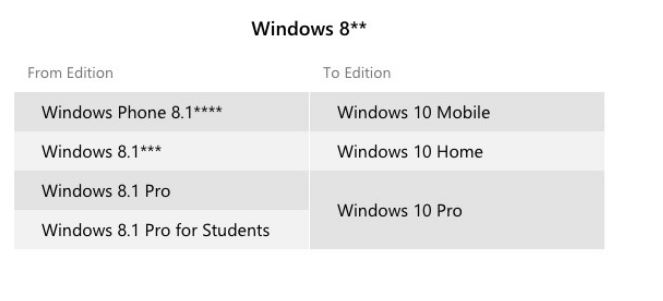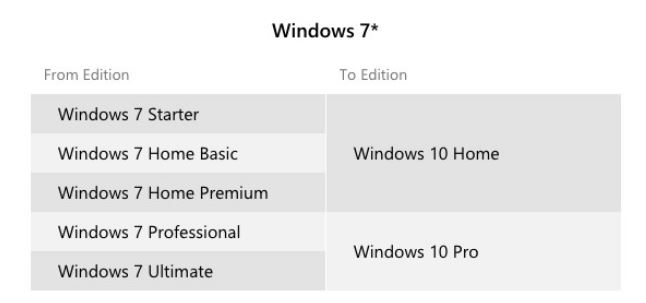 How will I receive Windows updates?
As I mentioned above, Windows 10 updates will be a more prominent feature in Windows 10. Now Microsoft will be delivering updates more often. Things are about to change more as Microsoft will be distributing the updates using peer-to-peer protocol i.e. P2P technology.
This peer-to-peer update system will be optional and useful for those with multiple PCs on same network.
Read more here.
What if I don't like Windows 10 after upgrading Windows 7 or 8.1?
If you are getting a new PC, you'll get the right to downgrade it to Windows 7 Professional or 8.1. Pro. However, if you choose to upgrade your genuine copy of Windows 7 or 8.1, you'll be able to downgrade the PCs within one month of upgrade. So, if you don't like your Windows 10 upgrade, you'll get one month to downgrade.
Read more here.
I want to upgrade my Windows 7 or 8.1 to free Windows 10 by performing a clean install, no upgrade. Is that possible?
This is one of the most asked questions at our website and different online forums. Obviously, everyone doesn't want to upgrade their systems, keeping the older files and settings. You can perform the clean install, BUT after upgrading your Windows 7 or 8.1 PC. If you choose to install Windows 10 using ISO file or DVD, you won't be eligible for free upgrade, and you'll need to enter the product key.
So, upgrade your PC to Windows 10, and then perform the clean install.
Update:
Microsoft Releases Windows 10 ISO Files for Clean Install
Don't Perform Clean Install of Windows 10 WITHOUT Upgrading First
Which features of Windows 10 I'll b missing in Windows 10?
Not every feature of Windows 7 or 8.1 will be there is Windows 10, but most of the disappearing features won't be missed by many of us. I'm running Windows 10 preview on my PC and I'm a happy guy. Still, let me tell you what you are going to miss if you choose to go with Windows 10 upgrade.
Windows 10 won't be having these features: Windows Media Center, Minesweeper and Hearts Game, floppy drive won't be supported out-of-the-box, no in-built DVD support, Windows 7 desktop gadgets and Windows Live Essentials.
I hope you found this article helpful, and Windows 10 upgrade confusions are now clear to you. Are you ready for you Windows 10 upgrade? Do you have some more doubts regarding Windows 10? Tell us in comments below.