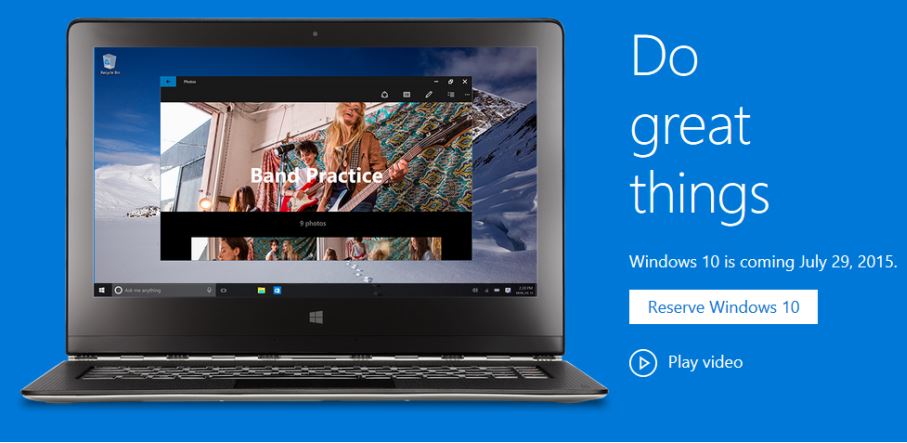 I hope that after a series of stumbling blog posts by Microsoft, they have somehow managed to make clear that who is entitled to a free Windows 10 copy. Till yesterday it seemed that all those eligible people will be getting a taste of Microsoft's most curated Windows release on July 29, but today the story is different. And once again, the credit goes to another blog post by Microsoft.
O
fficially, Windows 10 will be released on July 29, but not all of you will be getting it on the launch day. Microsoft has said that the new OS will "start notifying reserved systems in waves." The people at Redmond add further that each day they will listen, learn and update from all the experiences of Windows 10 users.
Here are the exact words: "Starting on July 29, we will start rolling out Windows 10 to our Windows Insiders. From there, we will start notifying reserved systems in waves, slowly scaling up after July 29th."
It won't be incorrect to say that the Windows 10, available as a free upgrade within one year to Windows 8 and Windows 7 users, will be released first to the 5 million Insider beta testers.
Talking about what would be next, Windows 10 will be available to the people who have clicked on that "Reserve your Windows 10 copy" button appearing on your PC.
July 29 is the date! Windows 10 for all! Tell friends & family: RESERVE YOUR COPY NOW to get it on day 1! https://t.co/jGSloJDZkM

— joebelfiore (@joebelfiore) June 1, 2015
Well, let's discuss a bit about what could be Microsoft's strategy behind this.
Even though many tech experts from the industry agree that Windows 10 is a serious improvement from Windows 8, they seem to have a common consensus that Windows 10 Previews aren't completely ready. Launching it first to the Insider users means that the most devoted and excited members of the Microsoft community will get it first. This means that they will help the software company to spot more bugs and thus releasing a more polished Windows 10 to the usual users.
Did you find this post helpful? Tell us your views about Windows 10 in comments.
Also read: Disliking Windows 10? Run Windows 1.01 in Your Browser Right Now