Porsche Taycan has been unveiled worldwide. Before the official Porsche Taycan reveal, the car was known as Mission E, a prototype electric concept.
We have been closely following the development of Porsche Taycan for the past few weeks and needless to say, this EV is going to bring in some serious competition to the likes of Tesla Model S. During the Porsche Taycan unveiling, a lot of features were revealed about the EV.
Prior to the Porsche Taycan reveal, several auto journalists tested the car, and almost all of them came out fairly impressed with it.
Here is a list of the top 10 features of the Porsche Taycan which make it one of the best new EVs to look out for —
Porsche Taycan Unveiled: The Top 10 Features Of The Porsche EV
1. Porsche Taycan Has A 450 km Battery Range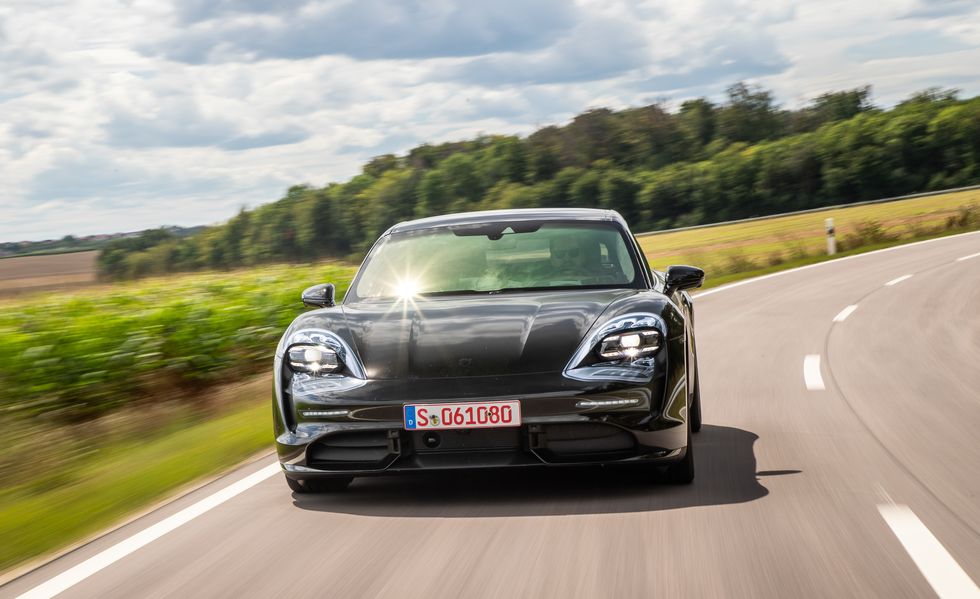 This EV from Porsche has a 450 km range, thanks to its 90 kWh liquid-cooled battery. This figure is based on the European NEDC cycle, which is not as accurate as EPA.
According to Car and Driver, an American automotive magazine, the real-world range of the Porsche Taycan is somewhere around 234 miles/376 km. The range was revealed after testing Taycan on a twisty road and highway back to back.
The car's lithium-ion battery pack is placed under the floor and consists of more than 400 LG-made cells packed in 34 modules. Porsche Taycan's battery also supports 250-kW DC fast charging.
Earlier, the EV was to launch with a 350-kW battery charging capability, but Porsche postponed that feature for a 2021-launch. According to Porsche, with the 350 kW charging and 800-volt charge point, Taycan will fully charge in just 14 minutes.
2. It Has A Top Speed Of 260 And Does 0-60mph in just 3 seconds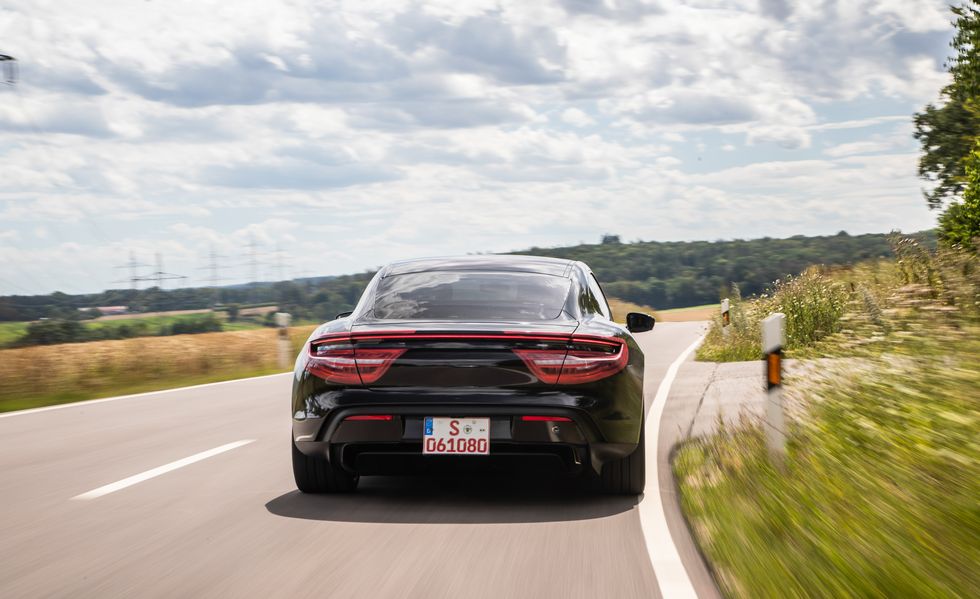 Porsche Taycan has a twin gearbox at the rear axle. The first generation Tesla came with such a feature but later on, it was replaced with a single gear. The first gear offers a better acceleration while the second gear makes sure that a top speed of 260 km/h is achieved
According to Heiko Mayer, the Director of Powertrain Product Line for Taycan, the car has an entirely new powertrain built from the ground up. Taycan uses two permanent-magnet synchronous AC motors (PMAC for short), while all Tesla electric cars use a 3-phase AC induction motor.
The PMAC electric motor is particularly capable of applications that require high speed and torque, offering superb mid-range performance. The twin motors in Porsche Taycan generate upwards of 750 HP and enable it to perform 0-60 mph sprint in under 3 seconds all day long.
According to Porsche, Taycan will not lose performance even if the charge levels drop below 50%. During a recent first-ride review, veteran auto journalist Jonny Smith tested the Porsche Taycan 0-60 mph sprint more than 25 times. Surprisingly, the EV was able to deliver the same performance every time.
Recently it was proven via Dyno test that Tesla Model 3 loses performance when the charge levels go down. Although the performance drop in Tesla cars is not huge, it is noticeable.
3. Fastest 4-Door Electric Sedan Around Nurburgring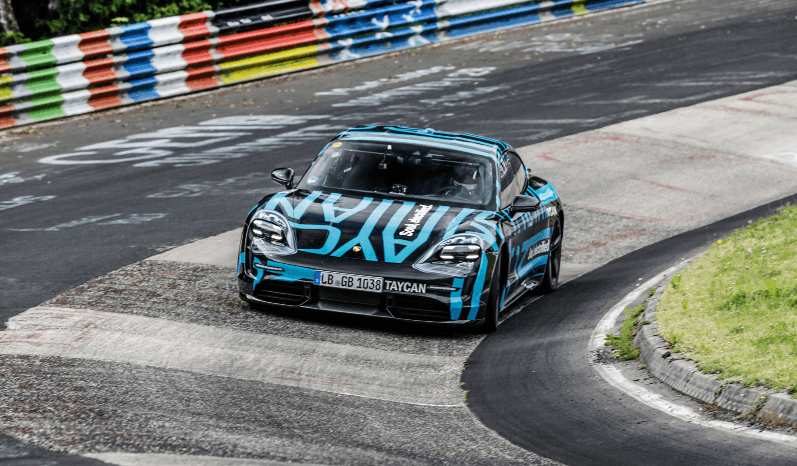 Recently, Porsche took a pre-production Taycan around the Nurburgring Nordschleife race track. The EV achieved a lap time of 7 minutes 42 seconds, which is a record for a four-door electric sedan. Although there aren't many four-door electric cars, the 7:42 timing is still comparable to a lot of powerful conventional sedans in the same category.
The 2011 Subaru WRX STI has a lap time of 7 min 55 secs while the Honda Civic Type R completes a single lap in 7 minutes 50 seconds. Porsche Taycan is slower on track against a 2019 BMW M5 and a 2017 Porsche Panamera Turbo, having lap times of 7:35.9 and 7:38 respectively. Furthermore, the Porsche Taycan recently completed 2128 miles in 24 hours on the Nardò Ring race track in Italy.
4. Porsche Taycan Has Optional Pedal Driving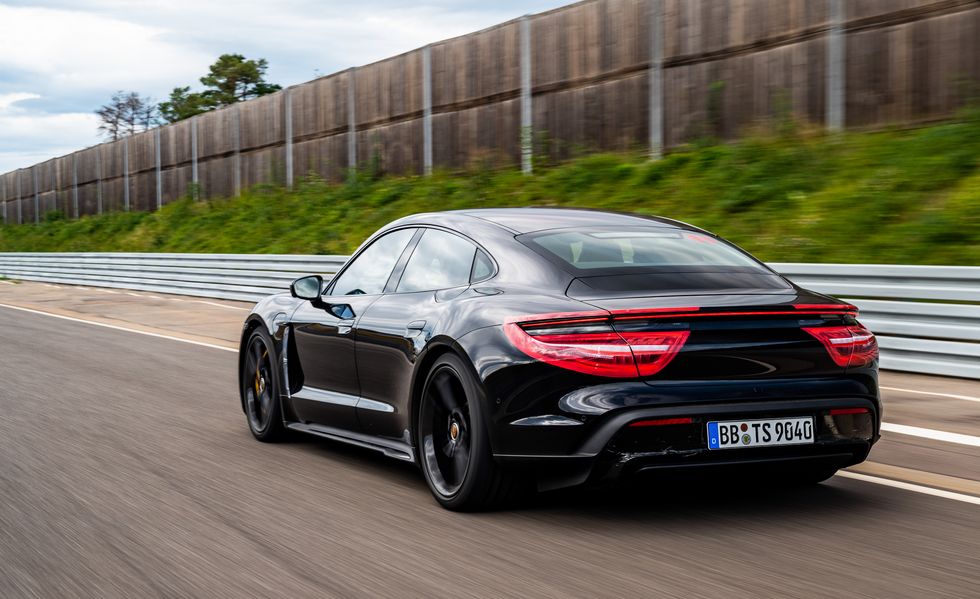 Several EVs start braking themselves when you lift your foot off the accelerator. This is done to add energy to the electric battery via regenerative braking. Porsche Tycan, on the other hand, has changed this feature a slight bit.
Without any tweaking, the Tycan will not slow down much after foot off the pedal. However, you can introduce slight braking by changing the settings. Taycan does use regenerative braking when the driver pushes the brake pedal, and the rest of the time the car simply coasts. The regenerative braking on Taycan is capable of generating 265 kW by pressing on the brakes.
5. Porsche Taycan Has Two Charging Points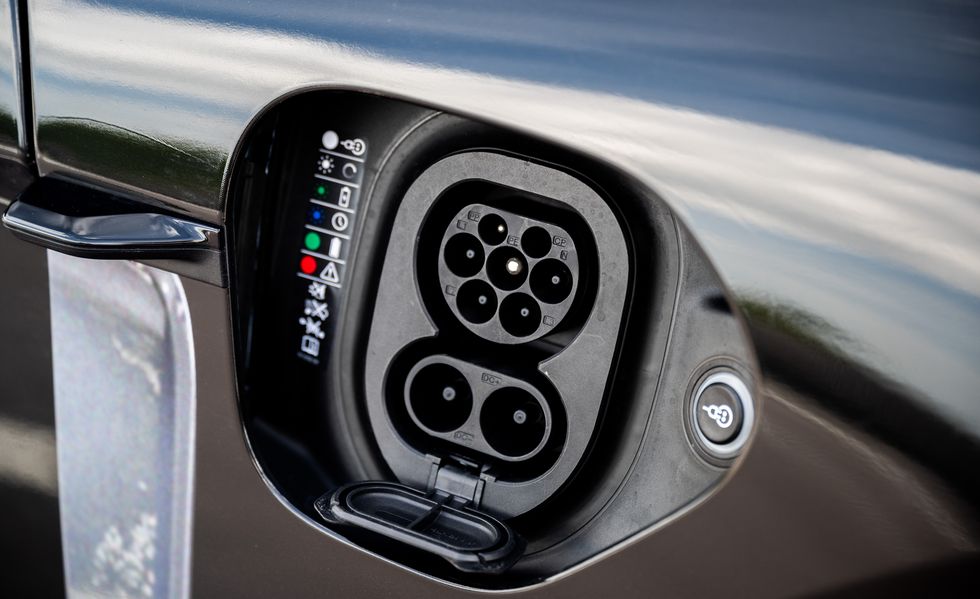 The Porsche Taycan comes with two charging points located on each side of the front two doors. On the driver's side door, there's an AC charging point, and on the passenger side, there's another AC as well as DC fast-charging port.
To provide reparations for Diesel Gate, the VW-owned Porsche will install 500 fast-charging stations across the US capable of 350-kW charging capacity. These will add 62 miles of range to Taycan in just four minutes.
6. Porsche Taycan Has Low-Bass Sound Instead Of An Electric Whine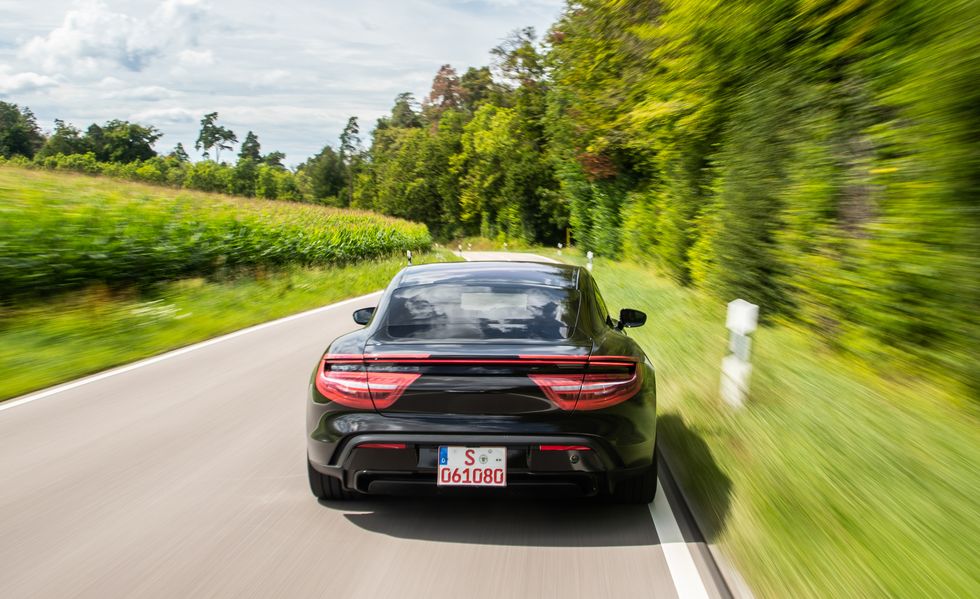 A major complaint of petrol-heads when asked about EVs is the electric motor's noise or the lack thereof. Porsche Taycan has a low base grunt which honestly feels much better than the usual whine of the electric motor. The high-frequency sound of electric vehicles turns some people off. Hence, Porsche has decided to eliminate it.
7. Porsche Taycan Will Have Several Variants In The Future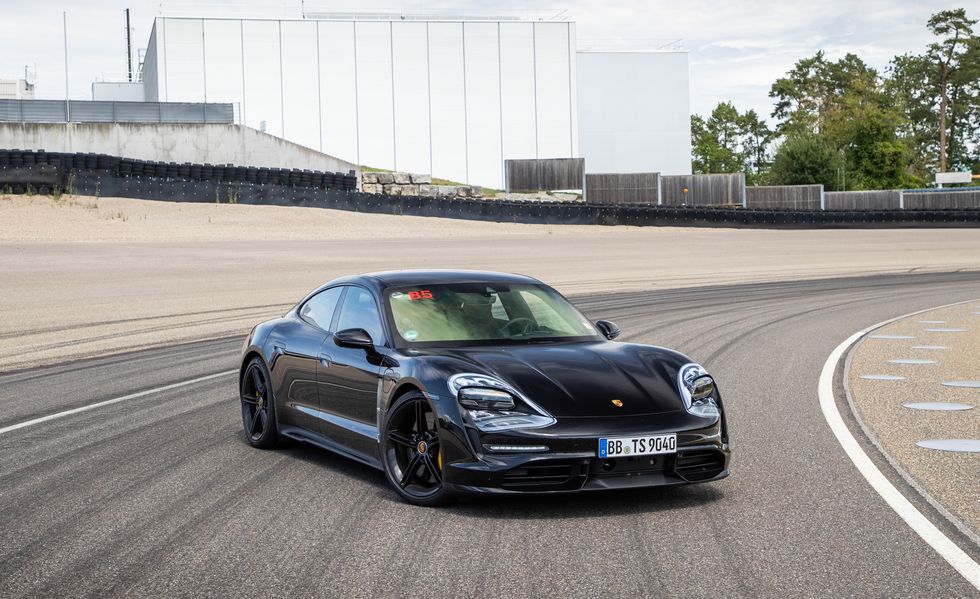 An Eco-version of the Porsche Taycan is also likely to launch in the future. This will have improved aerodynamics to squeeze the maximum range out of the 90 kWh battery pack. As mentioned earlier, Taycan regenerates power during ABS-activation and friction braking. Taycan has a drag coefficient of .22, while the Tesla Model S had a drag coefficient of .24.
8. Porsche Taycan Will Be A Mass Produced EV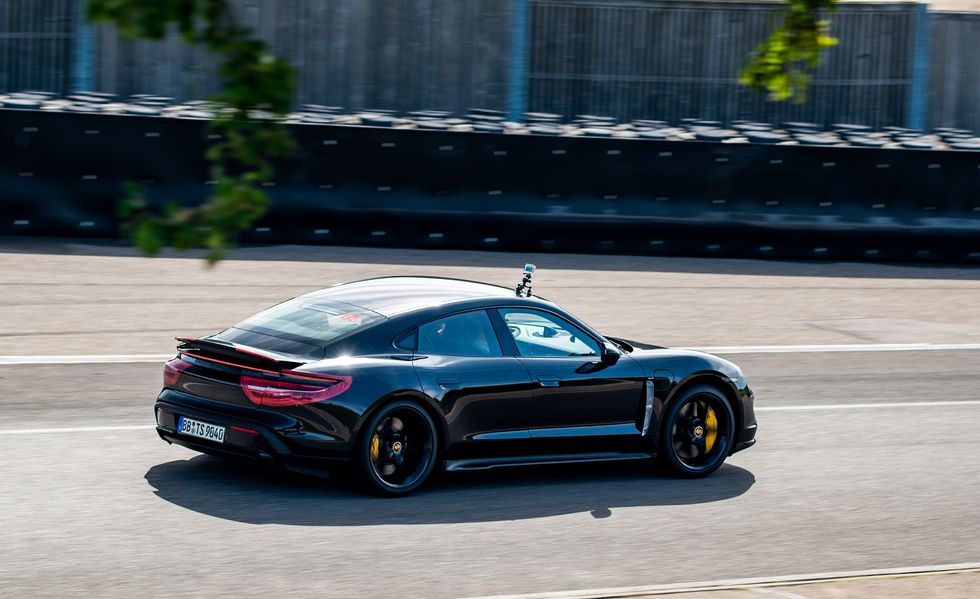 According to Porsche, Taycan isn't a one-off product, and it will be mass-produced in high numbers. At the time of writing this article, almost 30,000 people had pre-ordered Porsche Taycan by making a payment of €2,500. Johnny Smith also speculated about the existence of several lower-powered Taycan variants. These variants will be more affordable than the top model Taycan and will likely offer varying levels of battery range and horsepower.
9. Taycan has The Lowest Center Of Gravity In The Current Porsche Lineup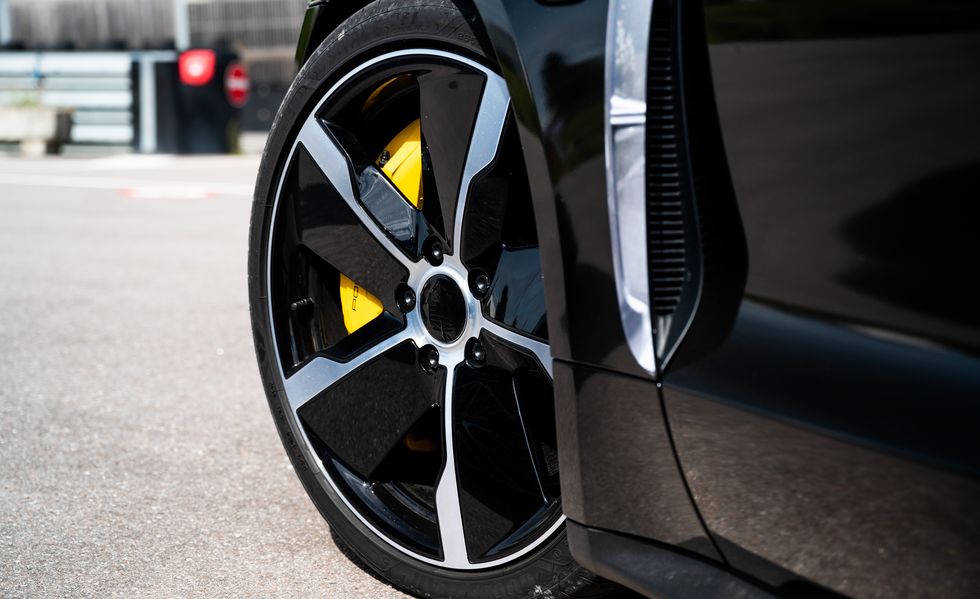 Porsche Taycan stands close to the ground with its almost 2-tonne gross weight, courtesy of the 90kWh battery pack. Its center of gravity is even lower than the race-spec 911 GT3, which is saying a lot.
10. Yes, It Is A Proper Porsche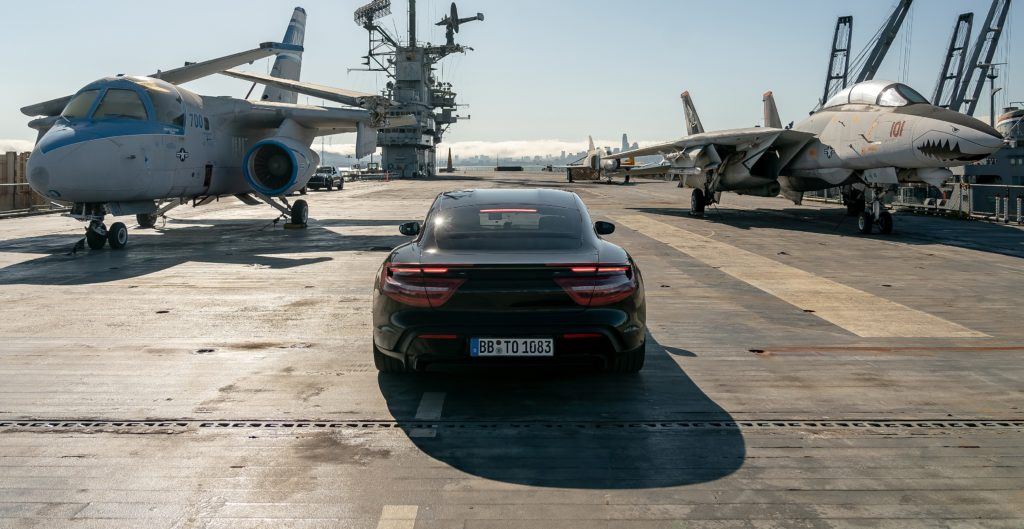 Underneath all the high-tech electric motors and battery packs, Taycan feels like a conventional Porsche sports car around the track. According to Dave Wanderwerp from Car And Driver, the sharp steering and body control indicate that Porsche is serious about making Taycan a true sports sedan. Also, you can completely turn off the stability control in Porsche Taycan in case you feel like drifting around a race track.
Porsche Taycan Unveiled
The Porsche Taycan launch signifies serious competition in the premium EV space, a market that is currently only dominated by Tesla. Some people don't like the comparison between the Porsche Taycan and the Tesla Model S P100D.
According to them, Tesla is more of a straight-line dragster, while Taycan is agile around the corners. But comparisons will be made, and even Porsche is aware of that fact. That's why the German automaker has tried to make space for itself in those areas where Elon Musk and Co. lack.
The repeatable performance of Taycan is one of the main points which will be used by Porsche to target the Model S to bring in more sales.
Other brands like the Mercedes EQC, an electric SUV that has tried to take on the likes of the Tesla Model X, have never truly been successful in delivering that special character for which Tesla cars are known. Thankfully the Porsche Taycan is full of them, easily more than 10 to be honest.