Following up with The Wall Street Journal's conclusion that Instagram is causing mental health issues in teenage girls, Facebook is now playing offensive. The platform first released a statement calling the WSJ report 'mischaracterization' and has released two research decks to prove its point.
Facebook has updated the rebuttal article published by Pratiti Raychoudhary, Vice President and Head of Research at Facebook. The update says the company has provided Congress with two research decks concerning Instagram and teen well-being.
Facebook Research On Instagram
In light of the recent flak it faced, Instagram decided to hold Instagram for kids. Now, Facebook has released its internal research to the public in a show of good faith. Repeatedly pointing out the WSJ report as 'flawed,' the data itself isn't perfect.
For convenience, Facebook has released the slides with annotations. While these offer some clarity, the data itself is not enough to conclude. Firstly, this study only had 40 participants, making for an insufficient sample, even for an internal study. However, Facebook defends this by highlighting that the participants were questioned to deliberate on the negative side of things.
In its release, Facebook disproved the Journal's report by discrediting its research to an extent. Their data is vague at best and insufficient. Most of the clarifications need to be there because of the vague nature of the given data.
In Instagram's defense, bigger and more detailed studies have acquitted it of being entirely negative. The mixed role of social media is already proven by Harvard and Pew Studies. The matter of debate here is whether Instagram is creating body image issues or not.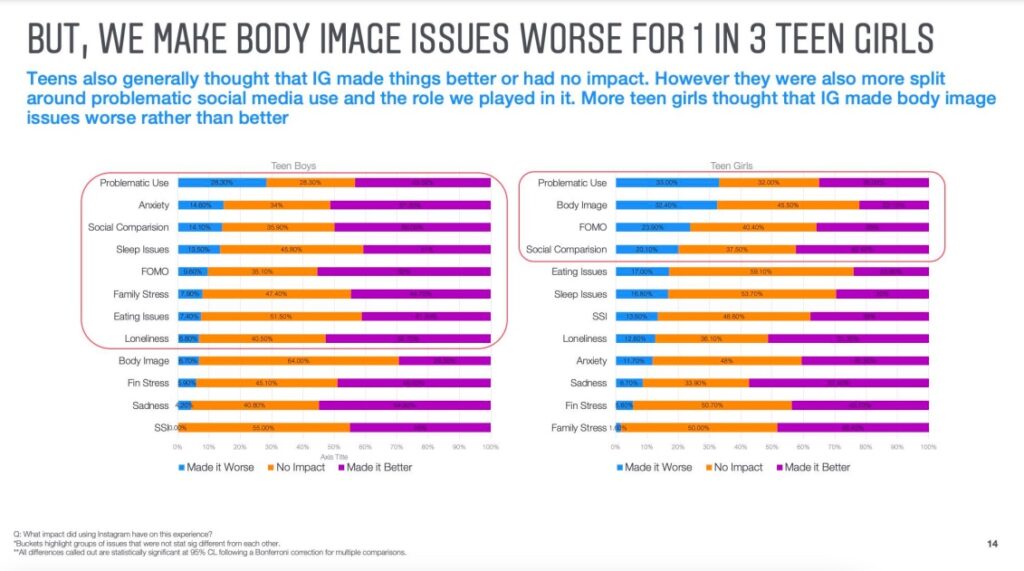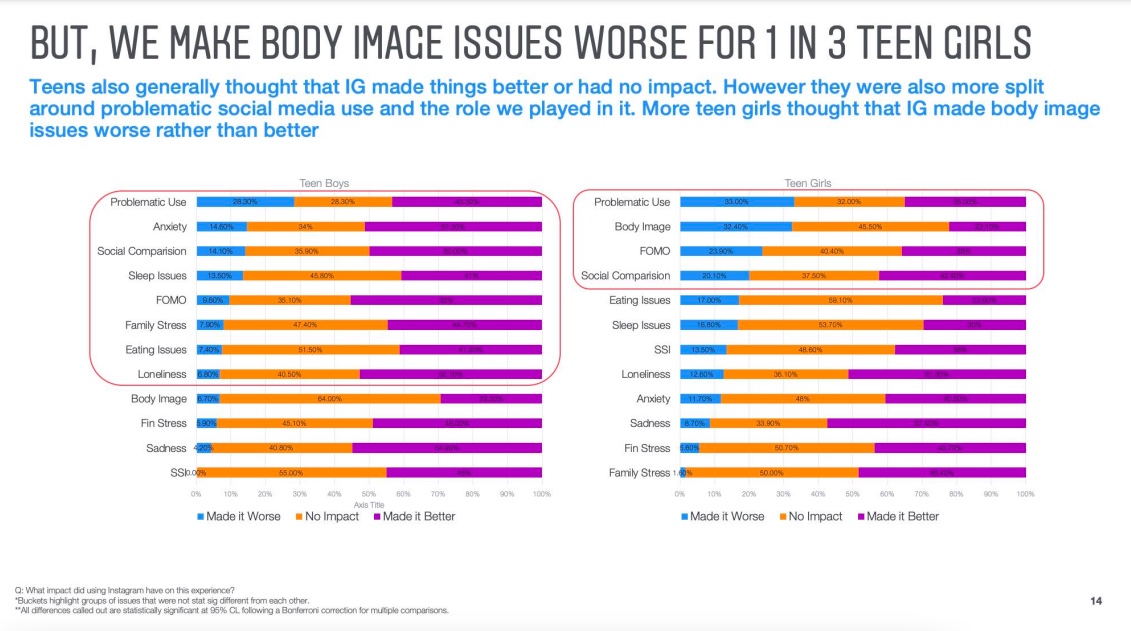 While Instagram and teen well-being are under question, Facebook's data doesn't answer the problem at hand. Like we wrote earlier, the data isn't reliable enough to reach a conclusion. Even with Facebook's data, we cannot say Instagram is good or bad for teens. That said, the current research set does show that it isn't all bad. The above screenshot shows how Instagram has helped teens cope with big issues.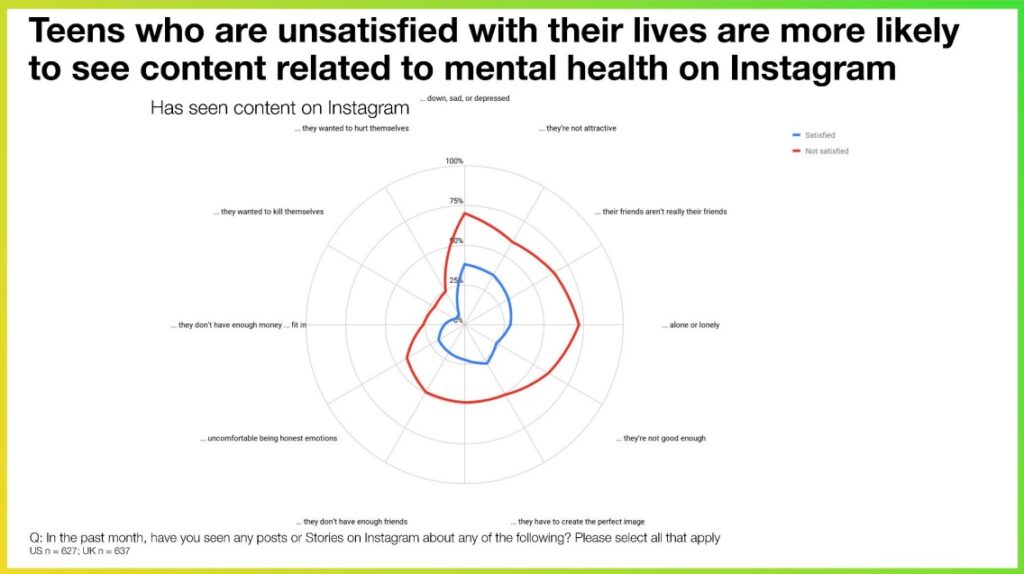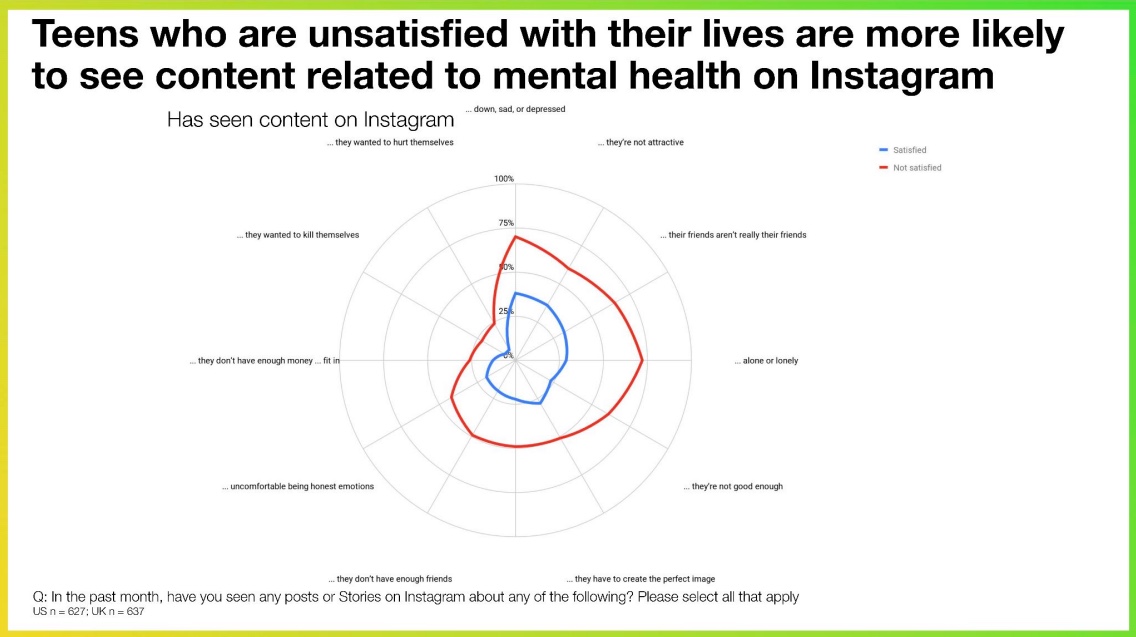 Reading further, the data also shows the role of Instagram's filter bubble in amplifying these issues. A slide shows how 50% of users who are not satisfied with their lives saw posts about "someone feeling like they have to create the perfect image."
No Conclusions
One of the conclusions of Facebook's data on Instagram and teen well-being is that there are no conclusions. While the data disprove the WSJ report to an extent, it also shows that the internal study's data is not good enough to reach a conclusion.
In a nutshell, a bigger sample with less room for error and a better methodology needs to be deployed to get more solid results. We expect Facebook and Instagram to conduct such a study to utilize the time they've bought by pausing Instagram for kids.