Safari is one of the fastest web browsers out there, but it is far from perfect. It lacks visual appeal, and there are many features present in any web browser app except Apple Safari.
For a more personalized experience, you have the option of downloading third-party apps. App Store has tonnes of options for you if you are looking forward to downloading a new web browser app for your iPhone.
To help you choose the best browser for iPhone, we have compiled a list, and we have also highlighted the features of each app. However, you cannot change your default web browser on iPhone, and all your email links and links received in messages will still open in Safari.  But you can use these mentioned Safari alternatives to ease your web browsing experience otherwise.
Before having a peek at the features of the shortlisted iPhone browser apps, have a look at the best photo editing apps for iPhone to enhance your pictures in 2020.
10 Best iPhone Web Browser Apps for 2020
Google Chrome
Adblock Browser 2.0
Firefox Focus
Aloha Browser
Puffin Browser
Ghostery
Dolphin Mobile Browser
Yandex Browser
Maxthon Cloud Browser
Opera Touch
1. Google Chrome – Best Browser App for Cross-Platform Syncing
Google Chrome is one of the best browser apps available for Windows and Android devices. Google's famous browser is also available for iOS devices. You can access your recently opened tabs, bookmarks, and favorites on different devices by signing in with your Gmail ID. It is not only popular for its remarkable cross-platform support but also offers seamless browsing.
Features of Google Chrome
Top of the line cross-platform syncing of data.
Quickly access previously visited pages.
The address bar also works as a search box for searching.
The landing page shows your frequently visited pages and top sites.
Google Chrome for iOS packs powerful features of Google to make browsing and internet surfing user-friendly. It is the best iPhone browser app for those who like to work on multiple devices running on different operating systems.
2. Adblock Browser 2.0 – Best iPhone Browser App for Ad-Free Browsing
Honestly speaking, ads have infiltrated our world like flies. If you are someone who doesn't want to see annoying ads while surfing the internet, then Adblock Browser 2.0 is one of the best browser apps for iPhone. The auto ad-blocking functionality of the app lets you visit websites in peace. You can add exceptions if you want to see ads from a particular web page.
Features of Adblock Browser 2.0
Excellent ad-blocking feature.
You can disable social media buttons that could track your location and device.
Ghost mode allows you to surf the internet in a discreet manner
You can choose the default search engine in the browser app.
Adblock Browser 2.0 is one of the most efficient browser apps for iPhone if you want to block ads automatically. Getting around the app is easy, as the interface is a replica of Google Chrome. You can download this browsing app free of cost.
3. Firefox Focus – Browser App For iPhone To Browse Anonymously
Firefox is not a shocking name in the web browsers list. Firefox for desktop has received applauds from many tech enthusiasts for its set of advanced features. Firefox Focus is not your normal browser; it is an app with a focus on privacy. You don't need to turn or any incognito mode to escape trackers; the stealth mode is always turned on in the browser. It efficiently blocks many common web trackers without meddling with settings.
Features of Firefox Focus
Browsing history can be erased with just one touch.
You can choose the search engine from the options given in the browser app.
You can block almost all types of trackers with this app.
Firefox Focus is a basic app with advanced privacy protection features that you can surely give a try when looking for the best web browser for iPhone. Lack of tabs can be annoying at times, but otherwise, it is a decent browser app for iPhone if you want to hide your identity from the online world.
4. Aloha Browser – iPhone Browser App With In-Built VPN
If privacy is your concern, there is no better option than using a VPN for browsing on the internet. Aloha Browser for iPhone comes with an in-built VPN that allows you to browse anonymously on the internet. The iOS browser app focuses on privacy and hiding the internet footprints of the users. The interface is pretty straightforward and has been designed by taking inspiration from Google Chrome.
Features Of Aloha Browser
The app allows you to surf the web in an ad-free environment.
An in-built VR player allows you to play VR videos directly from the browser app.
Videos play in the background even when you minimize the browser app.
Aloha Browser for iPhone says that it doesn't log any of the activity, which is all the more reason to crown it as the best browser for iPhone in this data-hungry world. There is also a paid version of the browser called Aloha Premium that comes with an even more advanced set of features. For hardcore privacy-focused individuals, Aloha Premium is a Safari alternative.
5. Puffin Browser – A Fast iPhone Web Browser App
Puffin Web Browser app is a fast web browsing app that is different from any other browser listed on this list. The compressing functionality of the app is pretty efficient, which keeps the page load time to the minimum. Puffin web browser supports Flash pages as it includes Adobe Flash. The latest version of the app is a boon for networks with less bandwidth as it reduced server connect time.
Features of Puffin Browser
An excellent proprietary compression algorithm compresses pages for faster loading.
Chrome bookmarks are synchronized automatically in the Puffin app.
You can adjust the streaming quality and image resolution for web pages.
Puffin iPhone browser app is intended for those who are working on resource-limited devices but want pages to load faster. It is unarguably one of the fastest iOS browser you can download. With its virtual trackpad and dedicated video player, the app offers a unique web browsing experience to users.
6. Ghostery – Best Privacy Browser For iPhone
Ghostery started as a tracking blocker addon. Their browser offering is one of the best privacy browsers for iOS devices. Its remarkable privacy and tracking blocker features have made it popular amongst many users who want to surf the internet without trackers following them on every other website. The browser app warns you if a tracker is trying to track you on a webpage. Basic functions of a browser app are performed effortlessly by the app.
Features of Ghostery Browser
The individual tracker control lets you view all the trackers on the web pages you visit.
All cookies and cache can be cleared with just one click.
Secure search facility by DuckDuckGo.
Wi-fi protection feature allows you to block trackers when your device is connected to a particular wi-fi.
Ghostery browser app revolves around privacy and does a commendable job to protect you from trackers. This iPhone internet browser is a must-have app for those who are concerned about their privacy.
Dolphin mobile browser app has aplenty features that make it a great Safari alternative. Tabbed browsing feature allows you to toggle between apps easily.
The app simplifies browsing with gestures, Dolphin Sonar, speed dials, etc. There are several themes to choose from if you want to personalize your browsing experience. It is a fast browsing app to surf the web securely and in a customized manner.
Features of Dolphin Mobile Browser
Dolphin Gestures allows you to visit your favorite websites by simply drawing personalized symbols on the screen.
Voice search functionality of the browser app is entirely accurate, which can be triggered by simply shaking the device.
You can tweet and share web pages on Facebook by the dedicated option in the app.
With speed dials, you can visit frequently accessed websites with much ease.
The app has plenty of themes to choose from.
Dolphin Mobile is a free mobile browser app and one of the most feature-rich browsers for iPhone available out there. The set of features make it tough to understand, but once you attain mastery over it, it has the potential to become your favorite browsing app.
8. Yandex Browser – An iPhone Web Browser App For Loading Web Pages Faster
Yandex is a popular search engine that has outnumbered Google in Russia. Its browser app for iPhone is all about safe and secure browsing. It can be a good Safari alternative for those who are bored with the monotonous look and feel of the default iOS browser. Yandex reduced data usage and speeds up page load time with its special Turbo mode. All the basic functions of a browser app are available in this iOS browser app.
Features of Yandex Browser
It allows voice search facility in the ree languages, namely Russian, Turkish, and Ukranian.
Yandex Zen feature provided customized content to users in the browser.
You can set the background of the landing page of the app.
To stop viewing ads while surfing the internet, you can turn on the inbuilt ad blocker in the browser.
Yandex has made a name for itself in Russia, where it is giving a tough competition to Google. Yandex browser is a decent browsing application equipped with all the basic functions. You can download it to refresh your browsing experience and want a change from Safari.
Maxthon Cloud Web Browser app for iPhone is a lightweight browser that comes with incredible features such as a built-in ad-blocker, a note-taking tool, and a password manager. Being based on the cloud engine, Maxthon offers the facility to syncs your data across Apple as well as non-Apple devices.
Features Of Maxthon Cloud Web Browser
Native ad-blocking feature to block annoying advertisements and popups.
Night Mode for browsing the internet during night time without straining your eyes.
Facility to install extensions for increasing the productivity of the browser app.
Maxthon Cloud Web Browser is a great contender for the best iOS browser app with plenty of advanced features. What I liked most about the app is the feature to sync data between different platforms and inbuilt password manager.
10. Opera Touch – iPhone browser with built-in Crypto wallet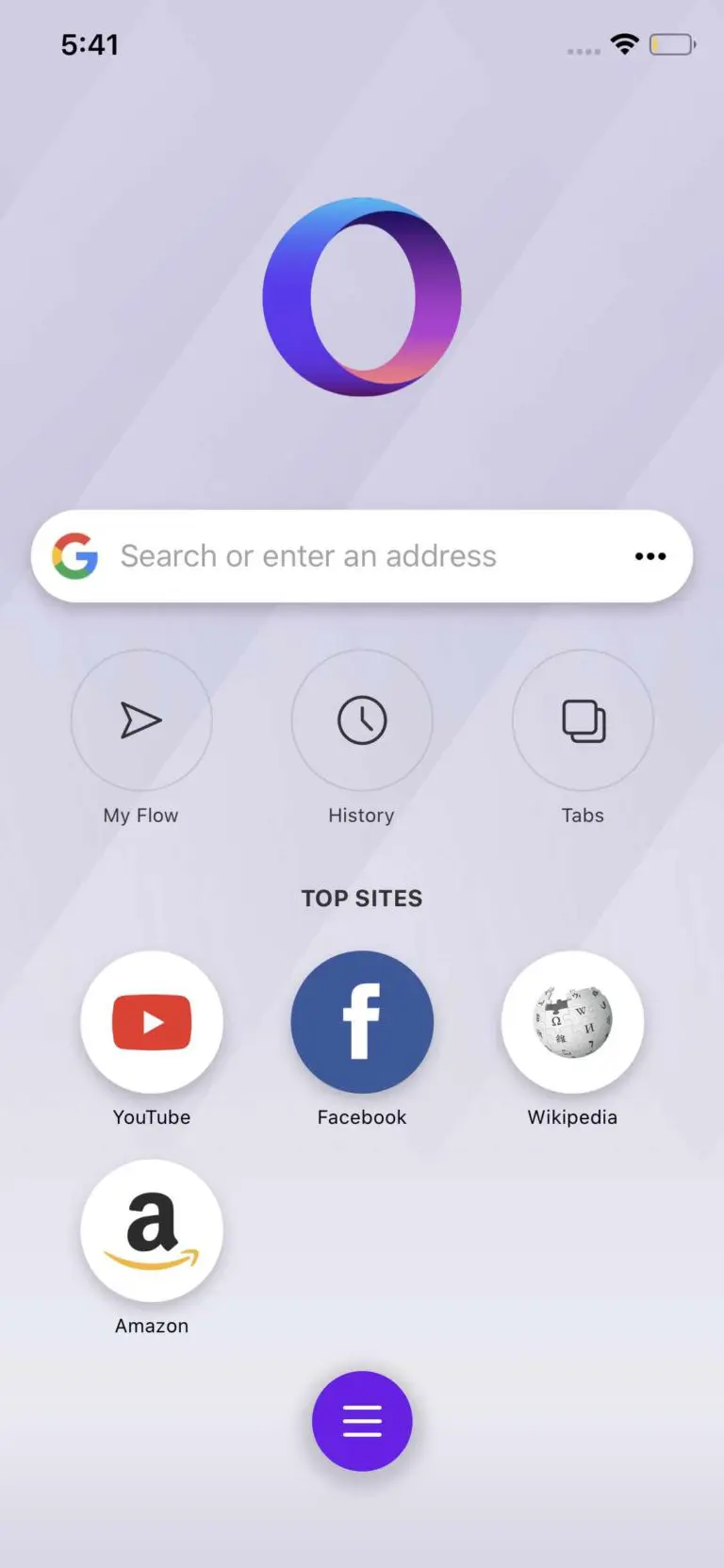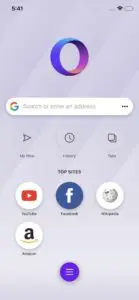 Last in our list of best browsers for iPhone is Opera Touch, a relatively new browser that comes packed with a host of advanced features such as native ad blocker, built-in crypto wallet and a feature to block annoying pop-ups and cookie dialogs.
If you use Opera Mini browser in your PC, you will be glad to know that Opera Touch syncs seamlessly with other Opera browsers. You can connect to your PC's Opera browser by simply scanning a QR code from inside the Opera Touch app. Once connected, you can share files on the go.
Features of Opera Touch iPhone browser
Ad-blocker and cryptocurrency mining protection
Designed by keeping ease of usage in mind
Fast Action Button for easy one-hand usage
Choosing The Best Browser For iPhone
With this list, we hope that you would be able to choose the best browser for iPhone in 2020. Picking out a browser app largely depends on your browsing interests and patterns. Different iPhone browsers offer a different set of features. Some users prefer apps that focus on privacy, while others like to use apps that minimize data consumption. All the iPhone browser apps that we have mentioned above can be downloaded for free from the Apple App Store.
Tell us your favorite iPhone browser app from the list and keep reading Fossbytes.