Do you think Safari is not the best browser for iPhone? We have just the list for you. There are many other Safari alternatives that are among the best browsers for your iPhone outside the Apple ecosystem. These browsers also come with their own unique set of features that improve your browsing experience.
To help you choose the best browser for iPhone, we have compiled a list, and we have also highlighted the pros and cons of each. After iOS 14, and now with iOS 15, you can change your iPhone's default browser using the steps here.
Before having a peek at the features of the shortlisted iPhone browser apps, have a look at the best photo editing apps for iPhone to enhance your pictures in 2022.
10 Best iPhone Web Browser Apps for 2022
1. Google Chrome – Best Browser App for Cross-Platform Syncing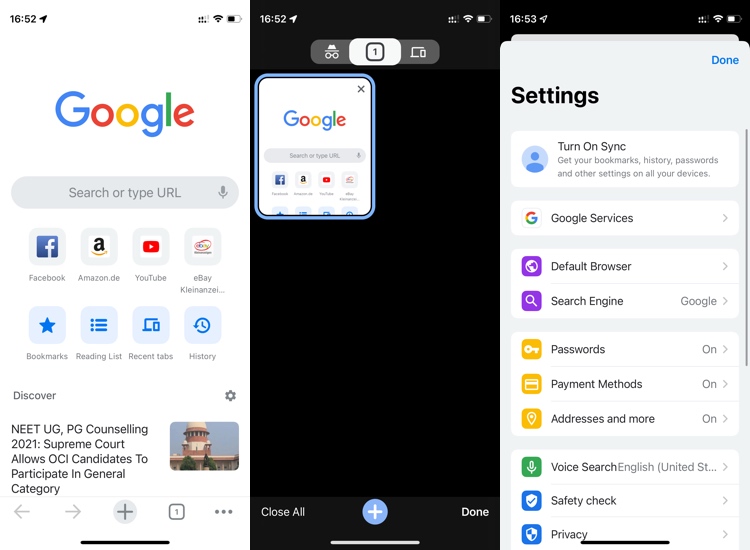 Google Chrome is one of the best browser apps available for Windows and Android devices. Google's famous browser is also available for iOS. While Chrome isn't the most private browsing experience, it is refined. It has a number of extensions, decent privacy controls, and a neat user interface.
Chrome is available across platforms, so everything can be synced between all your devices. It also comes with an Omnibox address bar, quick search, tab groups, and other neat features. It is among the best iPhone browser apps for those who like to work on multiple devices running on different operating systems.
However, if you're looking for a privacy-focused browser for iPhone, you should consider the other options on the list. While Chrome has gotten rid of cookies, Google FLoC is still a questionable privacy feature from the company.
Pros And Cons of Google Chrome
Pros
Cons
– Best cross-platform syncing
– Neat and polished user interface
– Address bar works as a quick search for Chrome settings
– Not a privacy-focused browser
2. Firefox Focus – Browser App For iPhone To Browse Anonymously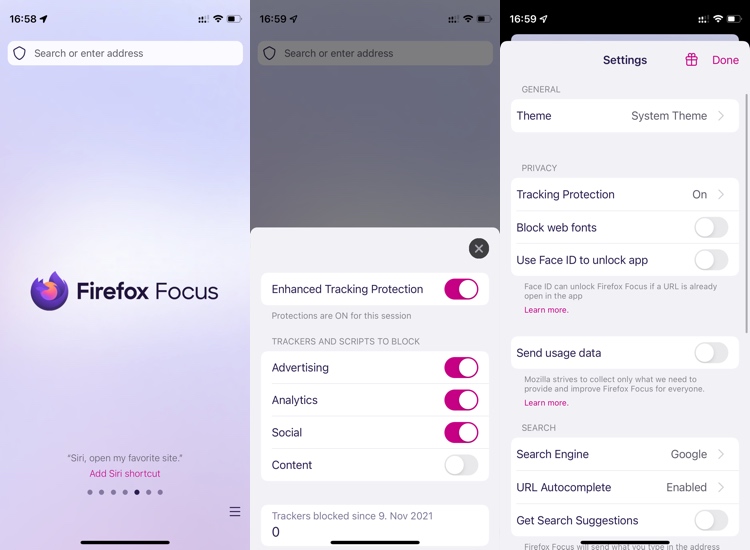 Firefox is not a shocking name in the web browsers list. Firefox for desktop has received applauds from many tech enthusiasts for its set of advanced features. Firefox Focus is a privacy-focused browser.
You don't need to turn or any incognito mode to escape trackers; the stealth mode is always turned on in the browser. It blocks ads and trackers by default, making your browsing experience clean and tracking-free.
Firefox Focus is a basic app with advanced privacy protection features that you can surely give a try when looking for the best web browser for iPhone. Lack of tabs can be annoying at times, but otherwise, it is a decent browser app for iPhone if you want to hide your identity from the online world.
Pros and Cons of Firefox Focus
Pros
Cons
– Blocks ads and trackers by default
– Fast and clean user interface
– Siri shortcuts to clear history with voice command
– Doesn't support multiple tabs. One tab at a time
– Ill suited for those looking to browse more than one site at a time.
3. Microsoft Edge – Bring Your MS Account To iPhone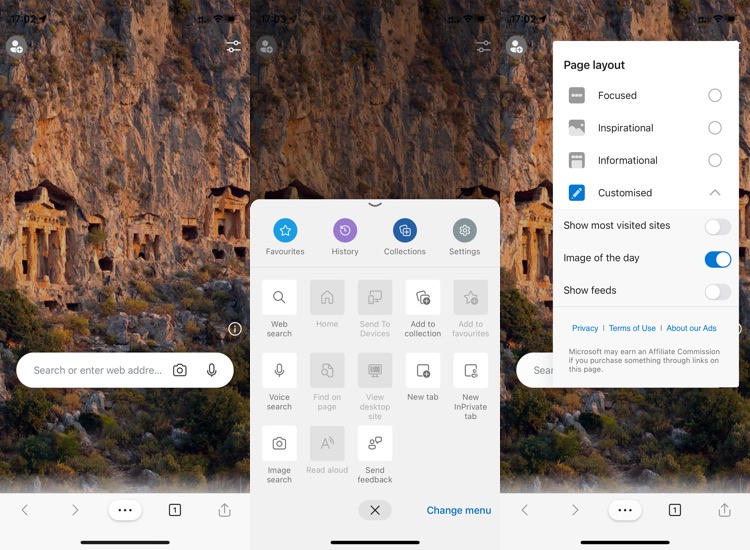 If you like Microsoft Edge on desktop, you can also use it as a Safari alternative on iPhone. Edge offers a neat and easily customizable homepage experience with secure browsing.
You can also choose to block all cookies, select your own default search engine, and use features like contextual search. One of the best features of Microsoft Edge is the homepage. You can customize it with a push of a button to show beautiful backgrounds, latest news, or enter focus mode.
Pros and Cons of Microsoft Edge
Pros
Cons
– Customizable homepage
– Good amount of accessibility shortcuts
– Microsoft account integration
– Lacks gestures for faster movement between tabs
– Limited privacy features, disabled by default.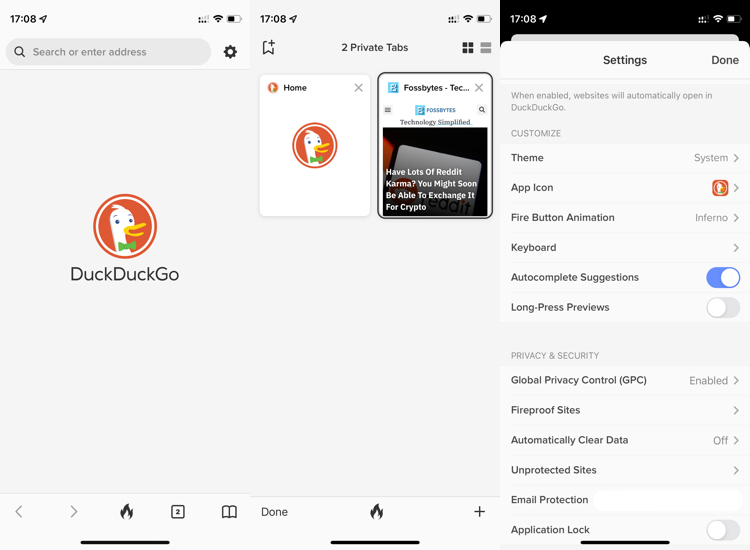 DuckDuckGo is also included in our list of the best Google Search alternatives. Now, the DuckDuckGo browser also makes for a capable Safari alternative. This is a privacy-focused browser and blocks many trackers by default.
You can also clear all your browsing data with the tap of a button, and still retain your sign-in information for sites you use. It also comes with DuckDuckGo Email protection, which removes trackers from your emails before you receive them in your inbox. You can also use your @Duck email address to sign up for other services without disclosing your real email address.
Pros and Cons of DuckDuckGo Browser
Pros
Cons
– No-nonsense user interface
– One-tap delete button for all browsing data
– DuckDuckGo email protection
– Supports Face ID/ Touch ID lock
– Some sites might show errors
– No advance features like tab groups
5. Brave Browser – iPhone Browser With Its Own News App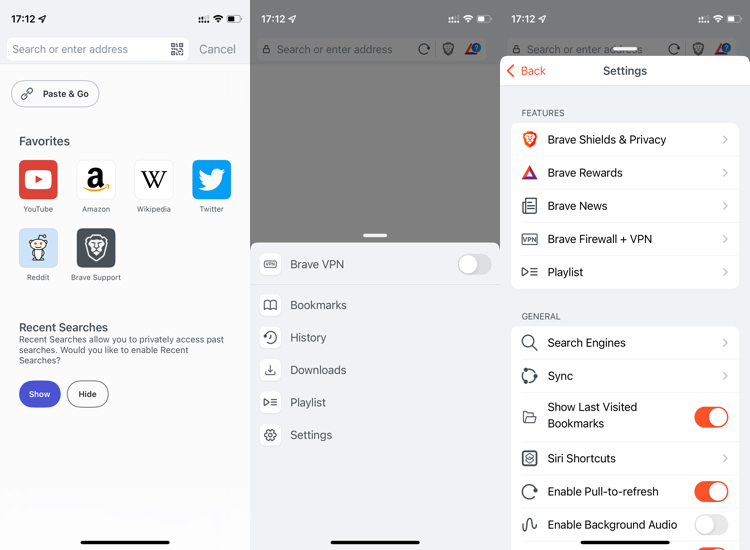 Brave browser has been making headlines lately. Recently, the company launched Brave Search beta, which is later used to replace Google Search as the default search engine in Brave browser.
Aside from its own search engine, Brave browser also comes with a baked-in VPN that you'll have to subscribe to separately. You can also turn on Brave News and customize your feed with private RSS feeds. This is good if you want to get updates from set sources without being tracked online.
Pros and Cons of Brave Browser
Pros
Cons
– Built-in VPN and news app
– Clean home page with good customization options
– You can earn rewards by watching ads
– Supports Face ID or Touch ID to lock the browser
– No free VPN option
– Brave Search isn't as polished or intuitive as Google
6. Aloha Browser – iPhone Browser App With In-Built VPN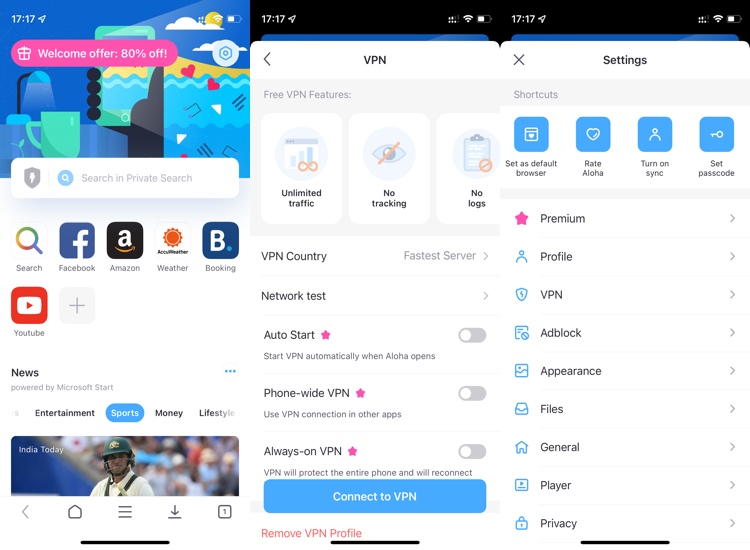 If privacy is your concern, there is no better option than using a VPN for browsing on the internet. Aloha Browser for iPhone comes with an in-built VPN that allows you to browse anonymously on the internet. The iOS browser app focuses on privacy and hiding the internet footprints of the users.
The interface is straightforward and designed with inspiration from Google Chrome. Aloha Browser for iPhone says that it doesn't log any of the activity, which is all the more reason to crown it as the best browser for iPhone in this data-hungry world.
There is also a paid version of the browser called Aloha Premium that comes with an even more advanced set of features. For hardcore privacy-focused individuals, Aloha Premium is a Safari alternative.
Pros and Cons of Aloha Browser
Pros
Cons
– Built-in free VPN
– Built-in VR player allows you to play VR videos directly from the browser app
– Basic features like custom wallpapers are locked for premium access
7. Opera – iPhone browser with built-in Crypto wallet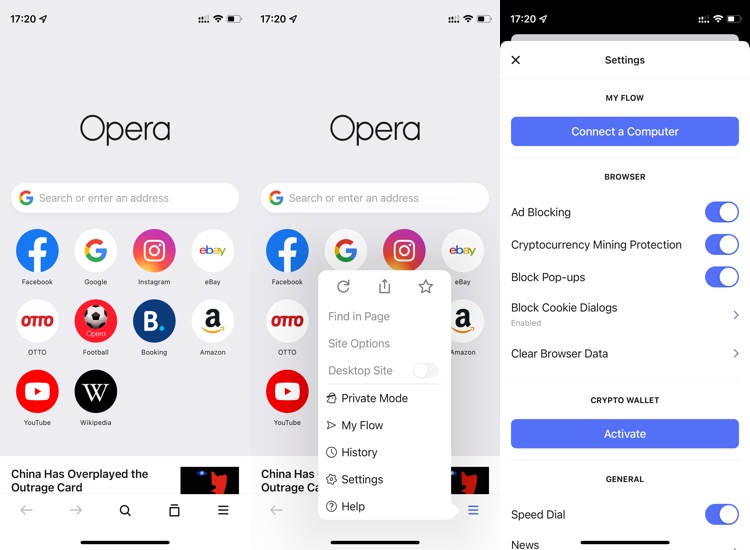 Opera Browser replaces Opera Touch and comes packed with a host of advanced features like a native ad blocker, built-in crypto wallet, and pop-ups and cookie dialogs blocker.
If you use the Opera Mini browser on your PC, you will be glad to know that Opera syncs seamlessly with other Opera browsers. You can connect to your PC's Opera browser by simply scanning a QR code from inside the Opera iOS app. Once connected, you can share files on the go.
Pros and Cons of Opera iPhone browser
Pros
Cons
– Comes with crypto mining protection and crypto wallet
– Fast and secure browsing
– Customizable navigation controls
– Works across platforms
– Jerky animations
– Action Button doesn't work well at times
8. Ghostery Dawn – Most Private Browser For iPhone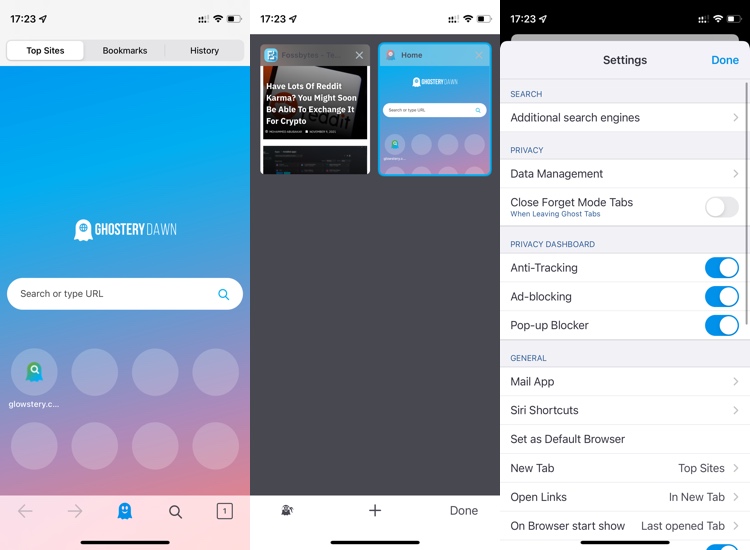 Ghostery started as a tracking blocker addon. Their browser offering is one of the best privacy browsers for iOS devices. Its remarkable privacy and tracking blocker features have made it popular amongst many users who want to surf the internet without trackers following them on every other website.
The browser app warns you if a tracker is trying to track you on a webpage. The basic functions of a browser app are performed effortlessly by the app. It also comes with Ghostery Glow as the default search engine, but you can change it in the settings.
Features of Ghostery Browser
Pros
Cons
– Clean user interface
– Good privacy features
– Intuitive search engine
– Cross-platform availability
– Misses out on features like tab groups
9. Puffin Browser – A Fast iPhone Web Browser App
Puffin Web Browser app is a fast web browsing app that is different from any other browser listed on this list. The compressing functionality of the app is pretty efficient, which keeps the page load time to a minimum.
Puffin iPhone browser app is intended for those who are working on resource-limited devices but want pages to load faster. It is unarguably one of the fastest iOS browsers you can download. With its virtual trackpad and dedicated video player, the app offers a unique web browsing experience to users.
Pros and Cons of Puffin Browser
Pros
Cons
– Fast page loading speeds
– Mouse and trackpad support
– Interface looks cluttered
– Trackpad controls are buggy at times
– Doesn't auto-switch between light and dark mode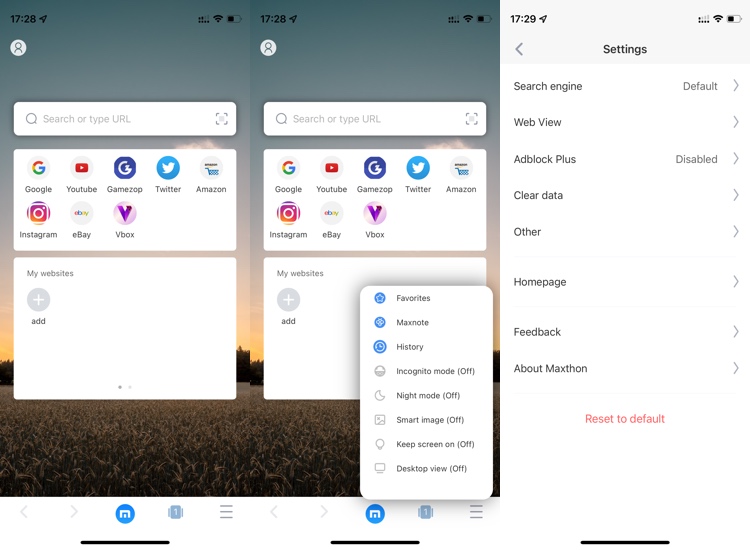 Maxthon Cloud Web Browser app for iPhone is another lightweight browser that comes with good features such as a built-in ad-blocker, a note-taking tool, and a password manager. Being based on the cloud engine, Maxthon offers the facility to sync your data across Apple as well as non-Apple devices.
It is a great contender for the best iOS browser app with plenty of advanced features. What I liked most about the app is the feature to sync data between different platforms and the inbuilt password manager.
Pros and Cons of Maxthon Cloud Web Browser
Pros
Cons
– Native ad blocker
– Lightweight and fast
– Decent accessibility settings and user interface
– Built-in password manager and Notes app
– Limited customization
– Long animation time (switch between light and dark mode takes some time)
– Limited privacy options
– No support for advanced features like gesture navigation or tab groups.
How To Choose The Best Browser For iPhone?
With this list, we hope that you would be able to choose the best browser for iPhone in 2022. Picking out a browser app largely depends on your browsing interests and patterns. Different iPhone browsers offer a different set of features. Some users prefer apps that focus on privacy, while others like to use apps that minimize data consumption.
You may be looking for a Safari alternative to find a better browser for your iPhone. This list of Safari alternatives tells you the most popular browsers that we've tried and rated for a seamless browsing experience.
All the iPhone browser apps that we have mentioned above can be downloaded for free from the Apple App Store. Do tell us your favorite iPhone browser app from the list, and if you think there are other noteworthy Safari alternatives, let us know in the comments.
Best iPhone Browsers FAQs:
Is Chrome better than Safari on iPhone?
Chrome and Safari offer at par smoothness and optimization. If you're looking for a more privacy-focused browser, Safari is the better choice. However, Chrome offers better integration across platforms.
What is the safest browser for iOS?
All the browsers in our Safari alternatives list are safe and secure. While some are more private than others, all of the browsers provide basic features like disabling cookies and trackers to give you a safe browsing experience.
Which browser uses the least battery on iPhone?
Different browsers apply different ways to limit power consumption. Most of the browsers today are optimized to sip little battery and deliver more performance. However, if you're looking for super lightweight browsers, the cloud browsers from our list are the least resource-intensive and work well with older phones.