DuckDuckGo has launched Email Protection beta to protect your privacy online. The feature will give you a free personal @duck.com email address. The emails you receive on this ID will be vetted for trackers and forwarded to your existing email ID.
At the WWDC, Apple launched the Hide My Email feature for Apple Mail. Compared to Hide My Email, DuckDuckGo Email Protection is more inclusive. While you need an Apple device to use Hide My Email, the Email Protection features works across platforms.
DuckDuckGo To Remove Email Trackers
When you sign up for DuckDuckGo Email Protection, you'll get a personal @duck.com email address. You can also use the DuckDuckGo app and extension to generate private email addresses. Think of these like burner email addresses for different sign up and subscriptions.
These forwarding addresses will remove any trackers and forward the mails to your regular email ID. It's a good feature to get rid of unwarranted trackers making their way into your email address.
The company also says it doesn't store any of your emails, which means you have absolute privacy. Your emails get bounced through your @duck.com address and straight to your inbox. It is a free email forwarding service so you can use your existing Gmail or other email addresses to get tracker-free emails.
The launch post says that 70% of emails contain trackers. The claim is based on a 2017 study that says that at least 70% of emails a regular person receives carry at least one tracker.
Seeing that number, it's about time we received a feature that could get rid of trackers from emails. While Apple started the party, DuckDuckGo was quick to join, and that too in a more inclusive manner.
Ironically, the top 3 email providers in the world, Google, Microsoft, and Yahoo have no such features to disable email trackers. That's where privacy-oriented apps like DuckDuckGo shine and offer private alternatives. This approach is also a reason why DuckDuckGo is a part of our list of best privacy apps.
How To Get DuckDuckGo Email Protection Beta
Since it is still in the beta stage, you can sign up on a waitlist to try the DuckDuckGo Email Protection feature. To enroll, download the DuckDuckGo app on your Android or iPhone.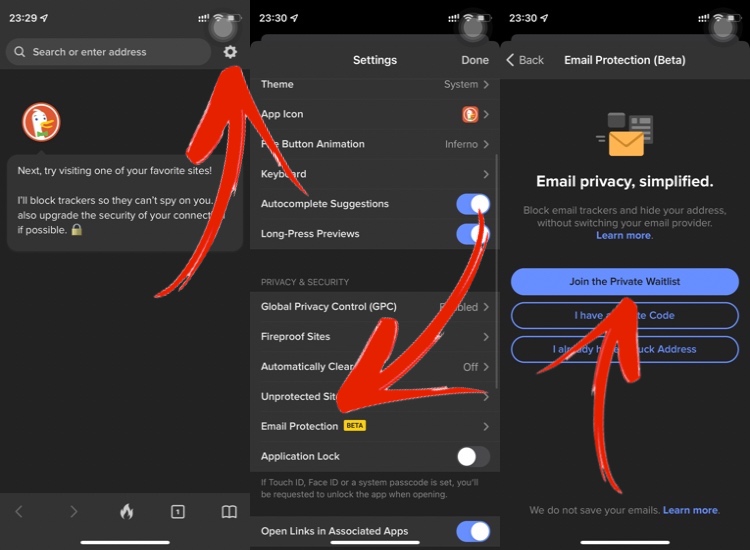 Open the app and go to settings and look for Email Protection under the Privacy & Security section (iOS)/ Privacy section (Android). Tap on Join the Private Waitlist and you're good to go.