Not just third-party tools, Google's home-baked web browser Chrome has started to block advertisements on its own via the inbuilt ad-blocking tool. Here's how you can enable/disable ad blocker on Google Chrome.
The browser automatically kicks out annoying ads from websites that don't stick to the Better Ads Standards. Chrome's ad-blocker is a clear competitor to the current industry leader, AdBlock.
It gives users ease of use because they don't have to use it at all. It doesn't need to be installed (it's turned on by default), and the blocking of advertisements happens without any user interaction.
How to disable/enable Google Chrome AdBlocker?
The only drawback or advantage, whatever you call it, of the adblocker in Chrome is that you can't disable it entirely. The ads can be disabled or enabled on a per-site basis by accessing the Chrome adblocker settings (more on that later). For Android devices, you can follow the steps mentioned here.
1. Open Chrome and click More
Settings.
2. Go to Privacy and security > Site Settings.
3. Scroll down to Additional content settings > Ads
4. Turn off Block ads on sites that show intrusive or misleading ads.
So, this is how to turn off the ad blocker in Google Chrome. You can click Block ads to turn on the adblocker again.
How to turn on adblock on Chrome for specific sites?
1. Open a site in Google Chrome.
2. Now, in the address bar, click the padlock or info button on the left side.
3. Next, click Site Settings.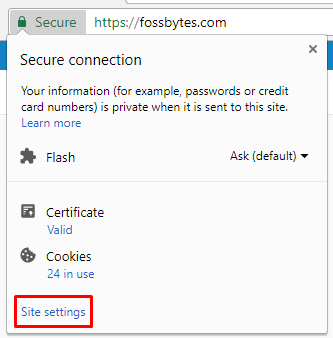 4. Scroll down, find Ads, and then select Block (default).
5. You can also block Pop-ups and redirects from here.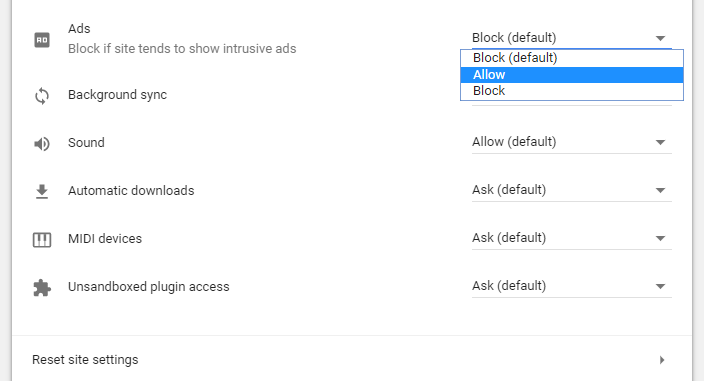 When to disable/enable ad blocker on Chrome
Some sites use pop-up windows for important information, and the majority of them rely on advertisement revenue. Some websites also rely on some mechanics that might not work with an adblocker.
So there could be times when Chrome's adblocker might interfere with the natural loading of the site, as it's a familiar thing with adblocker tools. This may lead to degraded user experience and possibly site showing errors. In such cases, you can disable the inbuilt Chome adblocker.
It's not advisable to disable the ad blocker unless it's necessary. Advertisements are bread and butter for many, but lots of sites exceed the limits and go for intrusive ads and pop-ups options.
Chrome's inbuilt ad-blocker is here to help you to counter those cases. In case you're wondering, Fossbytes follows the Better Ads Standards and only displays ads that are non-intrusive. Any feedback and suggestion regarding the same are welcome.
The above method was to get rid of the built-in ad blocker in Chrome. If you want to get rid of third-party ad-blockers, you can remove their extension from the Chrome browser.
FAQs –
Is there an ad blocker on Chrome?
Yes, Chrome browser has an in-built ad blocker to avoid ads from websites that don't stick to the Better Ads Standards.
Where is the ad blocker on Google Chrome?
Go to More
Settings > Privacy and security > Site Settings > Additional content settings > Ads.