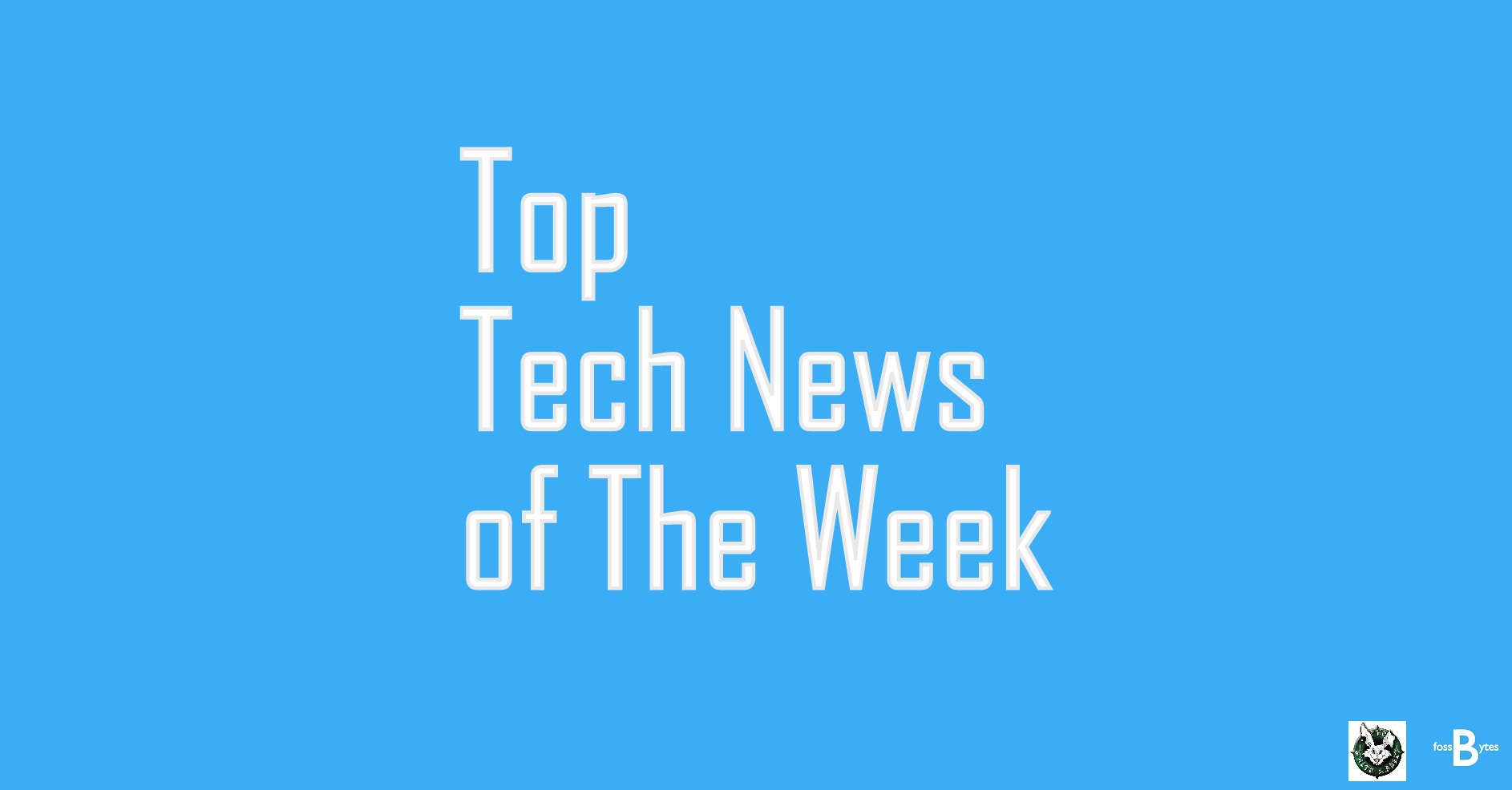 Dear fossBytes readers, we are back with our weekly feature- Top Tech News of the Week. Just like the last week here we have covered the best technology news from the past week and tried to serve you the latest happenings from the tech world at one place. Take a quick look at the best tech news of the week:
Microsoft has launched MS-DOS Mobile, a new OS designed especially for Lumia smartphones. Microsoft are going back to where productivity started for millions of people, launching a beautifully simple OS. Microsoft has spent a considerable amount of time to develop this and it shouldn't be exactly called an April Fools' Day "joke" because an app exists in reality. This is one of the most elaborate April Fools' pranks I've ever seen and it's a bit closer to the reality.
The countdown to one of the biggest programming events in the world – GOOGLE CODE JAM 2015 – has begun. Google Code Jam 2015 to be held on 10th April, brushing up on the algorithmic skills is the top priority of every individual in the programming world. A handsome prize money guarantees rigorous preparation and fierce competition. But, above all, it's the title of the World's Best Programmer and the respect associated with it that everyone dreams of.

Ello continues to surprise me. Just when I started thinking that the anti-Facebook social network has disappeared somewhere out of the limelight, here came an encouraging news for the Ello supporters. Ello has just been funded with an additional round of $5 million and thus raising the total funding to $11 million. Talking about the number of users, Ello declined to tell the precise numbers but hinted at some figure in the millions.
We all know Microsoft as "Microsoft" because of its pioneering work in operating system arena which gave rise to the Windows. A very large chunk of devices all around the world run on Windows. In recent times, the company is being noticed and appreciated for its open source endorsement. Could this result in an open source Windows? According to a top Microsoft engineer, this impossible open source Windows could "definitely" become possible in future and we can see an open source Windows.
The US space agency NASA has been a pioneer in bringing advancement to the space technology. Now, NASA has selected 12 Next Space Technologies for Exploration Partnerships, popularly known as NextSTEP, to devise the deep space destination capabilities which may enable human exploration and space missions to deep space destinations.
Through this public-private partnership, the selected companies will be preparing concept studies and technology development projects in the areas of advanced propulsion, habitation, and small satellites. This work will further be helpful to evolve strategies and mechanisms for enhancing human presence in the solar system.

Mozilla has released the latest version of its Firefox browser with a brand new security feature by improving the way encryption is managed in the Firefox. New Firefox 37 version has been released for various platforms: Windows, Linux, OS X and Android. At last month's Pwn2Own browser security competition, various bugs were found in all existing web browsers and this release deals and fixes them all. Firefox 37 now has a new feature called "opportunistic encryption" for any website that supports HTTP/2 AltSvc standard.
The ever-growing trend of selfies is now inching forward to hit a new milestone. It's time when selfies are all set to ensure the safety of your phone. That's all possible because of a new Apple patent which allows the users to unlock their iPhone with a selfie.
Patent US 20120235790A1 with title 'Locking and Unlocking a mobile device using facial recognition' proposed that this technology can use the camera on an iPhone to identify the user and then unlock or lock the phone based on its inferences.

This was just a matter of time. Back in early 2014 when Facebook acquired WhatsApp, it promised that it will keep both the platforms i.e. Facebook and WhatsApp independent. Now that it's over a year since the WhatsApp acquisition, Facebook is slowly inching towards the Facebook and WhatsApp integration.
Facebook is now testing a new "Send" button that looks like WhatsApp icon. This icon will appear under the status update as a part of the status actions options. This button appears on the right side as shown in the picture.
How to of the Week: How To Increase Wi-Fi Speed by Choosing Correct Wi-Fi Channel

Still stuck buffering your You-Tube videos? Agonising over the long time it is taking for the page to load while sulking at the screen and cursing your Internet Service Provider? Worry not! Here is a tweak that might help you to increase Wi-Fi speed.
Recommended: Top Tech News of Last Week
Stay tuned with latest technology news from fossBytes!