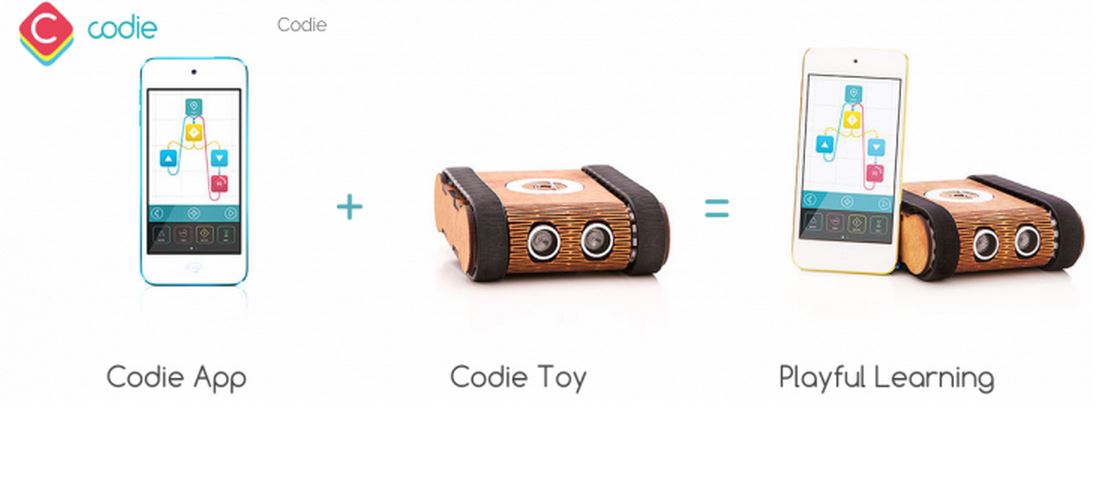 With the ever increasing scope in the arena of computer technology, there rises a need to teach the next generation the basics of coding. Parents and schools might face problems in the procedure. So, now there is a robo-friend named Codie which might help the young minds learn how to code.
Codie is basically a wheeled programmable robot controlled via an app, which aims at the children of age group 8 to 12, founded in February 2013. Currently, it is raising funds on Indiegogo. The price starts at $150. The campaign started on March 31 and will come to a close on May15, 2015.
However, it has already been financed with an investment of $125,000 from Hungarian investors, iCatapult , back in February 2014, and a further investment of $10,000 from an angel investor.
Codie robotic toy has seven in-built sensors including a microphone, temperature sensor, digital compass, ultrasound distance measurement sensor, light sensor, accelerometer and gyroscope. It also has reflected light sensors for line following and wheel encoders to measure the distance. It consists of a rechargeable 1,800mAh battery that allows upto 4 hours playtime and Bluetooth 4.0 is provided for connectivity. Its functions can be configured via the companion apps for iOS and Android.
You may also like: Hackaball : Programmable Toy that Teaches How to Code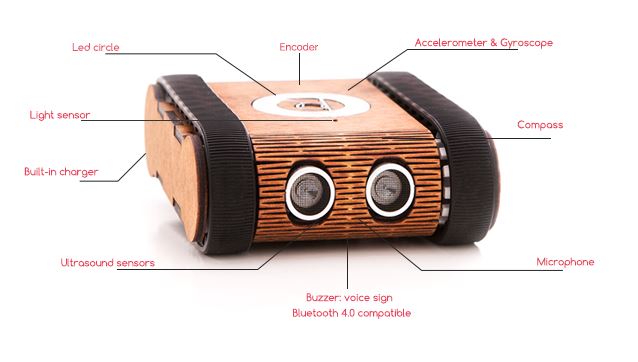 Codie robotic toy uses a visual programming language that allows the kids to drag and drop various concepts and commands devised to teach the basics of coding without diving into the confusing semantics. The main motive behind Codie is that it should be intuitive and should enliven learning in the best way possible and should be able to follow kid's imagination, thinking and actions.
Once the young users get equipped with Codie robotic toy's basic concepts, thereafter, they are let to get their hands on the actual code by turning the programs into JavaScript. After editing the JS code, they can convert it back to the Codie interface to which they are already much familiar with. In this very way, they get to examine the changes that they made in the JS code.
The robo seems to be interesting but at the same time, there are a plenty of such robos already under production. However, Codie's makers believe that their creation can still stand out in the crowd, kudos to the effort they have put into the proprietary visual programming language which is unique in its own style. It does require any sort of compiling time, so kids can experience real-time action with lots of fun. The touchscreen software also has a deep focus on gestures and signs which help the kids to feel engaged with the ongoing visual coding process.
The Hungarian team behind Codie robotic toy explained on its startup page that they have tried to integrate a number of coding elements into the companion app with Codie. However, conditional statements (like if-then-else) and programming loops are already having a place in the app.
The team said that if someone wants to be a programmer, they can learn a specific programming language and they have to learn only the syntax of the programming language not the pattern.
The team is also planning to create a cloud community where Codie users can interact and share their programs to expand the horizons of the learning environment.
The team is still far from its crowdfunding goal, which is being done in order to fund manufacturing and software development costs. If it does hit the target, we may have Codie robotic toy in shops by this November.
https://youtu.be/Jj5GKCavdeM
We hope that this project makes a good go and may our forthcoming generations learn from it the basics of programming making the future of computer technology even more enrapturing and enhancing.
Are you a technophile? Unveil your opinions through comments if you too are in love with science and technology.
Also read: What Code Should You Learn in 2015?
---
 Never forget to get your daily dose of tech updates and scientific surprises by reading fossBytes!
Keep reading. Keep sharing.
---