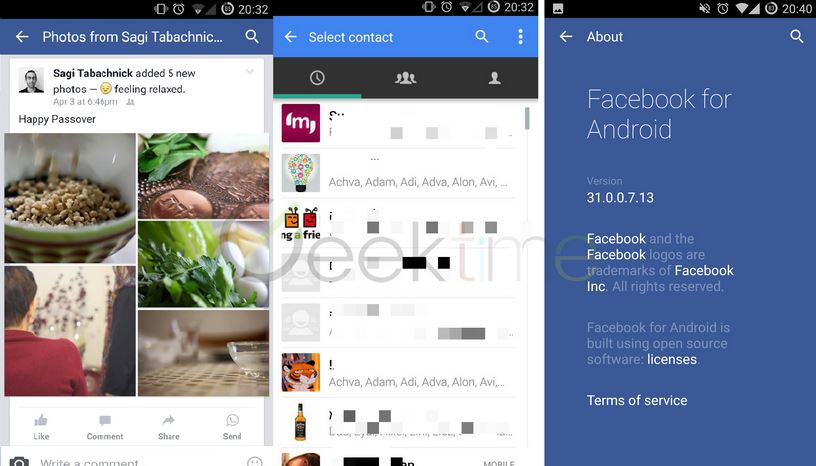 This was just a matter of time. Back in early 2014 when Facebook acquired WhatsApp, it promised that it will keep both the platforms i.e. Facebook and WhatsApp independent. Now that it's over a year since the WhatsApp acquisition, Facebook is slowly inching towards the Facebook and WhatsApp integration. In an exclusive report, Geektime has writes that Facebook has begun testing a new feature for its Android app, version 31.0.0.7.13.
As shown in the images, Facebook is now testing a new "Send" button that looks like WhatsApp icon. This icon will appear under the status update as a part of the status actions options. This button appears on the right side as shown in the picture.
Back in 2014, WhatsApp said in its blog post about Facebook and WhatsApp relationship:
WhatsApp will remain autonomous and operate independently. You can continue to enjoy the service for a nominal fee. You can continue to use WhatsApp no matter where in the world you are, or what smartphone you're using. And you can still count on absolutely no ads interrupting your communication. There would have been no partnership between our two companies if we had to compromise on the core principles that will always define our company, our vision and our product.
This is the first instance of Facebook working towards a Facebook and WhatsApp integration. This looks like the first step to merge both the platforms. Geektime writes that both Facebook and WhatsApp are closely working on an integration more prominent. It's very much possible that users will be soon able to exchange messages between Facebook Messenger and WhatsApp.
You may also like: 'Facebook-killer' Social Network Ello Raises $5 Million in Funding
---
  Are you excited to know about this integration? Tell us in comments!
For more technology updates, stay tuned with fossBytes!
---