Today, Xiaomi has finally launched the next big update to its Android skin in the global market. I am talking about none other than MIUI 12 global launch.
Not long ago, the MIUI 12 update was unveiled in China. Now, in an online event, Xiaomi has finally announced the MIUI 12 Global ROM.
As expected, the update comes bundled with several interesting features primarily focusing on the animations, interface, and privacy.
Xiaomi will begin rolling out MIUI 12 globally by the end of June 2020. You will find the MIUI 12 device list at the end of this article.
What's new in MIUI 12?
1 – Visual Appeal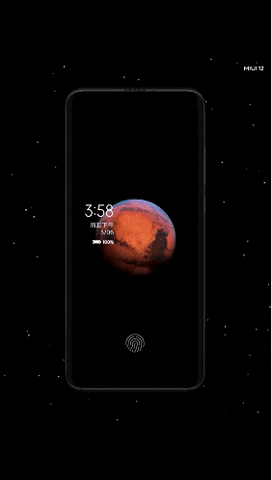 The biggest new feature introduced with MIUI 12 is probably the Super Wallpaper: high-precision 3D animated live wallpapers of Earth and Mars, which zooms in every time a user unlocks the phone.
The Xiaomi MIUI 12 update also comes with new, reformed Dark Mode, aka Dark Mode 2.0. Now, the device font boldness or contrast is automatically adjusted based on light mode or dark mode. But, the major change in the new dark mode is the Wallpaper Dimming that simulates the gradual light transition on the device wallpaper as the sun goes down.
2 – New Animations
The visualized UI allows you to understand the status of the system at a glance. With our refreshed visualized UI, everything you view is lifelike. Touch to feel the real interactive experience!#DecadesMasterpiece #MIUI12 pic.twitter.com/fYmUljtnoI

— MIUI (@miuirom) May 19, 2020
Just like last time, there is a flurry of new animations. From the icon deletion animation to new animation for opening or closing apps, opening recent apps; every little element appears to be live thanks to the MIUI 12.  There is also a new dynamic weather animation and a new battery charging animation.
Inspired by nature, our Weather app reflects all changes that happen outside. It's your window into the transient world. Swipe the screen to see weathers in different cities as you see in the real world!#DecadesMasterpiece #MIUI12 pic.twitter.com/pPuIWB6ZdO

— MIUI (@miuirom) May 19, 2020
Apart from this, Xiaomi has added over 2000 new animations in Always On Display (AOD). Moreover, users can now choose the information displayed on the AOD.
3 – Interface changes
Get confused when reading important stats? MIUI 12 transforms numbers into carefully designed graphs and charts, delivering information in a more efficient way. The visualization makes everything in your phone clear and accessible to everyone. #MIUI12 #DecadesMasterpiece pic.twitter.com/ZlAd3zeayH

— MIUI (@miuirom) May 19, 2020
The new MIUI 12 update builds on the UI changes of MIUI 11. The interface is now a lot cleaner with more whites spaces. To make it more visually appealing, the interface now displays information in the form of 3D graphs, charts.
Other than that, Xiaomi has revamped the control center, which now shows big and interactive icons. There is also the top-left corner swipe for notifications and top-right corner swipe for accessing the control center, exactly like iOS.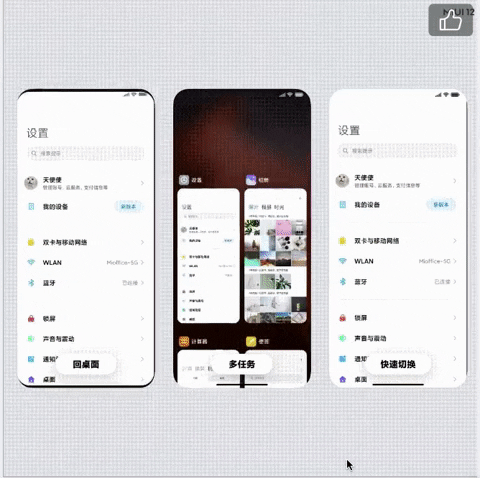 The Android 10 navigation gestures have finally arrived with the MIUI 12. There is now a thin bar at the bottom, swiping left and right on it enables switching between apps, and a long hold plus swipe up opens the recent apps.
A cool new feature that Xiaomi brings along with MIUI 12 is Floating windows. Supported apps can open in a full-fledged working floating window to enable multitasking.
We introduced floating windows to enable perfect multitasking on phones. Now you don't have to switch between apps when you're multitasking a few things on your phone. You can open and close a window in a single tap. #MIUI12 #DecadesMasterpiece pic.twitter.com/6eUqOf7r4f

— MIUI (@miuirom) May 19, 2020
4 – Top-notch Privacy
https://twitter.com/miuirom/status/1262721402639007747
Recently, Xiaomi launched its new privacy brand, so it makes sense that the new update comes with many privacy features. The biggest one is the App behavior records that keeps a log of apps accessing Android permissions and notifies whenever an app tries to meddle with sensitive actions.
Apart from that, the "Allow once" permission, which was initially introduced in Android 10, now comes with MIUI 12 as well as a new privacy management menu.
Other features include Focus Mode, Ultra Battery Saver, and a Build-in universal casting tool.
MIUI 12 Global roll-out schedule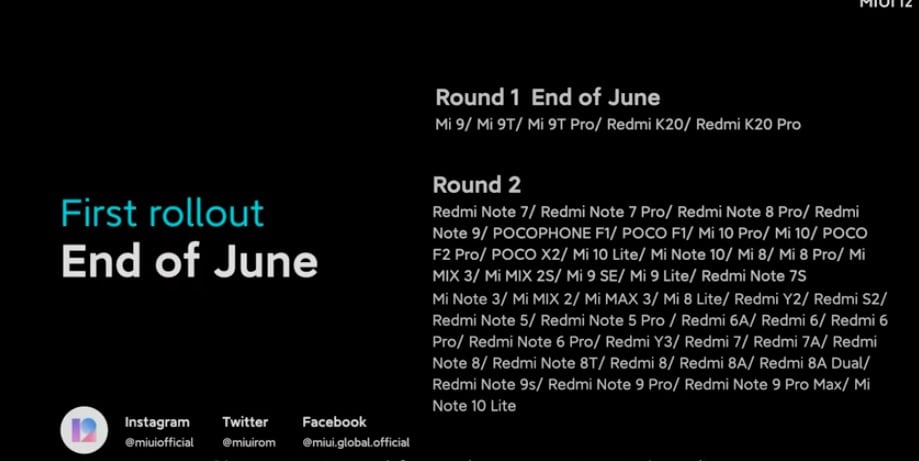 Here is the list of supported devices that will get the MIUI 12 update —
Phase I (End-June)
Mi 9T
Mi 9T Pro
Redmi K20
Redmi K20 Pro
Phase II (TBA)
Redmi Note 7/ Redmi Note 7 Pro/ Redmi Not 8 Pro/ Redmi Note 9/ POCO F1/ Mi 10 Pro/ Mi 10/ POCO F2 Pro/ POCO X2/ Mi 10 Lite/ Mi Note 10/ Mi 8/ MI 8 Pro/ MI MIX 3/ Mi MIX 2S/ Mi 9 SE/ Mi 9 Lite/ Redmi Note 7S/ Mi Note 3/ Mi MIX 2/ Mi MAX 3/ Mi 8 Lite/ Redmi Y2/ Redmi S2/ Redmi Note 5/ Redmi Note 5 Pro / Redmi 6A/ Redmi 6/ Redmi 6 Pro/ Redmi Note 6 Pro/ Redmi Y3/ Redmi 7/ Redmi 7A/ Redmi Note 8/ Redmi Note 8T/ Redmi 8/ Redmi 8A/ Redmi 8A Dual/ Redmi Note 9s/ Redmi Note 9 Pro/ Redmi Note 9 Pro Max/ Mi Note 10 Lite
In addition, we suggest reading our article on does leaving apps running in the background drain battery life or not in detail here!