Now that a number of Xiaomi devices have been issued the latest MIUI 11 feature update, it's time to throw light on one of its best features: Always-on Display.
For those who don't know, Always-on Display is an AMOLED screen exclusive feature that lights up portions of your screen, even when the smartphone is locked. The feature offers users a quick glance at the time, date, important notifications, and other tidbits, without having to touch the smartphone.
While the feature was already available to the supported Xiaomi devices, MIUI 11 has amplified the Always-on Display by adding a bunch of customization options.
Always-On Display on MIUI 11
The latest MIUI update adds different themes for Always-On display including new clock faces, reflective lighting, wave-point dial that express mathematical rhythm and more.
Here are the best additions made under Xioami's Always-On Display:
1. New Clock Themes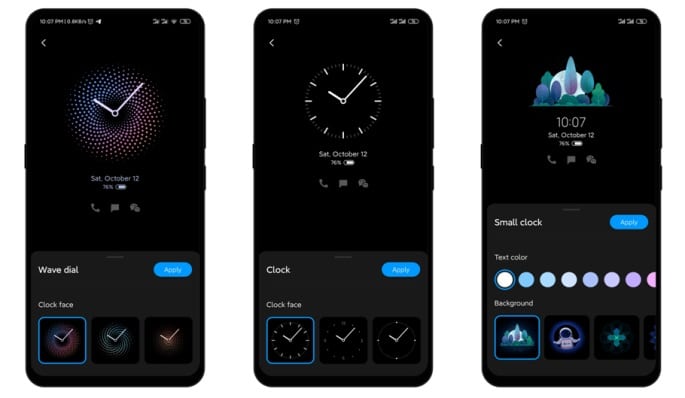 With the release of Redmi K20, Xiaomi brought interesting clock styles. This time, the company has added animated dynamic clock styles, new Kaleidoscope-like designs that get displayed every time the screen lights up, and a few more clock themes (such as Outer Space, Big Clock, Small Clock).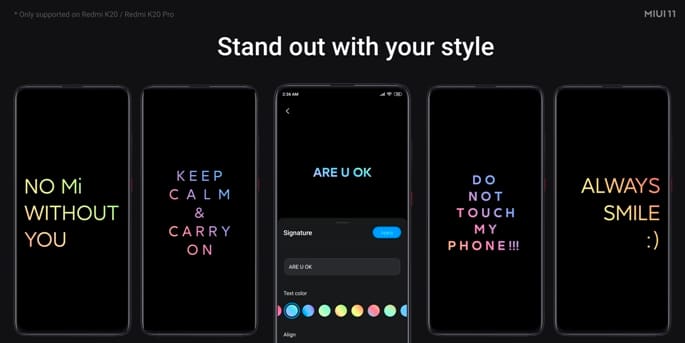 Another interesting addition to Xiaomi's Always-On Display is the Signature theme. The feature allows users to add personalized text to the lock screen.
2. Breathing Light Notifications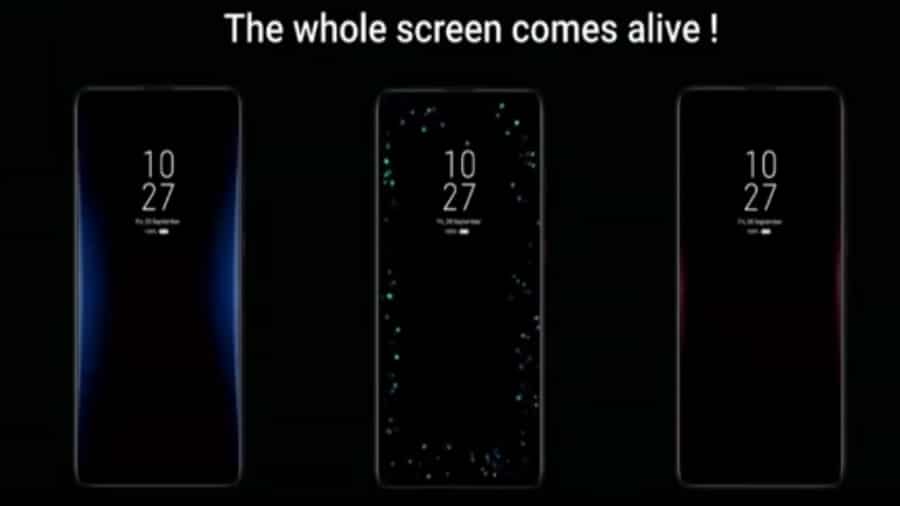 Similar to Edge notifications in Samsung's high-end devices, Xiaomi has also added notification styles that light up the entire lock screen.
As of now, MIUI 11 offers three different styles in which users can further customize their preferences.
3. Animation For Notifications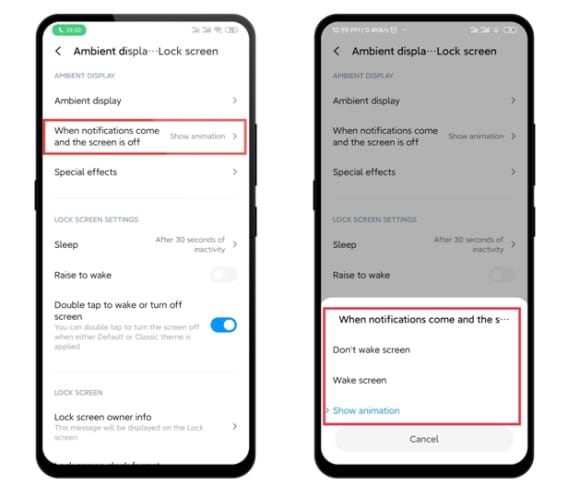 The last addition to the Always-On Display is a new setting that lets you choose from these two options: whether you want the screen to wake up when a notification arrives or enable/ disable animations on that.
How to enable Always-On Display on Xiaomi MIUI 11 Devices?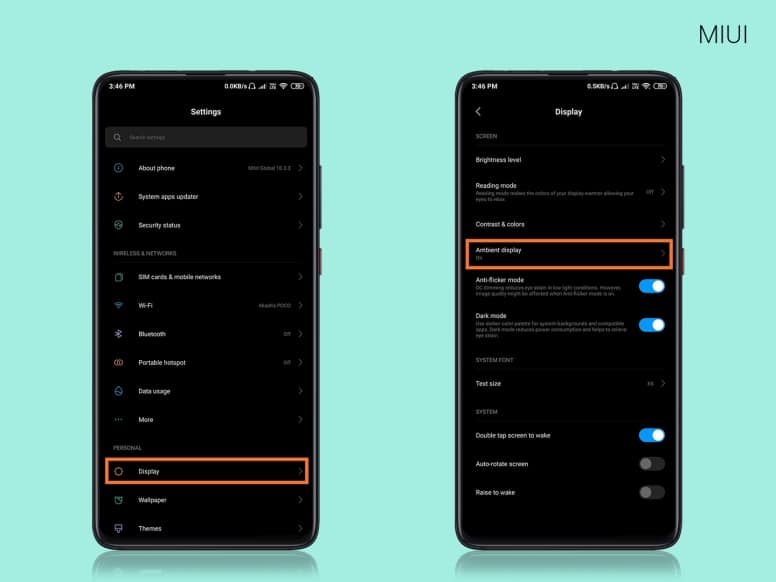 Go to your Xiaomi device settings
Tap on Display>Ambient Display>Toggle on Ambient Display
Go to Style
Here, you can choose from all the new customizations in the Always-On Display. Bear in mind that enabling the feature will result in a higher battery drain than usual.
MIUI 11 Always-On Display Supported Devices
Always-On Display only works AMOLED display due to its ability of lighting specific pixels of the display. Few smartphones offer Always-On Display despite having an LCD screen, but they do so at the cost huge battery drain.
Here is the list of Xiaomi devices that support Always-On Display:
Xiaomi Redmi K20/ K20 Pro
Mi Note 10/ 10 Pro
Mi 9T/ 9T Pro
Mi 9 Explorer
Mi 8/ 8 Pro
Xiaomi Black Shark Helo/ Black Shark 2
Redmi K20/ K20 Pro
Mi A3
Mi Mix 3
Mi 8 Pro
How to get Always-On Display on Xiaomi devices?
If your Xiaomi device is not listed above, you can rely on several third-party apps on Google Play Store that mimic the Always-On Display feature.
Always On AMOLED is one of the best ones that bring the Ambient display feature on non-supported Xiaomi devices.
However, the clock faces are not nearly as good as in the official MIUI 11. That being said, something is always better than nothing.