Slowly but surely, Xiaomi seems to be bringing all the Android 10 features to the MIUI 11 that the Chinese tech giant refrained from putting in the first update.
Back in November, Xiaomi announced that users would get their own Focus Mode. While the feature hasn't been officially released, there is a way through which you can use the MIUI 11 Focus Mode right now.
What is Focus Mode in MIUI 11?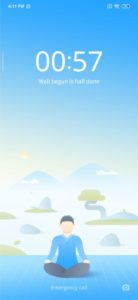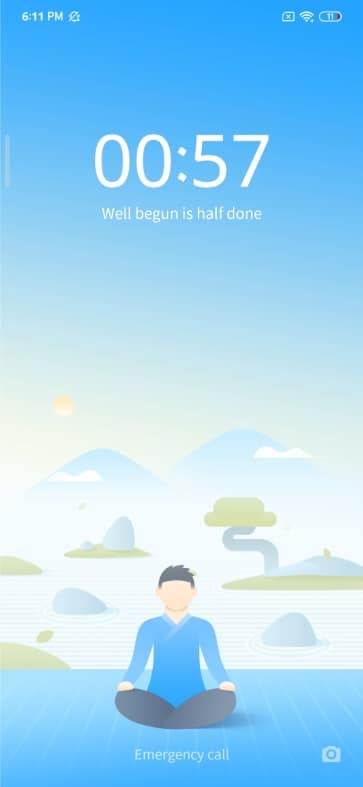 Focus Mode is part of Digital Wellbeing, which Google introduced as one of the features of Android 10. The tool enables users to pause selected apps for the specified duration. In other words, you won't be able to access the disabled apps and won't receive the notifications as well.
However, the feature works a little differently from its Android 10 counterpart. Focus Mode in MIUI 11 not only pauses apps but also locks users out of the phone.
The device remains unusable until you restart it. No notifications can go through and the phone is automatically set to silent. You can choose between five different time limits, including 20 mins, 30 mins, 45 mins, 60 mins, and 90 mins.
Focus Mode is part of the MIUI 11 "Screen Time" feature that will ultimately replace "Digital Wellbeing" located under device settings in the Xiaomi smartphones updated to MIUI 11.
How to enable MIUI 11 Focus Mode in Xiaomi devices?
Make sure to download and install the Activity Launcher app from the Google Play Store.
Download and install the latest version of Mi Settings app
Open Activity Launcher and type "UsageStatsMainActivity" in the search bar

Tap on Usage statistics under the Settings tab. This will open up MIUI 11 Screen Time.
Here you will find the Focus Mode at the bottom.
Before you test out the new MIUI 11 feature, make sure to create a shortcut of Screen Time. Here is how — Tap on the Settings icon in the Screen Time screen, then tap on "Create" adjacent to "Home screen shortcut."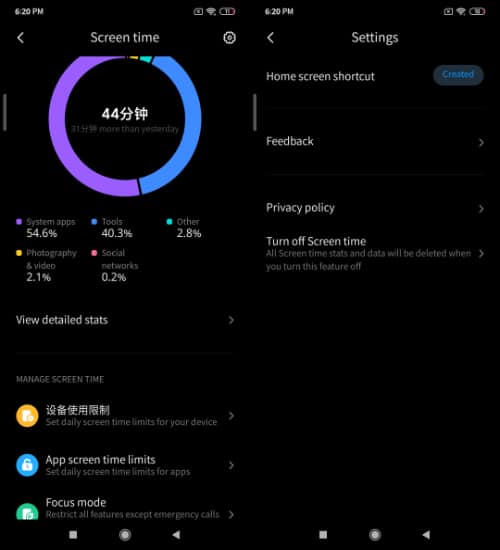 It is important to note that Xiaomi is still testing out the feature, hence you might notice bugs while using Screen Time and its features.
Moreover, many of the Screen Time settings are listed in Chinese as one can tell. Therefore, it's best to avoid tweaking the settings any further.
Screen Time (English) was accessible through the Activity Launcher even before installing the new Settings app. This means a future version of the Mi Settings app will probably fix all the issues in Screen Time, including the text written in Chinese.