We all are tired of using regular cable for our daily entertainment. While it used to be friendly, the typical cable is now a hassle as we must select our channels from a large catalog. Moreover, the unforeseen cuts between shows are annoying and terrible. It is primarily a headache for sports fans. However, FuboTV has arrived as the knight in shining armor for all of us.
FuboTV started its journey in 2015 and is well-known in the streaming industry for its stacked content library. Although the platform is highly recommended for sports fans, it also has a lot to offer for drama and movie lovers. However, with so many competitors in the market, it's okay to have a doubt before investing in the streaming service.
Since FuboTV is an expensive platform, you should not buy it blindly without checking out its perks. As for that, we'll review the platform for you guys. Moreover, in this review, we'll answer all your questions about its subscription, features, content library, add-ons, interface, etc. Keeping all that in mind, let's get started down below.
FuboTV subscription plans: Are they expensive?
The platform is undoubtedly providing way more expensive plans than its competitors. However, the subscription structure has a variety of plans for the customers. So let's have a look at them down below:
| | | | |
| --- | --- | --- | --- |
| Subscription Plans | Cost/month | Free Trial | Number of Channels |
| Pro | $75 | 7 days | 145 |
| Elite | $85 | 7 days | 204 |
| Premier | $95 | 7 days | 213 |
| Latino | $33 | 7 days | 47 |
These plans also have some benefits and disadvantages. Let's shed some light on it below.
Pros.
It offers 4K streaming.
The plans include a massive number of channels.
You can stream simultaneously.
Cons.
The plans are a bit expensive.
New customers can only get plans quarterly and not monthly.
Users will have to pay extra for Regional Sports channels.
FuboTV content library and add-ons: Is there anything other than sports?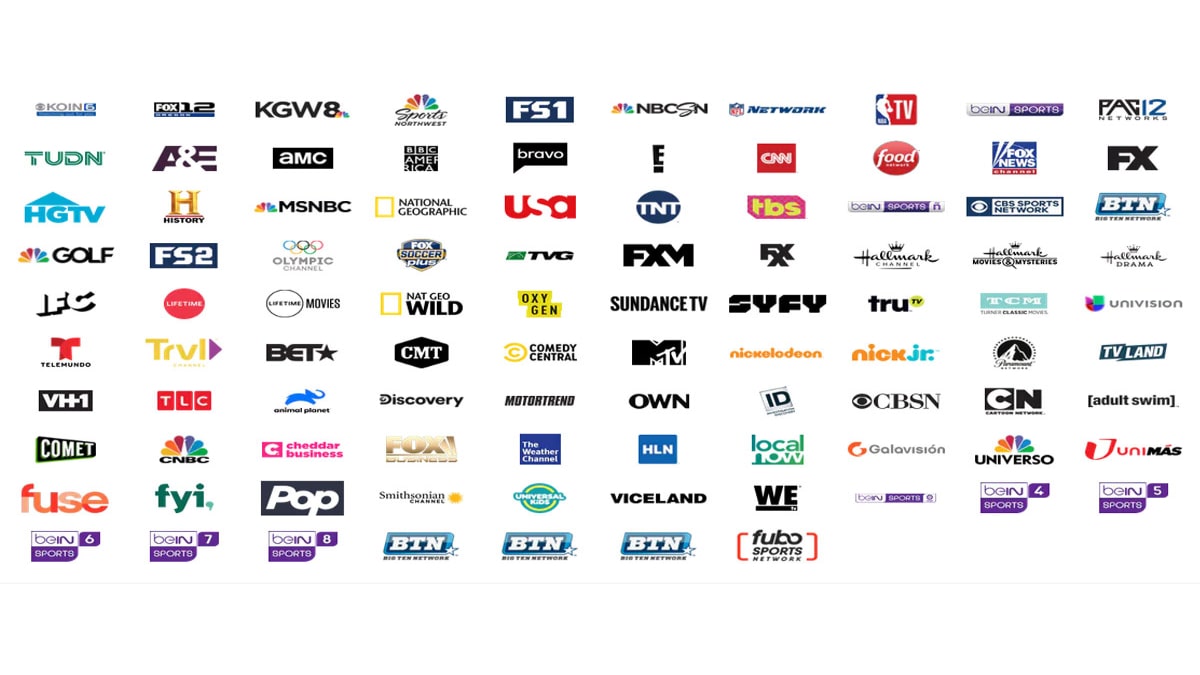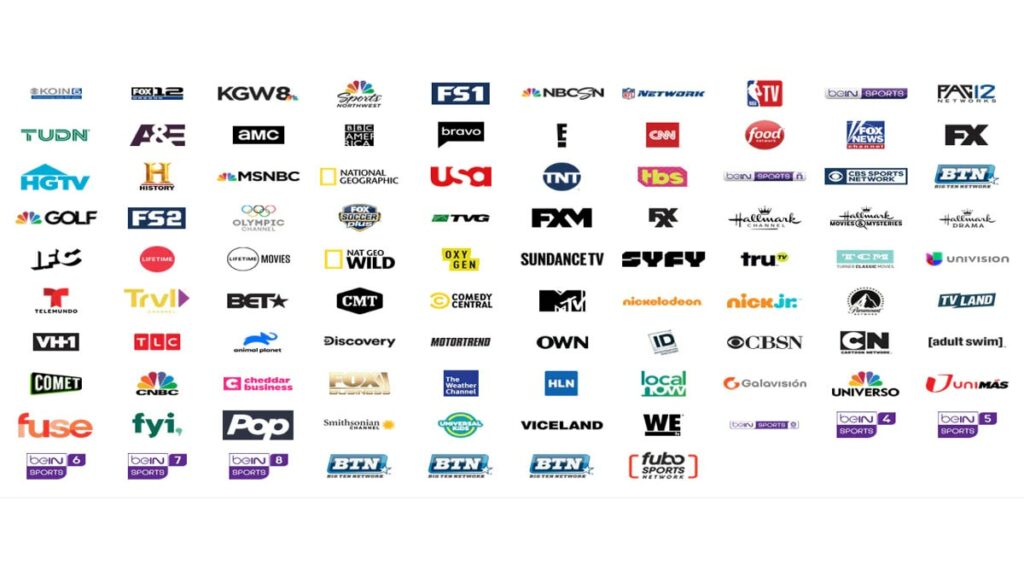 We all know FuboTV is a hub for all sports fans with various channels. However, the platform also caters to other users with media like MTV, Comedy Central, and Nickelodeon. You can also check out their vast line-up over here. Moreover, the platform has recently added Disney-owned channels like ABC network and ESPN.
As for its add-ons, it has some premium packages like Showtime, AMC Premiere, Fubo Cycling,  Adventure Plus, etc. Despite having such a massive library and add-ons, the platform still lacks something. Find out more by weighing their pros and cons below.
Pros.
Offers a lot of channels, including ESPN.
Add-ons are available for both drama and sports lovers.
It covers various regional channels and add-ons, including Latino Plus, Portuguese Plus, etc.
Cons.
Lacks original shows.
The channel line-up does not include A&E networks, TNT, and CNN.
The short library is not justifying high prices.
FuboTV geographic availability
It is a significant and annoying drawback of the platform. FuboTV is only available in the United States. Despite having more than seven years of experience in the market, the owners have not decided to expand the market. On the other hand, its competitors, like Paramount+ and Youtube Live TV, continuously aim to expand their horizons.
Instead of increasing prices, the platform should consider expanding its market so that audiences from other regions can also exploit and learn about the platform. Regarding availability, let's see on what devices FuboTV is accessible in the next section of this article.
FuboTV supported devices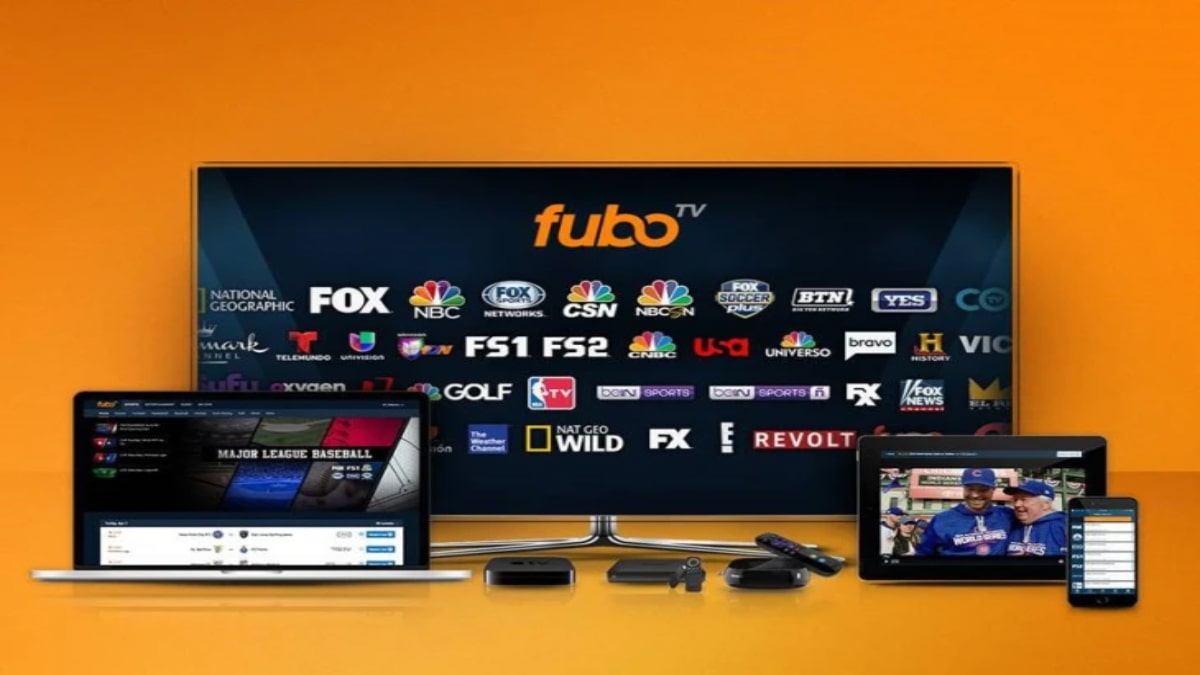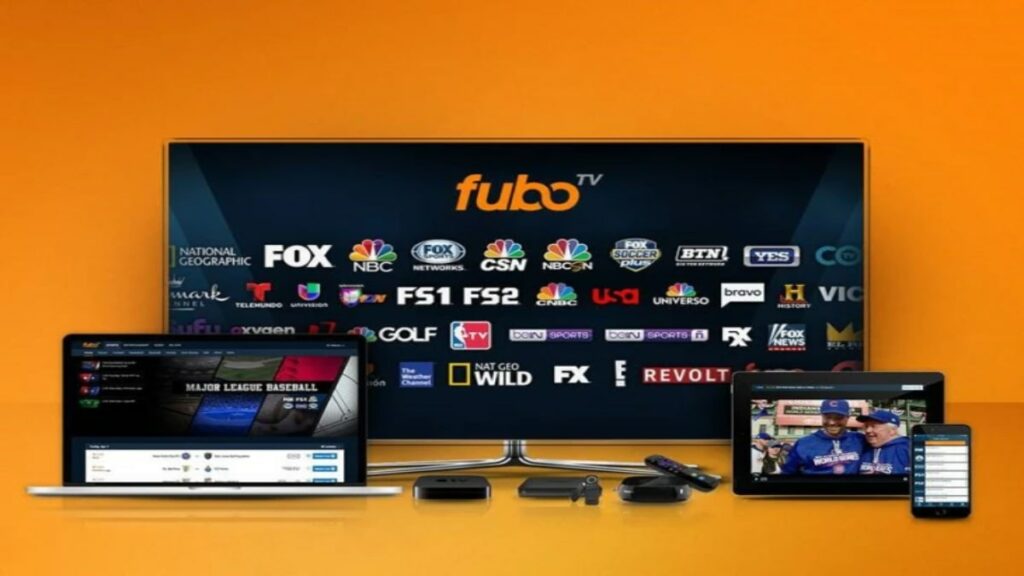 When it comes to devices, the platform has done an outstanding job. I was surprised to know that it is even accessible on gaming consoles like Xbox One and Playstations.
Web browsers (Chrome, Safari, Firefox)
iPhones and iPads (iOS 10 and later)
Android phones and tablets (OS 5.0 and later)
Apple TV (4th gen and later)
Roku (model 3600X and later)
Samsung Smart TVs
Fire TV (all models)
Vizio Smartcast TVs
All Chromecast devices
Xbox consoles
PS4 and PS5
FuboTV interface: Is the black and white model still working?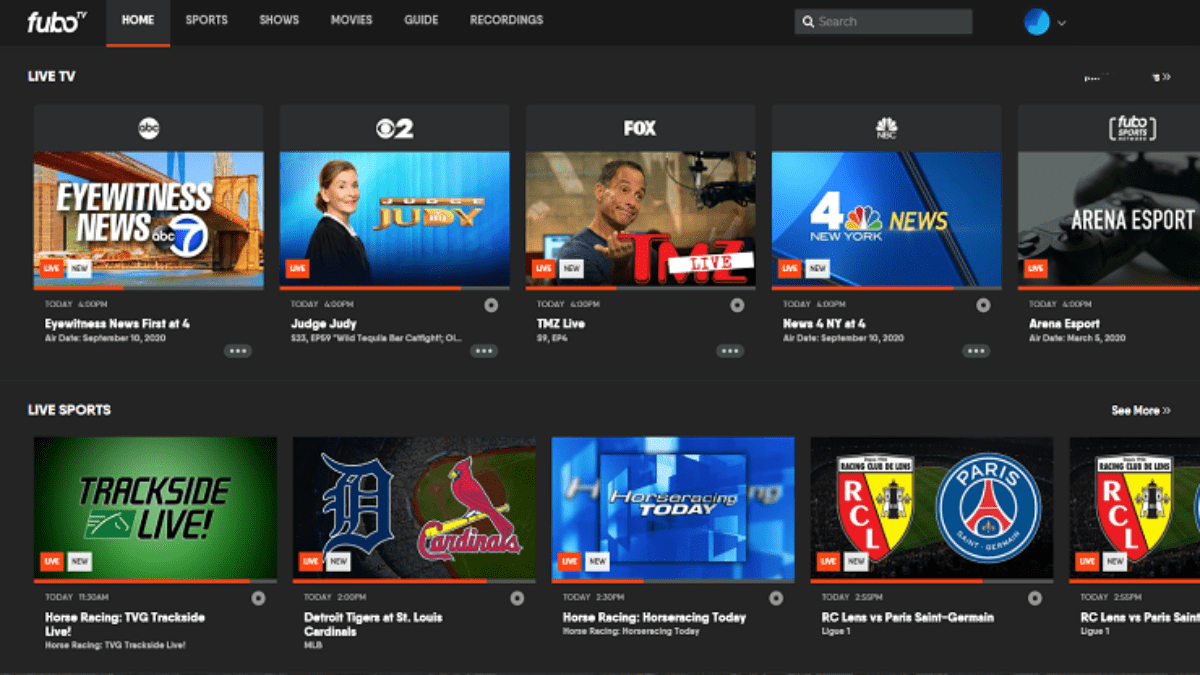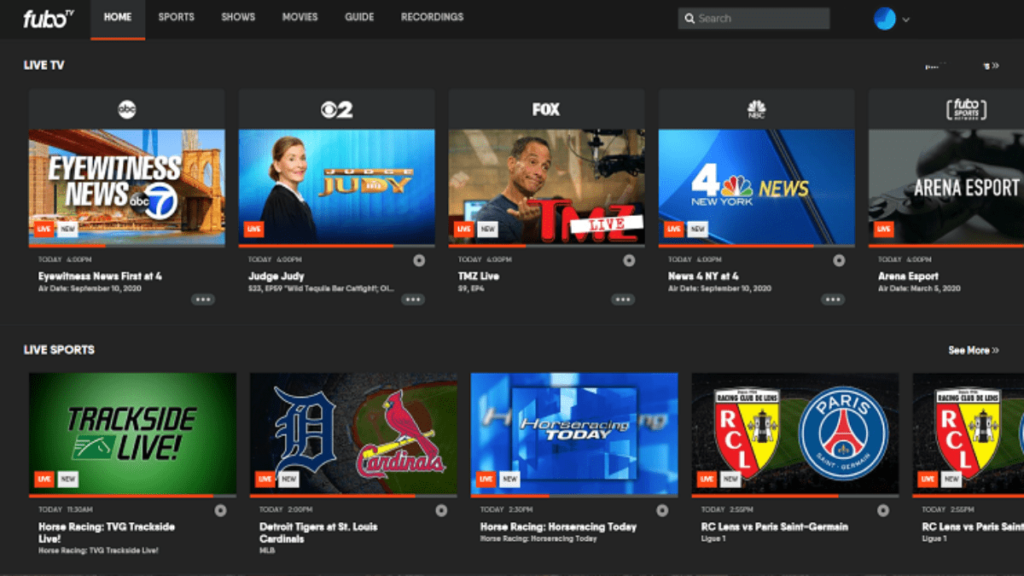 Unlike other platforms, FuboTV's interface has unique and essential features. With its black, white, and grey-coloured interface, the platform is highly user-friendly and straightforward. Now let's break down its interface below.
Pros
It has separate sections for Home, Sports, Shows, Movies, Guide, and Recordings on the browser.
The app has a combined section for Shows and Movies.
It includes enticing features like Multiview, FanView Experience, Lookback, My Stuff, 4K streaming, etc.
The platform also offers a typical "Guide" option to find channels easily.
Each profile home page shows upcoming episodes and recommended shows per their tastes.
Cons
The networks are not sorted alphabetically, making it harder to navigate channels.
The search feature is not extensive compared to other platforms like Hulu and Youtube live TV.
Only a few shows are available in 4K quality.
FuboTV Help Center
When choosing streaming platforms, we hardly check their "Help Centre." Well, it might not seem important, but it comes in handy when you're stuck with some issues on the platform. After using so many platforms, I am impressed by FuboTV's extensive coverage of helpful articles in this section. However, it needs some improvements to reach its best. Let's check them out below.
Pros
All the steps are explained with their screenshots attached.
The articles cover solutions on all devices, including Hisense, Vizio, and FireTv Stick.
They've also attached short videos for better understanding.
Cons
It needs more topics on the platform.
While the platform has covered the payment-related issues in detail, it still lacks the required screenshots.
FuboTV DVR Recording
Similar to the recent live TV platforms, FuboTV also provides a recording feature for subscribers. The feature needs a lot of improvements and changes.
Pros
Users can access the recording through various devices, including mobile, Smart TVs, etc.
They have increased the storage from 250 hours to 1000 hours in some plans.
Cons
It provides less storage compared to competitors like Youtube Live TV and Philo.
Unlike Paramount+, where the recorded item gets automatically deleted, FuboTV does not support such functions.
You can download only eight recordings at a time, much less than six profiles.
How can FuboTV improve its platform?
Although the platform is doing well in the market, it lacks some functions. So let's check them out down below:
The owners must focus on providing original shows. While they offer a vast line-up, the expensive plans will be justified with some original content.
The platform needs to work on the DVR recording storage, as 1000 hours is much less when you ask that much money from the customer.
The geographic availability is currently the biggest problem with the forum as they're not trying to expand in important regions like the UK, The Middle East, Australia, India, etc.
In an era where everyone is fighting hard to provide high-quality content, FuboTV seems to be neglecting it. The platform lacks the 4K content for Smart TV users.
What is FuboTV planning to improve the platform?
FuboTV has brighter plans for the subscriber and the employees too. However, some of these steps are too much intense. So let's shed some light on them below:
So far, it is clearly evident that the platform lacks original content. The company has decided to produce their own shows by 2025.
Since the platform is looking to go profitable in 2023-2024, they might increase the subscription prices to achieve the target.
The platform plans to add more networks to the line-up. They also recently added Disney's ESPN and ABC networks.
FuboTV is currently on the high tides in the streaming industry, and if they implement the correct strategies, they are most likely to grow at the same pace. The platform started its journey with football as the primary sport but now covers a wide range of events, including cycling, golf, etc.
While the platform might seem a bit expensive but with the rising competition, the other platforms are coming near to the same price as FuboTV. In my opinion, the forum's huge channel line-up is still its biggest weapon.
That's all we have for this article. Which platform do you want us to review next? Let us know your thoughts in the comments section below. You can also check out our detailed and comprehensive review of Hulu here.