Call of Duty Mobile recently released the much-awaited Season 11 update with a lot of amazing content. However, unfortunately, Call of Duty Mobile didn't bring back the Zombies mode with the update.
Players were expecting the Zombies mode to release with the first-anniversary update, but it looks like the developers weren't ready to release the mode just yet. Nevertheless, for Halloween 2020, Call of Duty Mobile is teasing the 'Undead Fog' game mode. The upcoming game mode isn't exactly the original Zombies mode, but it will "reference" zombies.
Call of Duty Mobile released the fan-favorite 'Alcatraz' map in Battle Royale. Also, there is a new place for players to hang out in COD Mobile, 'The Club.' Other than that, the Standoff Halloween map from last year is now playable in Season 11.
However, several Call of Duty: Mobile players are heartbroken that Zombies mode isn't coming back this season. That's why, in the recent Call of Duty Mobile community update, a user went on to ask the developers about any update on Zombies. The developers replied by saying that players will see "something referencing zombies this Halloween. but it isn't Zombies mode itself."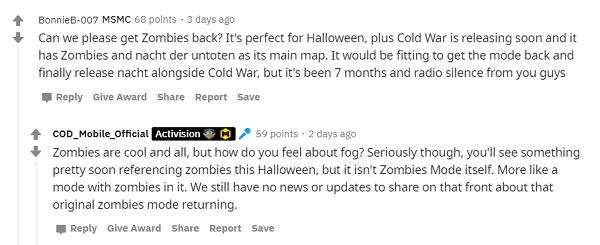 In short, the upcoming 'Undead Fog' game mode will be the closest thing to Zombies we'll see in Call of Duty Mobile Season 11. Moreover, the devs confirmed that they have no news on the return of the original Zombies mode. So, COD Mobile players won't get the beloved Zombies mode anytime soon.
Also Read: Call Of Duty Mobile Season 11 Review
Call of Duty Mobile removed the Zombies game mode earlier this year in March. That's because the developers wanted to put all their resources on improving Multiplayer and Battle Royale. Nevertheless, the devs confirmed that the Zombies mode would eventually come back after some improvements.