Have you ever taken a moment to think that we are living the future that sci-fi films predicted to an extent? Sure, we don't have time travel or teleportation yet. But the technological breakthroughs of the last two centuries have pushed our civilization into this space age that our ancestors wouldn't have even dreamed of.
High-speed video calling is a fitting testament to the extent technology has touched our lives. Just a decade ago, video calling was mostly laggy, with dropped frames and incomprehensible sound. Video chat apps for Android that use efficient compression algorithms, together with high-speed internet connectivity, have changed the scenario now. Nowadays, we can instantly interact with any person face-to-face with just a few taps on our phone.
Here, we have compiled some of the best video calling apps that you can try out on your Android phone.
Note: This list isn't in order of preference. You're advised to choose one as per your needs.
10 Best Android Video Chat Apps (2021)
Google Duo
Skype
Viber
IMO
Messenger
Houseparty
WhatsApp
Signal
LINE
Tango
1. Google Duo
Google Duo is one of the best video chat apps for Android. The headlining feature of Duo is the simplicity of the interface that brings video calling to the forefront. It's quite simple and straightforward to log in and verify your number, and you can make faster and more reliable video calls to other users just like you make a standard phone call.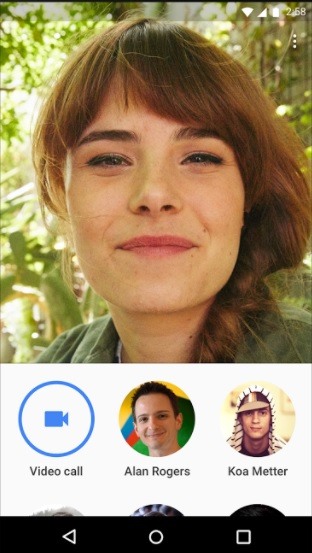 The app includes a "Knock Knock" feature that provides a live preview of the caller before you receive the call. It is also a cross-platform tool so that both Android and iOS users can enjoy the app. The free video chat app for Android is also available on the web. Overall, it is a great app for Android that's worth a try.
App Installs: Over 1 billion
Google Play Store Rating: 4.5
Download for Android and iOS or use the web version.
Also read: Best Secure Messaging Apps For Android & iOS
2. Skype
Skype is a free Android video chat app that has over 1 billion downloads on the Play Store. In fact, Skype is the one that introduced us to free video chat over the internet. It is a cross-platform tool that has its native apps on most platforms, including PC.
The Android app is not as good as the desktop application, but it comes with a whole lot of features. You can make video calls to a group of up to 25 people. It also features a free text chat where you can send voice messages, emoticons, photos, emojis, etc.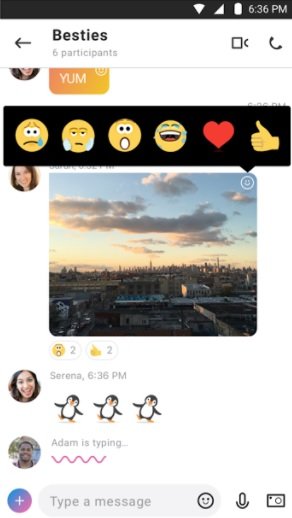 It comes with Microsoft and Facebook account integration. Moreover, you can even call regular cell phones and landlines for a nominal fee. Skype doesn't compromise on call quality, so it consumes more data compared to other apps. Also, if your area has slow internet, then you better opt for the other apps on this list.
The app still needs modifications, but the service itself is about as excellent as it gets. There's a pretty good chance your friends and family are already using this application.
App Installs: Over 1 billion
Google Play Store Rating: 4.3
Download for Android and iOS or use the web version.
3. Viber
Viber is another popular Android video call app in 2021 that has been on the Play Store for a long time. The app has since been improved and bundled with a lot of features. It is cross-platform and available for free for almost all operating systems, and also mobile devices like Blackberry, Windows Phone, Android, and Apple devices.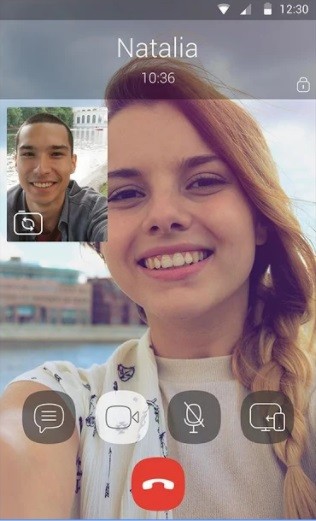 Viber provides secure communications between users and automatically encrypts text messages, video and voice calls, photos, and group chats. It has a user-friendly interface, and doing a video chat is quite easy; just click on the Camera sign next to a user's name and start talking. Additionally, you can also play Viber games with friends, follow public accounts, share contact files, etc.
App Installs: Over 500 million
Google Play Store Rating: 4.4
4. IMO free video call and chat
IMO is a simple video chat app for Android, which is great for making free video and voice calls over 2G, 3G, 4G, or Wi-Fi connections. It is cross-platform and compatible with both iOS and Android. Besides text, voice, and video calls, the app doesn't come with a lot of features. However, it is a trusted app as it provides complete encryption to messages and the calls.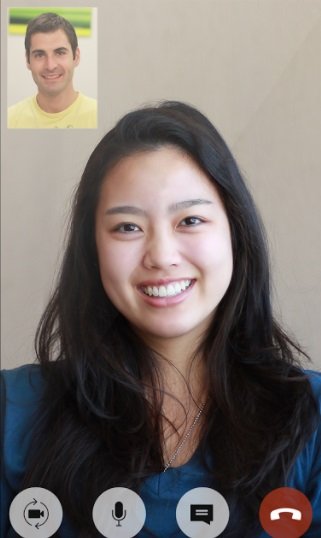 You can also make group calls, share photos, send stickers, etc. Users have claimed that IMO uses less data while doing video chats compared to most apps. It is free to download, but you have to deal with some advertisements within the app.
App Installs: Over 500 million
Google Play Store Rating: 4.2
5. Facebook Messenger
Facebook Messenger is trendy, and the app is trusted by a vast number of users. It is available for free on iOS, Android, and also via any web browser logged into your Facebook account. Facebook Messenger is pretty easy to use. You can get connected however you want; send a text message, or start a video chat, the choice is all yours.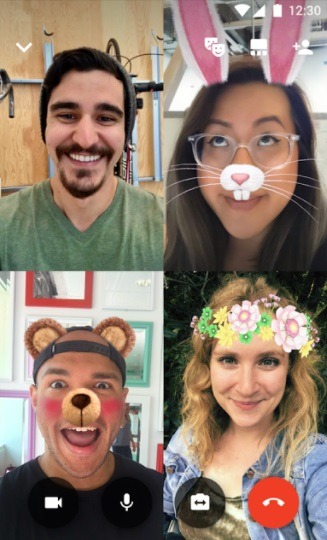 There is so much more you can do with Facebook Messenger, such as making group video calls, sending emojis, stickers, and GIFs, capturing photos and videos with fun art and effects, playing games, etc. Messenger also lets you keep track of chats with other users, and you can even make reservations, check on others, or use it for a business purpose.
App Installs: Over 1 billion
Google Play Store Rating: 4.2
6. Houseparty
Houseparty is the most popular video chat app for Android. For some, the video calling app for Android was a savior during the lockdowns of 2021.
If you are looking for a fun video calling app to hang out with friends, then Houseparty should be on your Android. You can play games with your friends, add frames, have a karaoke session, and much more. You can video call with up to 10 friends.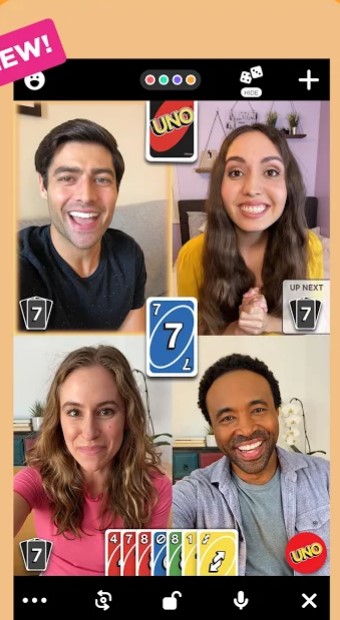 While the video quality is good, the calls are not end-to-end encrypted. Once, few security experts warned that the Houseparty app collects worrisome amounts of personal information. Aside from that, Houseparty is still one of the best group video call apps to have fun with friends.
App Installs: Over 10 million
Google Play Store Rating: 4.0
7. WhatsApp
Being one of the most popular messaging apps, Whatsapp is also eligible to be on the list of best Android video calling apps. It is cross-platform, and users make millions of video calls per day across the world on Android, iOS, and Windows devices. The calling feature is straightforward and has minimal hurdles for users, just open the contact you want and tap on the video call button.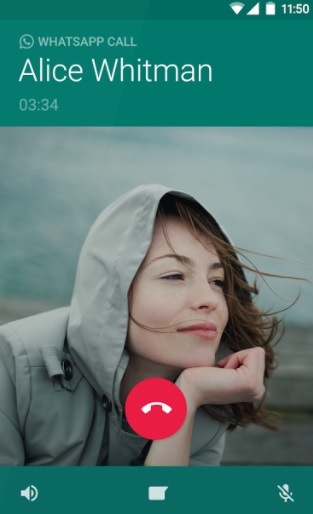 The voice and video call options only appear inside one-on-one conversations, but the video calling works quite well, and you should not face any problems while using it. Additionally, the app also includes the feature of sending text messages, share media files, GIFs, stickers, etc. The app is a secure one and is available for free. Also, it does not display any ads.
App Installs: Over 5 billion
Google Play Store Rating: 4.3
8. Signal
Signal is another video chat app for Android if you are overly concerned about your privacy. In fact, it's the best private video chat app for Android. All video calls on Signal messenger are private and end-to-end encrypted. The Android video chat app also supports encrypted group video calling for up to five people.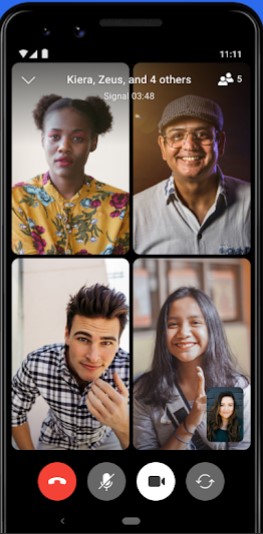 Thanks to Singal's strong belief in privacy, there are no ads or any kind of trackers on the android video calling app. The app doesn't pack a lot of features, but it provides you with an excellent video calling quality to any number in the world. Aside from that, Signal has all the standard features of a messenger including the option to make messages disappear. Overall, Signal Private messenger is one of the best video calling apps for 2021.
App Installs: Over 10 million
Google Play Store Rating: 4.5
9. LINE
LINE is a popular messaging platform, which not only allows you to enjoy messaging but also free voice and video calls from anywhere, anytime. With over 500 million users worldwide, LINE can be one of the best Android video chat apps for you. It lets you enjoy high quality calls with no charge, and you can even add effects and filters while making a video call.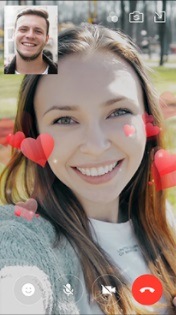 The app is cross-platform and allows you to make calls using either your computer or your cell phone. Moreover, you can do group video chat with up to 200 friends, share messages, photos, stickers, videos, social media features, etc. The app is available for free, although it comes with some in-app purchases and ads. It is supported in Android 4.1 and above.
App Installs: Over 500 million
Google Play Store Rating: 4.1
10. Tango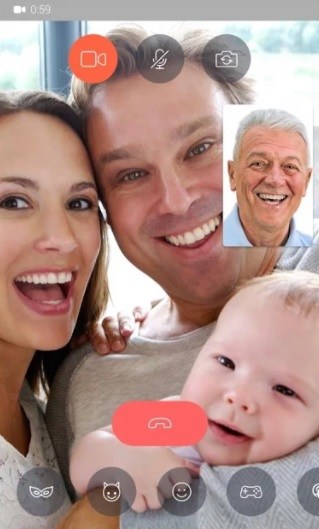 Tango is a third-party messaging application that has been around for quite some time. Over the years, Tango has been modified and improved into a full-fledged messaging service, complete with both video and voice calling. It is an excellent video call app for Android as it provides high-quality video and phone calls for free.
It comes with all the necessary features, such as sharing messages, photos, videos, audio, stickers, locations, etc. You can also broadcast live videos on Tango and play games while chatting. Tango has public chatrooms for casual conversations apart from 1-on-1 chatting. Video calling in Tango consumes less data than most other apps.
App Installs: Over 100 million
Google Play Store Rating: 4.4
Did you find this list of the 10 best Android video chat apps to be helpful? Share your reviews in the comments.
In your free time, don't forget to check out some useful Android lists: