Our smartphones can assist us in a lot of ways to keep us healthy. From sleep tracking apps that ensure sound sleep to workout tracker apps, the Play Store has it all. Android smartphones have a wide range of sensors that can convey insightful information about our workouts.
Such applications take data from sensors and show us valuable data that can help us lose weight, gain muscles, or maintain a healthy lifestyle. They also contain training routines that can properly guide you to do home workouts. Whether you have a gym subscription or train from home, this compilation of best fitness apps will surely help you to lead a healthy lifestyle.
Note: These fitness tracker apps mentioned below are not in order of preference. You are advised to choose any of these as per your needs.
10 Best Fitness Apps For Android (2019)
Runtastic
Google Fit
Nike Training Club
Strava
Runkeeper
Map My Fitness
JeFit Workout Tracker
Sworkit Workouts
Calorie Counter: MyFitnessPal
Home Workout: No Equipment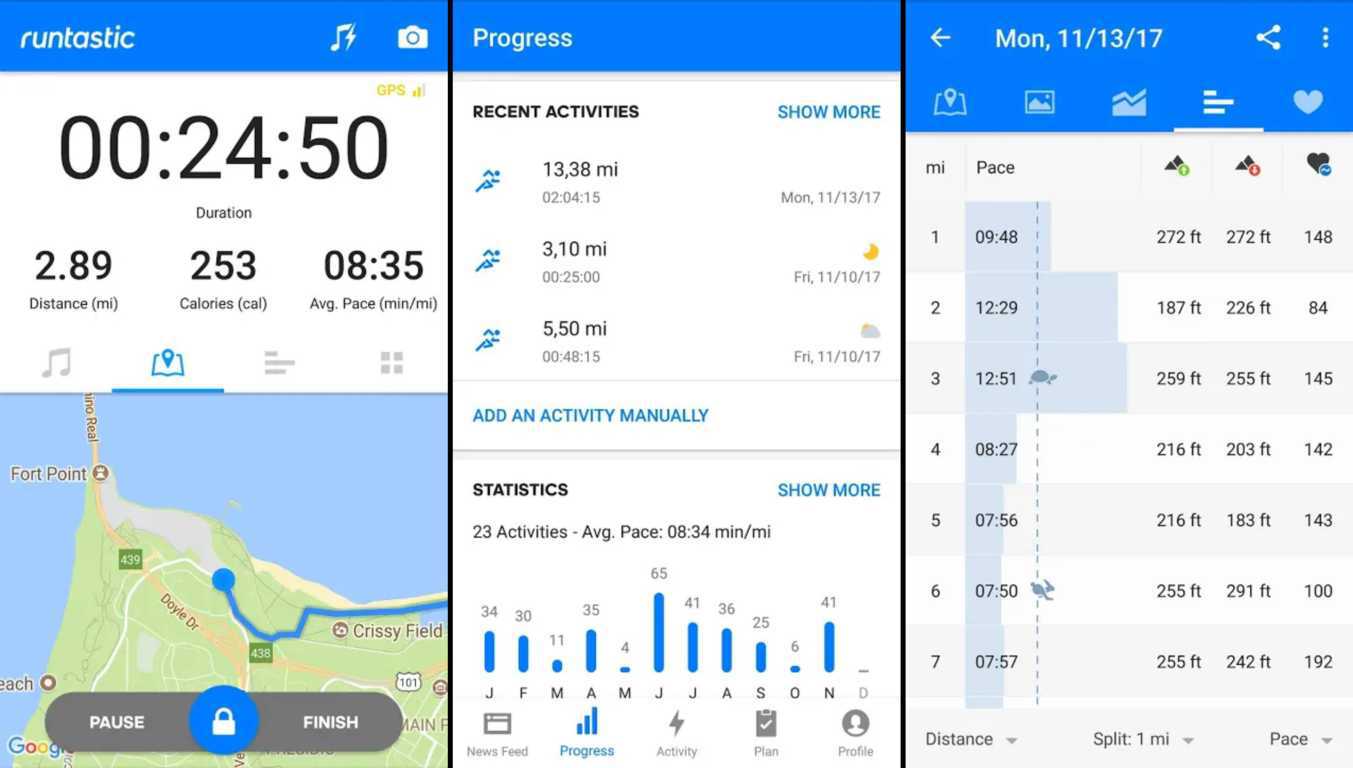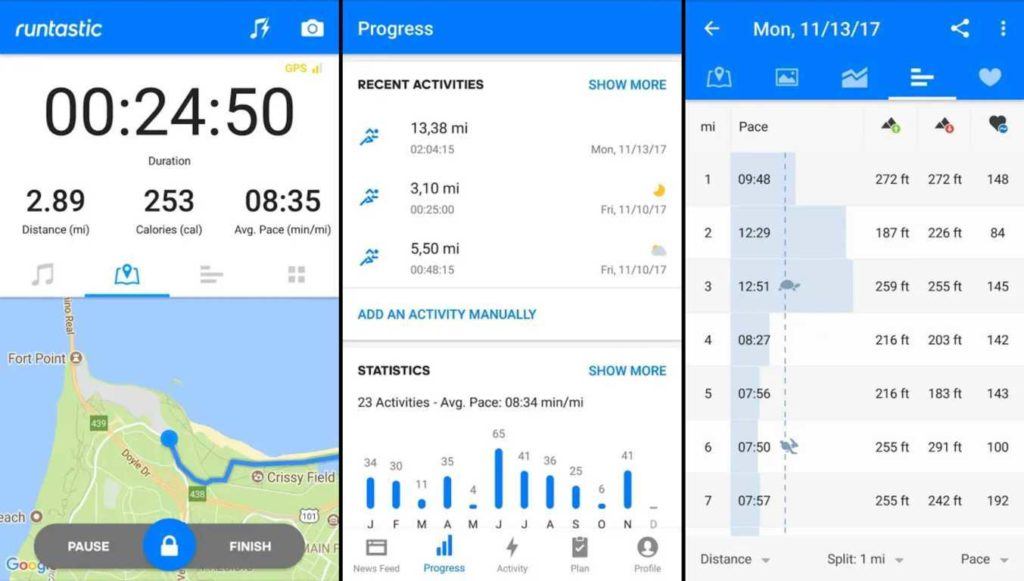 Runtastic is an excellent fitness tracker app for anyone who likes to exercise daily. It uses GPS to track your running, walking, biking, and jogging routes. Runtastic uses this tracked information to create detailed graphs and tables regarding your progress. You can also use the application on a treadmill or other gym equipment.
Moreover, it includes voice coaching, live tracking, cheering, and you can also set running goals. It supports Google's WearOS, and you can share your success on Facebook and Twitter directly from your smartwatch.
The app is free and contains ads along with some in-app purchases.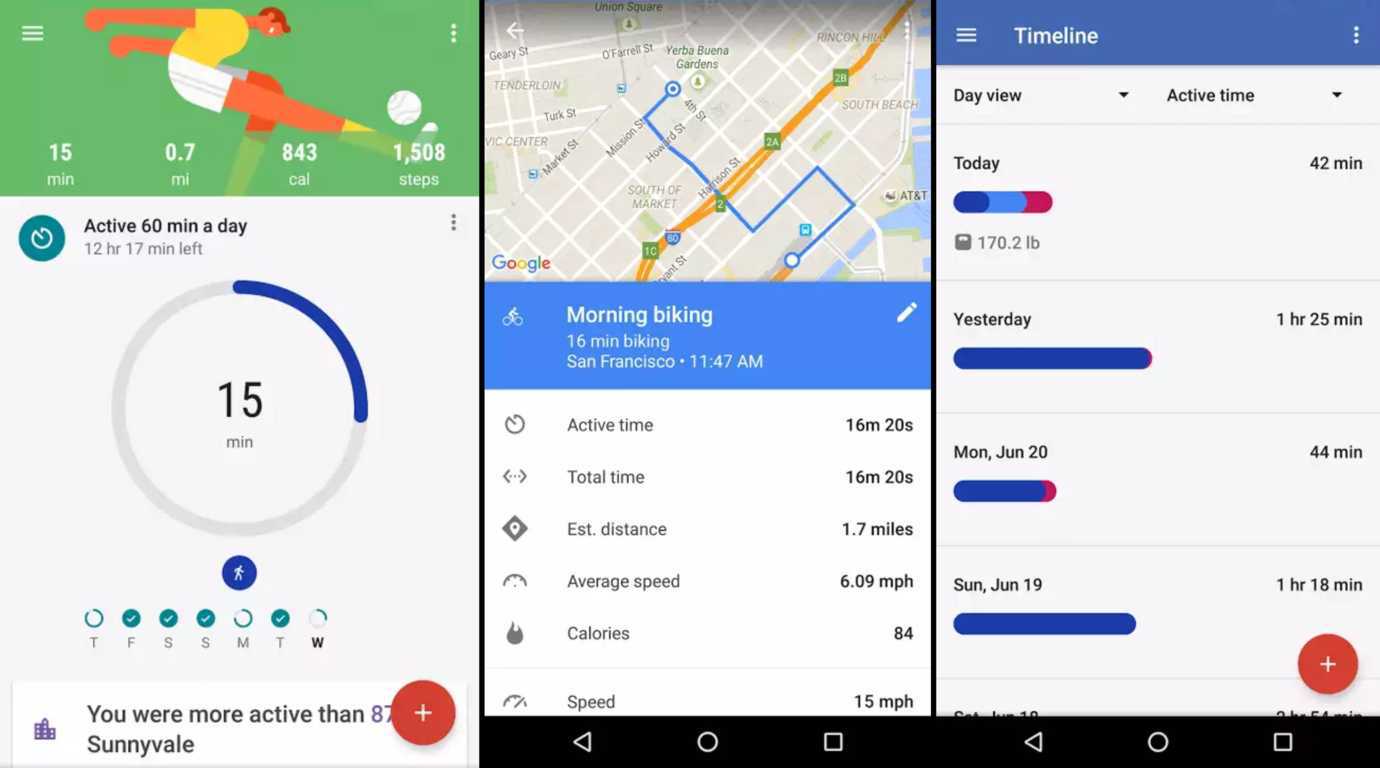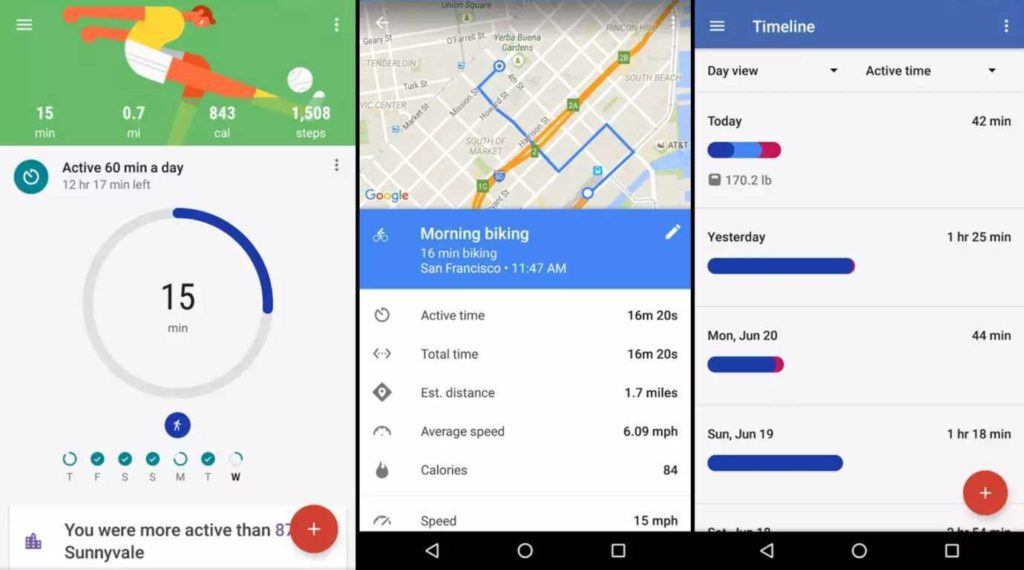 Google Fit is an excellent workout tracker app developed by Google. It uses sensors in a user's activity tracker or mobile to record the fitness activities. It will mark your speed, pace, route, elevation, etc. and show you real-time stats of your running, walking, and riding events.
You can also set different goals for your steps, time, distance, and calorie burn. This exercise app is perfect for home workouts and it has total integration with WearOS. Also, this activity tracker app can sync and import data from other fitness monitoring apps as well.
What makes Google Fit a robust competitor among the best free workout apps is that there isn't any paid version at all. Also, you don't get to see any ads or in-app purchases.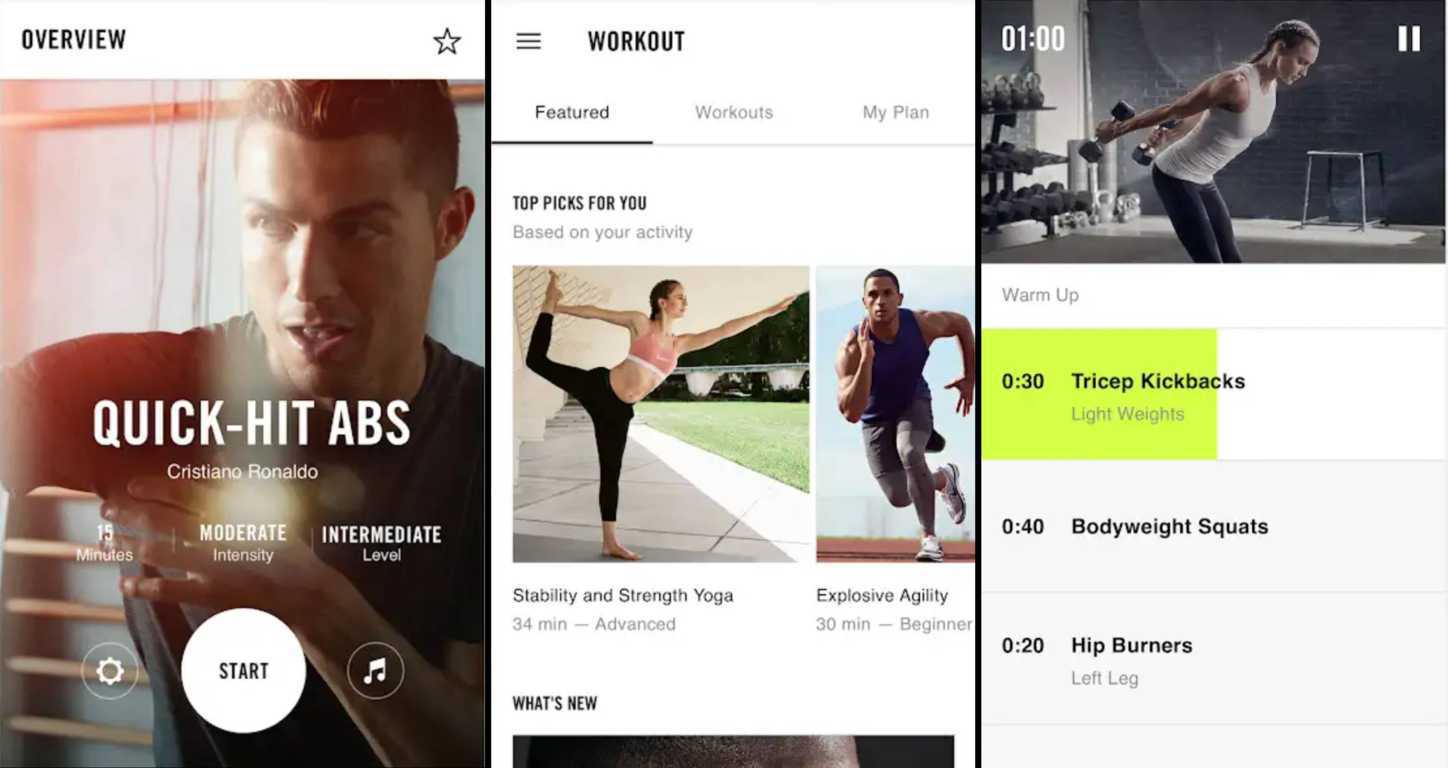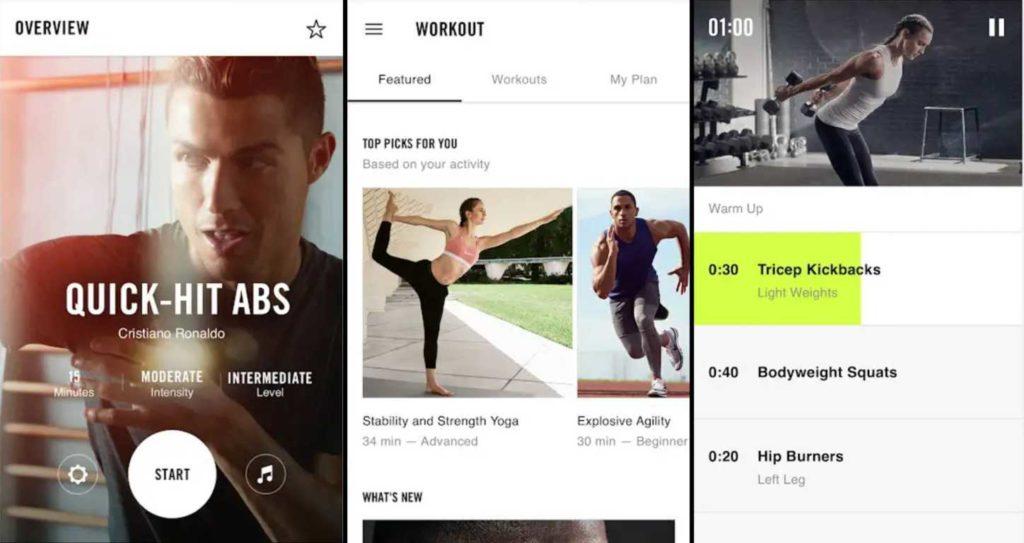 Just like Google Fit, Nike Training Club is also one of the best Android fitness apps that are entirely free with no ads or any in-app purchases. It covers over 160 free workouts that focus on strength, endurance, or mobility and offer three levels of difficulty.
Furthermore, the fitness tracker app has a full range of focused exercises that target your abs, triceps, shoulders, and other body parts. Users can stream the app onto a television using Apple TV, Chromecast, or an HDMI cable. Also, this exercise tracker app allows you to keep an eye on your fitness activities and record other activities like running, spinning, playing basketball, etc.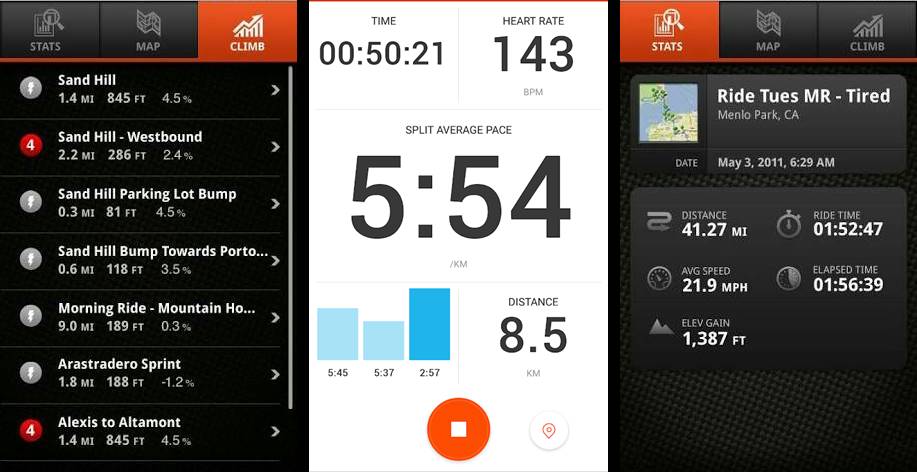 It's no doubt that Strava is one of the best workout apps for Android that permits you to track your run, map a cycling route, and analyze your training with all the stats. One of the exciting features of Strava is that it contains a leaderboard where you can challenge yourself or compete with other app users.
Strava includes GPS distance tracker and mile counter, and with the premium version, you can go for triathlon and marathon training.
The app can be an excellent choice for a cyclist. You can access the largest road and trail network and also discover new roads for your run or bike rides. It is free with no ads and contains in-app purchases.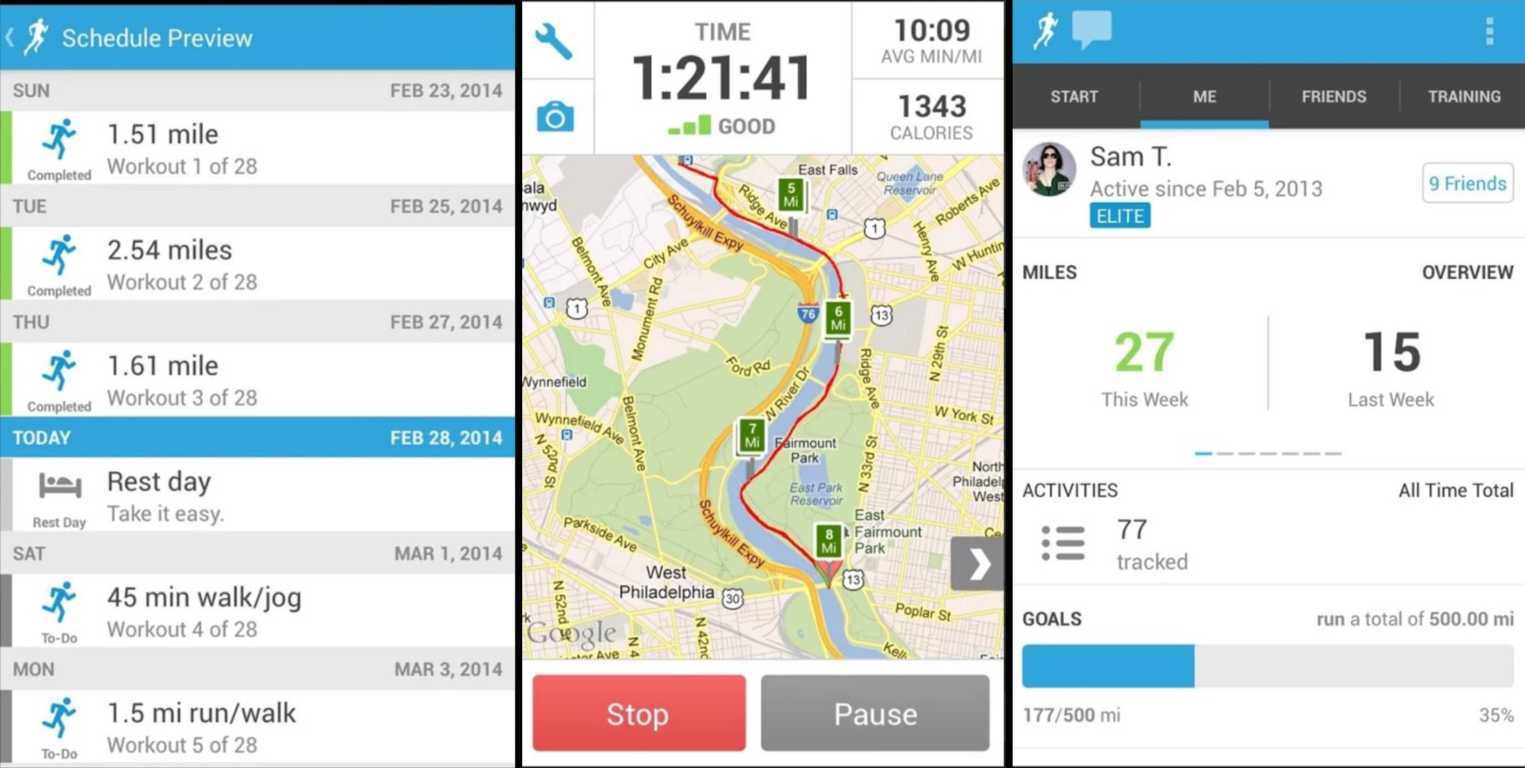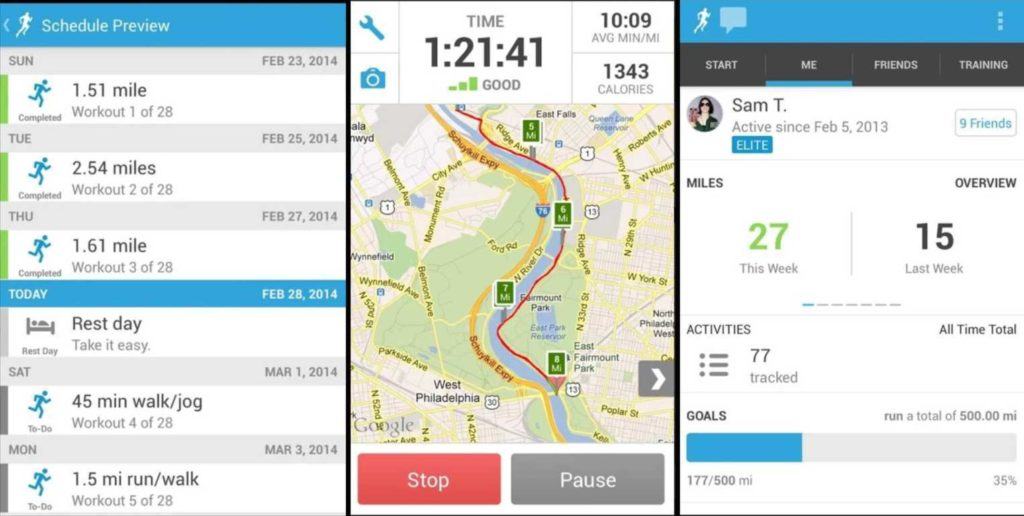 Runkeeper is a fully-featured fitness tracker app for Android that has over 50 million users. It takes advantage of GPS enabled mobile phones to track fitness activities and give comparable results. Runkeeper can calculate running pace, cycling speed, route distance, elevation, and calorie burn with high accuracy. It allows its users to view a detailed history of activities.
Also, you can follow training plan workouts or create your own with audio coaching. The app is free and ad-supported, along with some in-app purchases. You can also use it with WearOS smartwatches to track all your stats. Runkeeper also comes with widget support.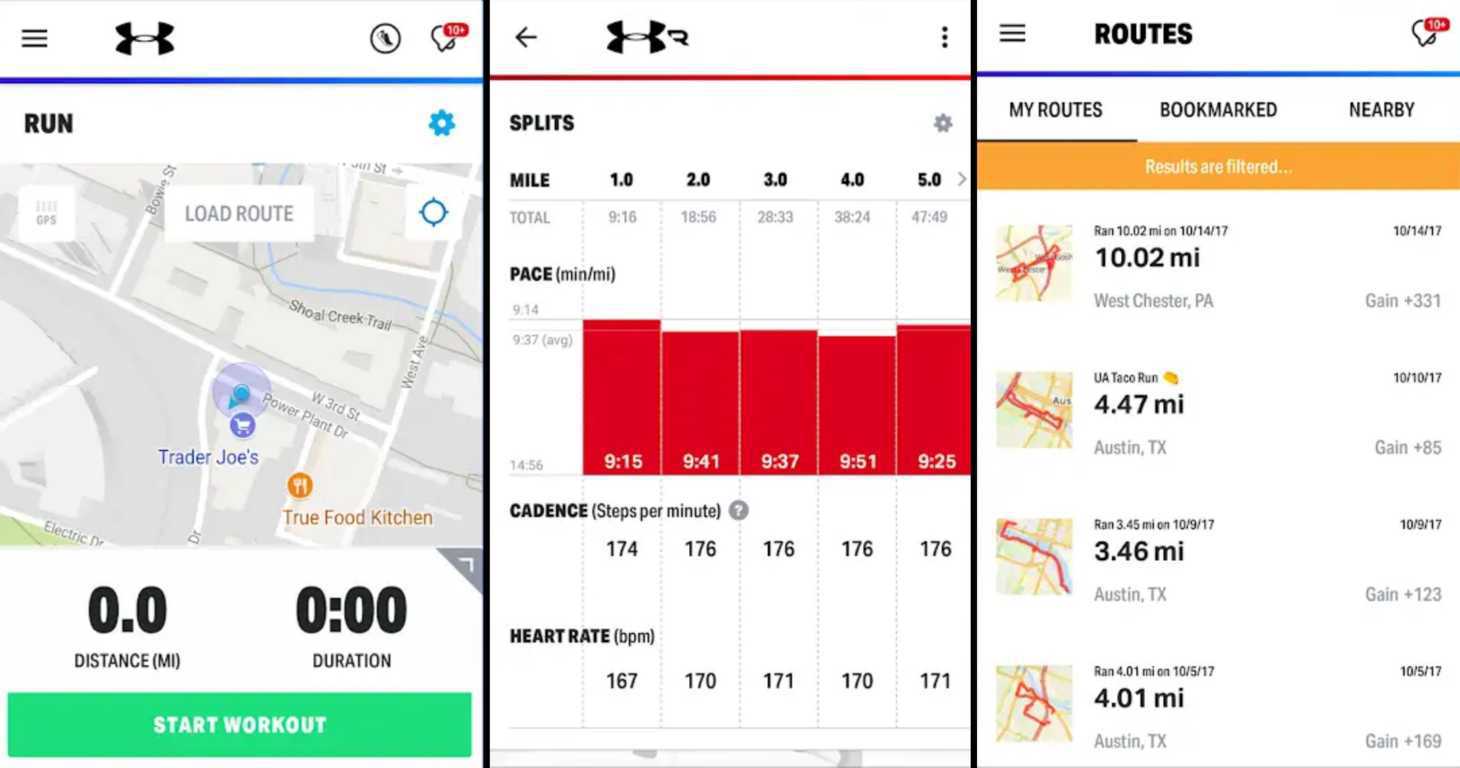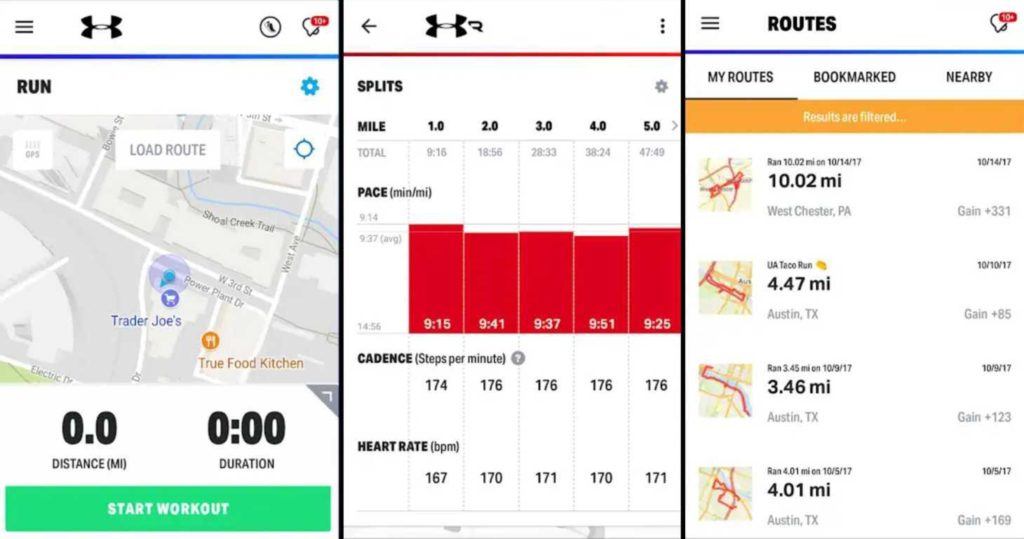 MapMyFitness allows you to track and map every workout and get feedback and stats to improve your performance. It covers over 600 different types of tracking activities, such as running, cycling, walking, gym workouts, cross-training, yoga, etc.
You can also get audio feedback on every GPS-tracked workout along with customizable voice feedback. Also, there is calorie counting, nutrition, diet planning, and weight tracking.
You can use routes to find nearby places to workout and save your favorite paths. You can also share the info with others. The app is free with ads and in-app purchases. To avoid ads, you can opt to be a premium member, which will also unlock additional useful features within the app.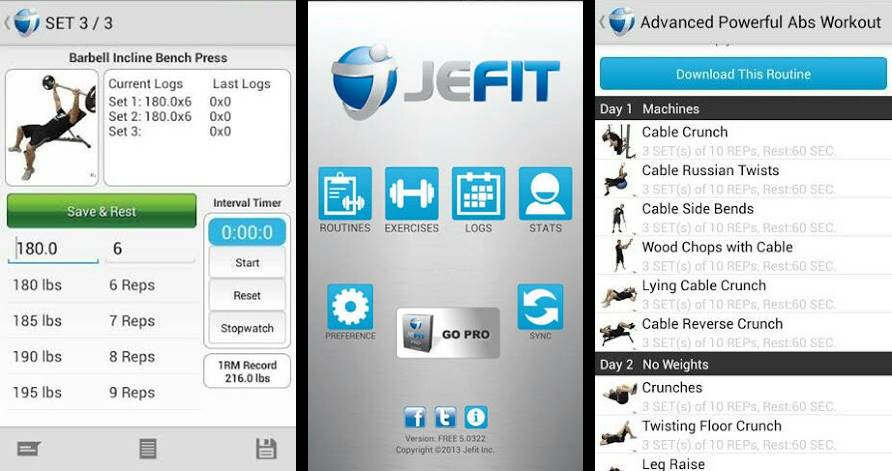 JEFIT is a gym trainer and fitness tracker app that provides free fitness programs to help you stay in good shape and make progress out of your sessions. It has over 1300 detailed exercises that include animations on how to execute them.
There is also progress reports, a resting timer, workout logs, goal setting, etc. You can get customized workout programs made for 3, 4, or 5 day splits. It allows you to synchronize all your data with the cloud and works even when offline.
The app is free and ad-supported, along with some in-app purchases. It also has a user-friendly interface.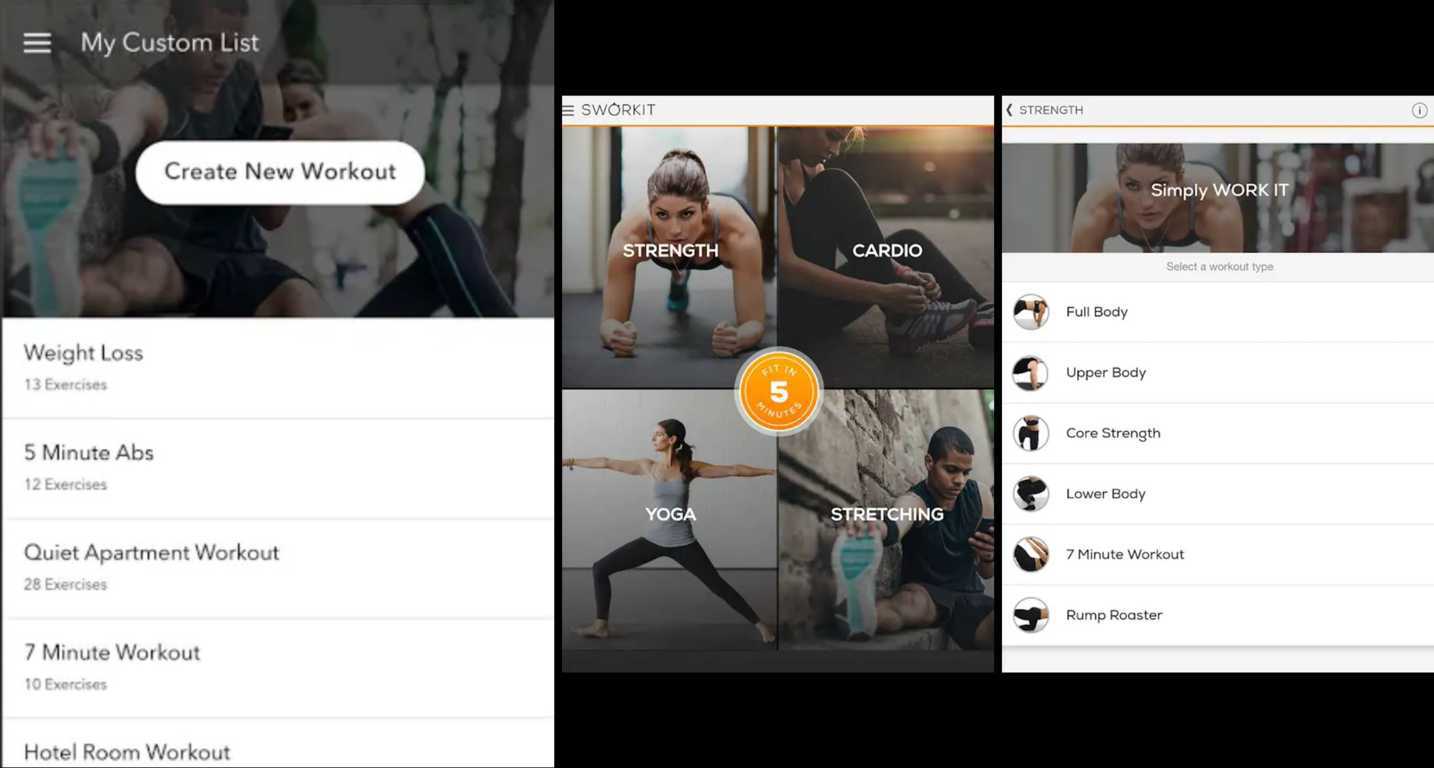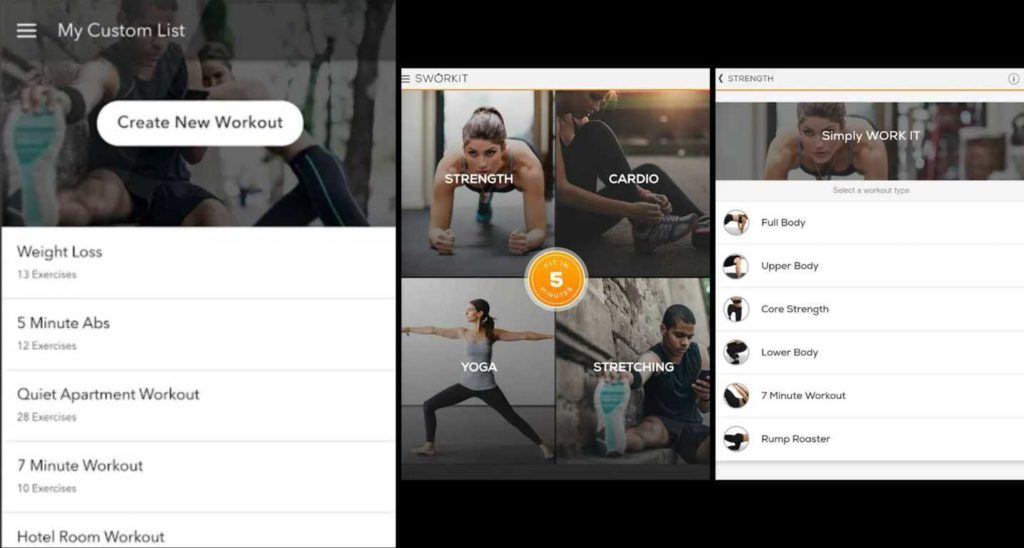 Sworkit lets you create your routine for the days when you can't make it to the gym. You can choose your custom workout routine. What makes Sworkit rank among the best fitness apps in 2019 is it's visually appealing UI and huge collection of bodyweight exercises.
Also, it allows you to download and watch videos of the workouts. You can get guided workout plans, exclusive exercises, customize exercise intervals, etc. The app is free and ad-supported and has in-app purchases.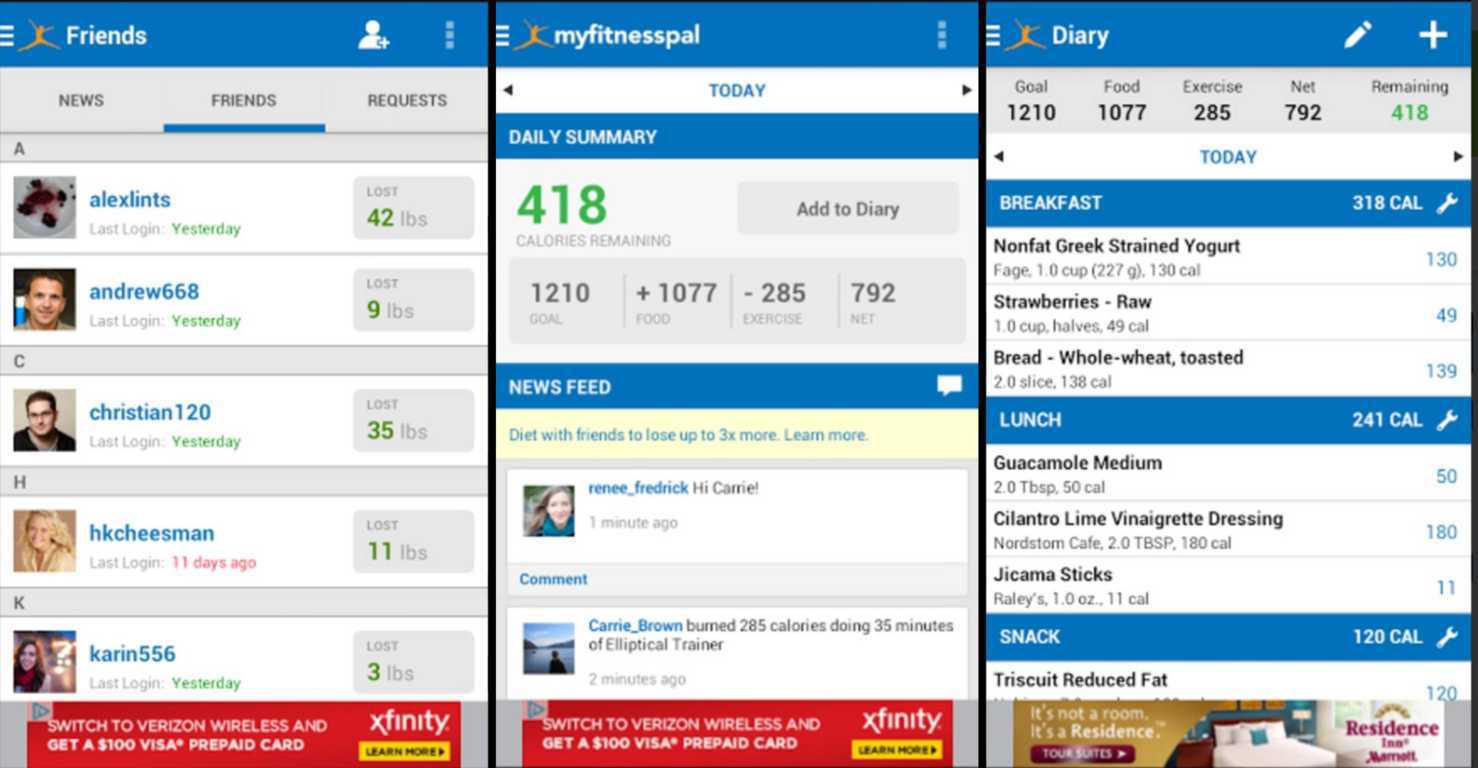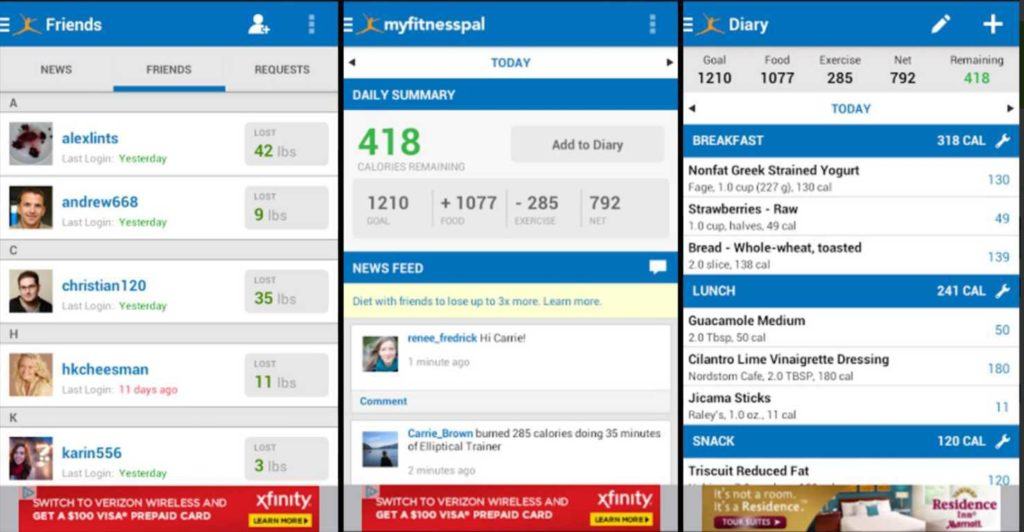 Calorie Counter is one of the best fitness apps to help you lose weight. And it helps you do so by keeping a track of what you eat all day.
For that, it has a massive database of more than 6 million foods that include global items and cuisines. You can also add the food that you eat either manually or by using the barcode scanner. It consists of recipe importer, restaurant logging, food insights, calorie counter, etc.
You can choose from over 350 exercises or create your own activities and workouts. Moreover, it allows you to set goals and see a graph of your step history. The app is free and contains ads and in-app purchases.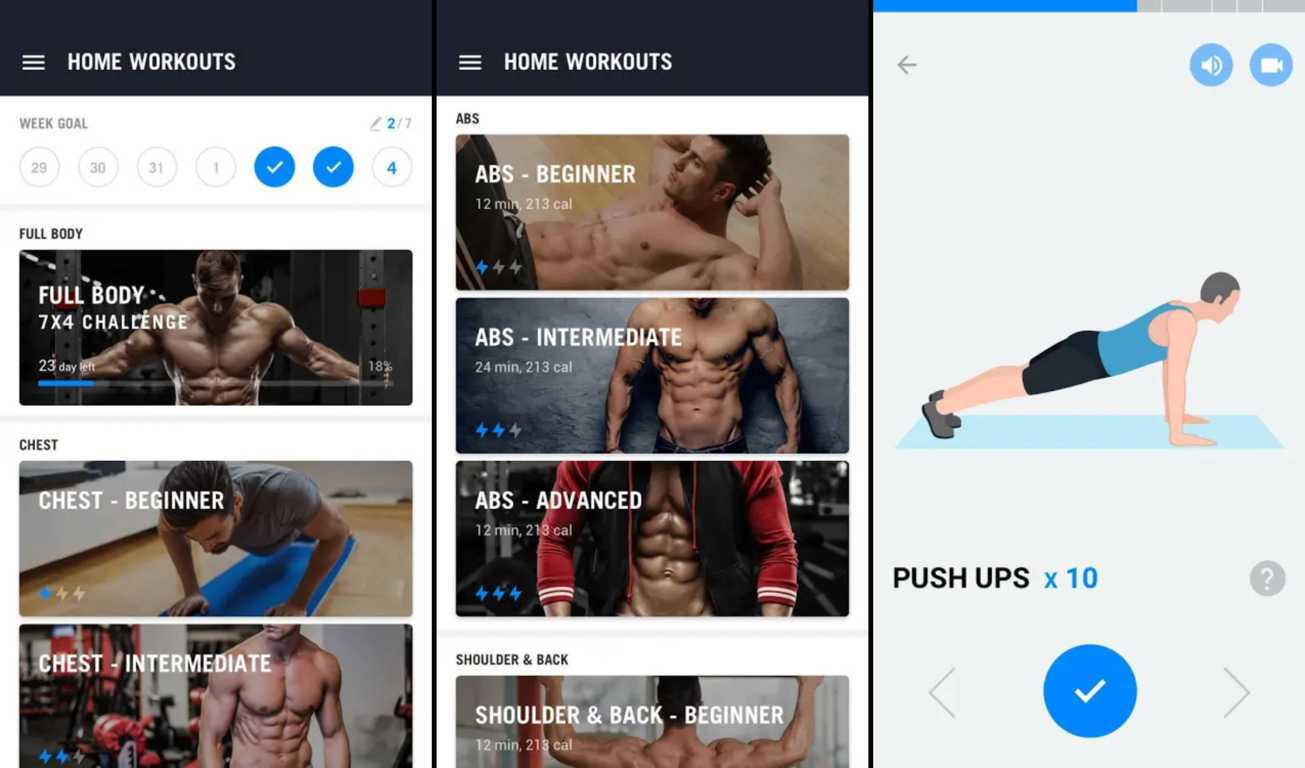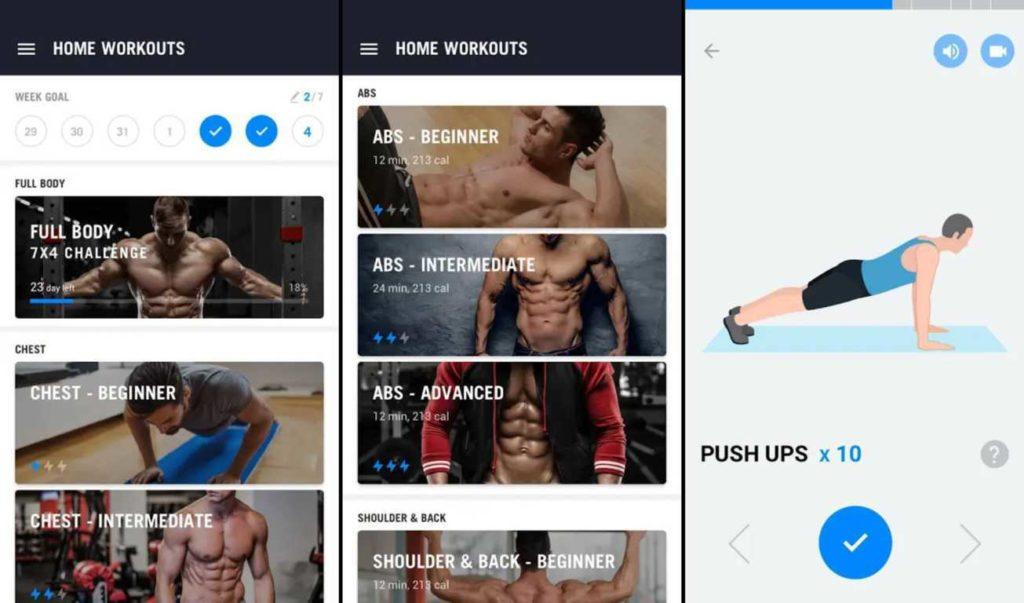 Home Workout can help you build muscles and stay fit at home without having to go to the gym. It contains over 100 detailed videos and animation guides. All the workouts are designed by experts and focused on specific parts such as abs, chest, legs, and also full-body workouts.
Other features include warm-up and stretching routines, progress reports, customizable workout reminders, and charts. Also, you can create your own workout routines. The app is free and contains ads and in-app purchases.
Which of these free workout apps did you install on your phone?
So, guys, these were our suggestions for the best fitness apps for Android in 2019. I hope you'll find them useful and pick one of them as your daily driver. Now, if you'd ask me to pick, it would be a really hard choice as each of these apps fulfills a different purpose.
For instance, you can go for Google Fit, Nike Training Club, Runtastic, etc. if you want to keep an eye on your workout activities. But Calorie Counter would be a great choice for those who want to reduce weight while being at home.