We live in an age of internet surveillance and data logging. Agencies and government organizations often want access to private communications; we have had instances of CIA hacking attempts and attempts by the FBI to gain unauthorized access. To tackle such issues, there has been a rise in secure and encrypted messaging apps. These apps focus on keeping your privacy intact with a feature called end-to-end encryption (E2E).
What is Secure Messaging?
Being completely secure is a hard thing to do in this day and age, but it is not impossible. Using the correct apps lets you ensure that other parties can't see your data and your messages. These parties can include your Internet service providers (ISP), the app maker, the government, or anyone else. Each of these parties has its own interests. So to protect yourself, you have to choose apps with all the necessary features for secure messaging.
Note: This list isn't in order of preference; it's a compilation of the best Android encrypted messaging apps. You're advised to choose one as per your needs.
10 Best Encrypted Messaging Apps
If confidentiality is critical for your communication, check out this list of some of the best encrypted messaging apps for Android and iOS platforms. Thanks to iOS's new privacy labels, we can now easily tell if an encrypted messaging app collects user data.
1. Signal Private Messenger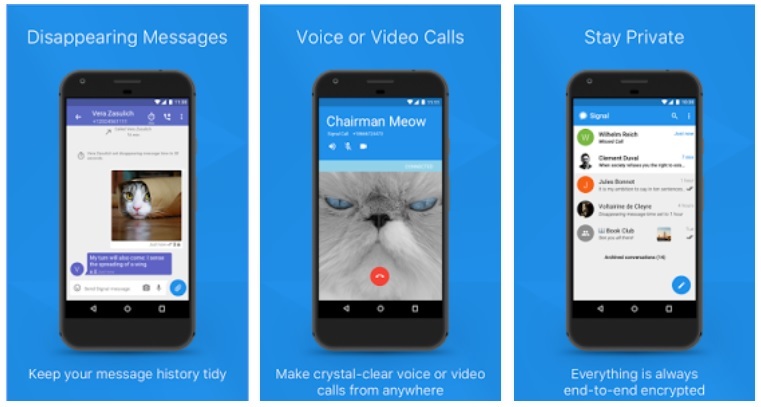 Being one of the few apps to claim an endorsement from Edward Snowden, Signal Private Messenger has made a place among the most secure messaging apps for Android and iOS users. It uses advanced end-to-end encryption to secure all messages shared with other Signal users.
Signal Private Messenger is entirely free and is relatively easy to use. The best thing about this private messaging app is that it is open source. Hence, experts can freely inspect the app's code for any flaws in its security.
There are other features like encrypted voice calls, group chats, media transfer, archive functionality, and all these do not require any PIN code or other login credentials. Messages can also be set to self-destruct after a set amount of time.
Is Signal more secure than Telegram?
Signal is one of the most secure messaging apps. We proved this in our Signal vs Telegram comparison using the iOS privacy labels. There, we also made a privacy comparison between Signal and WhatsApp.
The Signal app is available on Android, iOS, iPadOS, Windows, macOS, and Linux.
Data collected by Signal — Phone Number
Download it for Android and iOS.
Price: Free
Also read: 15 Best Free Hacking Apps For Android Phones
2. Telegram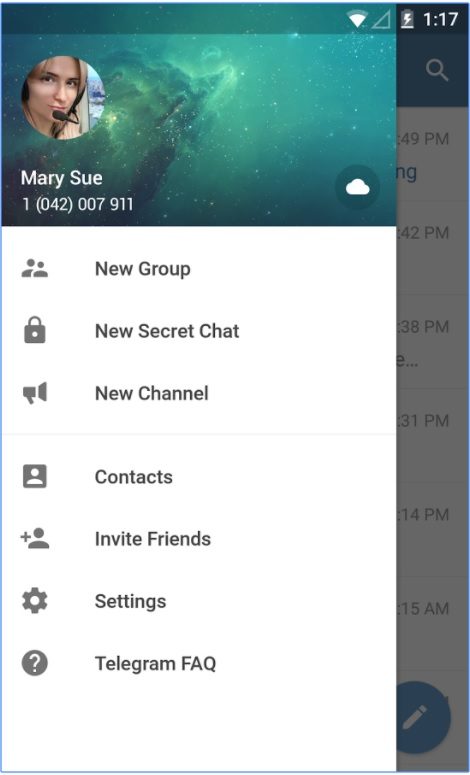 Telegram connects people around the globe through a unique network of data centers. It is known to provide the best security and never gives any third-party access to your data. When a user enables the "secrets chats" function, the messages can self-destruct automatically across all the devices involved. Also, if you prefer, you can set up an option to self-destruct your account after a specified time.
With Telegram, you can easily sync your messages across various devices at once. The app carries all the essential features, such as sending media files, videos, documents of any type (DOC, MP3, ZIP, etc.) or setting up bots for specific tasks.
It has a very minimalistic interface that makes the app quite handy to use. Moreover, this encrypted text app is entirely free. It doesn't display any ads and does not include any subscription fees.
Data collected by Telegram — Name, Phone Number, Contacts, and User ID
Price: Free
3. WhatsApp – Encrypted Messaging App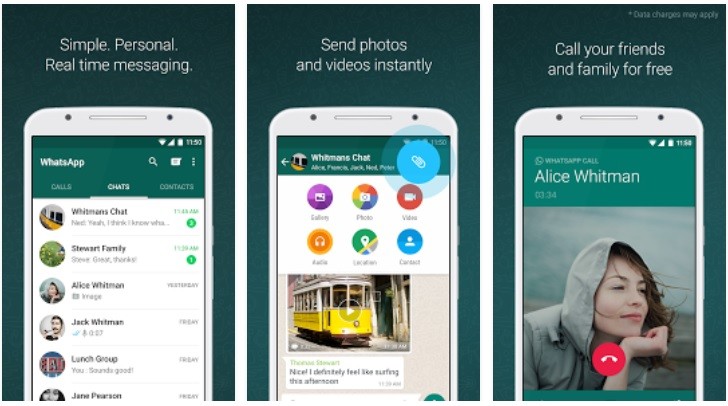 WhatsApp is one of the most popular and secure messaging apps for Android and iOS. In 2014, the app partnered with Open Whisper Systems to integrate the same end-to-end encrypted chat protocol as Signal. The E2E encryption ensures that only the sender and the recipient can read the messages, and nobody else, not even WhatsApp.
But that hasn't been enough to stop WhatsApp chat leaks. On top of that, WhatsApp is known to collect massive meta data which can be used to identify users. Recently, WhatsApp also announced new privacy policy changes where Facebook will have access to messages sent to WhatsApp business accounts.
On the bright side, the app has features like sending voice messages, photos, videos, GIFs, video calls, group chats, location sharing, disappearing messages, and much more. The app also has a Snapchat-like disappearing story feature that can be viewed by your WhatsApp contacts.
It has a simple and user-friendly interface. With the "WhatsApp Web" and WhatsApp desktop app, you can also send and receive messages from your PC. The app is free to download and is ad-free.
Data collected by WhatsApp — Device ID, User ID, Advertising Data, Purchase History, Coarse Location, Phone Number, Email Address, Contacts, Product Interaction, Crash Data, Performance Data, Other Diagnostic Data, Payment Info, Customer Support, Product Interaction, and Other User Content.
Download it for Android and iOS.
Price: Free
4. Threema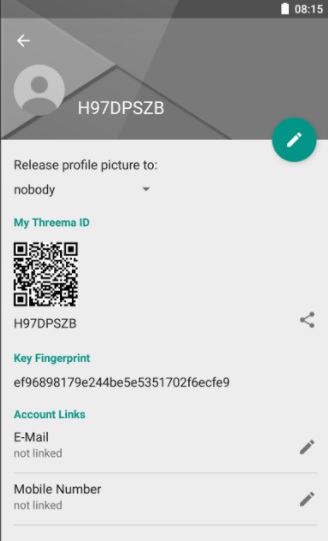 With over a million downloads, Threema is one of the most trusted open-source secure messaging apps for Android, iOS, and Windows phones. The app is a paid one, which costs US$ 2.99. It packs all the necessary features to keep your data out of government, corporation, and hacker's hands.
The app does not ask for an email ID or phone number while registering. Instead, it provides you with a unique Threema ID. In addition to text messages, Threema allows end-to-end encryption for voice calls, group chats, files, and even status messages. Messages sent from the app are immediately deleted from the servers once they are delivered.
Threema uses the trusted open-source Networking and Cryptography library (NaCl) to protect your communication. With Threema Web, you can use the app from your desktop as well.
Data collected by Threema — Email Address, Phone Number, and User ID
Download it for iOS and Android.
Price: $2.99
Also read: 12 Best iPhone Hacking Apps And Tools
5. iMessage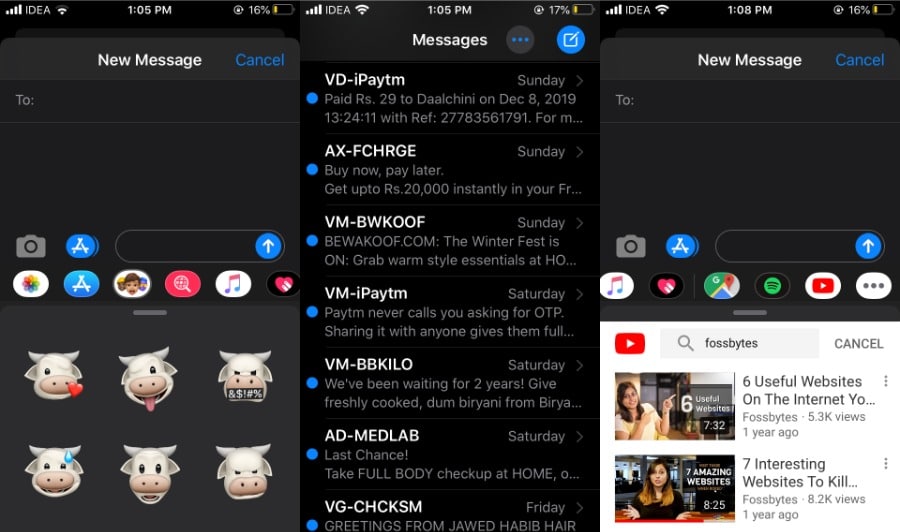 iPhone users don't need to look anywhere as iMessage itself is one of the most secure messaging apps. It comes equipped with end-to-end encryption and takes other measures to safeguard your text online.
Not just on iPhone, iMessage is available on iPads and macOS devices as well. That means it's well connected to the Apple ecosystem. On top of security, iMessage comes loaded with tons of features, including AR-powered Animoji and Memoji stickers, an easy user interface, and much more.
One handy feature is that you can add YouTube videos, Spotify links, photos, videos, etc., in messages without ever leaving the app. iMessage is quite popular among iOS users. The only downside is that the app is not available for Android (for obvious reasons).
Data collected by iMessage — Email address, Phone number, Search history, and Device ID
Price: Free
6. Silence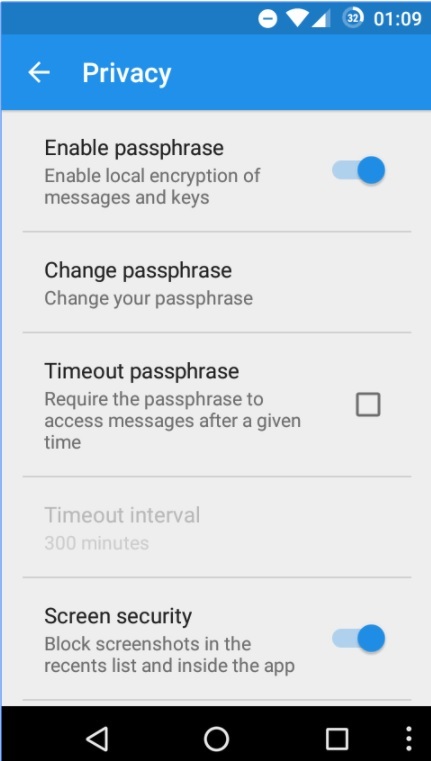 Formerly known as SMS Secure, Silence is a great private messaging app for your smartphone. It uses Axolotl encryption protection to provide end-to-end encryption to other Silence users. If the other party does not have the app installed, you can still communicate with it like a regular SMS application.
Silence works like an ordinary SMS application, so it requires no server or internet connection on your phone. You do not need to register or sign-up with any login credentials. Moreover, the app is free and open source.
Get it on Android
Price: Free
7. Viber Messenger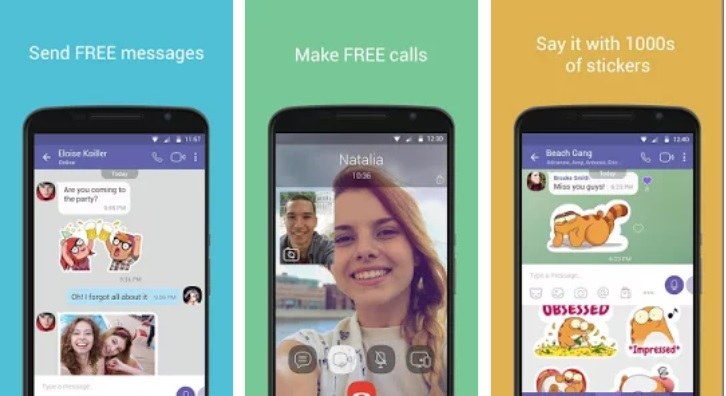 Viber is a cross-platform encrypted messaging app that was initially available on the iPhone. The app is similar to Skype. Viber first appeared on the Android platform in 2012, followed by BlackBerry and Windows phones. With its latest encryption technology, Viber has introduced end-to-end encryption services on all the available platforms- Mac, PC, iOS, and Android.
The unique thing about Viber is that it uses a color-coded system to show how protected a conversation is. Grey color denotes encrypted communication. Green signifies encrypted communication with a trusted contact, and red means an issue with the authentication key. You can also choose to hide any specific chats from your screen and access them later.
Apart from being a highly secure messaging app, it also allows you to play games, follow public accounts, share your contacts, media files, turn on location, and much more. It has over 800 million users worldwide, and it is free to download.
Data collected by Viber — Name, Phone Number, Contacts, Email Address, User ID, Coarse Location, Device ID, Product Interaction, Purchase History, Advertising Data, Other User Content, and Crash Data.
Price: Free
8. Wickr Me – Private Messenger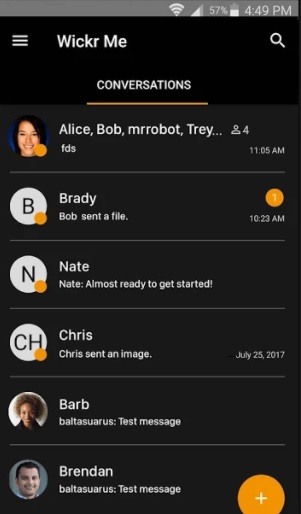 Wickr Me is another impressive encrypted messaging app for Android as well as iOS. It encrypts every message using advanced vetted end-to-end encryption. You can send private, self-destructing messages, photos, videos, and voice messages to other Wickr users.
The app has introduced a "Shredder" feature that irreversibly deletes all your chat and shares media content from your device. You can even set an "Expiration Timer" to your messages. This private messaging app requires no phone number or email address while registering, and it does not store any metadata associated with your communication.
In addition to all these trustworthy features, this secure texting app is entirely free to use, and it does not display any ads.
Data collected by Wickr Me — Phone Number, Product Interaction, Crash Data, and Other Diagnostic Data
Get it on Android and iOS platforms.
Price: Free
9. Dust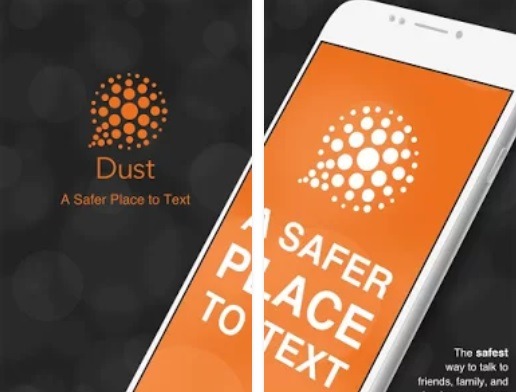 This application is built with complete security in mind. The app was formerly known as Cyber-Dust. Dust conversations are heavily encrypted, and it offers end-to-end encryption to other users. Dust does not store messages in any permanent storage, and you can set your conversations to erase immediately after the recipient reads them.
This secure chat app disables the possibility of taking screenshots of your messages. It automatically detects and notifies you if somebody takes a screenshot, making it one of the most secure messaging apps. Moreover, Dust is also a social media platform, and it lets you follow people, send and receive text messages, stickers, links, videos, and more. It is free to download.
Data collected by Dust — No data was collected
Download it for iOS and Android.
Price: Free
10. Status – Encrypted Messaging App
Status is a new player in the most secure messaging apps market. The open-source app is a private messenger and has a decentralized crypto-wallet and a Web3 browser where you can access Ethereum based applications.
Apart from end-to-end encryption, the app uses a peer-to-peer (p2p) messaging protocol to make private and secure messages. You don't even need a phone number to log in. Status uses public and private cryptographic keys that are stored on your device. Further, you need to create a "chat key and name" that's unique to you. The app also allows you to join public chats.
However, the best part is that you can send SNT, which is Status' native cryptocurrency token. SNT is similar to Brave browser's BAT (Basic Attention Token), where you get rewards for being on the platform. The only problem with the app is that it is still fresh. Therefore not many people are using the app.
Data collected by Status — No data collected
Download it for iOS and Android.
Price: Free
Our reccomendations (Encrypted Messaging Apps)
Apart from the above-mentioned secure texting apps, there are a few more as well. The Wire is a notable application that provides end-to-end encryption for all your communications. Facebook Messenger provides encryption, but it has faced flak from researchers in the past.
What should I look for in secure features?
End-to-end encryption- A message is end-to-end encrypted if your service provider cannot open it on their servers, i.e., only the people you are communicating with can access the message. Nobody, including the government, the developers, ISPs, or anybody else, will be able to access it. Only the sender and receiver that have the encryption keys can read the message. Currently, this method is the safest, most private method of messaging. A must-have feature for secure messaging.
Quality of life- Apps must also be easy to use and have all the necessary features expected from them. Most apps nowadays have multi-mode communication that allows users to send messages through texts, videos, and audio. Some apps even have complete multi-platform support. This has become quite a requested feature as it allows you to sync messages across mobile, web, and desktop platforms. Other features such as disappear mode, deleting messages, read receipts are also a plus.
Did you like this list of the best encrypted messaging apps for Android and iOS? Share your reviews in the comments section below.
Also read: 12 Best WiFi Hacking Apps For Android Smartphones
FAQs
What is the most secure and encrypted messaging app?
Status and Dust are the most secure messaging apps since they do not collect any data. However, considering other factors like the number of users, features available, etc., Signal and Telegram are also good.
Is Signal the most secure and encrypted messaging app?
No. Status is the most secure messaging app. However, the app doesn't have many features, so Signal can be counted as the most secure messaging app.