Android's strong customization game is one of the reasons why most people don't want to let go of their Android devices. One of the most customizable parts of the OS is the Launcher. For starters, a default launcher comes baked into every Android phone, and it is what allows users to navigate through the app drawer and open apps.
For instance, Google's Pixel series of devices come with Pixel Launcher by default. Xiaomi's devices come with the MIUI launcher, and OPPO has its own launcher too. Apart from that, there are third-party launchers as well, that you might like better than your current default launcher. Hence, here are some of the best Android Launchers for 2022 that are worth giving a try.
11 Best Android Launchers For 2022
1. Nova Launcher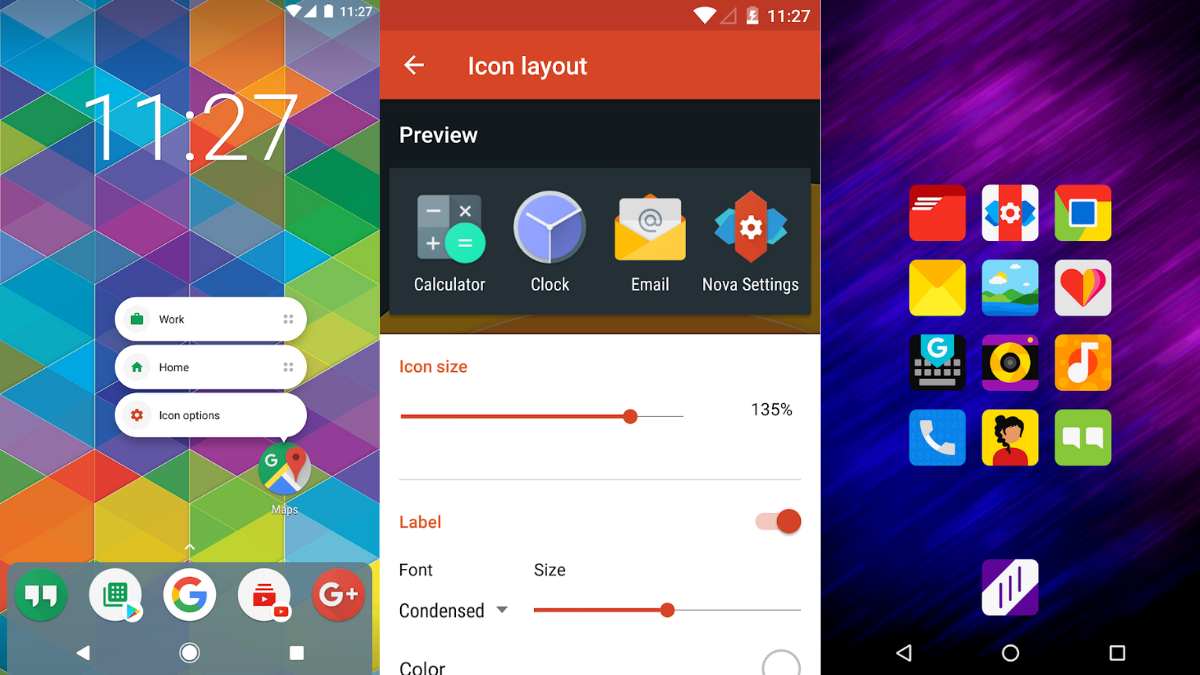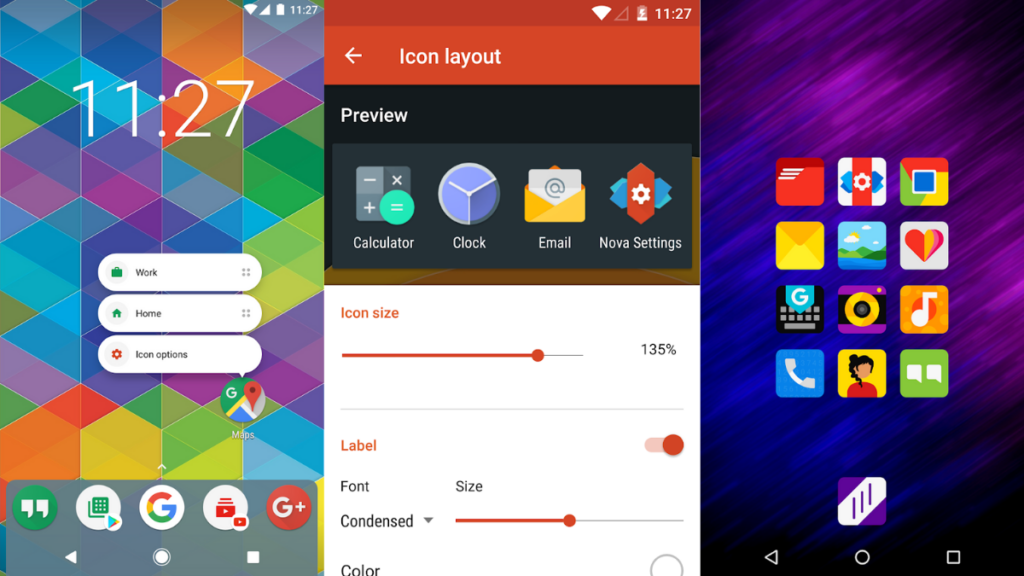 No Android launcher list is complete without Nova Launcher. It's one of the best Android launchers on the Google Play Store when it comes to the sheer number of customization options. It is also fast, efficient, and lightweight, and supports dock customizations and notification badges. Apart from that, there's also an option to display frequently used apps as a top row in the app drawer, folder and icon customizations, dozens of gestures, and many other cool features.
It also has support for app shortcuts. Not only can you customize app icons, but also edit icon labels. To get a minimalistic feel, users can remove labels entirely. Other than that, it has all the tiny bits and pieces for maximum customization. The launcher is free on the Google Play Store, but to unlock most of the good features, you'll need to buy the premium version Nova Prime for $5, which is definitely worth it.
Why use Nova Launcher?
Unlimited customization options
Google Play Store Rating – 4.5
Downloads – Over 50 million
Price – Freemium $4.99
2. Lawnchair
There are lots of reasons to love Lawnchair, but one of the main reasons is that it solves the major shortcomings of the Pixel launcher, i.e., customization options. While the options aren't as comprehensive as in the Nova Launcher, it does have a lot of unique features.
We've covered Lawnchair on the blog a lot of times, and we love it because it's completely open-source. Being a third-party launcher, Lawnchair provides a great number of customization features such as variable grid, icon size, notification dots, hiding app labels, At a Glance, dock color customizations, etc. Overall, it's one of the best android launchers of 2022.
Why use Lawnchair?
Google Pixel-like experience
At a Glance and Google Feed
Customization options
Google Play Store Rating – 4.3
Downloads – Over 1 million
Price – Free
3. Niagara Launcher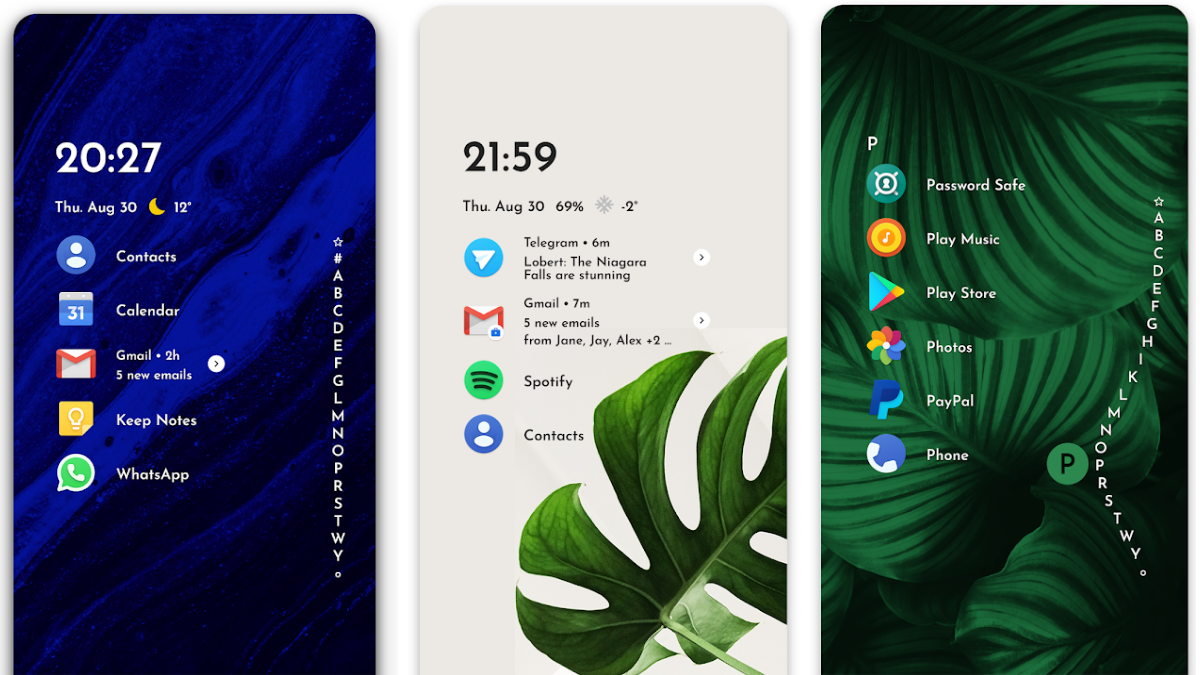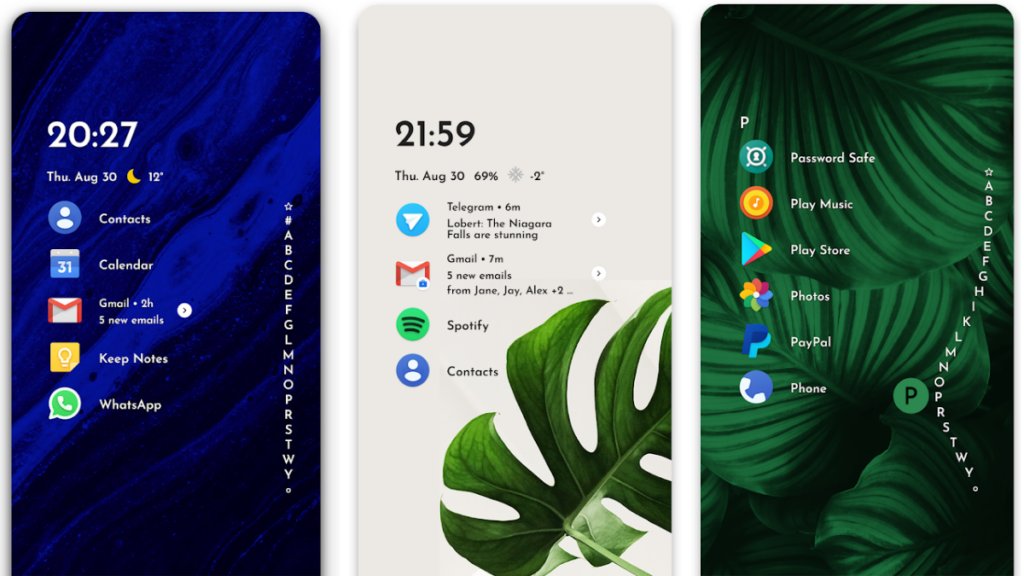 If you're a minimalist then the Niagara launcher is for you. Its clean and fast user interface combined with the ability to drag at the right side of the screen to search for applications using their starting letter. Niagra is no slouch when it comes to customization options. All the basic features like changing icon packs, shapes, sizes, and font are present. It also doesn't miss out on a dark theme.
Since the launcher app is focused on de-cluttering your Android space, the app comes clean with no bloatware or sponsored ads. The launcher app works smoothly on lower-end devices as well. This launcher is surely not built for the customization heads out there but for someone who desires a clean and minimalistic Android experience.
You can also purchase the premium version which unlocks Niagara calendar and weather widgets, Pop-ups, Custom fonts, Sesame integration, Quick-Lock gesture, and many other features.
Why use Niagara Launcher?
Best lightweight launcher app
Stunning design
App search is super easy
Dark theme works very well
Google Play Store Rating – 4.4
Downloads – Over 1 million
Price – Free + in-app purchase for premium features.
Also, check out our guide on how to make your android device faster with just a few tweaks here!
4. Microsoft Launcher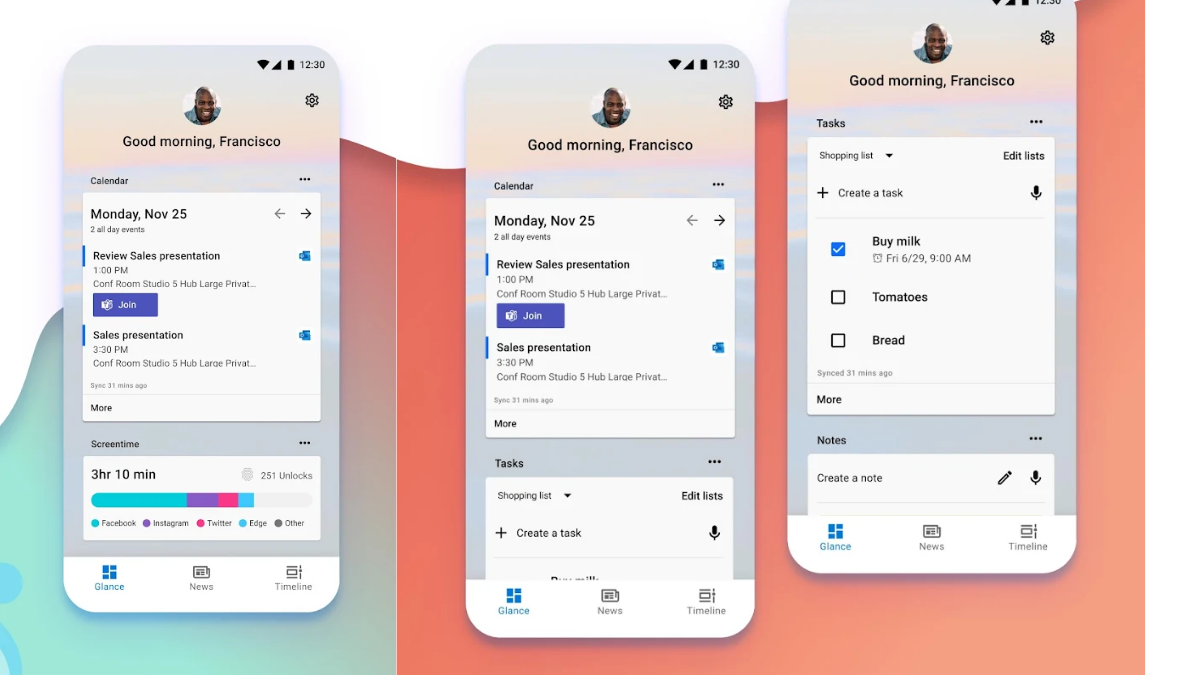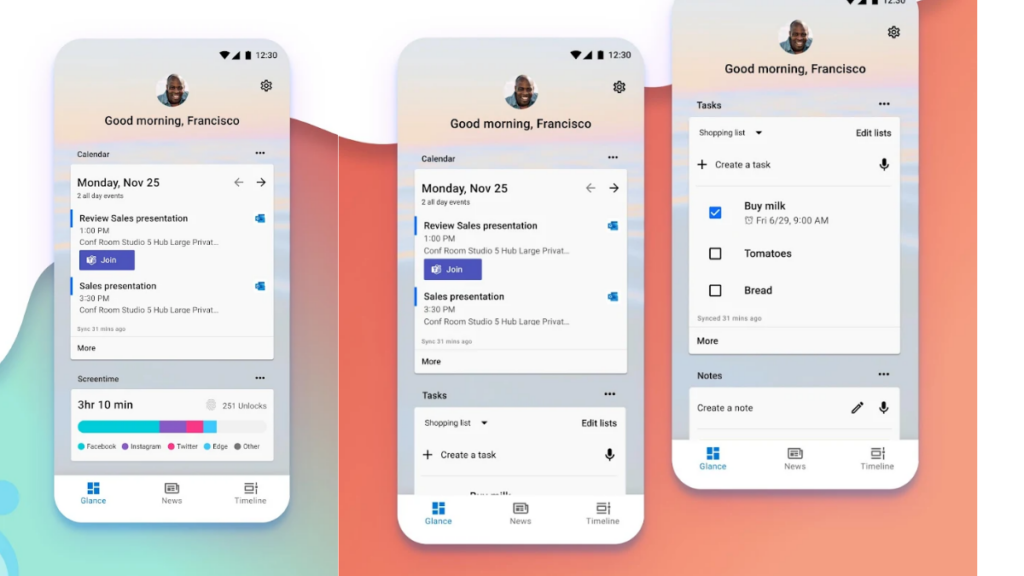 Microsoft Launcher (formerly Arrow Launcher) is an elegant and fast Android launcher app with a lot of customizations.
You can update new wallpapers from Bing every day. The home screen is decorated with the Microsoft Timeline feature resembling "Google Cards." Also, the Recent panel shows the recently opened media or recently used contact.
The best part about the Microsoft Launcher app is that it gets synced to the entire Microsoft account. In other words, you can get a personalized feed, see your search results, and much more.
The only drawback of using Microsoft launcher is that it doesn't allow much customization as in the other best launchers for Android here.
Why use Microsoft Launcher?
Continue On PC
Sync between Microsoft apps
Google Play Store Rating – 4.7
Downloads – Over 10 million
Price – Free
5. Poco Launcher 2.0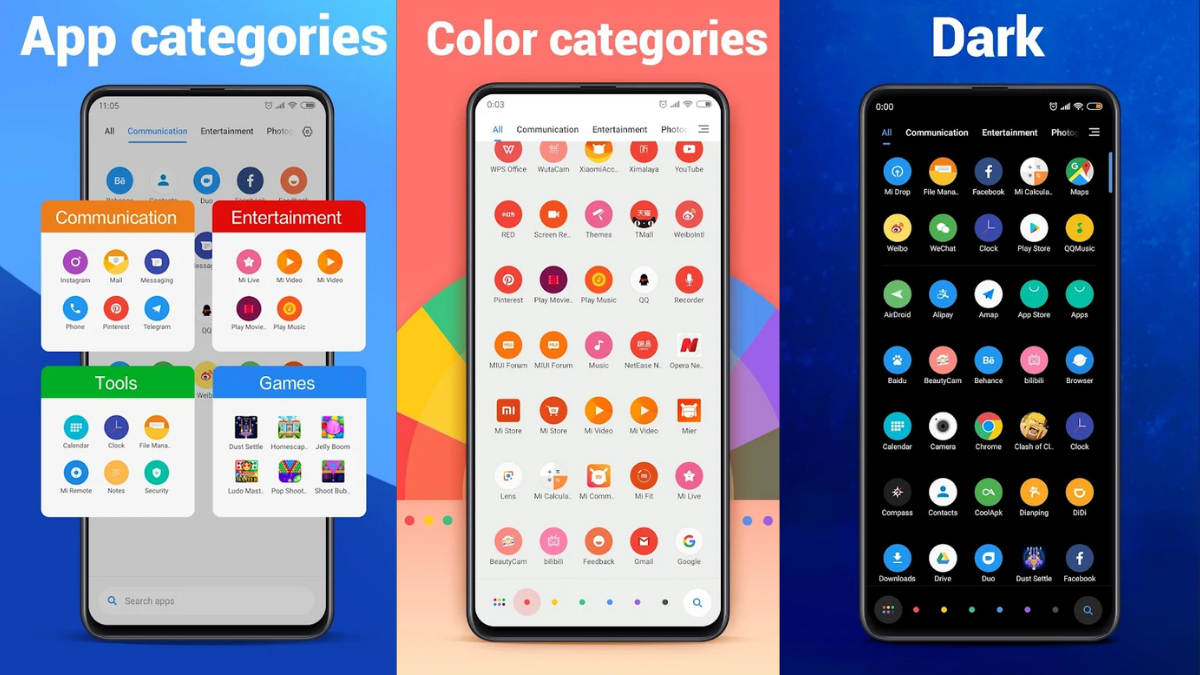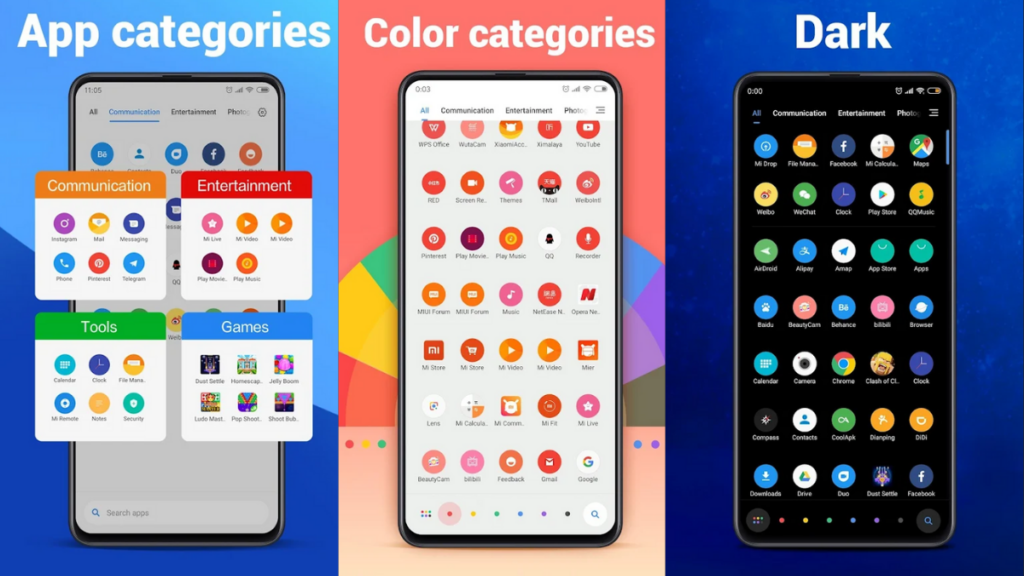 This is another free launcher for Android that is fast, reliable, and easy to use. The Poco launcher comes pre-installed on Poco devices from Xiaomi.
The apps in the app drawer can be grouped by categories and color, which makes it easy to search for them. Alternatively, you can also use the Search which is quick in finding apps. Other than that, you can hide app icons as well.
You won't find Google Feed on the home screen, so you might want to look at other launcher apps if that's your priority. Overall, the launcher is pretty neat and one of the fastest launchers on Android. However, there is room for improvement.
Why use Poco Launcher 2.0?
Fast and reliable
Sort apps by color
Google Play Store Rating – 4.6
Downloads – Over 10 million
Price – Free
6. Apex Launcher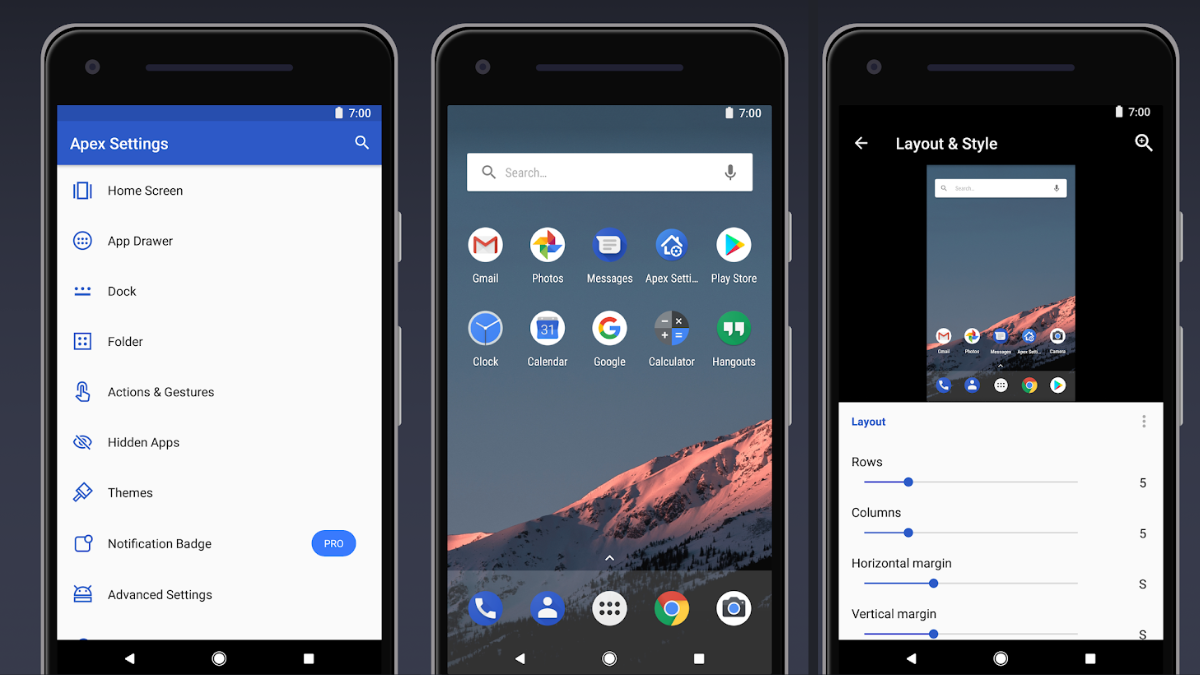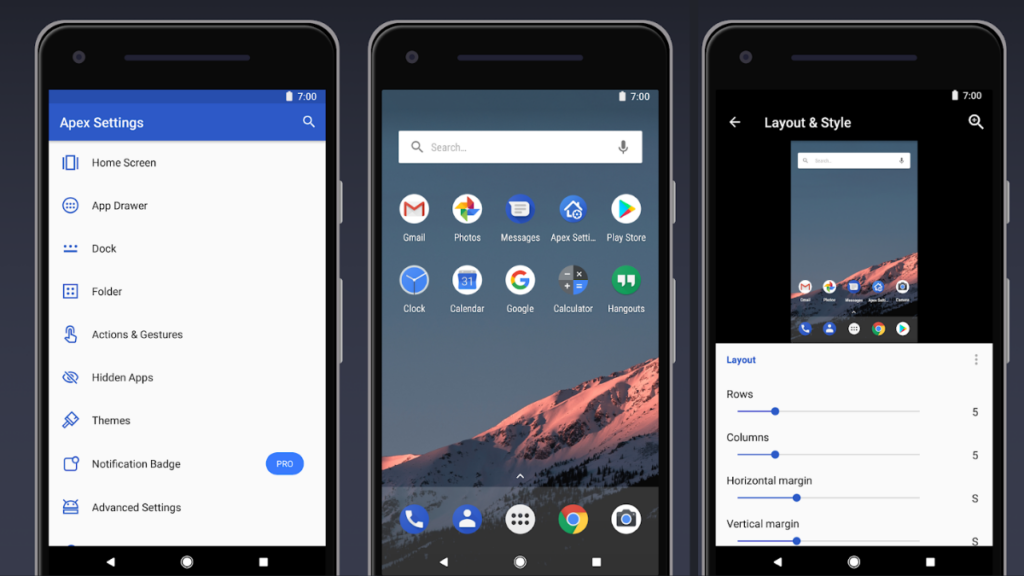 Apex Launcher is one of the most visually stunning launcher apps. To make it more aesthetic, you can combine it with thousands of themes and icon packs available on the Play Store. It is one of the best lightweight launchers for Android optimized for both smartphones and tablets.
You can add up to 9 customizable home screens and hide apps from the app drawer that you don't need. The launcher sports apps in the app drawer according to the title, installation date, or how frequently you use them.
Purchasing the pro version will unlock more gesture options, powerful app drawer customizations, and many additional features.
Why use Apex Launcher?
Multiple gesuture options
Google Play Store Rating – 4.3
Downloads – Over 10 million
Price – Free/ Premium $3.99
7. Smart Launcher 5
The Smart Launcher 5 is another lightweight and fast Android launcher app for 2022 that has been developed, keeping users in mind. The app drawer consists of a sidebar that divides the apps according to category.
Through the initial setup, it asks you for the default apps that you use, so you won't be annoyed later by default app pop-ups.
The Android launcher has an ultra-immersive mode where you can hide the navigation bar to get more space on the screen. Also, the ambient theme of the launcher app changes the theme color based on the wallpaper.
Although gesture support is available, it is limited. You will need to purchase the pro version to unlock all the gestures. One downside of using the free version is that intrusive ads show up in the app drawer. Nevertheless, it is one of the fastest Android launchers that you should try.
Why use Smart Launcher 5?
App Lock
App sorting (similar to iOS 15 App Library)
Google Play Store Rating – 4.4
Downloads – Over 10 million
Price – Free/ Premium $4.49
8. Hyperion Launcher
If Nova launcher and Lawnchair had a kid, it would probably be the Hyperion launcher. The launcher strikes a perfect balance between a clean interface and customizations. It's developed by the same developer who also developed Substratum, a theming engine for Android.
When it comes to the customization options, Hyperion has got everything covered. From the dock to the theme, from icons to the animations, interface physics to gestures. It also has Sesame shortcuts, Google feed integration using the Hyperion Dock. Overall, it's one of the best Android launchers for people who need both customizations while retaining simplicity.
Why use Hyperion Launcher?
Great number of customizations
Close to Pixel Launcher-like experience
Google Play Store Rating – 4.1
Downloads – Over 1 million
Price – Freemium
9. BaldPhone
BaldPhone is an open-source launcher that is specifically made for elderly people, people with motoric problems, and people who need a visual aid.
The launcher has bigger icons and the necessary functions right on the home screen. However, users can customize the home screen based on their personal preferences.
Since the Android launcher is open-source, there are no ads and developers claim, "it is purely a goodwill product." While the app asks for a lot of permissions, one can assume that there will be no harm to their data, given the open-source nature.
Unlike other Android apps here, this launcher app is only available on the F-Droid store. BaldPhone is one of the best Android launchers of 2022 for people who have difficulty using the normal interface.
Why use Bald Launcher?
Open-source
Extremely intuitive
Google Play Store Rating – 4.4
Downloads – Over 10 thousand
Price – Free
10. Ratio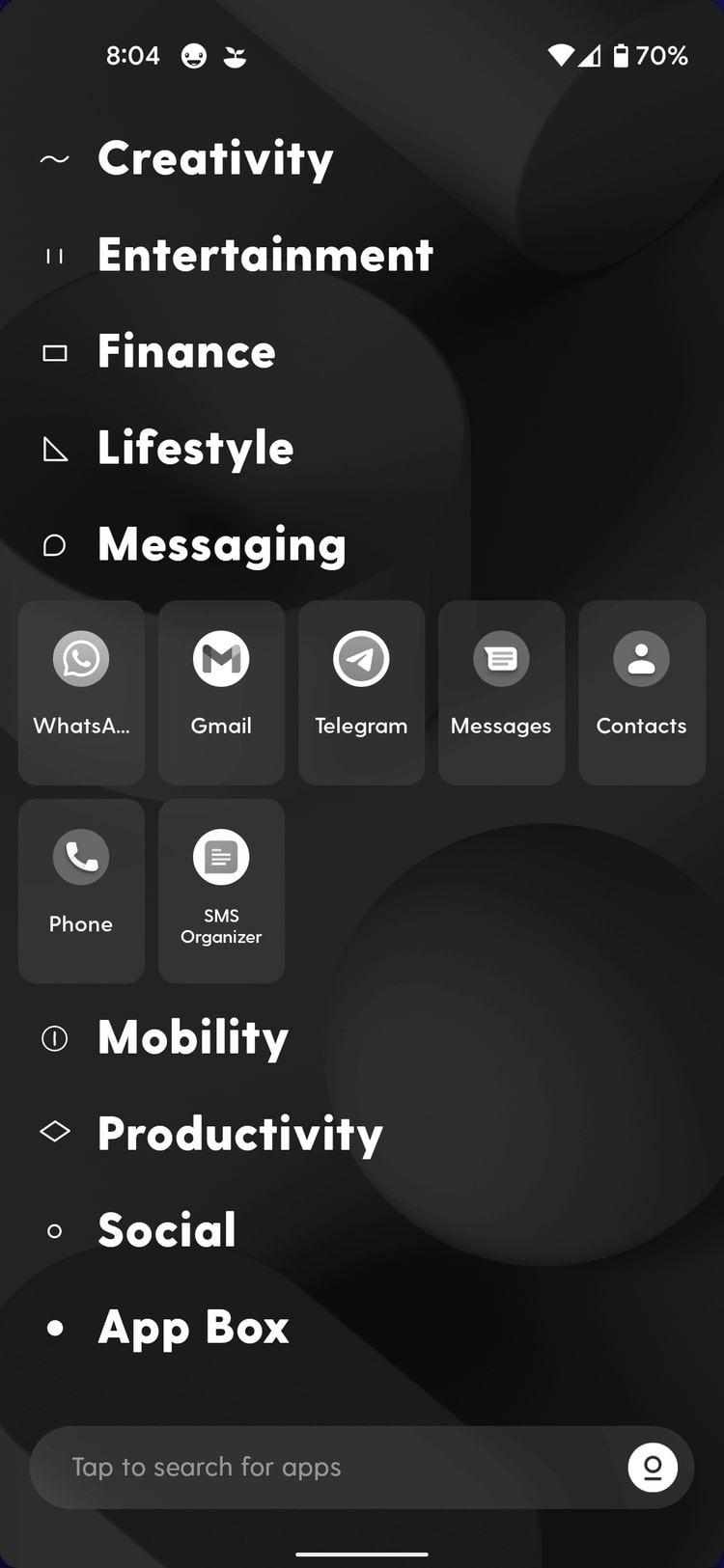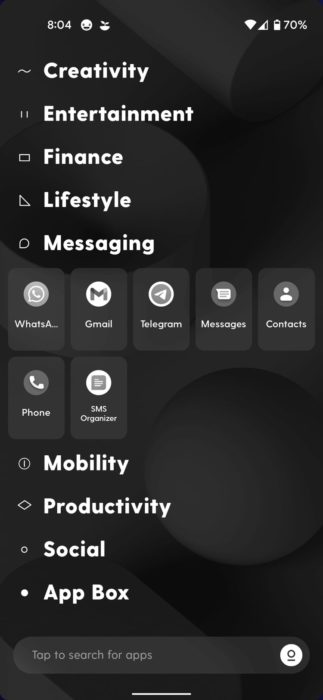 If your home screen is too messy and you get distracted easily, then Ratio is the best launcher app for Android that you should be using.
The Android app has three home screens; each one has a particular feature. For instance, the Tree page keeps all your messages in one place, while the Root page features custom cards of weather, Notes, YouTube, etc. Lastly, you have a Tiles page that automatically segregates apps under different categories.
The only problem with Ratio is that there are no colorful theme options. That said, the monochromatic looks good as well.
Note that Ratio needs to access almost all your data to function properly. While it says the data stay on the phone and is encrypted, not everyone will be comfortable with sharing too much personal information. All in all, Ratio has one of the best launchers for Android in 2022.
Why use Ratio Launcher?
Attractive UI
Best to de-clutter home screen
Google Play Store Rating – 4.3
Downloads – Over 100 thousand
Price – Free
Also, check out our guide on the list of best and essential android apps that you must have on your smartphone.
11. Launcher iOS 15
There's no denying the fact that most Android users have at some point wanted their phone to look like iOS. And thanks to Android's customizations, you use an iOS launcher. Launcher iOS 15 is probably one of the best iOS launchers out there. Not only do you get proprietary icons, but you will also see improvements in performance during navigation.
It's unbelievable how close the launcher is to the real iPhone experience. Long pressing an app icon brings up an iOS-like menu of options to rearrange and remove the app. The launcher also provides the iPhone's home screen-like widget section.
Users can also get the iOS control panel and assistive touch, upon downloading the respective apps from the developer. The only problem is that the iOS 15 launcher app throws obtrusive ads while trying to tweak the launcher settings.
Overall, this is the best launcher for Android in 2022 for people who would like to get the iOS 15 look on their Android device.
Why use Launcher iOS 15?
Google Play Store Rating – 4.6
Downloads – Over 10 million
Price – Free
Which is the best Android Launcher in 2022?
Most launchers these days look and feel way too similar. However, there are always some customization options that are unique to a launcher app. Then there are a few launchers such as Niagara and Evie which focus on the design, rather than overwhelming users with customization options. We advise users to try out all of the above top Android launchers to find out what works best for you.
Did you find this list of the best Android launchers helpful? Share your reviews in the comments section below.
FAQ
Are launchers good for Android?
Third-party launchers can be good or bad depending on your Android device. For instance, if you have a budget device that is already having performance issues, installing a loaded launcher will probably make it slow. Aside from that, a third-party launcher may indulge in malicious activities. That being said, launchers are generally good for Android.
Do launchers drain the battery?
A heavy launcher can put a toll on your Android device. Prefer going for a lightweight and minimalistic launcher if battery life is a major concern.