Think of those lazy weekends when you just don't want to move a muscle; or those chilling winter nights when you are comfortably enjoying a movie on your couch, and you wished you didn't have to leave your comfort zone to change the volume or skip tracks.
So, you may think, "Can I use my Android phone as a mouse?" Controlling devices with your mind through a brain-computer interface is not yet commercially viable. Nevertheless, we have Android apps that can work as a PC remote control.
Android apps that can control your other devices via local Wifi, Bluetooth, or from anywhere via the internet come in handy for remote administration. Best of all, some of them even provide screen sharing capabilities to gain complete GUI control of your desktop or laptop.
Note: This isn't a ranking list; it's a compilation of the best Android apps to control other devices. You're advised to choose one as per your needs.
5 Best Android apps to control PC from Android (2019)
KiwiMote
TeamViewer
Unified Remote
PC Remote
Chrome Remote Desktop
1. KiwiMote
KiwiMote is one of the highest-rated apps in the Play Store that allows you to control your computer using an Android phone over WiFi. It supports all versions of Android above 4.0.1.
A PC-side server needs to be installed on your desktop or laptop and requires Java to be installed in your system. The server is lightweight, only around 2Mb. Also, the server software is portable and runs on Windows, Mac, and Linux.
KiwiMote requires your phone and PC to be connected to the same WiFi router or hotspot. The connection is easy to set up and you can use your phone to scan the QR code displayed on your desktop. Alternatively, you can also enter an IP, Port, and a unique PIN to connect.
This PC remote control app provides essential features like keyboard, mouse, and gamepad work like a breeze. Furthermore, it has easy to use interfaces for many popular desktop applications, such as Adobe PDF Reader, GOM Player, KM Player, Pot Player, VLC Media Player, Windows Media Player, Windows Photo Viewer, and many others. However, you cannot view your computer's screen on your device.
KiwiMote is available for free and comes with ads. Get it on Google Play here.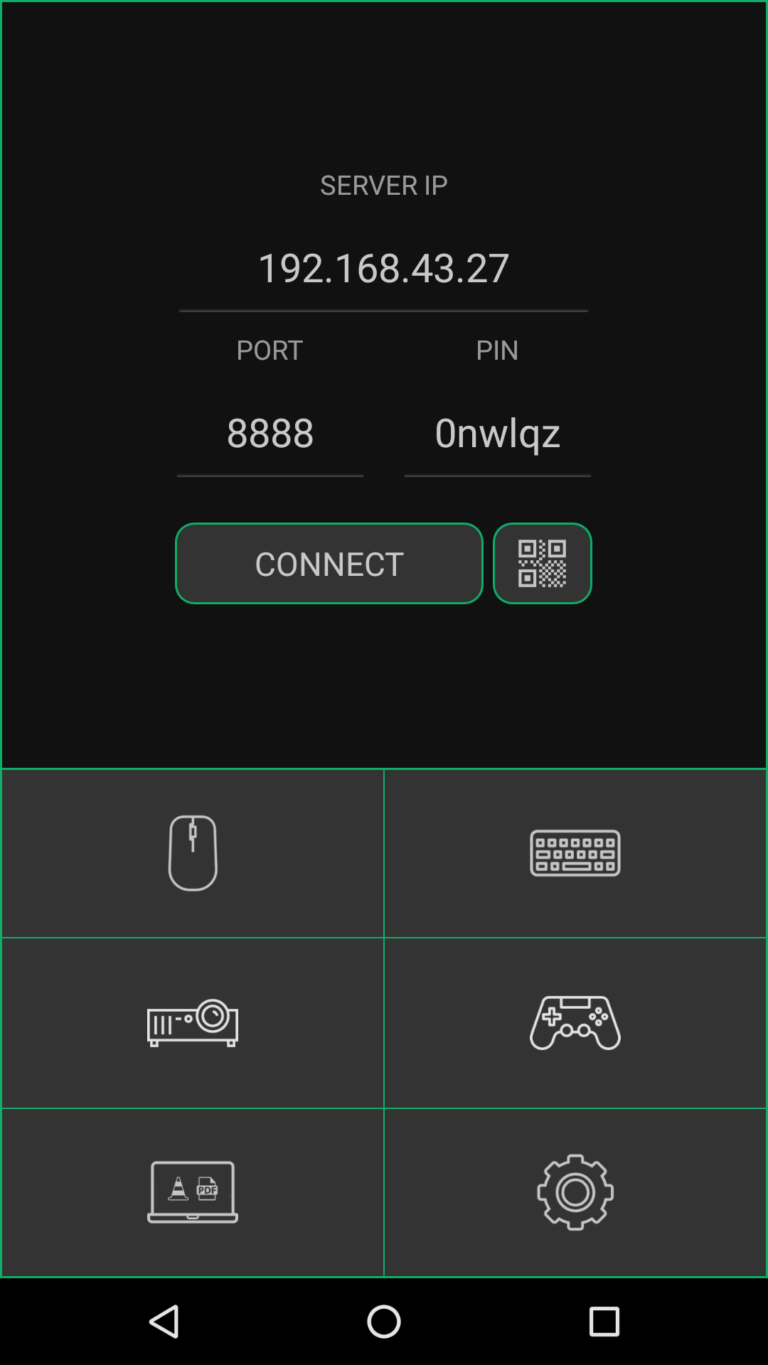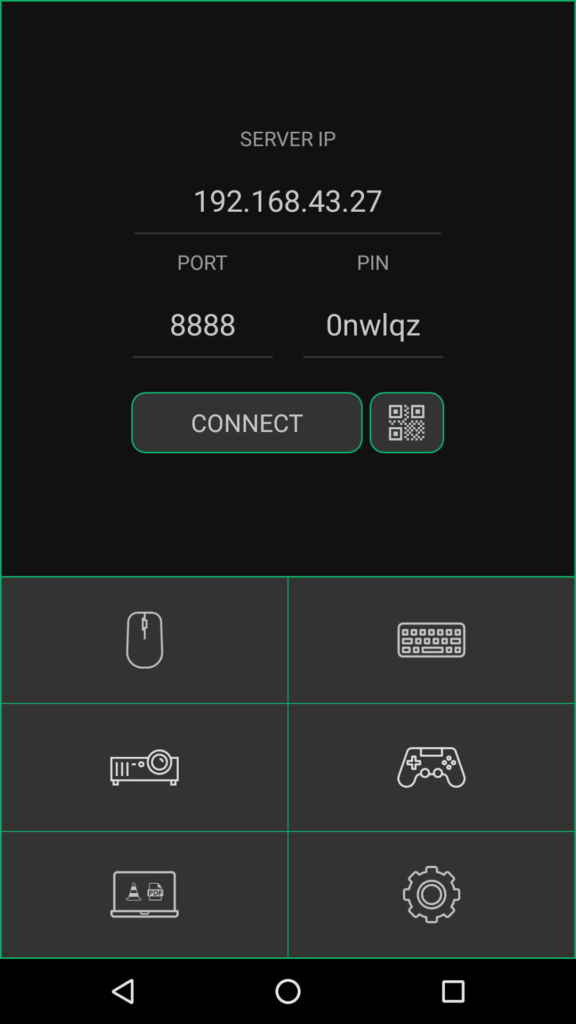 2. TeamViewer for remote control
Using Teamviewer, you can configure your Android phone to control computers running on Windows, Linux, and macOS. You can even remotely control other Android devices or Windows 10 portable devices.
As you might know, TeamViewer is already a popular remote control app among the masses. What's great is that it doesn't require you to be on the same WiFi or local network. So, you can control your computer and share screen from virtually anywhere over the internet.
Install the desktop server from here. Upon installation, it provides you with a unique identification number. Enter this number on your Android device, and then you can operate it either in control mode or file transfer mode.
You do not need to worry about unauthorized access as Teamviewer uses 256 Bit AES Session Encoding and 2048 Bit RSA Key Exchange. You can also remotely lock or reboot your computer.
It has real-time screen sharing capabilities and provides responsive and robust communication. What more? Teamviewer can facilitate bi-directional data transfer between your devices and is also capable of sound and High Definition video transmission.
Get it on Play Store here.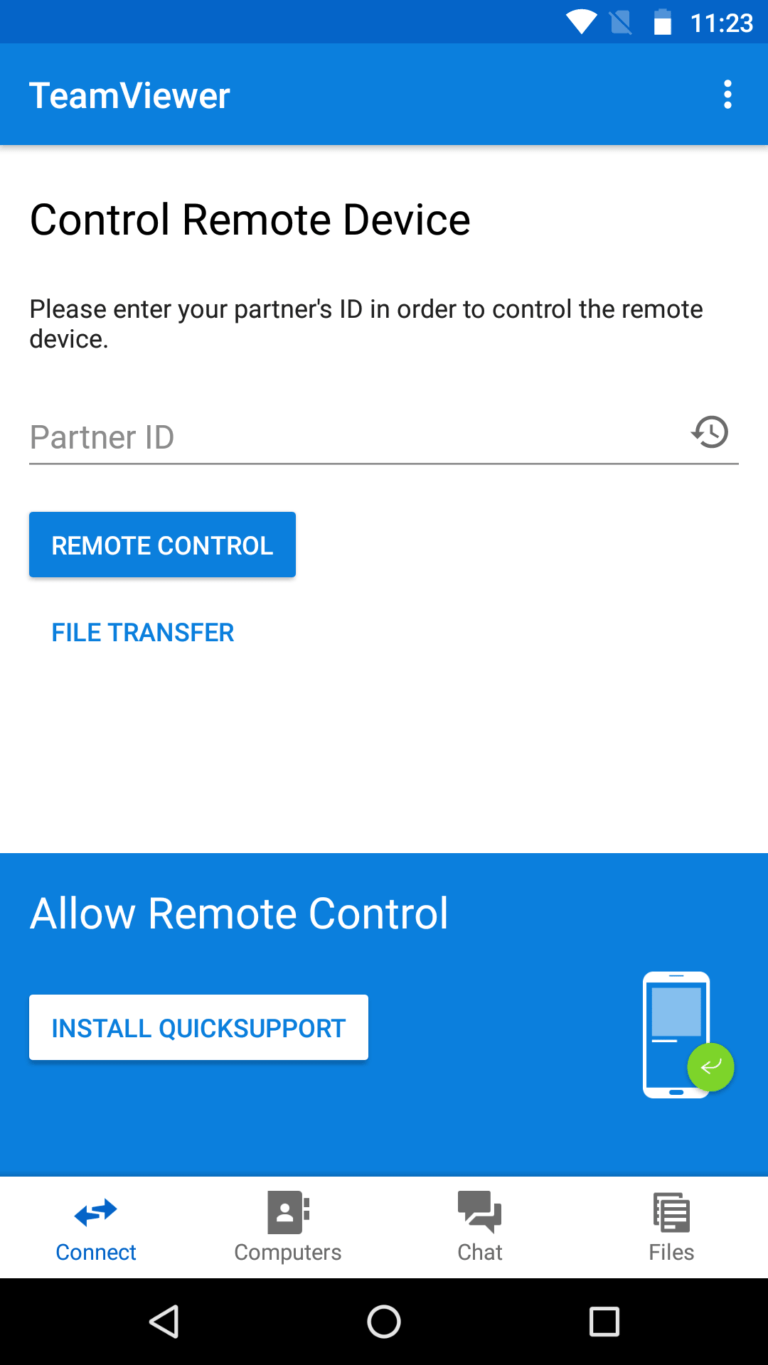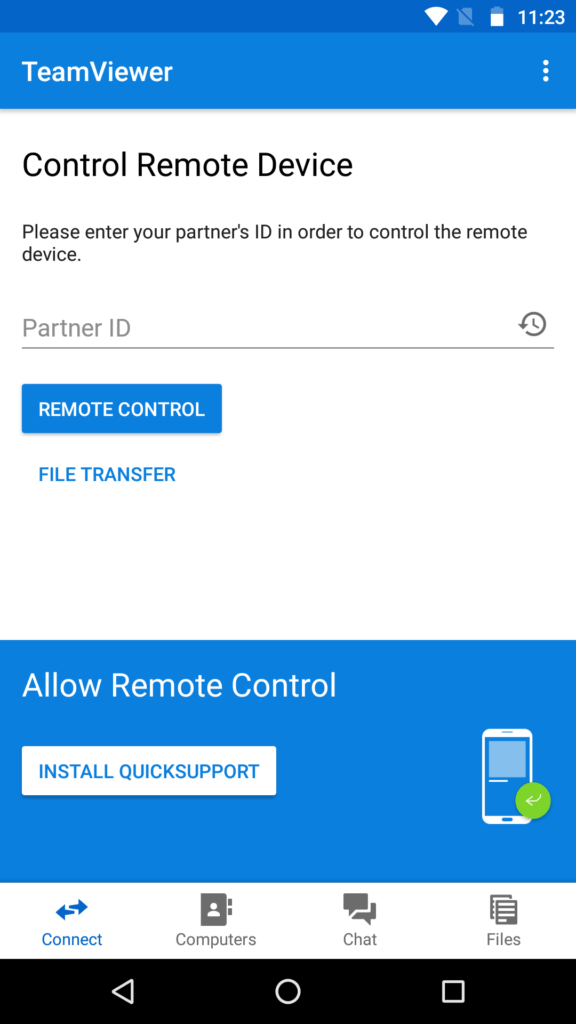 3. Unified Remote
Unified Remote has been in the app store for years now, and it is one of the go-to apps when it comes to controlling your PC from an Android device. This app uses Bluetooth or WiFi to remotely control your PC and comes preloaded with support for more than 90 popular programs. You can download its server-side desktop program here, and it supports Windows, Linux, and macOS.
Unified Remote supports Wake-on-LAN feature that you can use to wake up your computer from sleep remotely. It even allows you to control Raspberry Pi and Arduino Yun. Other useful features include a file manager, screen mirroring, media player control, and basic functions, like a keyboard and mouse with multitouch support.
Its "Floating Remotes" feature allows you to control your computer even while using other apps, but it is only available in the paid version. Other paid version features include custom remotes, widget support, voice commands, and helpful functions for Android wear.
Its free version comes with ads. Download it here.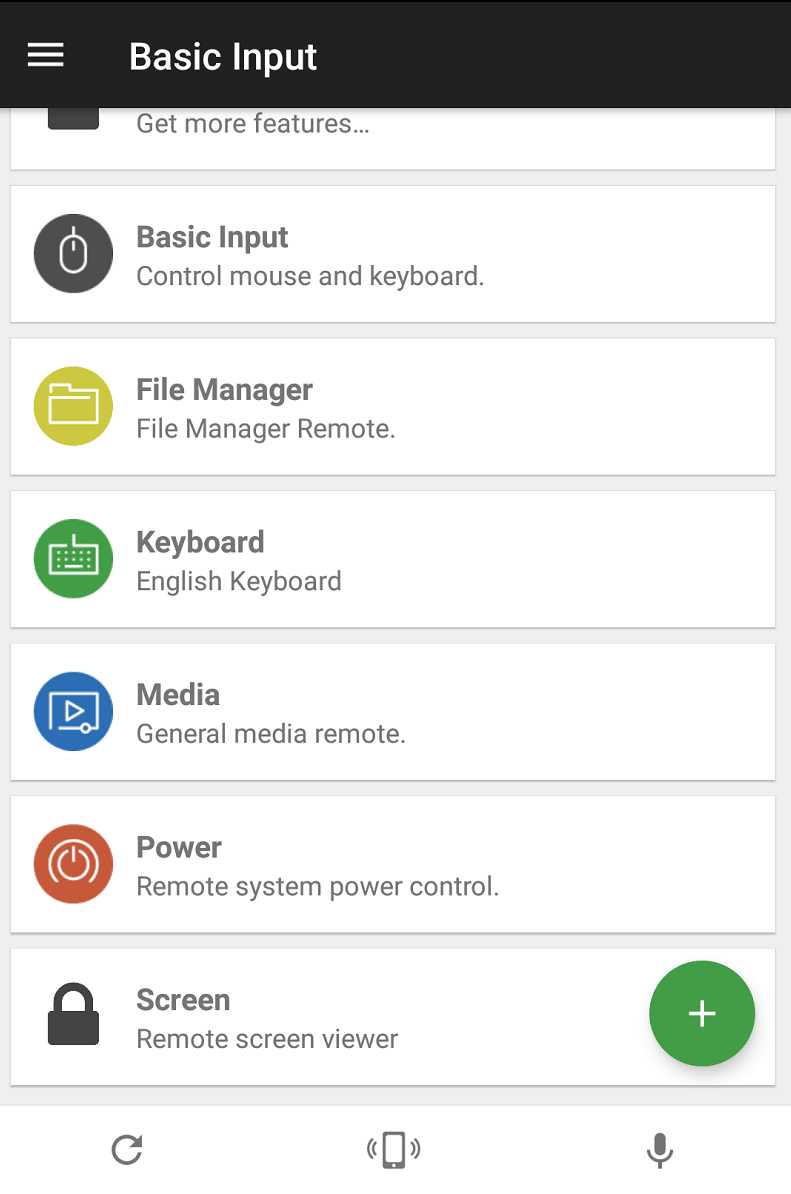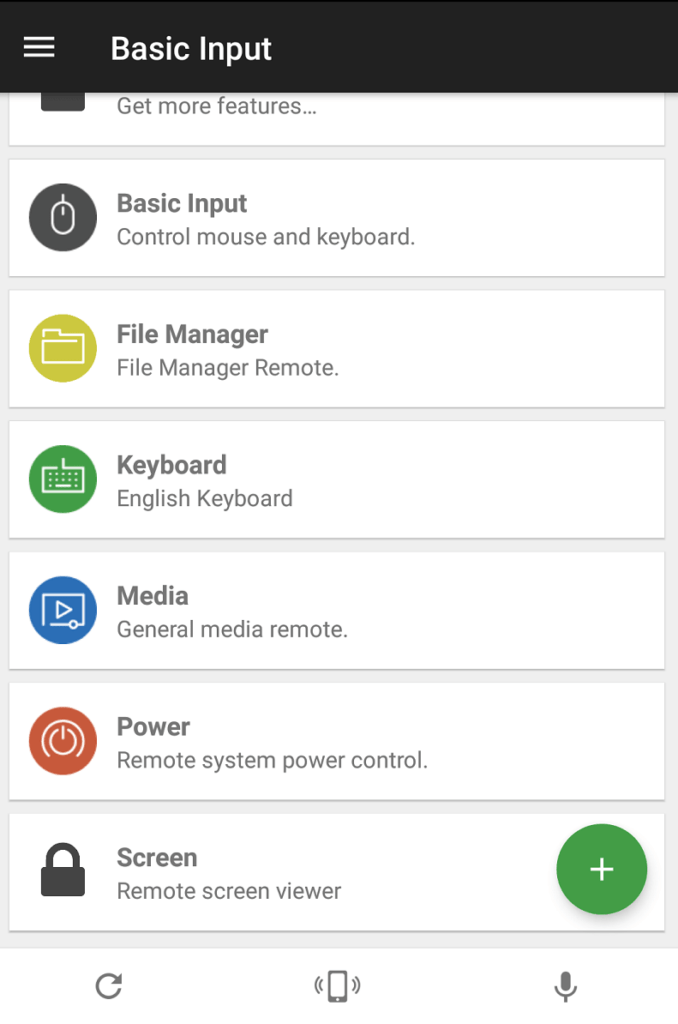 4. PC Remote
PC Remote runs on Windows XP/7/8/10 and can be used to control your PC from Android via Bluetooth or Wifi. PC Remote is easy to connect and packs a ton of features and its server-side desktop program is around 31MB.
All the useful features like a mouse, keyboard, and Powerpoint control are available within this app. The most powerful feature in this app is "Remote Desktop," which allows you to view your desktop screen in real-time and control it with touch input.
I managed to view videos without any lag using this feature, although you can't stream sound remotely. PC Remote has an inbuilt FTP server called "Data cable," using which you can access files on your smartphone on your computer. You can also view all the drives and files in your PC and open any content from your Android device.
One of the most intriguing features of this PC remote control app is that it has more than 30 classic console games that you can launch on your desktop with a tap, and play using the game controller in this app. There are many default gamepad layouts available. You can even make your own.
PC Remote is available for free and comes with ads. Download it from Google Play here.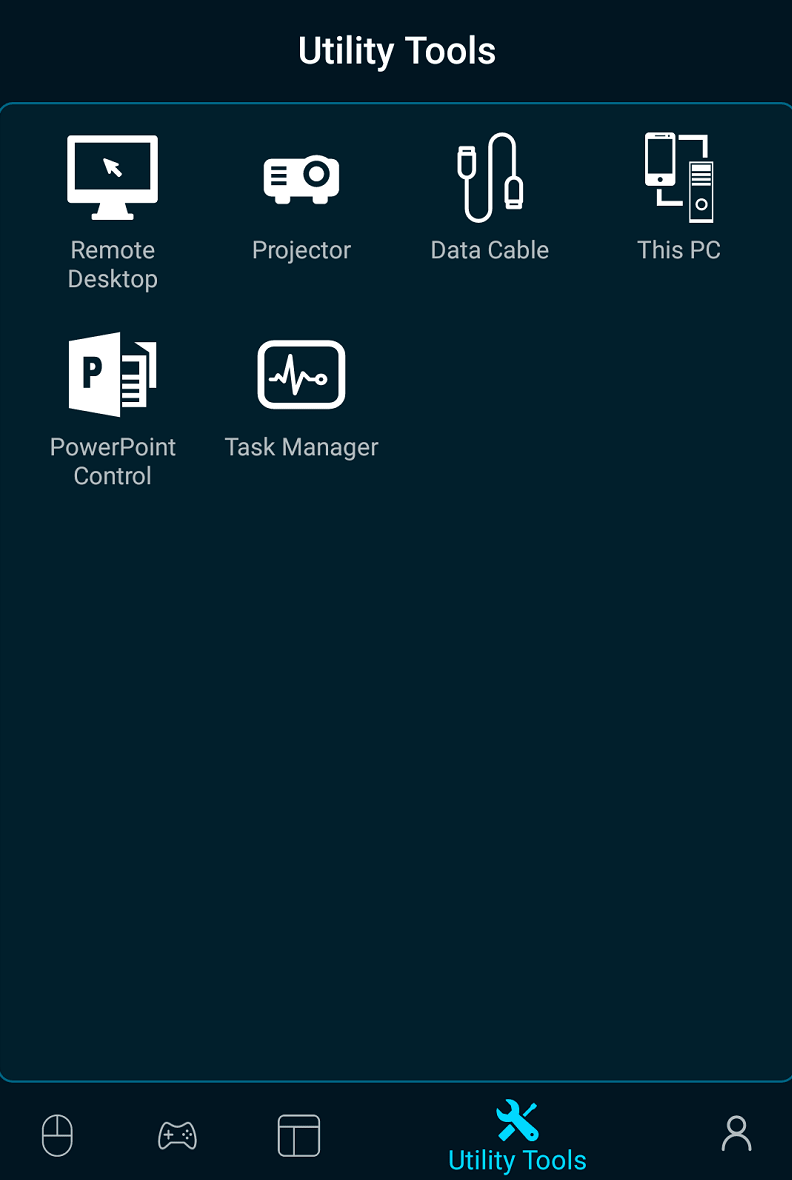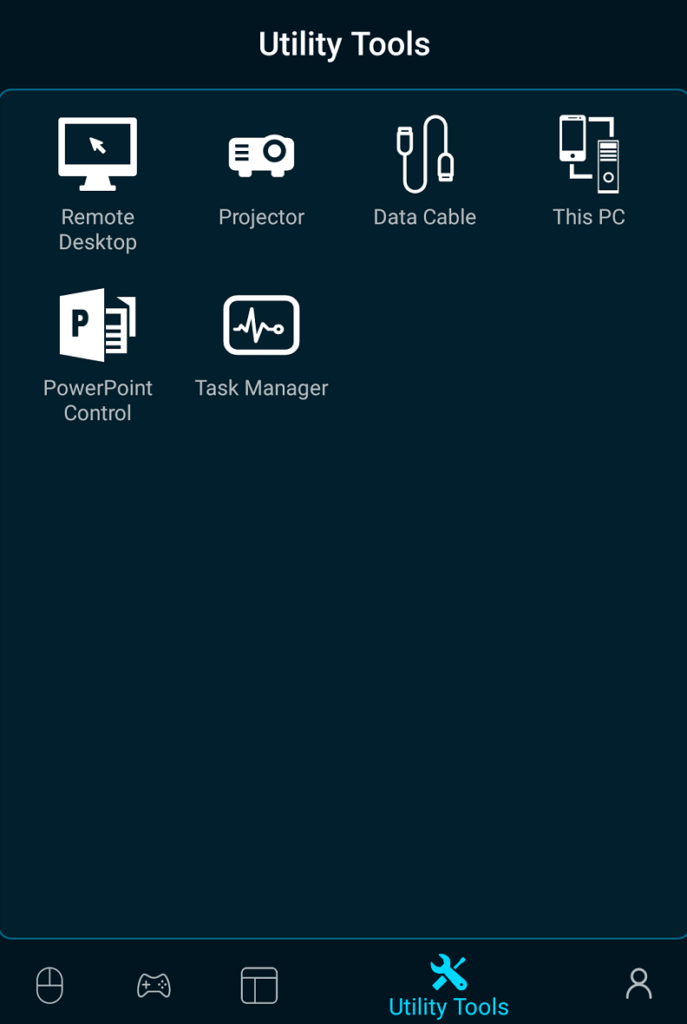 5. Chrome Remote Desktop
Made by Google, Chrome Remote Desktop allows you to view your computer and control it from anywhere remotely using your phone or any other computer. Of course, you need to have a Google account to use the remote sharing features.
Chrome Remote desktop allows live screen sharing, and it is fast and responsive. You can use your Android device like a mouse or can also control your computer via touch response. One reason to recommend this free remote control app its easy setup process and good looking user interface.
You need to install the Chrome Remote Desktop app from this Play Store link. Chrome Remote Desktop extension for Chrome browser can be downloaded from this link.
You can read more on how to use Chrome Remote Desktop here in our in-depth article.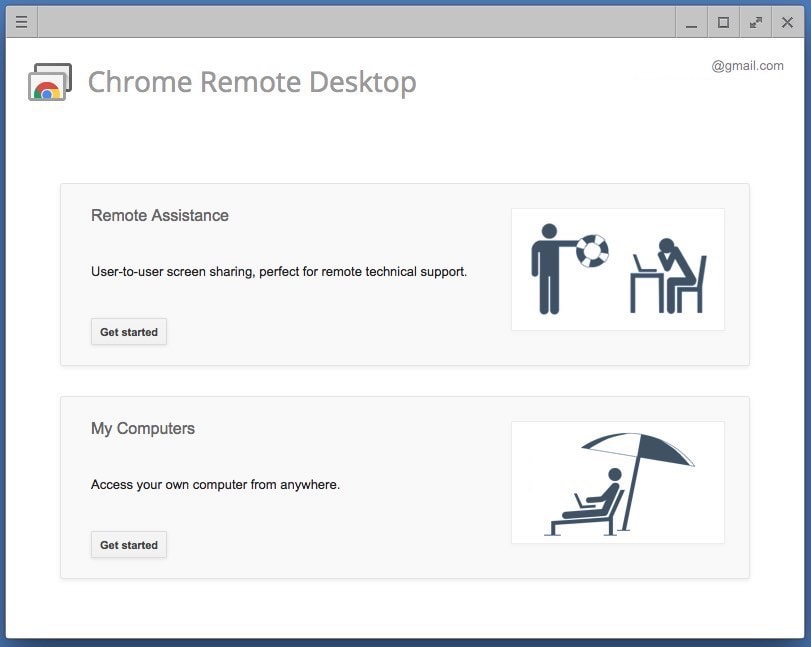 Did you find this list of Best apps to control PC from phone to be helpful? We tried to include both the app that lets you share your PCs screen on your phone and also the ones that turn your phone into a mouse and keyboard. So, you can pick any of these Android remote control apps depending on your usage.
Let us know if we missed out on anything in the comments below.
Check out other amazing apps that you can install on your Android phone: