2011 was when Android clinched the title for the "most popular mobile operating system" from iOS. One of the reasons behind Android's growing popularity, even when iOS was one of the trending OSes in the late 2000s, was the pricing of Android devices.
But since Android was 'free and open-source,' tons of manufacturers started shipping their devices with the same, and the Android mobile device industry was soon bloated, and updates became a significant problem. That's when Google came out and announced Android One and promised a clean Android experience with a guaranteed two years of major updates. In this article, let's look at everything Android One offered, and let's also go through its entire history.
What is Android One?
First announced in 2014, Android One was targeted at emerging Asian smartphone markets like India, Bangladesh, Philippines, Indonesia, etc. Android updates on partner devices are controlled by Google to push regular and quick security updates and major Android updates that would otherwise take over a year for other manufacturers to push on their devices.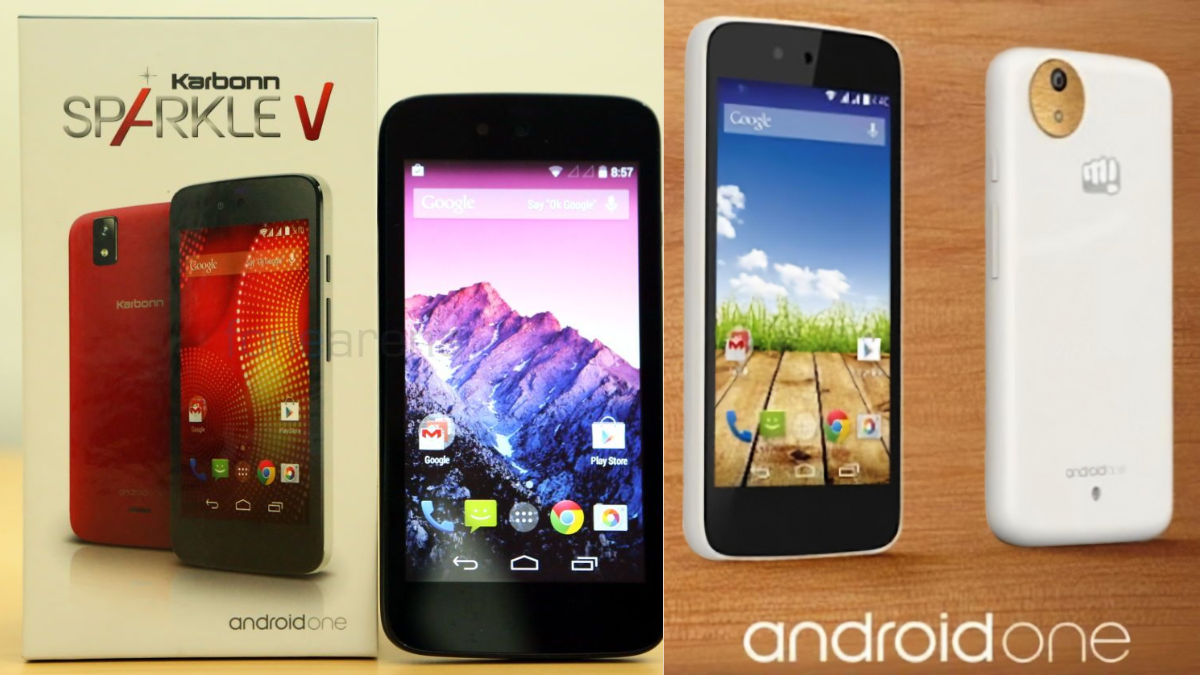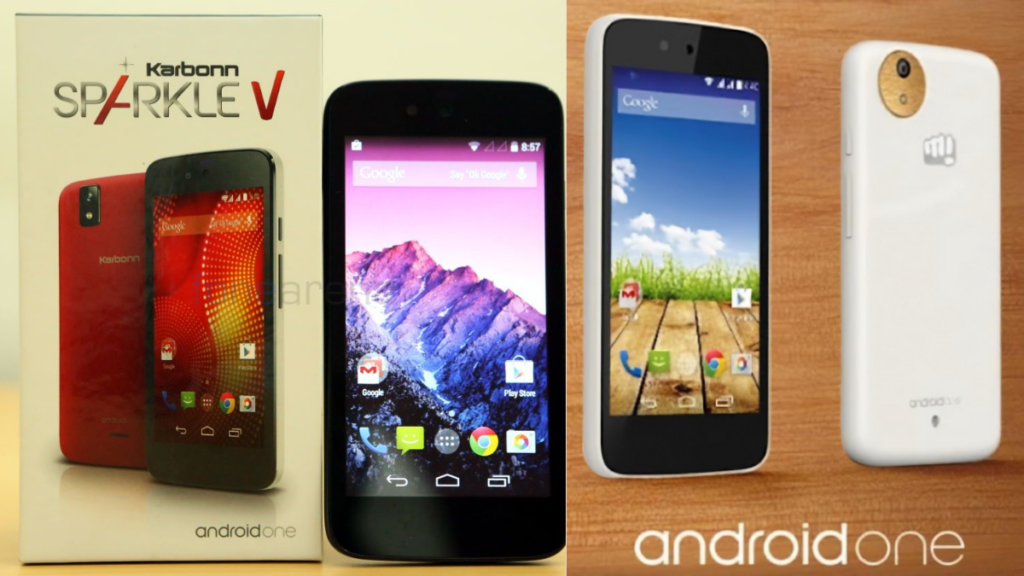 For example, in the subcontinent, Google partnered with Micromax, Karbonn, and Spice. Google promised these manufacturers that launching Android One would significantly cut down development costs as the updates would be handled by Google itself; hence it seemed like a win-win situation.
Android One's Downfall and Resurrection
The three devices — Micromax Canvas A1, Spice Dream Uno, and Karbonn Sparkle V — managed to capture a lot of eyes thanks to Google's promise of a cleaner, faster, and secure Android experience alongside two major updates. However, most people reported that the phones were plagued with issues, most of which were related to QC (Quality Control).
One of the common complaints that people had was related to performance. The first-gen Android One devices were all based on the same Mediatek 6582 platform, which was not the fastest SoC compared to Qualcomm 410 and 600 series of processors competition. MediaTek SoC and low-quality parts were some reasons why the OEMs managed to price the devices lower. Still, unfortunately, despite receiving massive attention from the Indian audience, Android One didn't turn out to be a huge success.
Google and Xiaomi Revive Android One
Three years down the line, when most people thought that Android One was dead, Xiaomi and Google partnered together and launched the Xiaomi Mi A1 in September 2017. This partnership came at the right time as Xiaomi had just become the number one smartphone brand in India, in terms of sales, in 2017.
When Xiaomi made a poll on Twitter asking people to vote between Stock Vanilla Android experience and their in-house MIUI, a majority voted for Stock Android. The company later ended up deleting the tweet. Perhaps it was expecting a different outcome.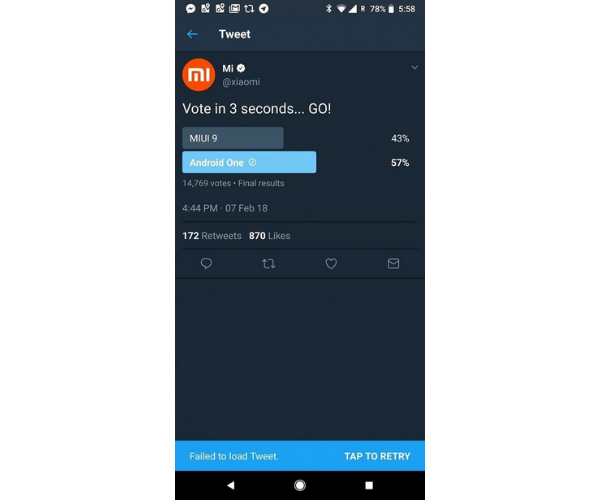 The partnership worked wonders for both companies. Mi A1 was a mid-range device priced at around $200, and it managed to outsell most mid-range devices in the market like the Moto G5S Plus from Motorola. Google indeed hit it out of the park with the Mi A1 (or at least we thought so). Sure, it was unlike the previous partnership, as the hardware was potent this time, and the phone had distinct features for the price that made it stand out from the competition, but there was something about the handset that people were upset about (More on this later).
Later, HMD Global, a company that bought back the Nokia branding, also partnered with Google to bring Android One to its devices. The Nokia 6.1, 7 Plus, and 8 Sirocco were the first Nokia handsets to ship with Android One out of the box.
Android One's Second Downfall
After the success of Mi A1, Xiaomi delivered Mi A2, which was a renamed Mi 6X, similar to how A1 was renamed Mi 5X in China. Sadly, A2 was overall a disappointing device. The list of disappointments didn't start with A2 but with the Mi A1 itself.
One of the things that Project Treble and Mainline aim to solve is — providing faster Android updates by removing the middlemen, i.e., manufacturers. We have a separate article on Project Treble and Mainline so if you don't know what they mean, make sure to check it out.
Unlike the first-gen Android One devices maintained by Google itself, that was not the case with the Mi A1. Xiaomi also had a significant role in the updates, and let's say they did not do a great job. For instance, the Oreo (8.0) update was delayed three weeks due to stability issues. Similarly, Pie (9.0) was also delayed due to major bugs. Most of the time, the monthly security patches were also pushed very late and had a lot of bugs in them, which ultimately killed the point of having an Android One device in the first place.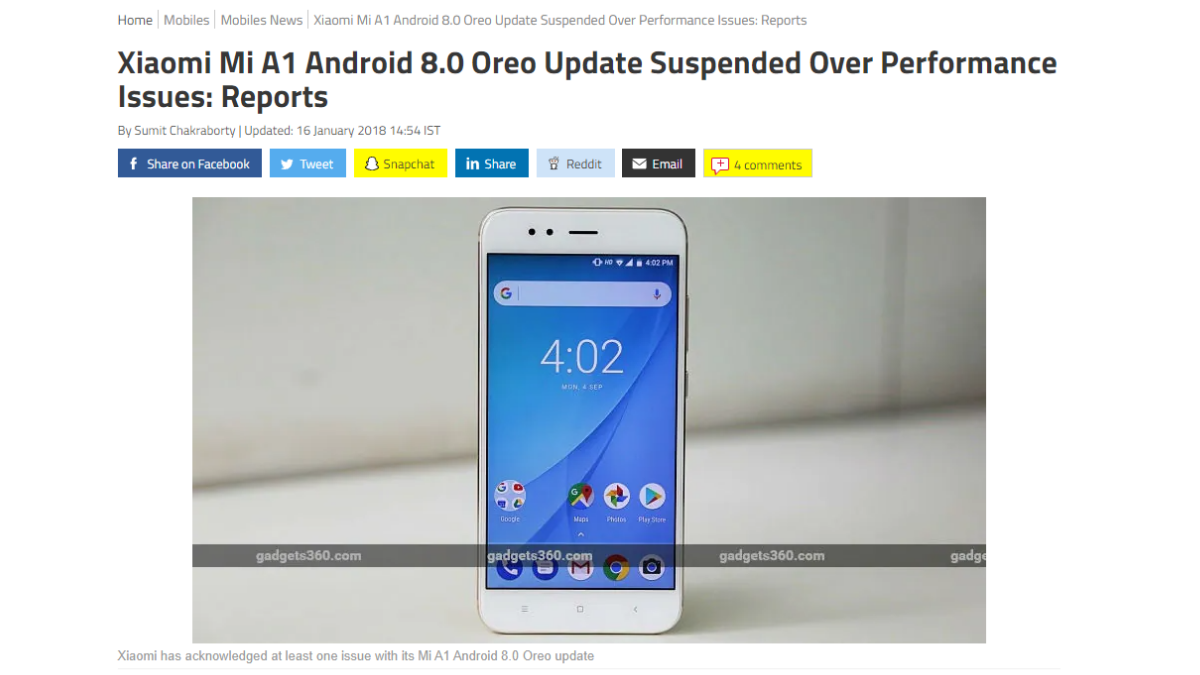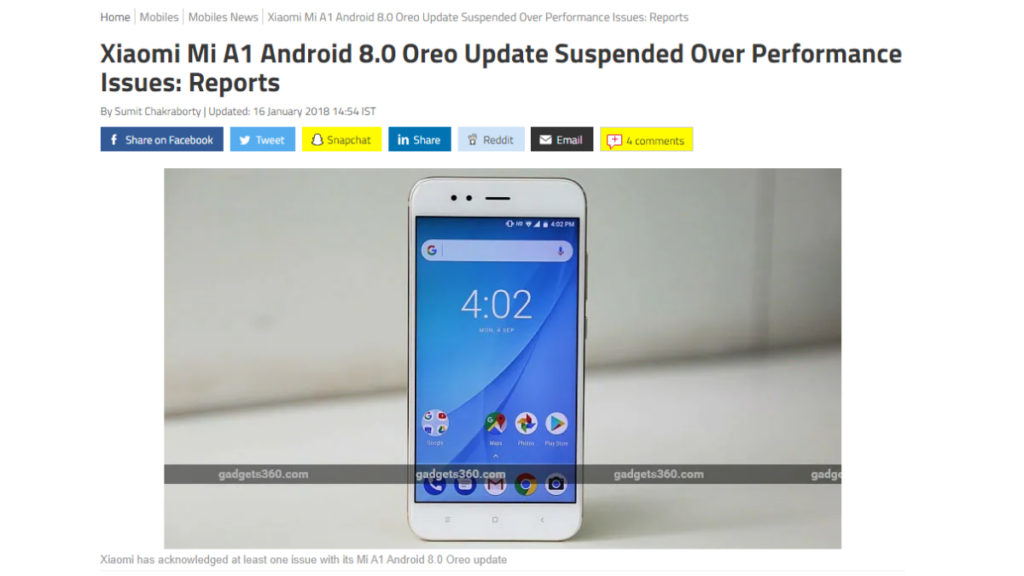 Unfortunately, things didn't change with Mi A2 and A3 until Xiaomi decided to abandon Android One. On the other hand, Nokia has a decent update speed, but not many people buy Nokia devices because they're usually considered expensive compared to the competition.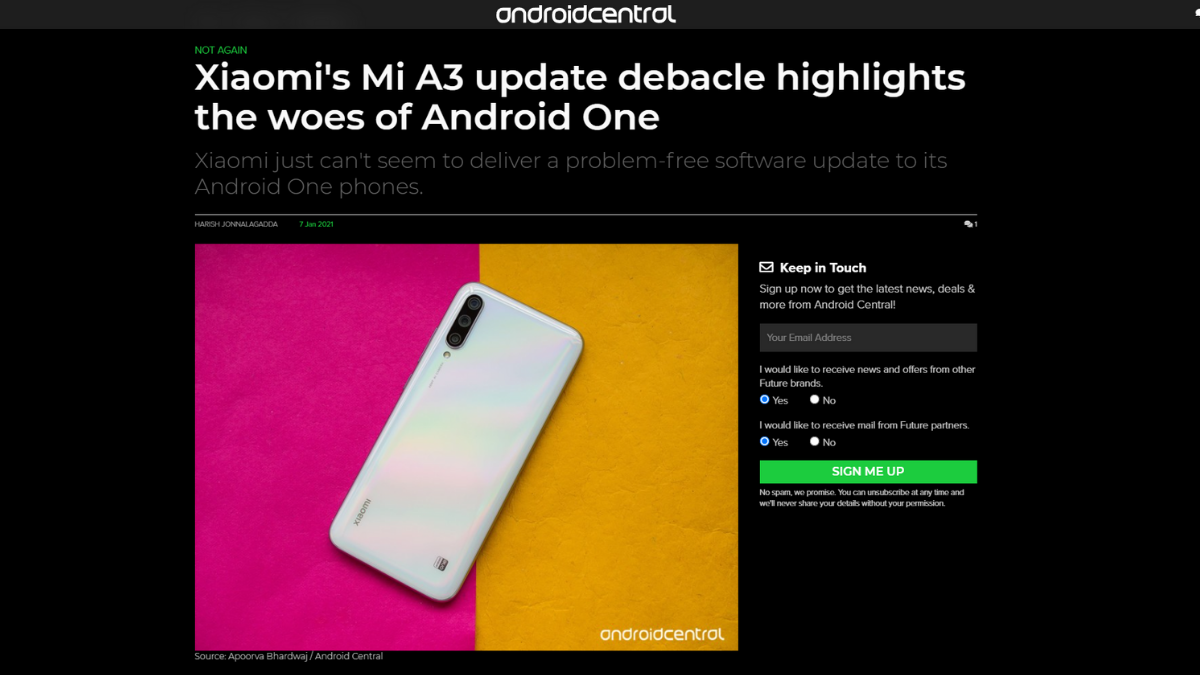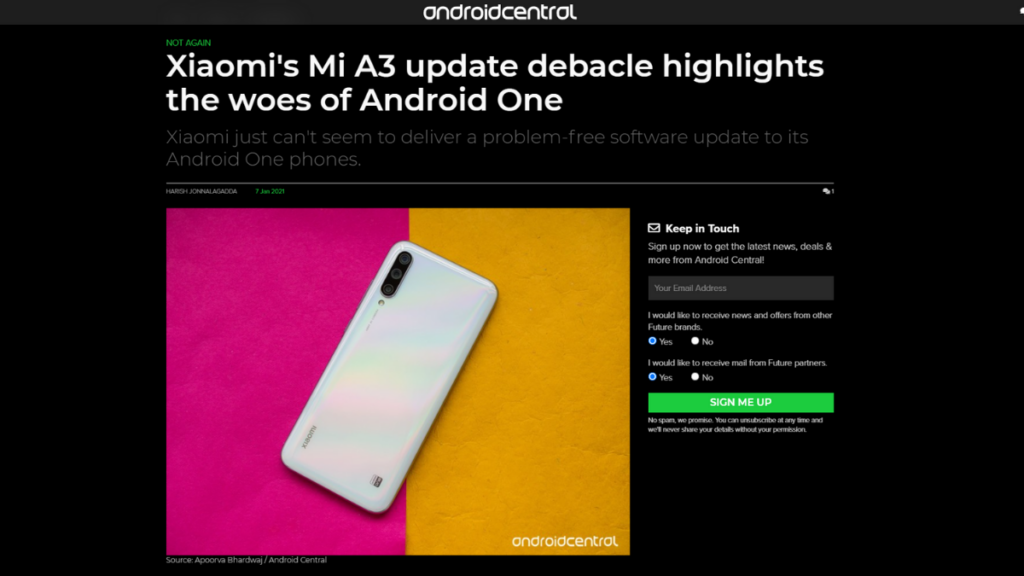 The Future Of Android One
With most of the primary device manufacturers like Samsung, OnePlus, Xiaomi, opting for at least two years of major updates on their flagship and mid-range devices, and bi-monthly or quarterly security patches, and with Google starting to provide security updates via Google Play, buying an Android One device at this time wouldn't be a rational decision.
Both Samsung and Google will give at least three years of major upgrades starting with their new Galaxy devices (including some of the upper mid-range devices) and the Google Pixel 6 Pro devices, which raises a question — Is Android One irrelevant now?
Is Android One Dead?
The answer is no. Apart from the major OEMs, there are a lot of manufacturers that provide at most one major upgrade to their mid-range devices. Hence, we could see Google partnering with them and coming up with Android One devices. And who knows, Google might promise an extra year of major updates to make it a strong selling point for those devices. But that's just a guess.
As of writing this article, Nokia stands as the only manufacturer releasing Android One devices (one of the most recent devices being the Nokia T20).
What are your thoughts about Android One? Have you ever owned an Android One device? Let us know your opinions in the comments section below.