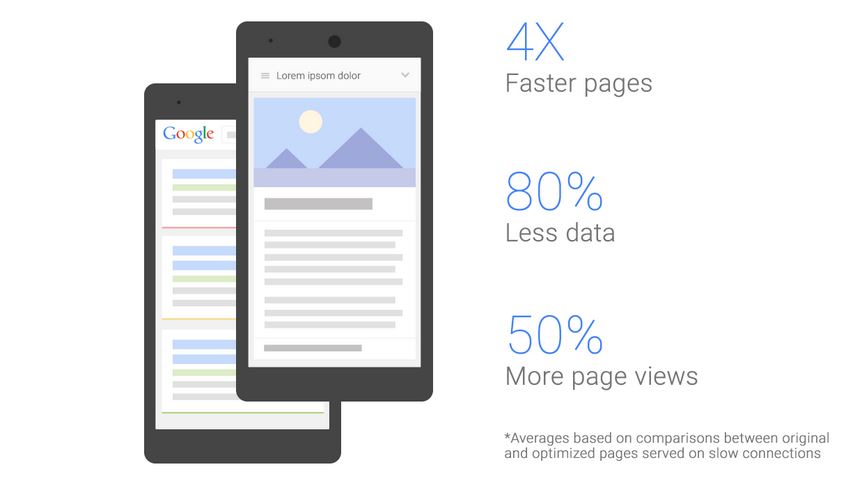 The load time and size of a website has been a concern of the mobile users since forever. Every time you open a site, you want that it loads in seconds and doesn't use much data. Google has launched Streamlined Search Results to optimize the display to be lighter and faster. But that was not enough to solve the problem of users with slower and costly mobile connection. So to solve that, Google started a way to optimize web pages to make them faster and lighter, while preserving most of the relevant content.
Google will start this streamline search result with optimized web pages for mobiles in two weeks in Indonesia.The field test will be applicable to Chrome users on Android only in the starting phase. Google is saying that with this, the pages will be transcoded in optimized manner. The study shows that the pages will load four times faster than the original page and use 80% fewer bytes than the older version. This will profit the website owners, as the study showed that there was 50% increase in traffic because of these optimized pages.
These optimized pages will preserve a majority of the relevant content and will be providing a link for users to view the original page. These pages will help publishers and advertisers to reach new audiences.
You can also see a preview of any website and how it will look after the Streamlined Search Results optimization.
Also, if users are on fast networks, then Pages will not be transcoded. If you do not want your pages to be transcoded, set the HTTP header "Cache-Control: no-transform" in your page response. If Google-bot sees this header, your page will not be transcoded.
Most website owners, like me, have this obvious concern that how this will affect my ad-revenue. Google also mentioned that Sovrn, Zedo, and AdSense companies are supporting Streamlined Search Results right now and they are talking to other advertisers companies to take this initiative. Currently, only three ads will be shown on a page just like the regular Google AdSense guidelines.
Did you like this news about Streamlined Search Results from Google? Tell us in comments.
Recommended:
Google Speeding Up the Web with "QUIC", Already Tested It On You
Google Chrome Saying Goodbye to SPDY, Speeding Up With Newer HTTP/2
Get free Android learning kit: