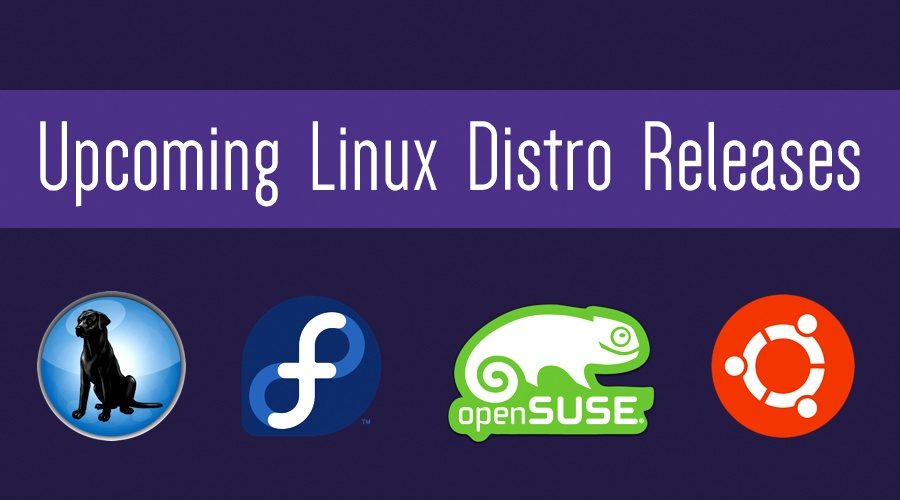 Short Bytes: In October 2016, we'll be greeted with some major release of popular Linux distribution. Linux enthusiasts will be able to try out the final release of Ubuntu 16.10 Yakkety Yak and get their hands on the beta release of Fedora 25. The other scheduled releases include release candidates of openSUSE Leap 42.2 and Black Lab Linux 8.
Fedora 25 Beta
Release Date: October 11

Fedora Project is busy developing the next major version of Fedora Linux operating system. The final release of the operating system is slated to arrive on November 15 with lots of improvements and new features like switching to Wayland, implementation of the Storage Projet etc.
Ahead of the final release, the Beta release of the Red Hat-sponsored Linux distro will arrive on October 11. This upcoming release will give the users a fair idea of what they'll get in Fedora 25. If you wish to know more the Fedora 25 features, you can read our dedicated article on the same.
Ubuntu Yakkety Yak 16.10
Release Date: October 13
Canonical is giving the final touches to Ubuntu 16.10 Yakkety Yak, which will be released on October 13. During the week leading up to the final release, after feature freeze, all the images are considered Release Candidates. It's used to remove the final bugs and do as much testing possible.
Earlier, we tested Ubuntu 16.10 Beta 1 and Ubuntu 16.10 Final Beta that gave us a pretty good idea of Yakkety Yak's features. 16.10 promises to deliver a high-quality and easy-to-use Linux distro with cutting edge technologies. It's also shipping with an optional Unity 8 session and Linux 4.8 kernel.
— Ubuntu 16.10 Release Schedule
openSUSE Leap 42.2 RC 1
Release Date: October 18
You might be knowing that openSUSE Leap is openSUSE's regular release and openSUSE's rolling release, which is constantly updated. Just yesterday, we saw the release of openSUSE 42.2 Beta 3 one day ahead of the schedule. In Beta 3, KDE's Plasma moved to version 5.8.0. Since it is a Long Term Release, which will be supported for 18 months, it made sense to have 5.8 in the distro.
The next milestone in openSUSE Leap 42.2 Release Schedule is the Release Candidate 1 which will arrive on October 18. It'll be followed by Release Candidate 2 on November 2 and Final Release on November 16.
Black Lab Linux 8 RC1
Release Date:
Towards the end of last month, we saw the release of Black Lab Linux 8 Beta 3. This release moved the kernel and application set away from LTS 14.04 base to the newer Xenial Xerus 16.04 LTS.
The final release of Black Lab Linux 8 will be rolled out on December 15. The highlights of this major version include Kernel 4.x, Migration Assistant, Device Driver Manager, and Steam Machine compatibility. It'll be released in three popular desktop environments, namely GNOME 3, MATE, and LXDE.
Other releases (Not confirmed)
Bodhi Linux 4.0.0 Stable might arrive by the end of this month
Are you waiting eagerly for any of these releases? Share your views in the comments section below.
Also Read: Should I Call It Linux Or GNU/Linux? — Linux Naming Controversy