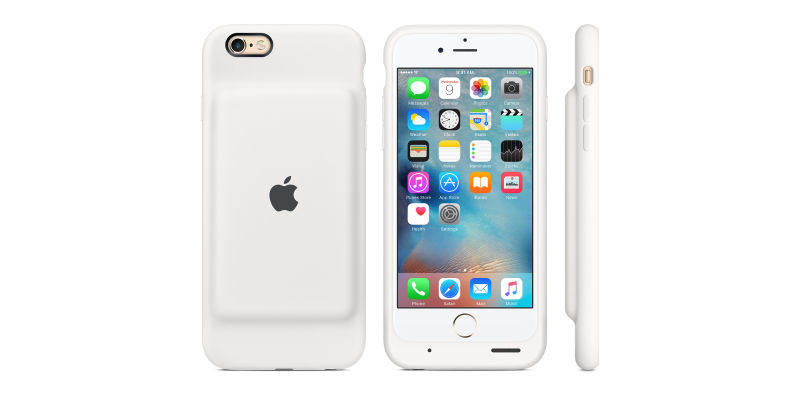 Short Bytes: Apple has launched a Smart Battery Case for the iPhone 6S, priced at $99. It is currently on sale in the UK and New Zealand. The case satisfies its charging needs from the same lightning connector used in other Apple devices.
A
pple launched the iPhone way back in 2007 at a keynote hosted by Steve Jobs. Since then, iPhones have been regarded as some "out the world" devices which will make your life magical once you buy them, and the obvious fact that they have become an asset manifesting your status symbol.
But the biggest nightmare that haunts every iPhone user is the battery life. No matter you're Steve Jobs, your iPhone will start begging for electrons till the time you're on your dining table waiting for the dinner.
It is quite relaxing to know, the Cupertino-based company has realized your iPhone's cry, though it took them almost eight years to do so.  They've come up with a home-baked battery extension pack or Smart Battery Case for the iPhone 6s, overpriced at $99 continuing their legacy, considering the fact you'll have to buy one for every different iPhone model, and there are cheaper options available.
Also read: Apple Launching Cheaper And Metallic iPhone 6c Next Month – Report
The Smart battery case will allow you to talk for 25 hours and browse the web for 18 hours. It can be charged using Apple's proprietary Lightning connector, so you don't have to buy some separate extension. iPhone will monitor the charging needs for itself and for the Smart Battery Case, means it will intelligently balance between charging the internal battery and the smart battery cover. And if it receives enough power, it'll charge both the devices simultaneously.
Users will able to view the battery status for the Smart Battery Case directly in the Notification, a combined battery status for the case and the battery will be displayed along with battery status of some wireless device like Apple Watch connected over Bluetooth.
Apple engineers always keep an eye on the cleanliness of the iDevices, they've designed the case in a way that iPhone can slide in-and-out and take a dry bath in the process. Apple also added an extra antenna in the case so that the network coverage remains fine.
It is high time Apple should start paying attention to the power needs for its devices. Though the Smart battery case is not as "magical" as Apple's other products, but something is better than nothing. Hopefully, we can expect more from Apple in the near future.
The Smart Battery Case is up for sale in the UK and New Zealand.
Also Read: Samsung Agrees To Pay Apple $548 Million For Copying iPhone Designs
Write your views in the comments section below.