Today, we have on the table the undisputed Tesla Model S and the upcoming luxury electric sedan Mercedes Benz EQS.
For quite a long time, Tesla Model S has dominated the EV market in the premium electric vehicles segment. Model S still sits on top of the ladder with its outstanding specs and features. Plus, the EV has an amazing fanbase that always supports it.
However, with cars like Mercedes Benz EQS, Audi e-tron GT, and Lucid Air approaching their launch date, it seems Model S is bound to experience a tough time. Not to forget, Porsche Taycan is already competing with Model S.
While we have already compared Tesla Model S with Luid Air and Porsche Taycan, it's time for it to face Mercedes EQS. So without any further delay let's get started.
Tesla Model S Vs Mercedes EQS: Specs Comparison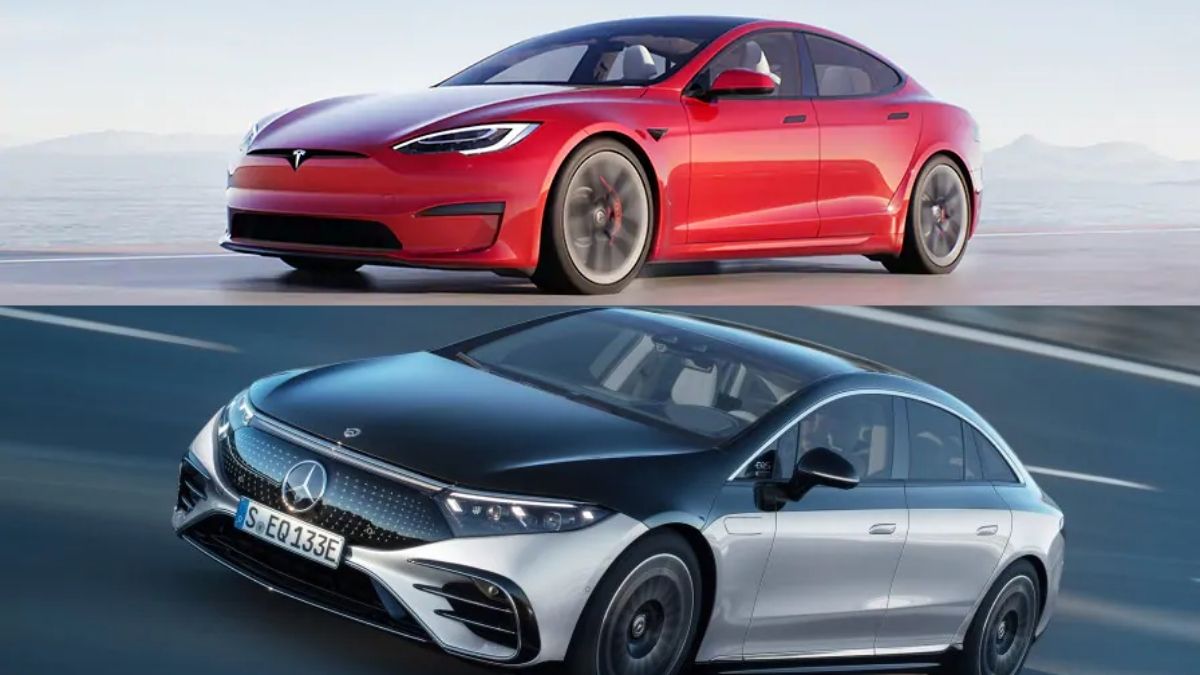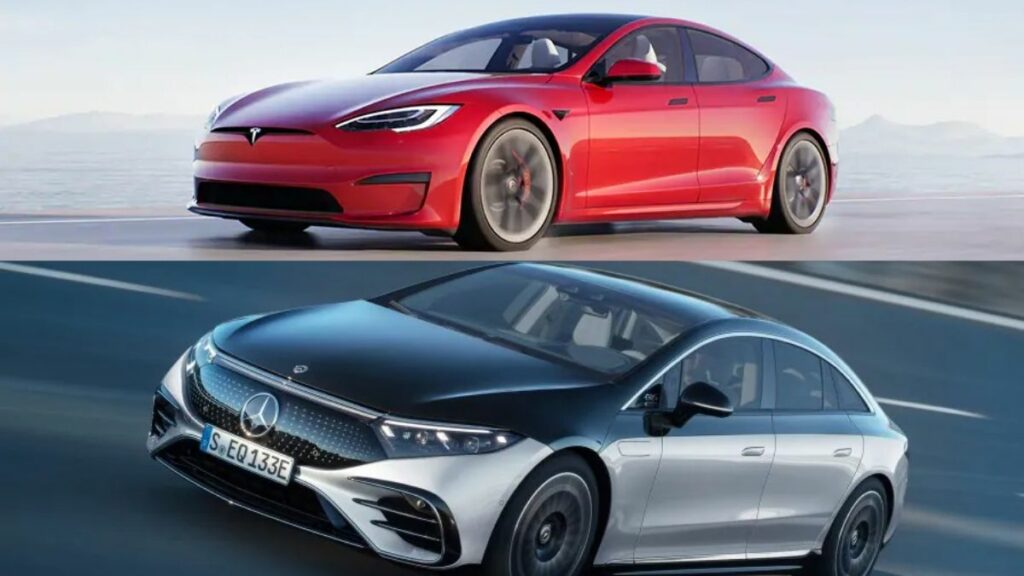 As we all know, Model S is the flagship electric car from the American EV pioneer, Tesla. It's available in two variants: Long-Range and Plaid which is actually a fancy name for the Performance variant.
Being the flagship electric car, it offers the maximum driving pleasure as well as the highest electric range among its siblings. It also holds the title of the longest-range electric car in the world with a range of 405 miles (earlier 412 miles).
On the opposite corner, we have the Mercedes Benz EQS which is an upcoming luxury electric sedan with a German DNA. Similar to the Model S, it'll be available in two models: EQS450+ and a better performing EQS580 4Matic.
EQS is expected to launch by the end of this year in the U.S.
Performance
| | | |
| --- | --- | --- |
| Specifications | Tesla Model S | Mercedes Benz EQS |
| Acceleration (0 to 60 mph) | Up to 1.99 seconds | Up to 4.1 seconds |
| Top Speed | Up to 200 mph | 130 mph |
| Power Output | Up to 1020 HP | Up to 516 HP |
| No. of Motors | Dual And Tri Motors | Singe And Dual Motors |
Both variants of the Tesla Model S have an AWD (all-wheel-drive) configuration which is one of the major reasons behind its insane performance figures. The long-range variant is equipped with a dual-motor setup and generates around 670 HP whereas the Plaid version has three motors that help to produce up to 1020 HP.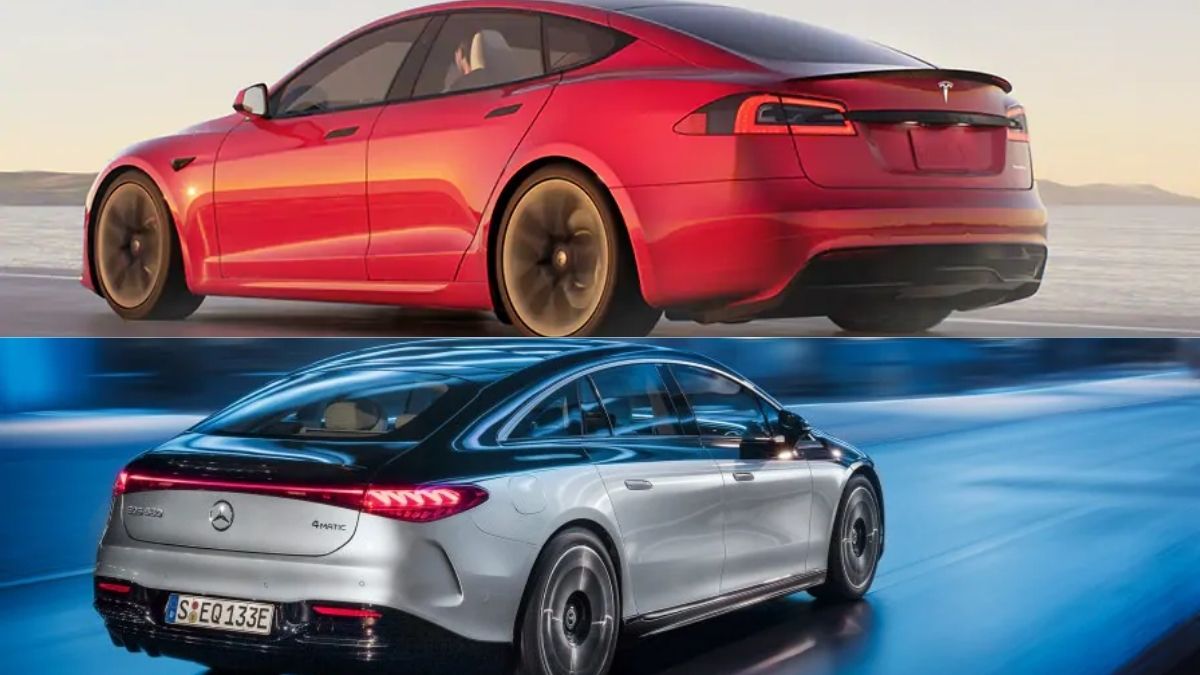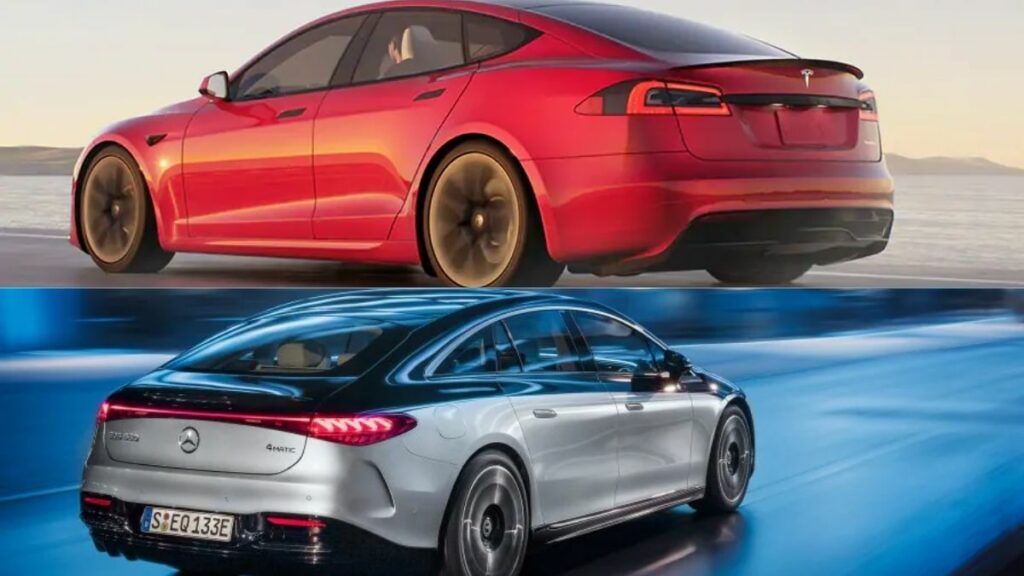 On the other hand, Mercedes EQS450+ will carry only a single motor with an RWD configuration. This model will be capable of producing 329 HP. Meanwhile, the EQS 580 4MATIC has an AWD powertrain with a dual-motor setup that makes up to 516 HP.
Well, in terms of performance, Model S is way ahead of EQS and proves to be a clear winner. However, Mercedes is working on a more equipped EQS variant that is believed to have some amazing specifications.
In addition, EQS includes rear-axle steering capable of turning up to 4.5-degrees as standard and optional 10-degrees. This greatly improves the handling and provides an overall better driving experience and stability.
Battery Capacity And Electric Range
| | | |
| --- | --- | --- |
| Specifications | Tesla Model S | Mercedes Benz EQS |
| Battery Capacity | 100 kWh | 107.8 kWh |
| Electric Range | Up to 405 miles (EPA) | 478 miles (WLTP) |
| DC Fast Charging | Yes (250 kW) | Yes (200 kW) |
It's quite impressive to see Mercedes EQS leading both in terms of battery capacity and driving range. Although the range of EQS is given as per the WLTP cycle, it'll be around 420 miles when converted to EPA which still will be greater than Model S.
Speaking of fast charging, you can fast-charge Model S up to 200 miles in just 15 minutes on Tesla's 250 kW charger.
Whereas, EQS will need 31 minutes to get a charge from 10 to 100% using a 200 kW DC fast charger.
If we compare it with Tesla then it could return up to 188 miles in 15 minutes of fast charging which is pretty much the same.
Features And Interior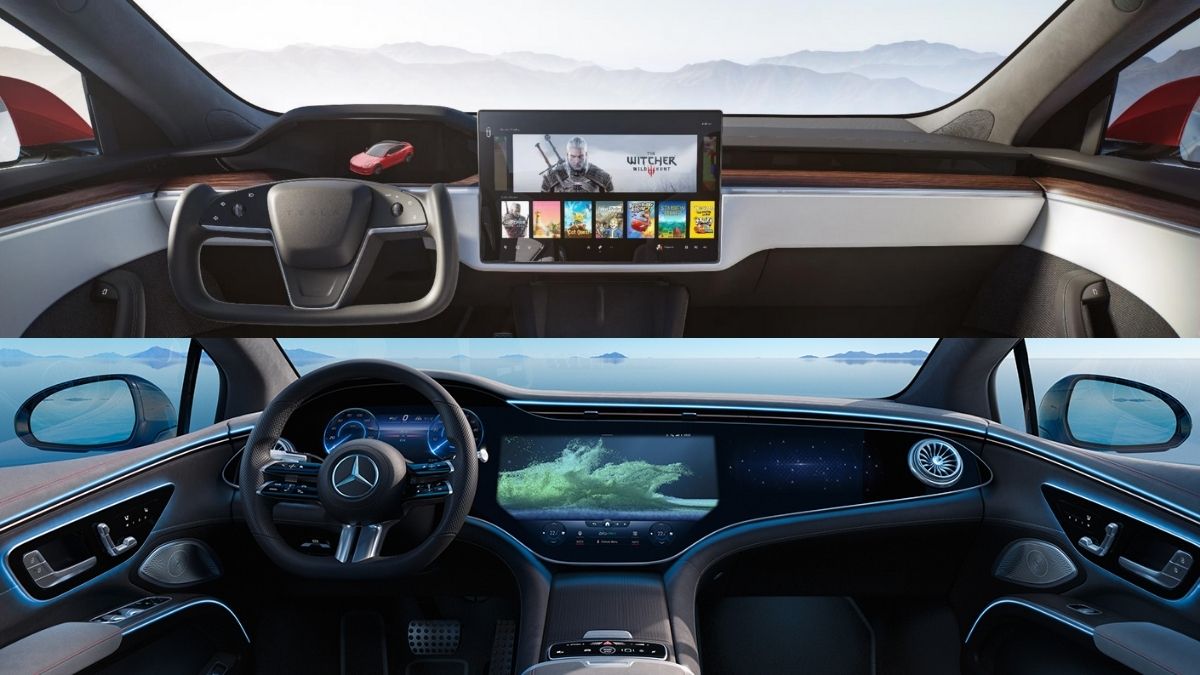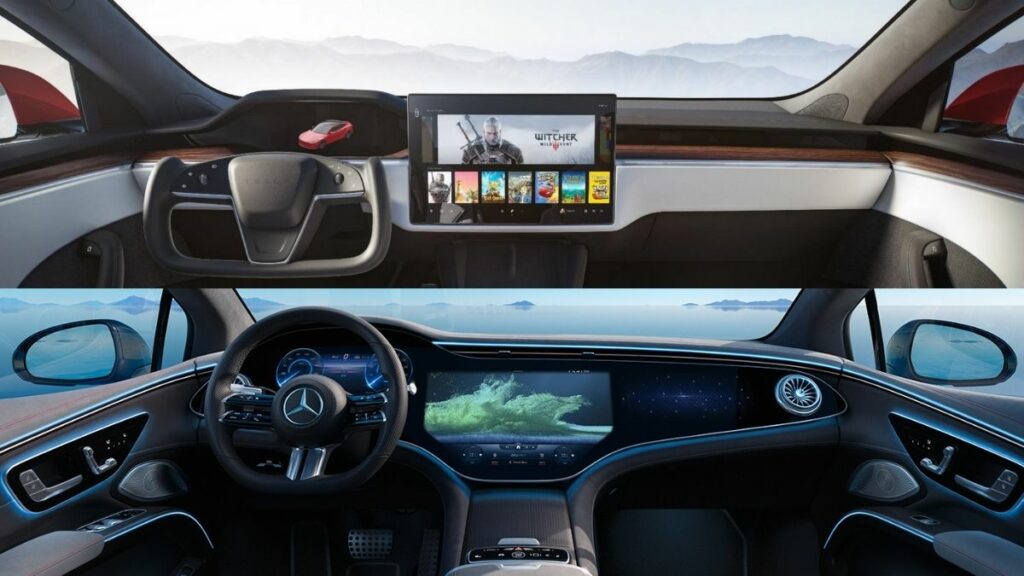 This is where you will feel the real difference. You might say Model S is really cool until you see the Mercedes EQS.
The latest generation of Model S features a uniquely designed yoke steering wheel, a 17-inch center display with horizontal orientation. There's an additional small screen for the rear passengers for streaming as well as playing games. Anyway, some of the highlighted features include the wireless charger, tri-zone temperature control, HEPA filtration, 960-watt speakers, and of course Tesla Autopilot and optional FSD.
EQS, on the other side, has a completely different interior and we can comfortably say a more premium one. Starting from the steering wheel, unlike the Model S it's a conventional one suitable for everyone.
The biggest attraction of EQS is its massive 55-inch MBUX hyper screen. It actually comprised of three displays integrated inside a 56-inch curved glass. It consists of a 17.7-inch central OLED touchscreen display and two 12.3-inch displays on either side.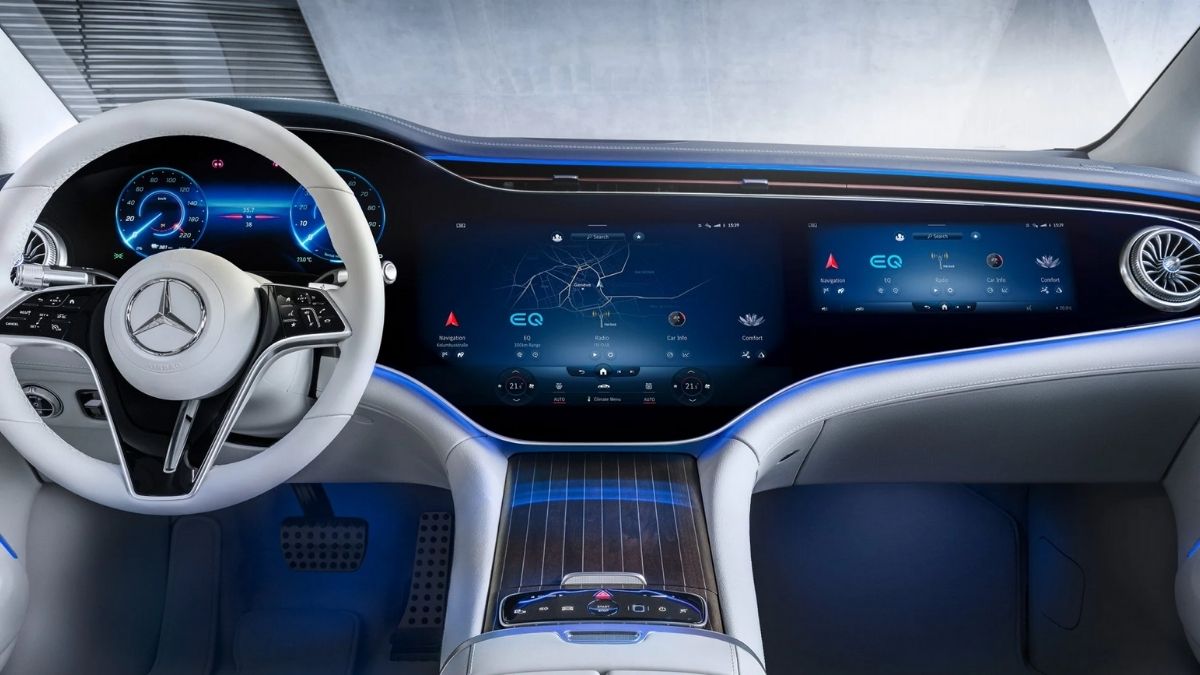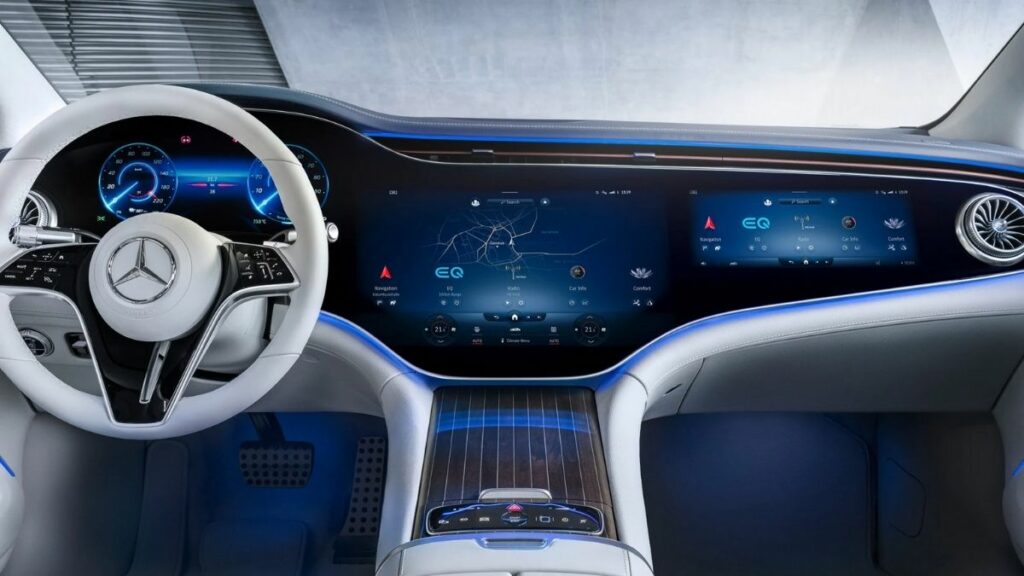 Mercedes have also integrated an Augmented Reality Navigation with this MBUX multimedia system. It's so much versatile that we have covered a whole article on it when introduced at CES 2021 event.
Apart from this, some of the features standard features are wireless charger, HEPA Air Filtration, four-zone climate control, DIGITAL LIGHT Intelligent Lighting System, 3D Sound System, and much more.
Price
The price of Long Range Tesla Model S starts at around $84,990 and for Plaid trim, it's $129,990.
In contrast, Mercedes is yet to announce the pricing of its electric sedan EQS. We assume the starting price would be somewhere around $100,000 for EQS450+ and $130,000 for EQS 4MATIC.
Anyway, it's just a guess and we have to wait for the official statement for the actual priding.
Tesla Model S Vs Mercedes Benz EQS: Which Is A Better Deal?
As of now, we can't really decide which one is a more value-for-money car or which will serve a better deal until we get pricing for EQS.
It hugely depends on the price range Mercedes will set for EQS. If the automaker keeps the cost competitive by launching it under $100k then it would really affect Model S's sales. Also, it'll make more sense to buy EQS then.
However, it's unlikely to happen as the probability says it would be significantly higher than Model S.
Don't worry guys, we'll update this section as soon as we get the official pricing of Mercedes Benz EQS.