Back in May, I reviewed Gamesir's X2 and was pleasantly surprised with the experience. Then in June, I was sent their X3 for review, which boasted many improvements over the X2. In an exciting turn of events, a GameSir X2 Pro is now available this September in partnership with Xbox Game Pass, and GameSir sent one for review.
The GameSir X2 Pro is a bit of an odd duck in that its launch is later than the X3. It's anyone's guess why the Pro version would launch after the next generation of the product was released. But there are some tweaks in the GameSir X2 Pro that even the X3 is missing, making it more like a console controller than its predecessors.
The GameSir X3 works well with games that support controllers and is excellent with emulators. The small Switch-like form factor offers much flexibility while on the go. And GameSir includes a carrying case, which is a nice bonus.
GameSir X2 Pro Specifications
The X2 Pro comes in two colour variants, Midnight and Moonlight, which are the black and white colour themes, respectively. But unlike the original X2, the X2 Pro is only available with USB-C.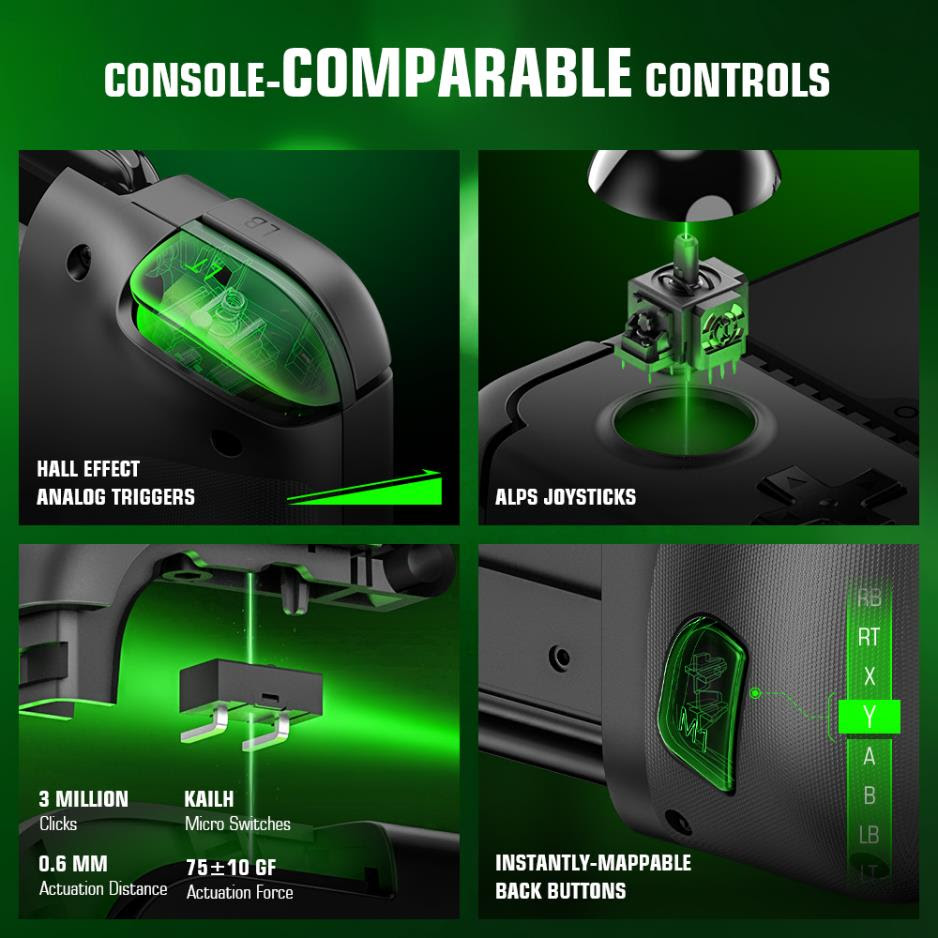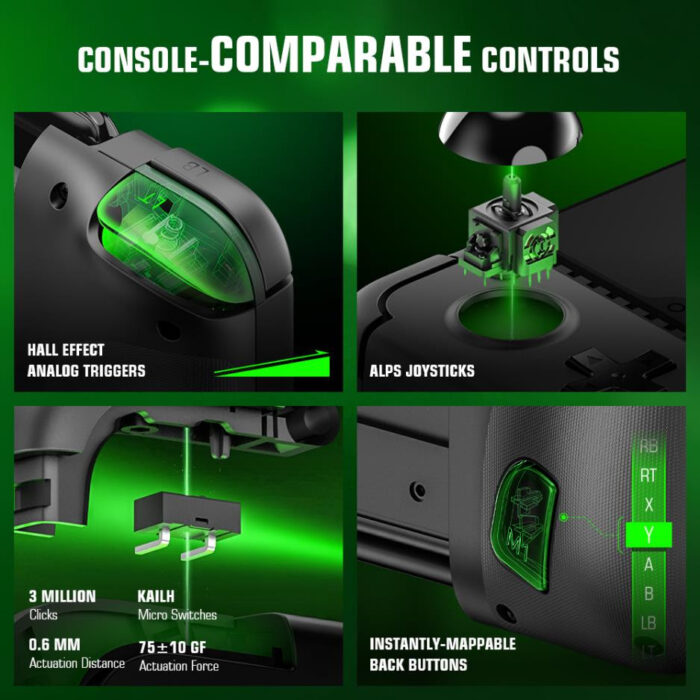 Platform Support:
Android 8 and Later
Connectivity:
USB C with Charging Passthrough (Limited Compatibility)
Compatible Phone Sizes:
110mm to 179mm in Length
Weight:
179g
Joysticks/Thumbsticks:
2x Analog Hall-Effect ALPS Joysticks
Trigger Buttons:
2x Analog Hall-Effect Triggers (L2 and R2)
2x Kailh Micro Switch Triggers (L1 and R2)
Other Gaming Buttons:
Switchable ABXY Buttons, D-Pad, 2x Read Mappable Buttons (M1 and M2)
Function Buttons:
Xbox Menu, Xbox View, Xbox Logo Button, and Screenshot Button
Size:
184mm x 85mm x 37mm
GameSir X3 Specifications
In the Box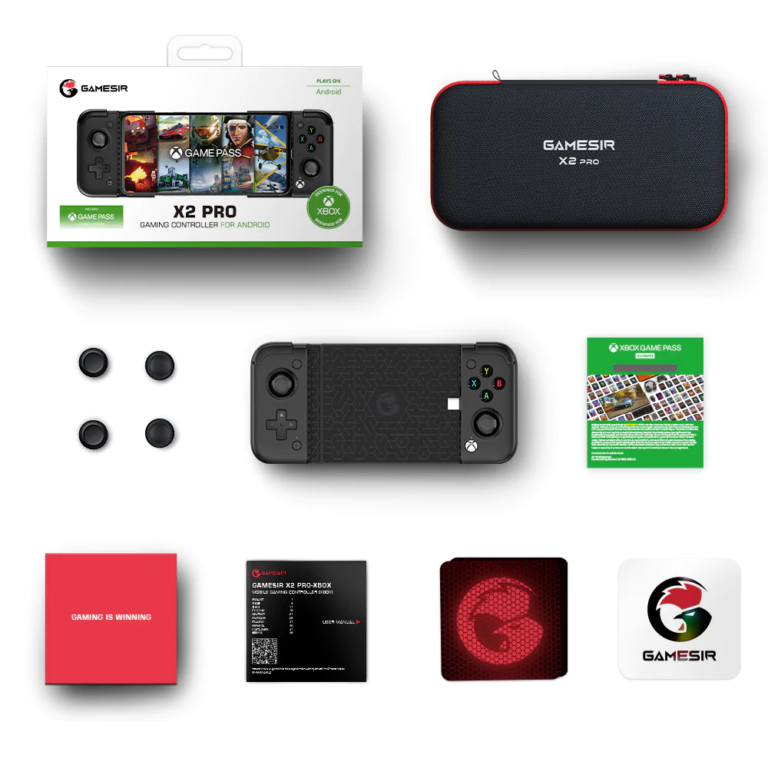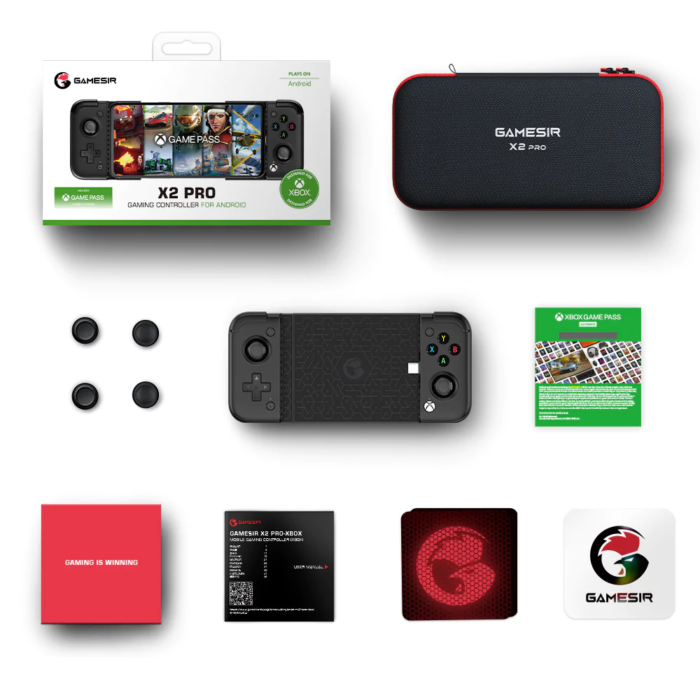 The GameSir X2 Pro comes with a nice little case that doubles as the protective shipping material. As far as I can tell, it's the same case that ships with the original X2. The X2 Pro does come in a shrink-wrapped cardboard sleeve that's suitable for retail packaging, but they do away with a lot of waste by simply packing everything in the protective case, which is a detail I appreciate. I would have liked to see an Xbox-coloured case rather than the black and red one to complete the Xbox theme, but it's a minor detail.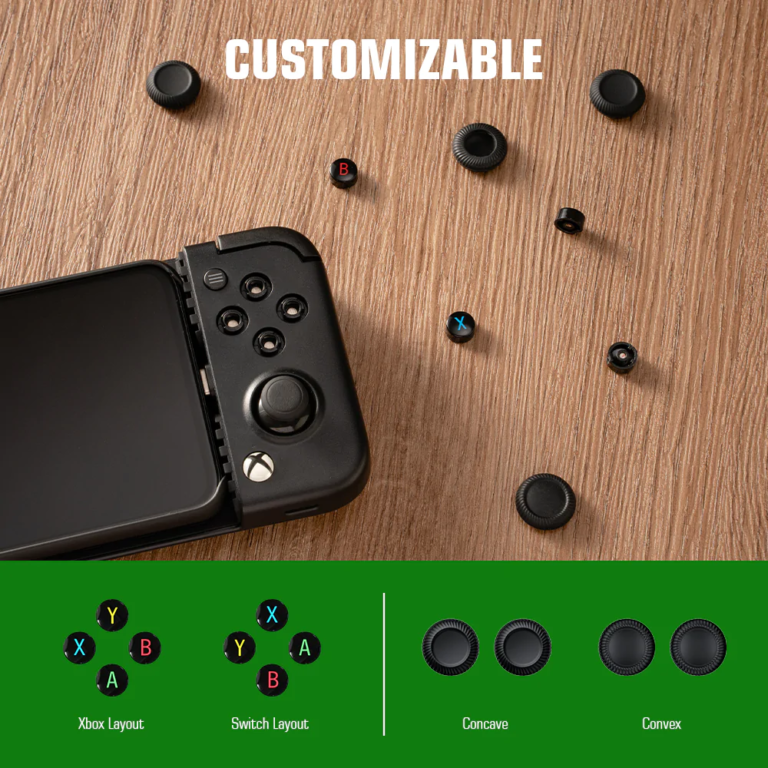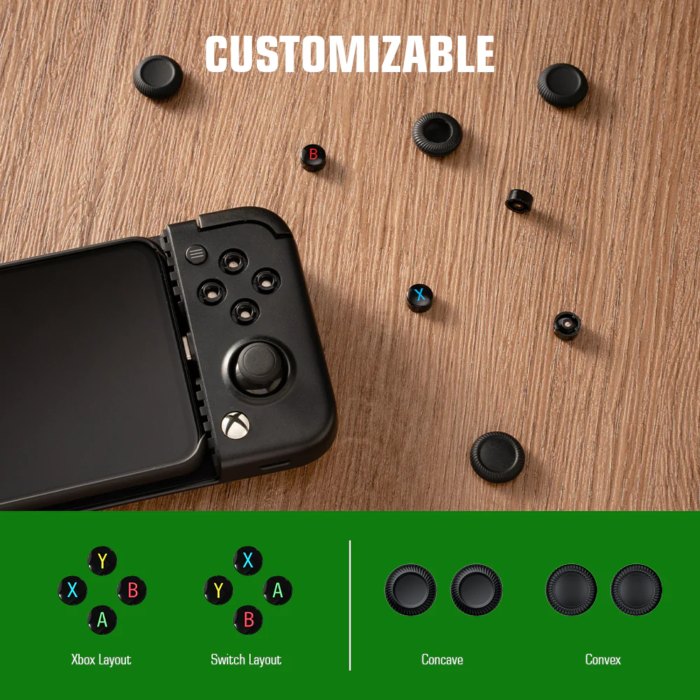 In the case are the X2 Pro itself, four extra analog stick nubs (making three sets, each with a different contour), a manual, a GameSir sticker, a note of gratitude, and a voucher for one month of Xbox Game Pass Ultimate. The voucher is an interesting addition. Microsoft is undoubtedly looking to entice people to try out its cloud gaming platform, hitching a ride on GameSir's success in the mobile market for mutual benefit.
GameSir X2 Pro First Impressions
The X2 Pro feels pretty much identical to the original X2. It's very lightweight but is similar to a typical controller once the phone is inserted. It shares the same jaw mechanism. But there are some glaring differences. The selling points of the X2 Pro are the analog sticks, as opposed to the non-analog thumbsticks on the X2, the analog R2 and L2 trigger inputs in contrast to the button-style triggers of the original X2 and X3, and the mappable M1 and M2 buttons on the back of the X2 Pro.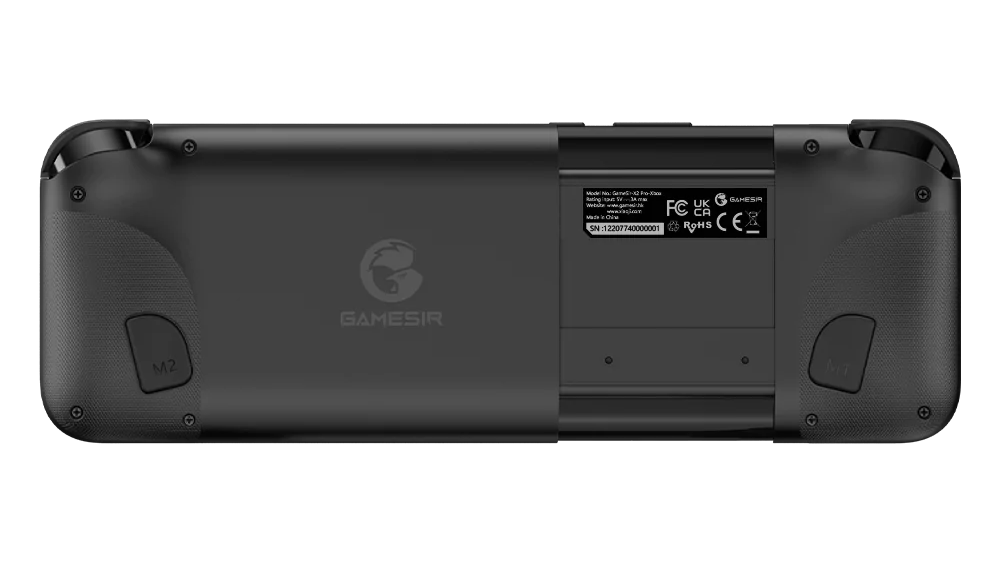 Hall effect sensors that detect magnetic field intensity are used to detect the position of the triggers and thumbsticks that have small magnets embedded in them. This is what allows you to control the walking speed of an in-game character or the acceleration of a vehicle. Most modern titles rely on this analog input, that is, states between the fully actuated and fully released states, to enhance the gameplay experience.
The analog sticks are noticeably nicer than those of the X2 and X3. The resistance is more consistent where the X3 is stiffer at first but provides far less resistance once it starts moving. This is something that can lead to over-maneuvering, especially once you factor in the non-analog input. The R2 and L2 triggers are also much nice because they have the throw of a typical analog trigger rather than the mouse click-like button press of the original X2 and the X3.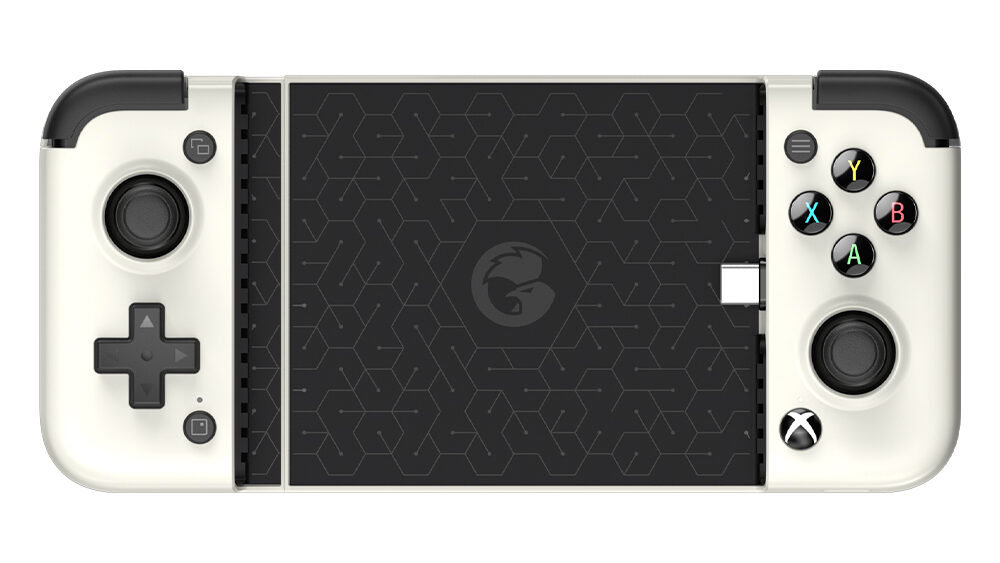 The other obvious difference is the apparent Xbox branding of the X2 Pro. The GameSir logo embossed into the silicone skin of the X2 Pro's jaw is only just visible (at least on my Midnight colour unit), but the Xbox button is immediately noticeable. The colour of the X2 Pro I was sent is also that iconic Xbox black. It all comes together in a way that makes it look very much like an official Xbox product, despite being a third-party accessory.
Using the GameSir X2 Pro
The X2 Pro shares the same connector and retention jaw that the X2 has. The swivelling USB-C connector makes it fairly easy to get your device in without having a panic attack, thinking you just torqued your phone's USB-C port. The tapered edges of the silicone-skinned jaw provide a very secure, worry-free hold on my Pixel 4a 5G, and I imagine it would hold most phones just as well.
Unlike the original X2, when I shake the X2 Pro, I don't hear any racking in the jaw. The X2 Pro I have is a little easier to open up, too. Still, I think that a way to prop the jaw open while inserting a phone would be sensible. It's not difficult to do, but for someone on a bus or train, this could be a valuable feature.
This is the first controller of any kind that I have used that has the rear buttons (aside from triggers, that is). Because of this, it was a bit awkward for me, and I don't have much to say, but the buttons are easy to home in on by feeling, and they have a discernable tactile feeling when pressed. Finding a way to hold the X2 Pro that makes these buttons convenient, though, might be a challenge.
Like the original X2, your phone case will cause interference with the X2 Pro and its USB-C connector. This makes sense. But it's nonetheless a pain to remove a phone case every time you want to use an accessory. A USB-C connector that is adjustable via a set screw would be a very big improvement to both the X2 and X3 product lines in my opinion.
The power passthrough of the X2 Pro is compatible with my phone. And it's honestly a big deal. It's an incredibly valuable feature when you're playing longer than an hour or so. With that said, the placement of the charging port is not ideal. It sits directly below the right analog stick rather than the back or top.
In spite of the USB-C power passthrough, though, there is no USB-C audio passthrough or a 3.5mm headphone jack. This means that you'll need to use Bluetooth headphones wherever the phone's loudspeakers are insufficient.
Gameplay and Compatibility
When I reviewed the original X2 I tried a few games in the Google Play store, some emulators, and even used Steam Link to play some games on my phone while they ran on my desktop. But the X2 Pro came with the free month of Xbox Game Pass Ultimate and I jumped on that right away. Now, I was required to enter my credit card information to sign-up, and though that might differ from country to country, you might also be required to enter a payment method to redeem a similar voucher.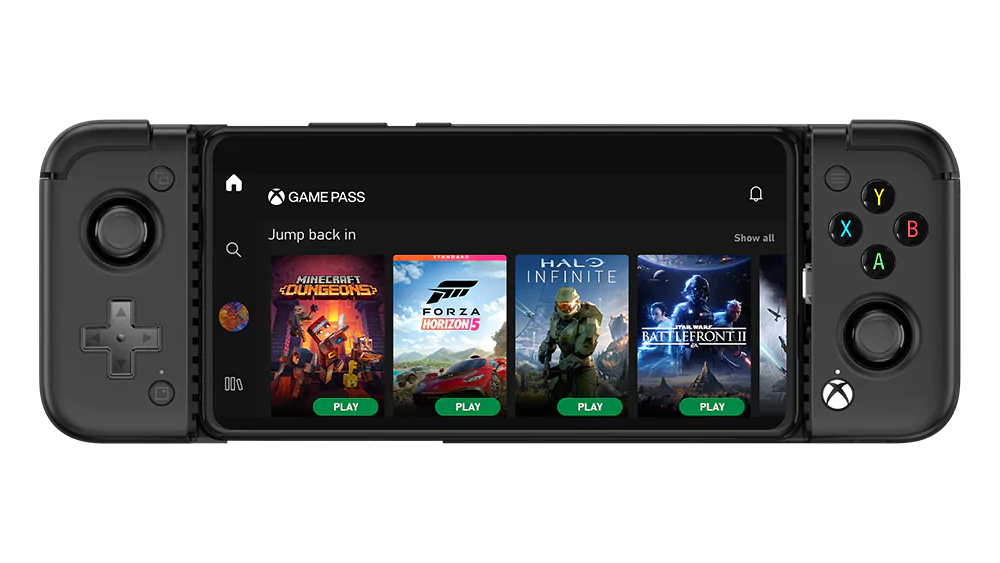 Beyond installing the Xbox app from the Google Play store, there was absolutely no setup required for the X2 Pro. Within seconds I was playing Microsoft Flight Simulator. Then I tried Guardians of the Galaxy. Both titles made available to me as part of the current Xbox Game Pass Ultimate offering. I don't actually own these games (or any games in the Xbox store for that matter). The amazing thing is that I didn't have to think about drivers, controller mappings, or even controller selection. It all just worked. Without any fuss, right out of the box, everything just worked like an Xbox controller on an Xbox. For someone that's gone through tinkering, tweaking, and torture to get different controllers set up for emulators and whatnot over the years, this seamless experience is valuable.
X2 Pro Handling
The X2 Pro shares its form factor with the X2 predecessor. And I had some gripes with it. Some of these complaints were completely addressed with the X3, and some were partially addressed. But the X2 Pro is still the X2.
The X2 Pro is a small device and it can be difficult to hold on to. Unlike an Xbox or PlayStation controller, it's lacking the palm grips that your fingers wrap around. Without them, it can be difficult to freely move your thumbs and trigger fingers. Others might be able to get more comfortable than I can. But as someone with smaller hands, I found the X2 Pro to be a bit uncomfortable. I imagine that those with larger hands will share my difficulty and discomfort. Because of this, I don't think that it would be ideal for fast-paced games. However, this is something that just takes to become accustomed to.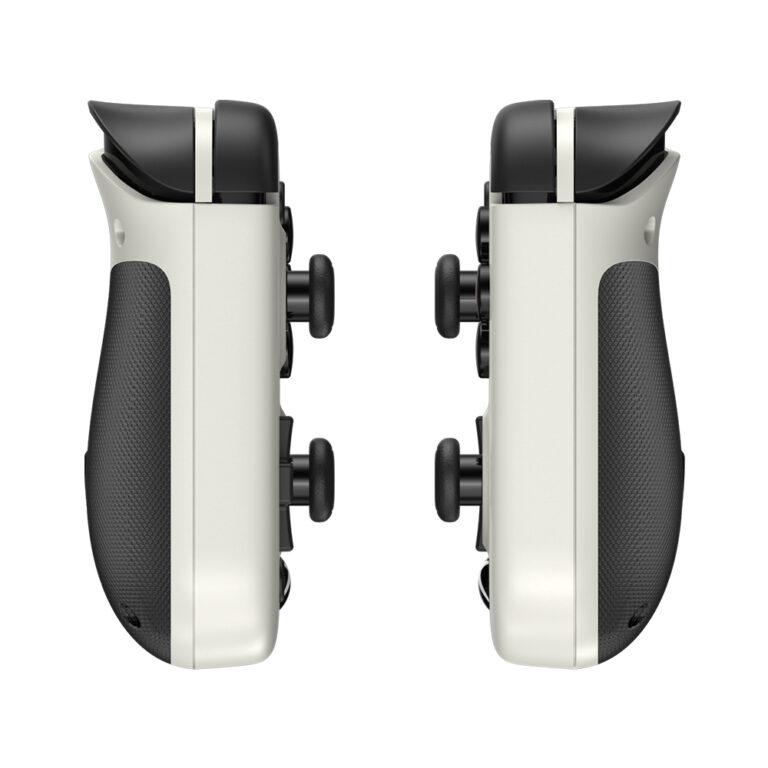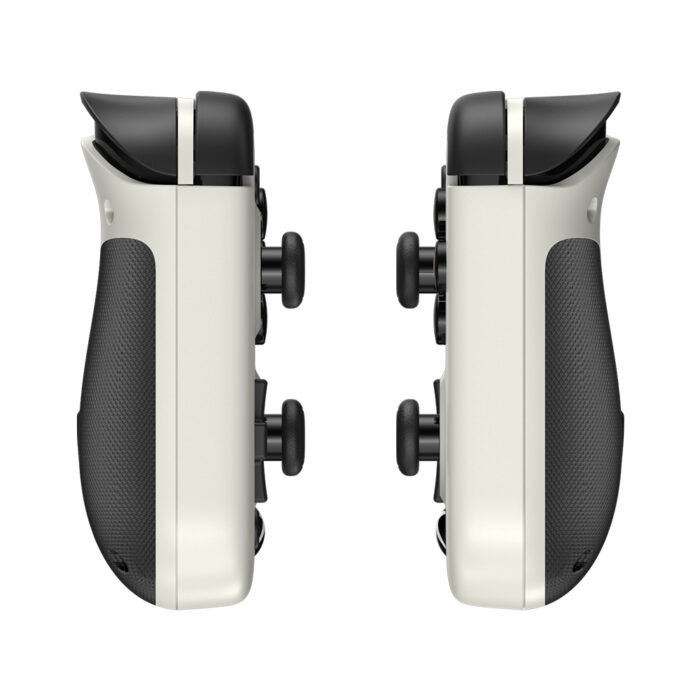 While the R2 and L2 triggers have received their upgraded switches and throw depth, the R1 and L2 triggers still have that mouse-click feeling. It's not a bad feeling, but it's lacking the tactility of console controllers. The ABXY buttons are similar in that they're lacking tactile definition. Additionally, they're also lacking travel distance, making the actuation of the buttons almost imperceptible, save for the audible click of the button press. The D-Pad is also lacking the tactile feedback and travel of console buttons. These are concessions that are expected in mobile accessories, though, and I think that just as the X2 Pro introduced analog sticks and triggers, a next-generation product could bring this product line another step closer to console quality input.
Biggest Complaints about the GameSir X2 Pro
The complaints themselves aren't very big and are fairly subjective. But two of them could be dealbreakers for some potential buyers.
One of the bigger issues is the lack of a headphone jack or USB-C audio passthrough. This issue is shared with both the X2 and X3. As a result, you are required to use Bluetooth headphones. I think most people are already on the Bluetooth bandwagon, but there are some holdouts, myself included. This is an important factor to keep in mind if you don't have Bluetooth headphones. Especially if you want to play games in busy or loud places.
Comfort is likely going to be the biggest factor in a purchase of a controller like the X2 Pro. If you're looking to try the X2 Pro, or even the original X2 or X3 for that matter, I recommend that you consider their dimensions (see the specification charts on the linked reviews) and contrast them with your hand size and controller preferences.
Conclusion
The original X2 really surprised me with its simplicity, ease of use, and compatibility. The X2 Pro shares that and then adds some niceties of its own. GameSir's effort to make the X2 Pro more like a console controller adds value to the product line. I'll be keeping an eye out for the next iteration of the GameSir X products.