Besides top laptop makers like Dell and Lenovo, Star Labs is one such company that builds laptops specifically to run Linux flawlessly. Star Labs offers Linux laptops ranging from low-cost to high-powered such as Lite and LabTop.
Subsequently, Star Lite Mk III is the latest refreshed and lightweight edition that is available for pre-order at a budget price starting $426. As the name suggests, Lite Mk III is a smaller model that comes with a mighty look and improved specifications.
Star Lite Mk III Specifications
Starting with the core components, Lite Mk III comes with a 1.1GHz quad-core Intel Pentium N5000 processor that can boost up to 2.7GHz to deliver a 29% performance increase.
Furthermore, it features 8GB 2400MHz DDR4 memory with an incredibly fast 240GB over-provisioned Star Drive SATA SSD. This over-provision SSD has a sequential read speed of up to 560MB/s that increases performance and IOPS (Input/Output Operations per Second).

Speaking of display screens, Mk III boasts an 11.6-inch LED-backlit matte display with IPS technology. Additionally, the Full HD display with a 16:9 aspect ratio ensures optimum viewing experience at angles up to 178°.
Another interesting feature of Star Lite Mk III is a function lock. If you enable the lock, you can perform many tasks associated with F-keys without holding down the Fn key, such as media control and adjusting display brightness.
In addition to a DC charging port, for external connectivity, it provides USB 3.0 Type A, USB 2.0 Type A, Micro HDMI, 3.5mm Headphone Jack, and a microSD card reader.
Coming to the pre-installed operating system, Mk III lets you choose from a selection of certified Linux distributions such as Ubuntu 20.04 LTS, elementary OS 5.1.5, Kubuntu 20.04 LTS, Linux Mint 20 "Ulyana," Manjaro 20.0, MX Linux AHS 19.2, Ubuntu MATE 20.04 LTS, Zorin OS 15.2, and also Windows 10.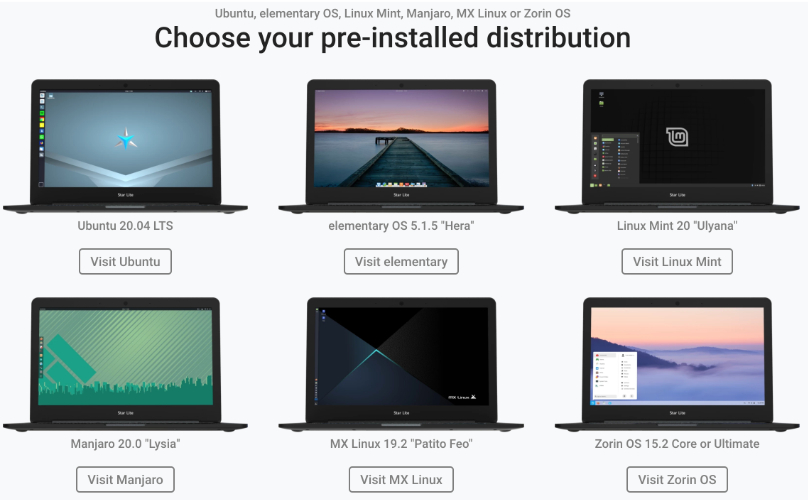 Later, you can also change the installed Linux distribution by following this guide. If you don't want any pre-loaded OS, you can also choose the 'No operating system' option.
Now, if you feel Star Lite Mk III could be your next laptop, place an order from the official page here.