After reviewing Star Labs Labtop Mk II, Star Labs sent us its diminutive counterpart, the StarLite Mk II. The Star Lite is a tiny laptop with just an 11-inch (28cm) display. This Lilliputian mobile is reminiscent of the days of ultra-portable netbooks. Let's see how it stacks up against its humble forebearers.
Star Labs, if you haven't heard of them, is a company in the UK that produces Linux laptops. They currently produce Star Labtop and Star Lite. Star Lite is a surprisingly small computer for an era of such grandiose displays on everything from smartphones to tablets and TVs. The general consensus when it comes to screens is that bigger is better. But Star Lite has gone off the beaten path and on to one that has not been traveled for quite some time, save for Apple and the odd Chromebook.
Star Labs Star Lite Mk II Review
The minuscule disposition of Star Lite reminds me of my old Asus EeePC back in 2008. It had a 10-inch screen, a single-core Intel Atom CPU with hyperthreading (if memory serves me), 1GB of RAM, a horribly cramped keyboard, a much worse trackpad and I loved it. Despite its meager performance, it danced circles around all the Windows computers at school with a lean install of Ubuntu on it. I wowed my friends by running Compiz with the Beryl effects, making the Microsoft Office and Photoshop applications (running with WINE of course) wobble and burst into flames. I didn't start using Linux on my EeePC, but that's where roots took hold with distro after distro.
Because of my personal background with my EeePC and Linux, there doesn't seem to be a better place, in my opinion, for Linux than the atypical. And that's certainly what Star Lite is. It's a juxtapositional product, for many reasons.
Star Lite Specifications
Star Lite, as the name suggests, is not intended to be a high-performance computer. Instead, as reflected by the minute stature, it is designed with portability in mind.
CPU and RAM
The CPU choice is, again, nostalgic of the Atom days with the Intel Pentium N4200. Pentium N4200 is an Apollo Lake CPU, which shares the same architecture as the Atom. However, in contrast to the pittance of RAM my EeePC had, Star Lite has a solid 8GB, albeit DDR3 rather than DDR4.
Display and GPU
The LED-backlit IPS panel is a standard 1920×1080. It has a glossy protective layer that appears to be made of glass. Bearing in mind that it is only an 11-inch screen, it would be unreasonable to expect anything more. Nonetheless, compared to my EeePC it's quite incredible. Driving that display is the Intel HD Graphics 505, which is an exceptionally low-performance GPU. I would not expect any modern games to work on this GPU. 4K video on YouTube was stuttery at best, however, 1440p video played without any issues. I would not expect this to get better over time, however, it's possible other video players, such as VLC, would make better use of hardware acceleration. Despite the inability to playback 4K video, at least on YouTube, the GPU can drive two 4K displays at 30Hz, meaning you're not absolutely stuck with this tiny screen.
Storage
The storage built into Star Lite is not typical of its size or price-point. It comes configured with 240GB SSD that is over-provisioned. The over-provisioning, in this case, is the extra storage used by the SSD controller for things like wear-leveling and cache mapping among other general read-write operations. This can both improve performance and NAND longevity. Typically, in SSDs lacking this over-provisioning, the general drive space is used for some of these functions. The SSD is capable of 560MB/s reads and 540MB/s writes, which isn't NVMe speeds but is certainly much better than HDDs.
Connectivity
Star Lite's connectivity is an area with both strengths and weaknesses. With two USB 3.0 Type-A ports, one on either side, it's pretty standard for a normal laptop but very strong for such a petite contender. Additionally, it has the USB-C charging port, which should be compatible with a variety of dongles. There is a microSD card slot, which for some is a very welcome feature. There's a 3.5mm headphone jack (Bluetooth is cool, but viva l'analog).

And finally, the understandable weakness. With Star Lite packing better connectivity than some full-size laptops, something had to be sacrificed. The first of the sacrifices is the ethernet port, but that's not uncommon, after all, before they started dropping headphone jacks on phones, they were dropping ethernet on laptops. Star Lite is unfortunately stricken with Micro HDMI. "Well, that's not so bad," you might say. And you might be right. But in my experience, the Micro HDMI connector is so wimpy it gets bullied by its own cable. My Asus Zenbook has a cranked Micro HDMI port that was never abused, it just could handle the weight of the cable. Thankfully, it still works, but full-sized HDMI is much more comforting.
The networking is pretty standard. As mentioned before, there's no ethernet. Wireless, including Bluetooth, is powered by the Intel 3165 AC and can push up to 433 Mbps. That's not much next to modern AC hardware, but considering most internet connections are still well below 100 Mbps, it should more than suffice. I noticed that it doesn't have the greatest reception, even compared to my phone, but it's more than sufficient for whatever media you would expect to consume on this dainty display.
The webcam is pretty standard. It's not great, but passable. The built-in speakers are very underpowered and lack definition, but, seriously, this isn't a device intended for media consumption. As expected, the audio does improve drastically when using headphones, and even USB C headphones work in the USB C port.
Design And Impressions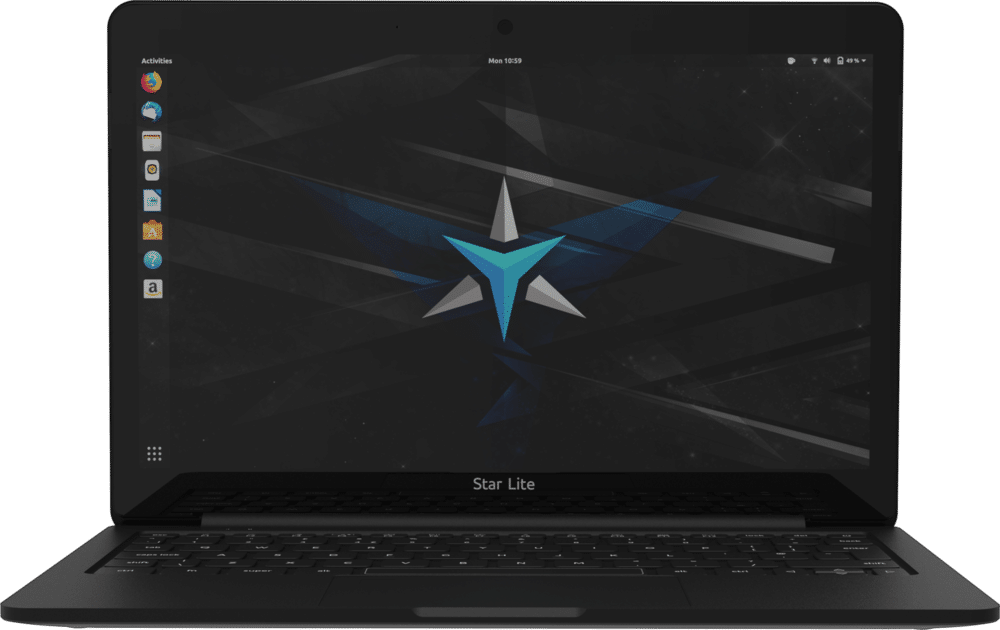 Star Lite carries the same design language as Star Labtop, including the matte all-metal construction, which is surprising considering one is premium and the other is not quite. Star Lite defies its namesake as it is not lightweight, at least, not for its size and thickness. It comes in at a hefty 1.1Kg, or 2.54 lbs. It is 13.6mm at its thickest point, as a result, this heft imparts an impression of quality and durability. Star Lite is solid. There's almost no flex in the screen or keyboard deck.
The keyboard is really cramped, but c'est la vie at 11 inches. It takes quite a bit of adjusting, but I'm sure one would get used to it with frequent use. The right-hand side is particularly dense, but that just comes with the territory. The keys are solid and sturdy, but they lack the tactile feeling as they're pressed. They kind of mush through the throw and then bottom out. Despite the odd sensation, it's not a horrible keyboard. On the plus side, the keyboard is backlit, while the backlighting isn't adjustable, it is a semi-premium feature and always nice to have.
The glass (yes, glass) trackpad is surprisingly amazing for a device this size. At least, if you're not a press-to-click person. The trackpad is very smooth and easy to use. Tap to click works well. But the press/push-click only works toward the bottom of the trackpad and has such a short throw without so little tactility that you wouldn't realize it was there if not for the audible click. The trackpad is still very usable, especially at about 105mm x 60mm, which is quite large for any notebook.
Performance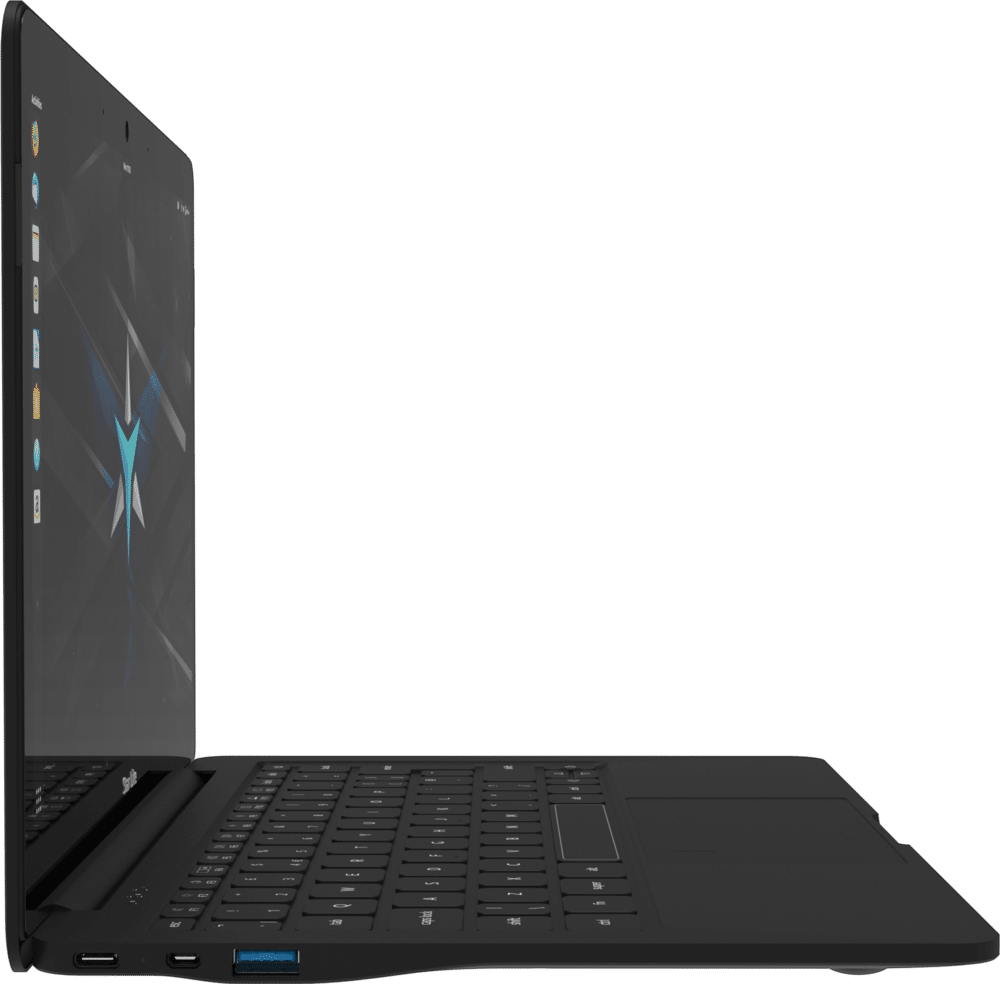 To be clear, I did not run any benchmarks on this laptop. I didn't feel the need or the motivation given that it's clearly not a performance-geared product. Mileage varies with the Pentium products. What's sufficient for one is paltry to another when it comes to computing power. With that being said, the power-sipping Pentium N4200 should be enough to do some light coding and general office productivity.
Star Lite is pretty snappy with Manjaro KDE running on it. It boots up in less than thirty seconds, with seven seconds in the firmware and eleven seconds in the bootloader, according to systemd-analyze, that's impressive boot speed.
As mentioned, the wireless signal reception isn't as good as it could be. But it is sufficient for most tasks and should easily saturate most home internet connections.
Battery life is probably the most important component to performance for someone looking to purchase a device of this portable and mobile form-factor. After watching about an hour and a half of HD video at full brightness about 40% of the battery's charge had been consumed. Following that, leaving the Star Lite in sleep for almost twenty-four hours, another 6% was used. Star Labs product page for Star Lite indicates a battery life as up-to seven hours. Given that you can get half that while watching HD video online with the brightness on full, I wouldn't doubt that claim, however, I didn't test it.
Conclusion
I like Star Lite. It has a premium build quality and several other features that are found on products that cost much more. I would describe Star Lite as premium on the outside. The hardware specifications are a far cry from premium, but so is the price. The Star Lite is a truly odd product in that it embodies premium function and design elements, but without engaging in the muscle show.
What I like most about Star Lite is that it brought me back to a personal era of computing that I haven't experienced in a decade. Star Lite is a wonderfully atypical computer and Linux is simply at home on it.