We've previously covered System76 and their Linux loving laptops. But there are several other brands around that put Linux first. Star Labs is one of them and they've provided a demo unit of their Labtop (yes, Labtop). A premium laptop with fairly boastful specs.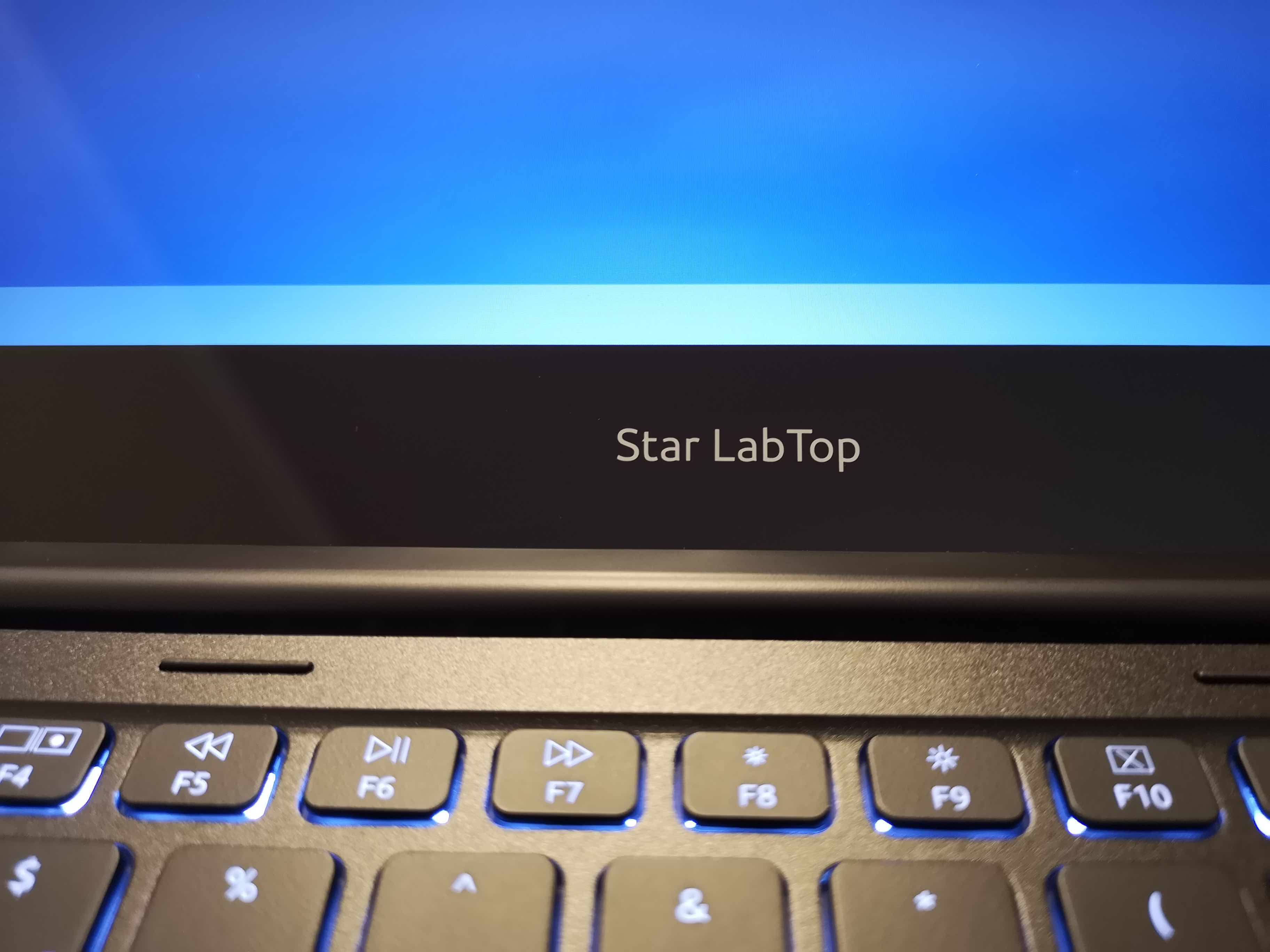 In case you missed it, we covered ZorinOS a short while ago. It's a very polished and professional-looking Linux distribution. When I was browsing the Zorin website, I noticed that they advertise Star Labs as a partner. Having never heard of Star Labs, I reached out to them and they set me up with a unit to test drive. I wasn't really sure what to expect given my complete lack of brand awareness on this one.
The Labtop has a 13.3″ full-HD screen, which is the sweet-spot in my opinion — striking a balance between ease of use and portability, especially with its sub-15mm thickness. While there isn't any room for customization on this one (unless you look at Star Lite, the pruned version of this product), it comes in an attractive black that is neither matte nor glossy, but somewhere in between. The Star Labs logo is clearly visible in white on the back of the display, though, it's white rather than the typical blue and grey. This might appeal to some, but I believe something with a bit less contrast p might appeal to a broader audience.
Powering this understated device is no modest hardware, either. The Core-i7 8550u gives you four cores with eight threads running at 1.8 GHz and boosting to a whopping 4.0 GHz to chew through your workload with relative ease. The 8GB of DDR4 RAM isn't bad, but a 16GB option would be nice given the increasing demands of modern software. Underpinning all of that computing power is also a beast of an NVMe SSD capable of 3200MB/s read speeds and 2200MB/s write speeds. Of course, none of this really matters without the context of pricing. The Labtop comes in at a very fair $850USD (before any applicable surcharges). That's significantly better than the $720USD I paid for my Asus Zenbook that came with an Intel Core-M CPU and SATA SSD, both far less performant (keeping in mind that it is now about four years old).
As I mentioned before, I had no brand awareness of Star Labs before embarking on this review. So, my very first impressions were gathered from the product packaging. The shipping box seemed very thin, which worried me, but that was dispelled afterward. The product packaging is a stylish black matching the laptop with a silvery metallic depiction of the laptop on each side of the box. It's a little bit flashy but it compensates with the very clean illustrations. The unboxing experience was fairly standard, however, I was very happy with the general lack of non-recyclable materials. As a proponent of environmentally friendly packaging, I was happy to see that there wasn't a bunch of styrofoam inside. Despite the minimalistic packaging, I was confident that it would stand-up to shipping. After all, mine shipped all the way from the UK to Canada and it was fine.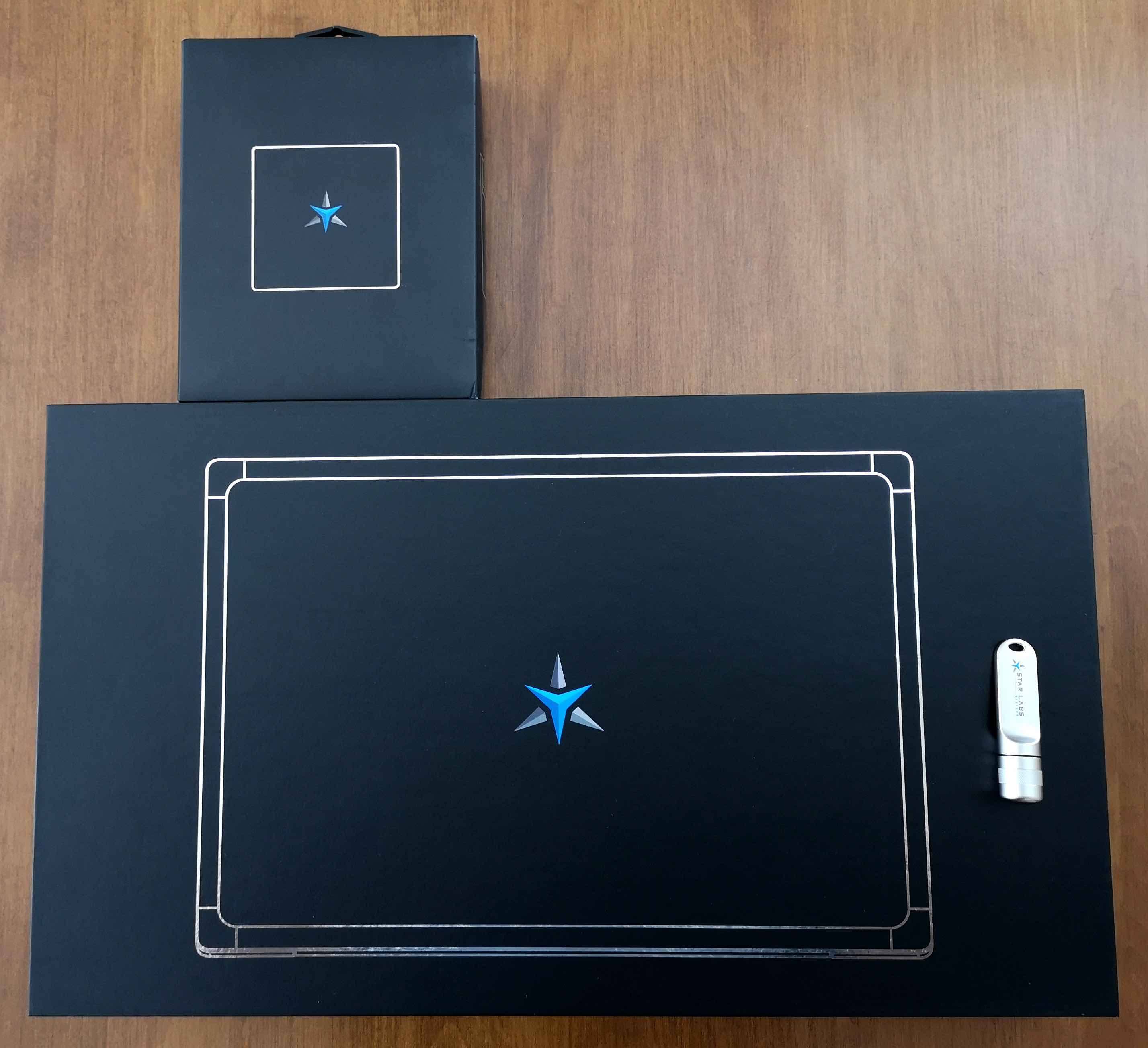 Included in the box are the laptop (complete with a cool relief-style logo), the USB Type-C charger, and three receptacle adapters for travel, which is a huge bonus for anyone that does a lot of traveling (a group that I am unfortunately not a member of). Star Labs did send an additional charger as a courtesy "just in case," which I thought was really nice, but, fortunately, it wasn't needed. Star Labs also sent a really cool USB (3.0) drive, complete with branding. It has a screw-off cap that reveals the connector. It appears to be waterproof given the single-piece construction on one side and the o-ring beneath the threads where the cap attaches. Lastly, as shown below you can see the little penguin that accompanied the charger adapters.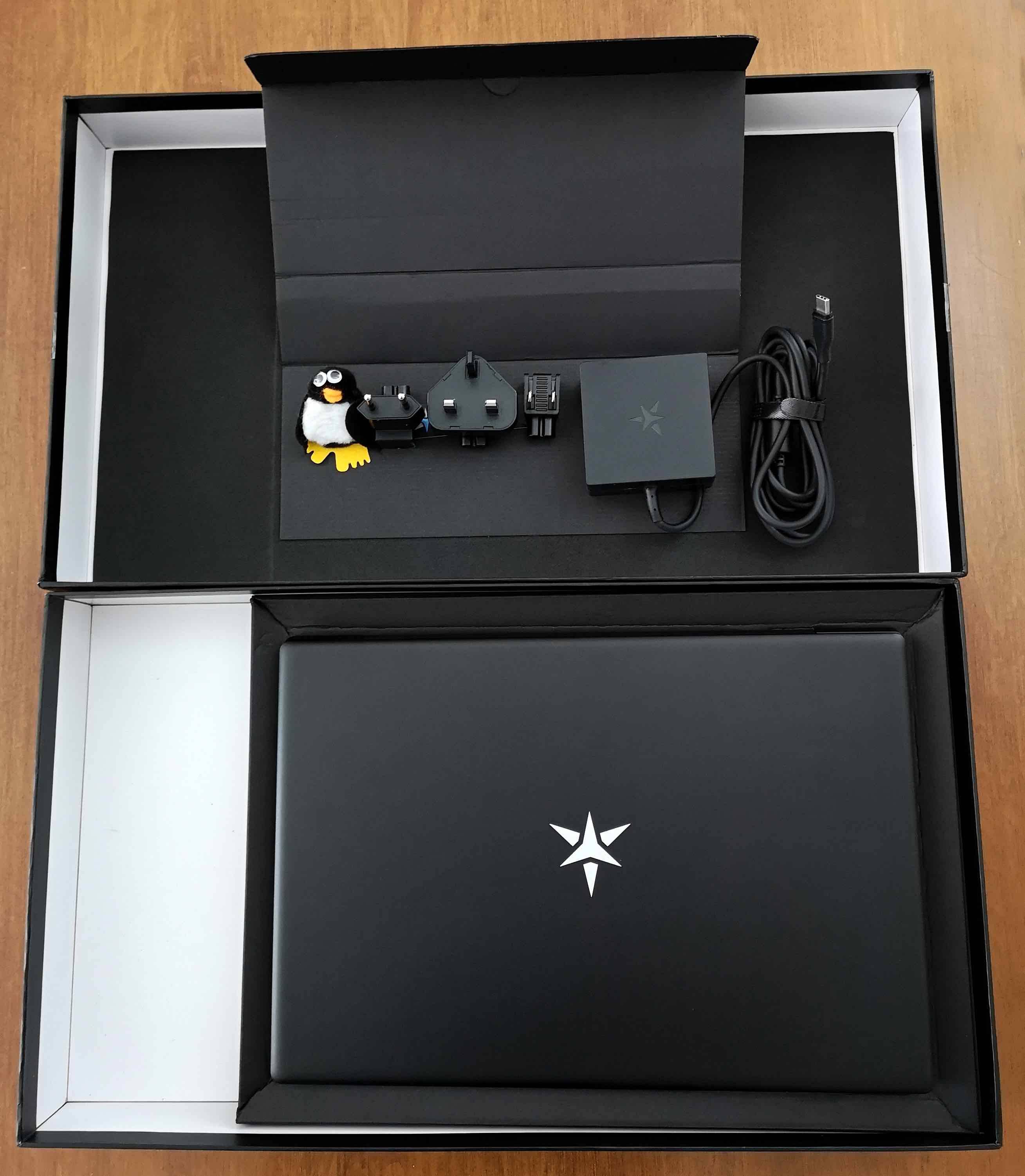 Upon opening the laptop, I noticed something that I've never seen before. It's very typical for OEMs to store their laptops with a sheet of plastic between the keyboard and the display. I can only presume that this is done to prevent contact. This piece of plastic is often disposed and needlessly contributes to landfills. Star Labs provided a microfibre screen cloth that is roughly the same size as the screen in place of this piece of plastic. I thought it was a very thoughtful and mindful touch.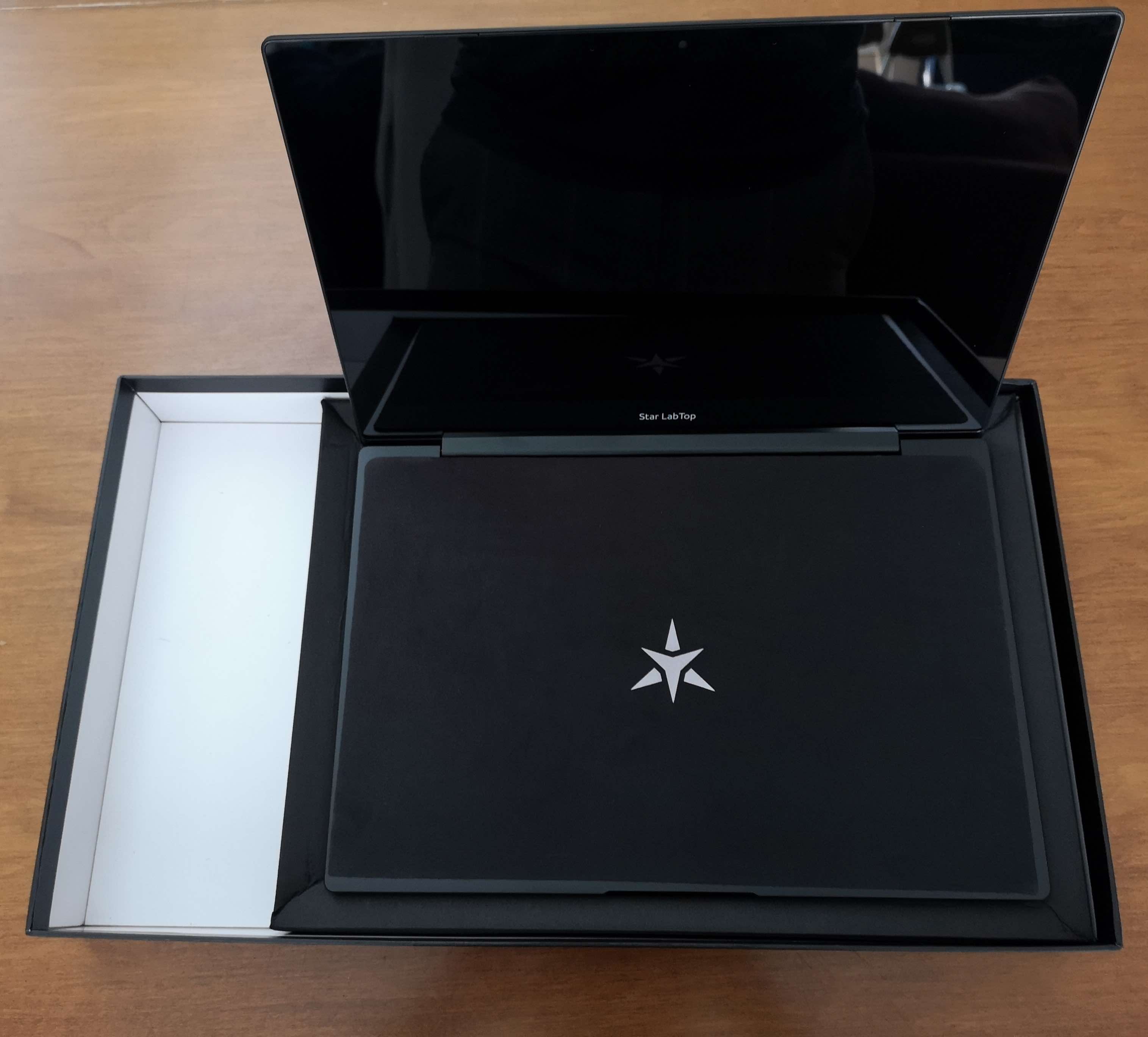 The Labtop has a glass-covered display that gives it a very premium look (think MacBook Pros), but this is something of a divisive topic as some people prefer matte finishes (although, I think the relationship between a glass display and premium-ness is almost unanimous). The construction is very nice. The device feels very premium with little give in the desk and minimal flex in the display. It is very solid overall and leaves nothing wanting in general sturdiness. The trackpad is large and the keys are well-sized.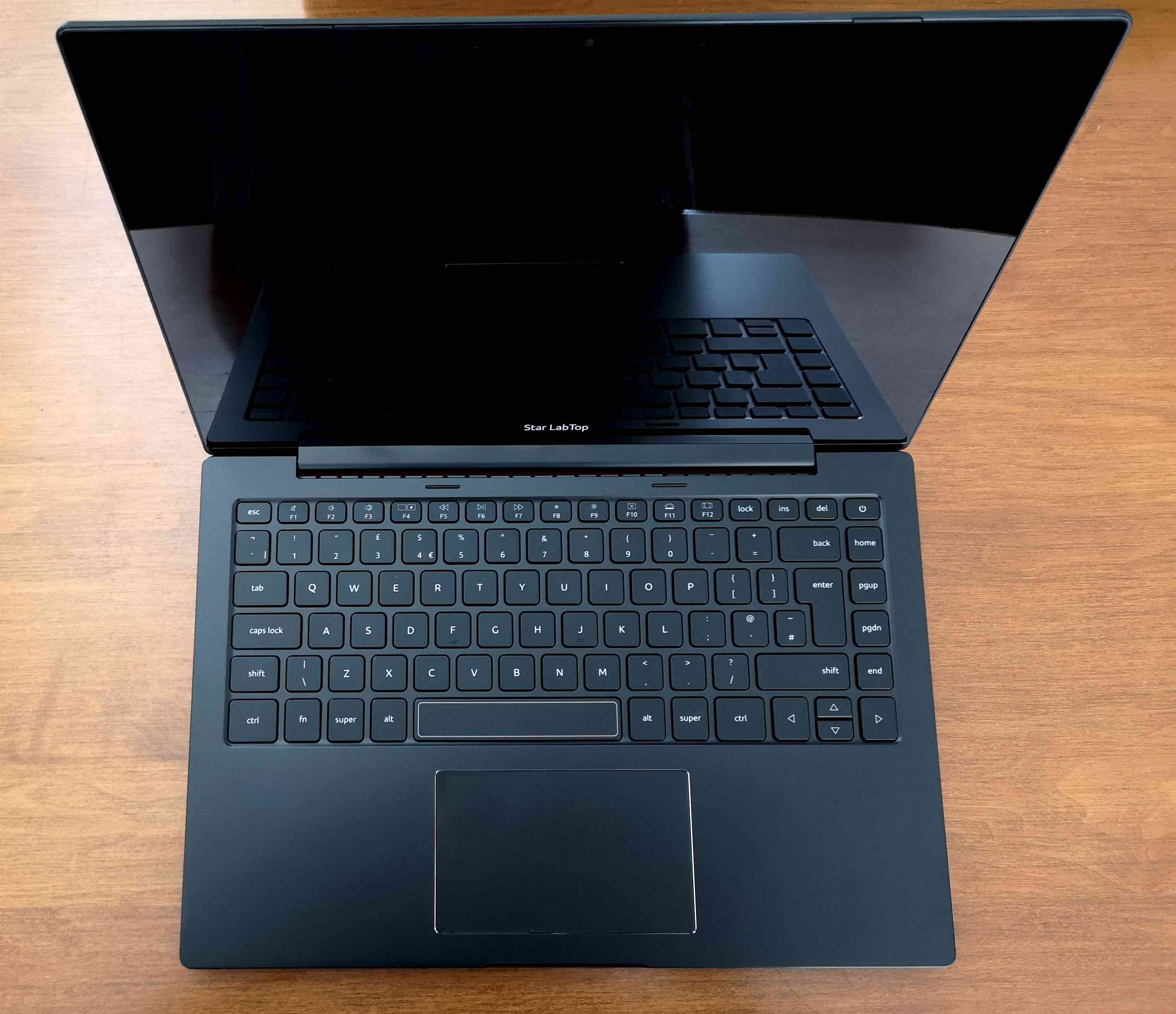 Down the left-hand side, we have a USB 3.0 Type-A, full-size HDMI, a USB Type-C (for connectivity and charging), and some indicator lights. Down the right-hand side are a headphone jack, another USB Type-A, and a microSD card reader. The connectivity options aren't outstanding, but still very solid considering the two Type-A USB ports in addition to the ever-versatile Type-C connector that can deliver power, device connectivity, as well as external displays.
After my initial happiness with the quality, my attention turned to smaller details. The LabTop appears to only be available with a UK keyboard. This isn't a huge problem as it's very similar to the US standard I'm used to with only a few differing keys. Though, this is something to watch out for as it may differ greatly from your locale.
The keyboard isn't amazing, but it's nothing to complain about either. I prefer slightly more travel in a laptop keyboard (or maybe I've become too accustomed to my desktop), but there is sufficient tactile feedback to compensate, at least in my opinion. Adding to the premium feel, though, is the keyboard backlight. It's not adjustable, but it's far better than not having one.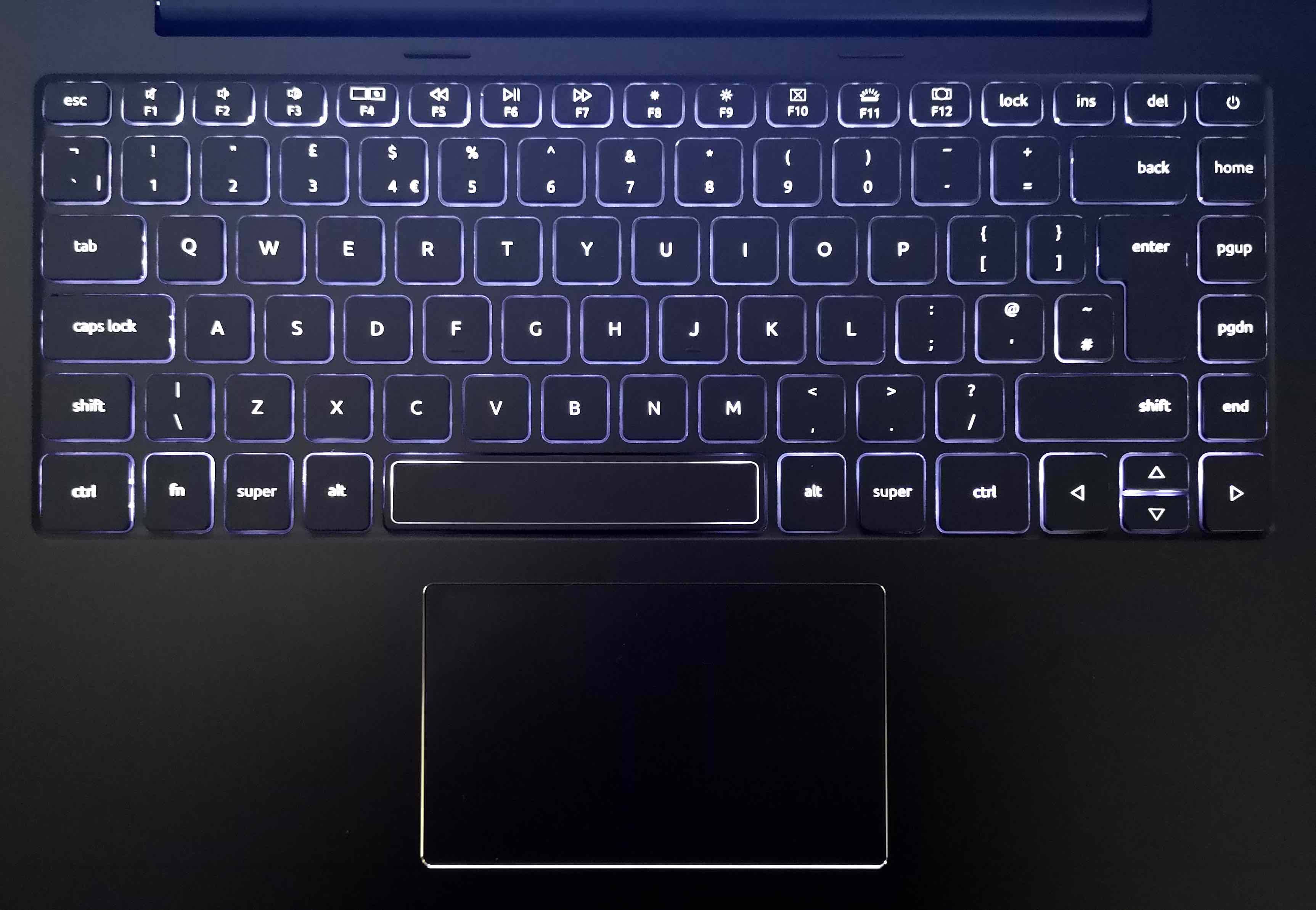 The trackpad is a bit lackluster. It's far better than most, but I'm of the opinion that the premium trackpad of ten years ago should be pretty standard now. The Labtop's trackpad is glass, which is good, but it has a texture that almost matches the anodized aluminum of the laptop body. This kills some of the smoothness of the trackpad in my opinion, but again, the trackpad is not bad (Apple has really destroyed my opinion of almost every non-Apple trackpad).
My demo unit shipped with ZorinOS Core on it. I played with it and it was fairly solid. The fan kicked in somewhat frequently, but c'est la vie with these thinner laptops. When playing around with the function keys I noticed that the trackpad disabling worked with significant delay. Zorin is a nice distribution, and I like the polish, but I just don't feel at home on Debian/Ubuntu derivatives anymore. Arch is typically where I call home (except when the build deps from AUR pile up and you end up with like 900 orphaned packages without any idea which are safe to remove). I didn't feel like spending an hour partitioning and installing everything (I know it shouldn't take that long, but seriously, how often do you reinstall Arch?), so I decided to go with something else. Manjaro it was since I heard so much about it. It installs easily. It runs fast. And it even comes with Dash to Dock (swoon). I noticed that the trackpad enable and disable was significantly faster under Manjaro, so it's likely just a minor bug that will be fixed with a kernel update.
Multimedia on this device is really… typical. The full-HD screen is bright and the colors don't appear washed out, which is about as far as I can comment given my general lack of expertise on the matter.
On devices this thin, there are compromises made on the speakers because there simply isn't enough thickness to accommodate a substantial speaker driver. As a result, the audio is lacking, not just in the bass, but in the presence. I tried two sets of headphones with the Labtop. The first were my Huawei USB Type-C headphones. To be honest, I wasn't even sure if they would work. But the Labtop more than surprised me. There, in the Gnome sound settings, was not just the headphones as an audio playback option, but with the model identified and everything. I didn't know that USB Type-C headphones were capable of such a thing. More to the point, though, they sounded incredibly clear. The DAC on the USB Type-C port was very impressive, even pushing very clear audio at higher volumes than my phone ever has. I then tried my cheap $10 Sony earbuds in the 3.5mm jack expecting to be underwhelmed, and sure, they weren't nearly as good, but they were still very clear. So, the Labtop audio output, with the exception of the tinny (yes, tinny, not tiny) speakers, is very good in my opinion.
Onto what is probably the weakest point of the Labtop, the webcam. Quite frankly, it doesn't matter what resolution it is because the image quality is grainy and pixelated at best. The frame-rate is low. The colors are washy. It's just not great at all. But, I can't remember the last time I actually used a webcam on a computer. Unless you're a telecommuter or serial conference/collab kind of person, webcam quality just isn't of great importance. So, it could be better, but it'll do.
Overall, I'm pleasantly impressed with the Labtop. It has no significant shortcomings, at least, insofar as I have tested it. I would strongly recommend that you keep Star Labs on your radar as you shop, so long as you bear in mind that there are currently no customization options available with this product (again, despite there being basic options available on the Star Lite model).
The Labtop is, in my opinion, a strong product that I will certainly be considering the next time I'm shopping for a laptop.