At CES 2022, Samsung unveiled a new line of upcoming TVs. To skip the console madness, they'll let users play AAA titles from the cloud. These TVs would be the first step from Samsung to incorporate cloud gaming directly from TVs, skipping third-party hardware.
Cloud gaming looks to have a promising future with the new announcement, starting in 2022. Making an official statement at CES 2022, Samsung said that "select" 2022 TV models would offer access to Google Stadia, NVIDIA GeForce Now, and the Utomik cloud gaming service. All of these are dubbed as part of the all-new Samsung Gaming Hub. Meanwhile, let's take a closer look at the Samsung Gaming Hub.
More about Samsung Gaming Hub
The Samsung Gaming Hub is a dedicated section of Samsung's new smart TV menu for cloud gaming, launching later this year as part of select Samsung smart TVs. At launch, the gaming hub will have all the games from Google Stadia and NVIDIA GeForce Now library to play on these Samsung smart TVs.
In addition, with no console required for cloud gaming on the Samsung gaming hub, users will be able to pair third-party controllers to their TVs. Along with this, the upcoming gaming hub will also have support for YouTube gaming.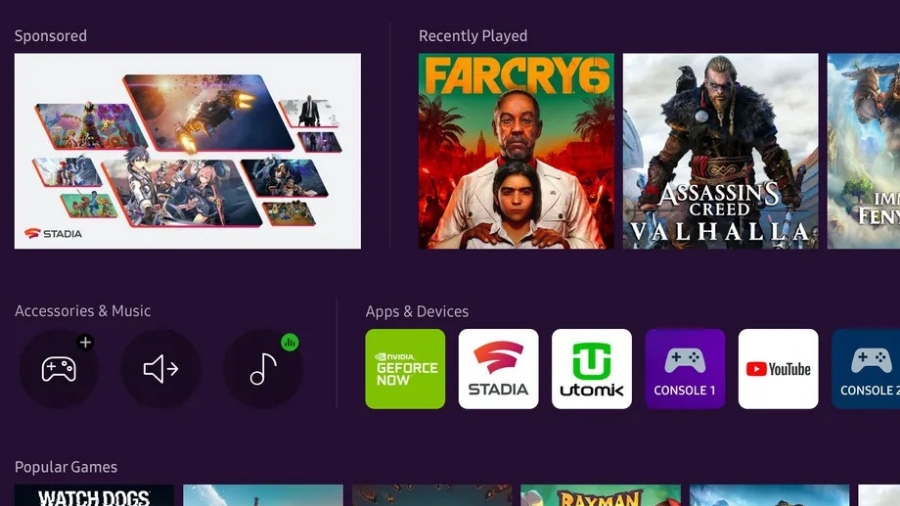 The Samsung Gaming Hub will also support HDMI-connected consoles, with passthrough controller inputs. As reported by The Verge, users might be able to play cloud games and console games with the same controller, with the support for Xbox & PlayStation controllers at launch.
While all this sounds tempting, Samsung adds buttons to its gaming hub allowing for quick access to any paired third-party controller. If this is not enough, Samsung is also adding last year's game bar to the hub, showing information like the refresh rate. Moreover, zoom mode, allowing you to expand certain screen areas, helps with maps in open-world games. Zoom mode would also have the ability to cast a YouTube video alongside the game, making it easier for newbies to look for tutorials.
While Samsung is not the first to put cloud gaming in smart TVs, LG currently supports both Stadia and GeForce Now; although, currently in beta. Furthermore, there are still announcements on the project, and we have our eyes peeled.
We think Microsoft's xCloud could be a part of Samsung Gaming Hub during the release; let's not get our hopes high. Along with cloud gaming on Samsung smart TVs, Samsung unveiled the world's first 4K 240Hz monitor.