Short Bytes: Virtual Touchpad is a Windows 10 feature which arrived with the release of Creators Update. It acts as an on-screen replacement for the physical touchpad on Windows 10 PCs and supports all the options and settings offered by Windows for touchpad devices.
M
icrosoft Windows already includes a virtual keyboard which serves purposes: act the keyboard app when using a tablet device and become a rescue when the physical keyboard doesn't work properly.
It was last year when the Redmond announced they would add a virtual touchpad to Windows 10. The feature started to show up in Insider builds.
Virtual Touchpad finally arrived on Windows 10 with the release of the Creators Update which is yet to reach many devices. It can be used at times when using apps which are not optimized for touch screen devices. Sadly, according to a post by HTG, the virtual touchpad feature isn't visible on Windows 10 devices which don't have a touchscreen.
How to turn on Windows 10 Virtual Touchpad?
The option to enable Windows 10 virtual trackpad sits right below the option which turns on the virtual keyboard. Right-click the taskbar in Windows 10 and click Show touchpad button. The relevant button will appear in the notifications area. You can click the virtual touchpad button to turn the feature on or off.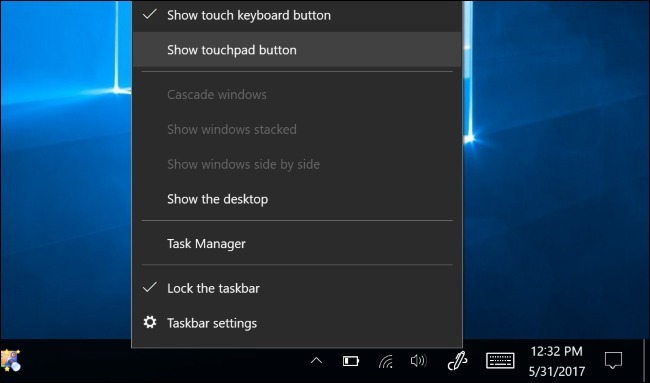 The virtual touchpad looks and works the same way as a regular physical touchpad does. There are two buttons at its bottom which act as the left and right-click buttons.
Other than regular touchpad gestures like pinch-to-zoom, two-finger scroll, etc., the virtual touchpad also supports all Precision Touchpad gestures offered by Microsoft for physical touchpads.
You can head to Settings>Devices>Touchpad to manage options and customizations for the virtual touchpad in Windows 10.
Image Credits: HTG
Got something to add? Drop your thoughts and feedback.