Downloading YouTube videos from the Internet traditionally involves a free YouTube video downloader. Sometimes even two, since the first one either has a network issue or is stuffed with weird and obtrusive ads.
Generally, YouTube video downloaders available online have been a go-to destination for people seeking to download a YouTube video for free. But in a few cases, these "free" video downloaders charge more than we could ever imagine.
Problems with free YouTube video downloaders online
One of the golden rules of the Internet is always to be careful what you download. The very same rule applies to downloading videos with online YouTube downloaders as well.
1. High risk of malware
Google "Download YouTube video" and you will witness hundreds of self-proclaimed best YouTube video download websites in line trying to lure you in.
However, not all of them are supposedly legit. Given the high competition, few might delve into other unethical activities to gain money out of users.
One such method is malvertising in which online advertisements are stuffed with malicious code that redirects a user to a malicious website.
Once you are forced into visiting the malicious website, perpetrators can install some kind of adware or mining botnet in your system to make money, even if you have closed the site.
And not just malware, visiting unsafe websites makes you vulnerable to all kinds of viruses and trojans that can further cause greater damage, such as stealing private information.
2. Illegal
Ripping videos off from websites is not just dangerous, but also illegal in the eyes of law as well as according to YouTube terms and conditions.
In nearly all the counties with copyright law, one is not allowed to download or make copies of copyrighted content. If caught doing so, one can theoretically face trial or a fine.
Although YouTube has never lashed on a user for downloading a copyrighted content using a video downloader, the activity regardless is illegitimate.
There are a few YouTube videos which don't come under copyright laws such as videos listed as Creative common (CC), and videos that have expired copyrights. Moreover, it's highly unlikely that the YouTube video you want to save is exempted from copyright laws.
How to download YouTube video for free and legally?
We have established that using YouTube video downloaders is not just unsafe, it is mostly illegal.
Therefore, here I will show you how to download YouTube videos for free without any software — by using the official YouTube app.
1. YouTube app
In order to download a video from YouTube legally, here is what you need to: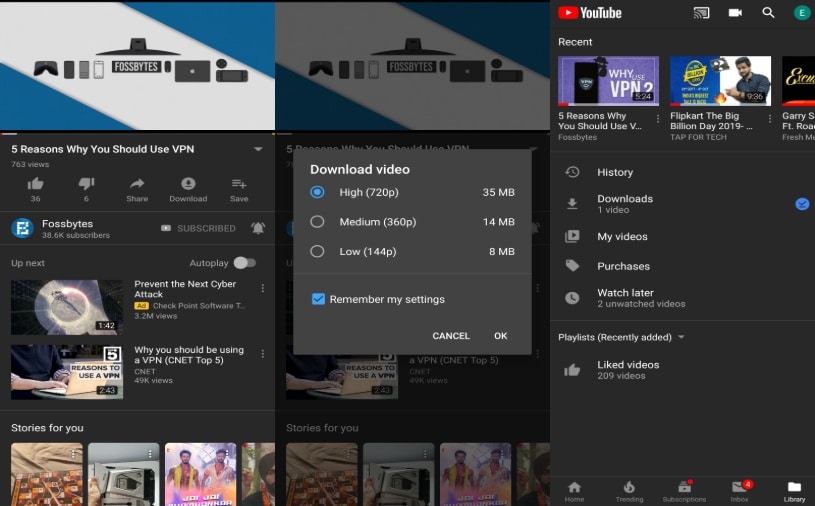 Use the official YouTube mobile app (Android/iOS)
Tap on the video you want to download
Tap on the Download button just below the video thumbnail.
Select the video quality
Tap OK.
The video is now stored in downloads. You can watch or listen to the video, even when you are offline.
If you just want to download songs from YouTube, try out the YouTube Music app which lets you access to millions of songs on YouTube.
2. YouTube Go app
YouTube Go is one of the lightweight Android apps from Google intended for low performing smartphones. However, users seeking to download YouTube videos for free can use it to their benefit.
In order to download YouTube videos on the Go version, follow these steps: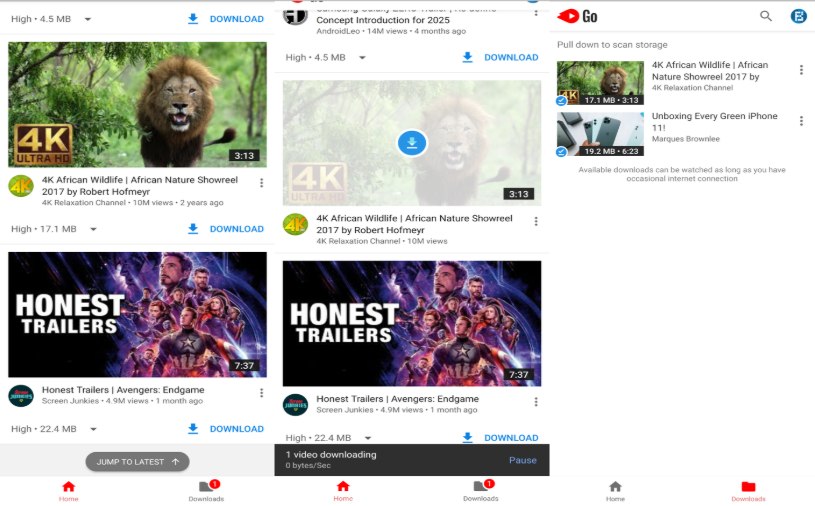 Download the YouTube Go app (Android)
Select the video
In the next menu, choose the quality
Hit the download button
Why use the YouTube app for downloading videos?
Millions of people use YouTube to stream music. One of the biggest arguments for using third party YouTube downloaders is that one can listen to the video while the screen is off.
However, that is old news. You can play videos while using other apps or when your screen is off with YouTube Premium. A mere $12/month YouTube subscription which offers background play, ad-free experience, unlimited access to YouTube music and YouTube originals.