YouTube is an excellent place for looking up all kinds of content such as music, gaming, DIYs, etc. Thanks to the video-sharing platform, we have access to such great content whenever we need it. However, if you want to watch the same videos, it is better to download them as it will save data in the long run, and you won't have to deal with ads. You can even use a YouTube playlist downloader to get an ad-free experience.
Downloading videos from YouTube isn't that hard and can be done just by copy-pasting a link. Thanks to the internet, you won't have to download separate apps to download YouTube playlists. You need a browser and a website where you can download your playlists from YouTube. You can even choose the format and quality of your preference.
How to download playlists from YouTube?
1. Copy the link to the YouTube playlist.
2. Search YouTube playlist downloader on google and select on the tool.
3. Paste the link to your playlist into the URL box.
4. Choose the format (MP3, MP4, etc.) and quality (144p-8k) for your preference.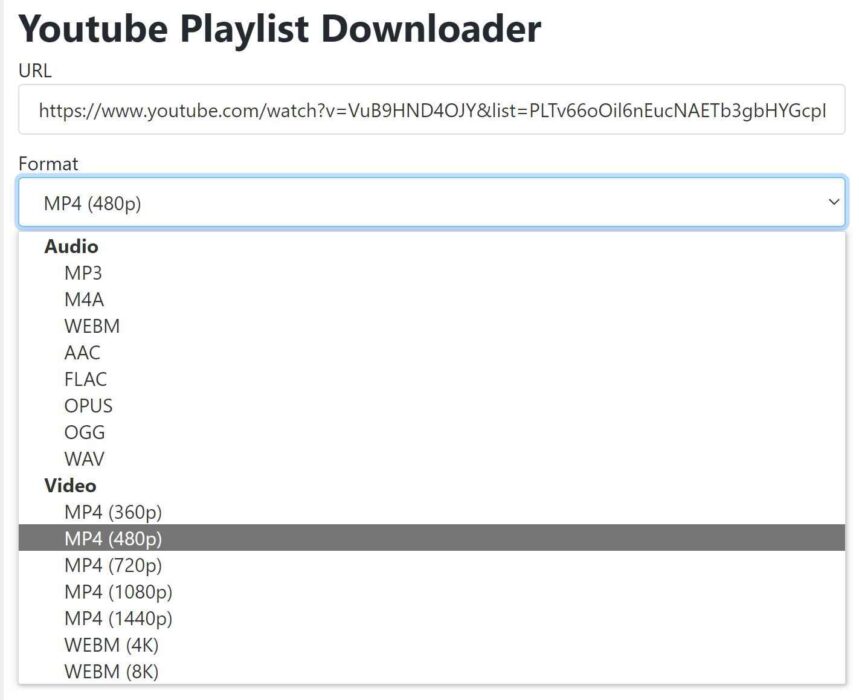 5. Click download.
How do I convert a video on YouTube to MP3?
All playlist downloaders for youtube and other streaming platforms have the option to customize which format you want the download to be in. Copy and paste the video link and select the format you want. Hit download to get your desired format. Most of the time users wish to convert youtube video to MP3. The following are some of the formats available:
MP3
M4A
AAC
FLAC
OPUS
OGG
WAV
WEBM
MP4
How do I download a 4K YouTube video?
All playlist downloaders can choose the picture quality of the downloaded video file. Copy and paste the video link and select the quality you want. Hit download to get your desired video quality. This can help in saving data if you have slow internet speed. The following are some of the formats available:
MP3 (144p-8k)
WEBM (4k-8k)