Over the years, Steam has become one of the most popular destinations for gamers. There are numerous games on Steam that can be bought and played at a reasonable price. However, when there are so many games to choose from, then you're bound to make some wrong decisions. That's why it is important to know how to refund a game on Steam.
If you've spent your money on a game that isn't worth it, you can easily get a refund on Steam. Just go through this article to learn all about the steam refund policy and how you can refund a purchased game.
What Is Steam Refund Policy?
Anyone can get lured into purchasing loads of games when their prices drop during the tempting Steam Sales. Everybody knows that — even Steam's owner, Valve. Therefore, to make sure you don't regret giving little thought to a less-than-fun game before buying it, Steam offers refunds.
You can refund any game purchased on Steam up to 14 days after buying it., given you have played it for less than 2 hours. For pre-orders, the refund policy is eligible up to 14 days after the game's release date.
However, if you don't meet any of the aforementioned conditions, then also you could reach out to the support team to review your request. Eventually, Steam will decide if your argument for failing to meet the pre-requisite is reasonable enough to get you a refund.
How To Refund A Game On Steam?
If you're eligible for a refund, then follow these steps to get your money back from Steam:
Go to help.steampowered.com and login with your Steam ID.
Next, click on Purchases.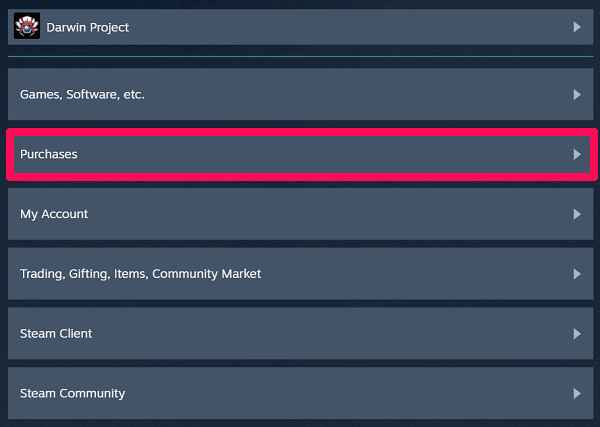 3. Now, select the game/ product you wish to refund.
(Note: If you don't see the purchase you want to refund on the list, then your purchase is too old and isn't eligible for a refund.)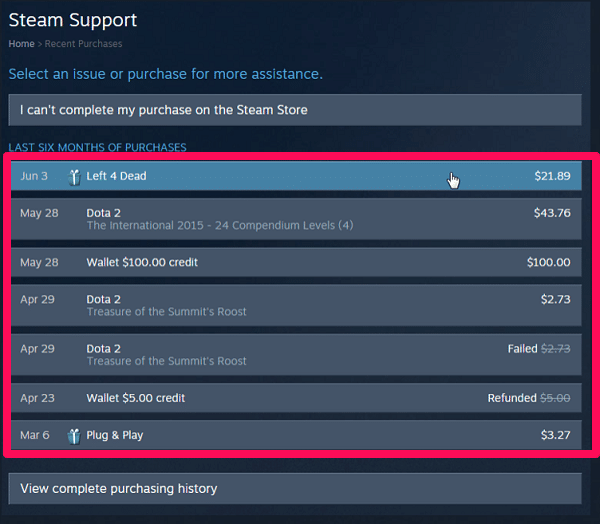 4. Select any one reason for which you wish to get a refund.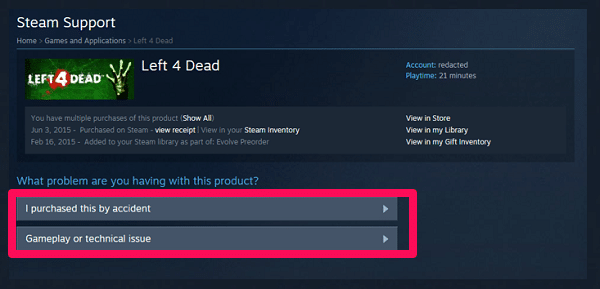 5. Click on I'd like to request a refund.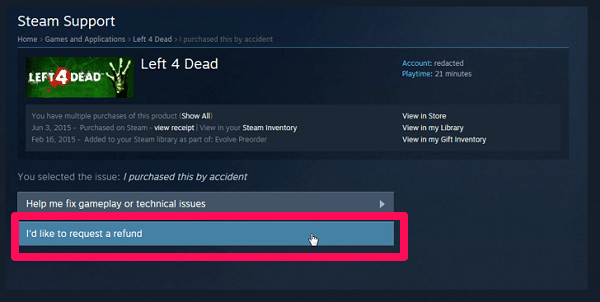 6. Finally, fill up the request form and click on Submit Request. (Note: From the drop-down menu, select where you would like to receive the Steam refund amount.)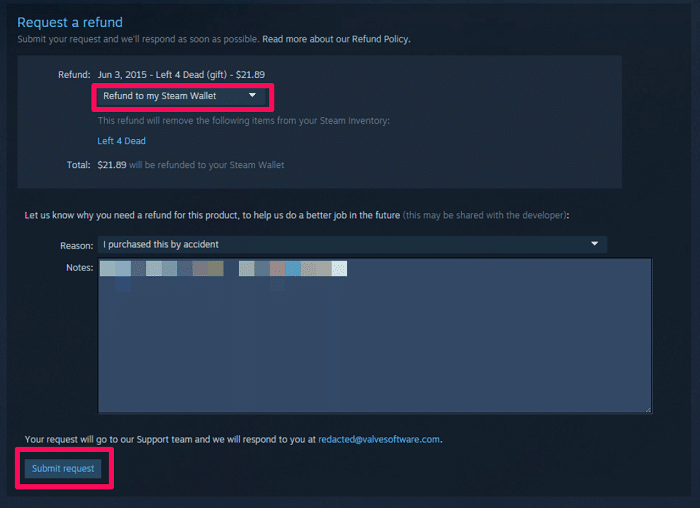 That's it. Now, you'll get a confirmation email from Steam that your refund request has been submitted.
How To See If Your Purchase Is Eligible For A Refund?
To check if your game is eligible for a refund, you just need to follow the steps mentioned in the previous section. If the game appears in the list of purchased items, then it is possible to get its value refunded, otherwise not.
Also, you can still make special refund requests for ineligible games in case of extraordinary circumstances. To do this, you just have to click on "View complete purchase history" and choose the game you want to raise a refund request for.
How Long Does a Steam Refund Take?
If your refund request has been approved, Steam usually takes a couple of hours to issue a refund. However, in the case of international payment methods, Steam refunds can take up to seven or maybe even more days.
How Many Times Can You Refund Games On Steam?
There is no limit on how many times you can request a Steam refund. However, if you're trying to abuse Steam's refund policy, then Steam may stop you from doing so by making you ineligible for future refunds.
Can You Get a Steam Refund After You've Crossed 14 Days or the Two-Hour Limit?
If your purchase doesn't fall under the 14 days or the two-hour limit, then you aren't eligible to get a Steam refund. However, you can still submit a refund request and give an appropriate reason for your request in the form. A Valve employee will then assess your application, and if your reason convinces that employee, he/she may issue the Steam game refund to you.
How the Steam Refund Policy Works for Other Purchases
When it comes to bundles having multiple games, the refund policy is valid if you have played less than 2 hours in all of those games combined. Similarly, you can only refund the entire bundle and not individual games from it.
Moreover, DLC purchases can be refunded within 14 days of purchase and within 2 hours of game-time in the base game after buying DLC content. However, not all such content is eligible for this policy, so make sure you check out the DLC store page beforehand.

Coming to in-game purchases, you may ask for a refund for these as well. Valve-developed games offer your money back, given it's been less than 48 hours since purchase and you have not used the item yet. In case of in-game purchases in third-party games, Steam will notify you if a refund is possible at the time of purchase.
Regarding third parties, when you purchase a Steam key for a game from another vendor, it's not covered under the refund policy.
Lastly, those who get the ax from Steam's anti-cheat system won't be getting a refund for the game they received the ban for.
Does Steam Offer a Fair Refund Policy?
If it were the olden days of Steam, we might have had notable grievances about its support team. But since then, the gaming client has improved in every aspect. Right now, we offer a fair refund policy that is easy and convenient for most gamers.
Steam Refund Rules
Here's a summary of the rules that you must follow to claim a refund, as discussed above. However, you might be able to get a refund in special circumstances even after flouting the following rules.
You must request a refund within 14 days of purchasing the game and within 2 hours of logged game-time.
The above rule also applies to DLCs, bundled games, and pre-orders. However, in the case of preordered games, the effective period starts from the game's release date instead of its purchase date.
You must request a refund for eligible in-game purchases before using them and within 48 hours of purchase.
Limitations of a Steam Refund
Although Steam refunds are simple and easy, there are certain limitations that dictate whether you get your money back or not. The limitations of a Steam refund are as follows:
A game with a purchase date of over 14 days old and with game time logged over 2 hours isn't eligible for a refund.
A pre-ordered game with a release date of over 14 days old and with game time logged over 2 hours aren't eligible for refunds.
Certain DLCs and in-game purchases are ineligible for any kind of refund in any case. Others, which are eligible, are bound by the same rule as mentioned in the first point.
FAQs
How To Refund a Gift On Steam?
You can refund any game bought on Steam by going to your list of purchases, selecting the game, and creating a refund request.
How Do You Fulfill Steam Refund Policy?
To fulfill the conditions in Steam's refund policy, you must request a refund within 14 days after purchase, and you must have played the game in less than 2 hours.
Can You Refund The Difference If The Game You've Just Purchased Went On Sale?
They don't do that here. However, you can refund the game and then buy it again at a discounted price.