Call of Duty Mobile Season 8 'The Forge' is finally live. The post-apocalyptic season is full of amazing skins, weapons, and new game modes. However, Call of Duty Mobile doesn't drop all the new content with the launch of the season. Instead, it releases the promised content for the new season throughout the month.
So, if you're wondering when Call of Duty Mobile is getting the 'Katana' operator skill, then here's the full roadmap of Season 8.
Call of Duty Mobile Season 8 Roadmap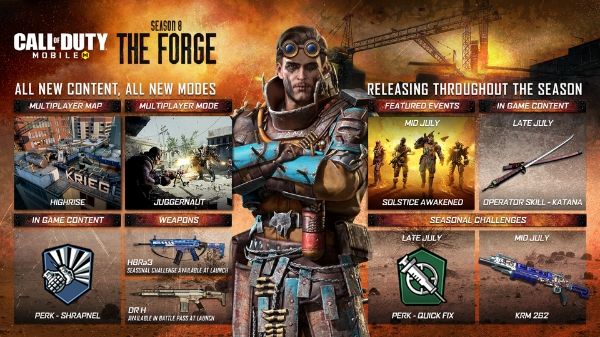 Everything That Has Arrived
Highrise Map: The fan-favorite Highrise map from Modern Warfare 2 is finally available to play in Call of Duty Mobile.
Juggernaut Multiplayer Mode: Players can now play 5v1 game mode from Modern Warfare 3 in COD Mobile Season 8. Five players will have to defeat a single player using X-51 Goliath to be victorious.
Sharpnel Perk: This perk in Call of Duty Mobile Multiplayer allows players to carry an additional lethal weapon. Other than dealing great damage, this weapon stops the health regeneration of the victim by three seconds.
New Weapons: Assault rifles HBRa3 and DR H are now available for players to try out in Call of Duty Mobile. HBRa3 is available through season challenge, whereas, DR H assault rifle is available as a part of Season 8 battle pass.
Everything That Is Yet To Come
'Katana' Operator Skill (Late July): The much-awaited Katana Operator skill will arrive in Call of Duty Mobile by the end of July. Players using this skill goes into a third-person mode and performs a one-shot kill melee attack with the sword.
Solstice Awakened Event (Mid July): Call of Duty Mobile will launch the post-apocalyptic Solstice Awakened event on July 17. In this event, players will have to collect resources by killing more opponents in different maps.
Quick Fix Perk (Late July): The Quick Fix perk regenerates a player's health whenever they get a kill. This amazing perk will be available in Season 8 by the end of this month.
KRM 262 (Mid July): Players are calling KRM 262 the best shotgun in Call of Duty Mobile, which will launch in Mid July.
So, that is all the content that you can expect to enjoy in Call of Duty Mobile Season 8. Also, to conclude, here's the list of all the events that are currently live or coming soon in COD Mobile:
7/10 – 7/16 ~ One Shot One Kill
7/10 – 7/16 ~ Gun Game Team Fight
7/10 – 7/16 ~ Highrise Brawl
7/10 – 7/16 ~ Juggernaut Mania
7/17 – 7/30 ~ Solstice Awakened
7/10 ~ New Seasonal Challenges
7/10 ~ Credit Store Update
All Month Long ~ Juggernaut Mode
All Month Long ~ Training Mode
All Month Long ~ Kill Confirmed