After the recent dispute between India and China at the border, the Indian Government banned TikTok and 58 other Chinese apps. At first, for some reason, PUBG Mobile escaped the list. However, a considerable number of people wanted the Government to ban the game because it is also a Chinese app, and that's exactly what happened. Recently, the Indian Government banned PUBG Mobile along with other 118 apps.
Now, this brings us to Call of Duty Mobile, which is a big competitor of PUBG Mobile. Millions of gamers enjoy Call of Duty Mobile, but a lot of them are still unaware of the game's origin. Is Call of Duty Mobile A Chinese App? Questions like these are still surfacing on the internet. Well, no worries, because we're going to clear up your confusion.
Is Call of Duty Mobile A Chinese App?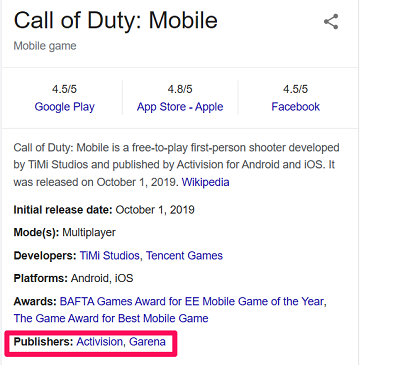 If you're looking for a quick answer to this question, then NO, Call of Duty Mobile isn't a Chinese app. The game is published by Activision and Garena, companies based in the USA and Singapore. It's true that Call of Duty Mobile is developed by TiMi Studios, a subsidiary of the Chinese conglomerate, Tencent Holdings. However, most of the revenue goes to the game's publisher, which isn't Tencent in this case.
Origin Of Call Of Duty Mobile
In March 2019, Activision announced that TiMi Studios will be leading the development of the mobile version of Call of Duty Mobile. However, it was Activision who took care of the funding for the development of the entire game.
The game first had a soft launch in Canada and Australia on July 18. 2019. After the successful reviews from the soft launch, Activision finally released Call of Duty Mobile worldwide on October 1, 2019, and the game grabbed millions of players instantly.
Conclusion
Activision Blizzard Pvt. Ltd, an American Company, owns the entire Call of Duty franchise. So, Call of Duty Mobile also falls under Activision's umbrella. The American tech company only hired TiMi Studios to lead the development of the game. In return, only a little portion of revenue share goes into the pocket of the Chinese game studio. The major chunk of money still goes to the publisher, which in this case, is Activision.