Update 9th November 2018 – Microsoft Responds to The Windows Activation Bug
Many Windows user have now been able to fix up the issue by using the Windows Troubleshooter. On the other hand, Microsoft has given an official statement –
"A limited number of customers experienced an activation issue that our engineers have now addressed. Affected customers will see resolution over the next 24 hours as the solution is applied automatically. In the meantime, they can continue to use Windows 10 Pro as usual."
ORIGINAL STORY – 
A bug-free Windows 10 October Update still seems to be far away, and Windows users have already come up with another issue.
According to a trending Reddit thread, many Microsoft Windows users have received Windows activation messages denoting that their Windows licensing is not genuine.
https://twitter.com/m2geek/status/1060451083099619328
Many are facing a Windows Activation troubleshoot dialog box that says the device is running on a Windows 10 Home key while in fact, the device has Windows 10 Pro installed in it. The system is asking the users to install a Windows 10 Home version to close the troubleshooting.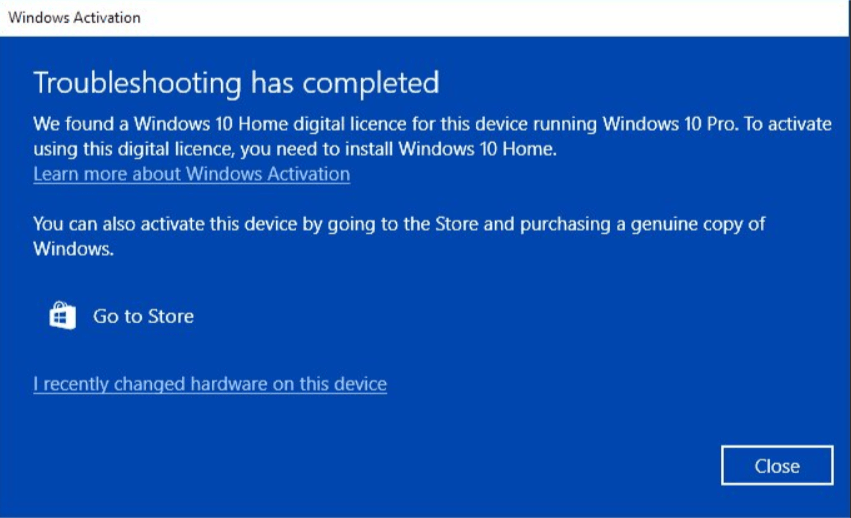 In reply to a Windows 10 user affected by the activation bug, Microsoft responded –
We'd like to help get this sorted out, Will. Are you getting any error messages? Meanwhile, we'd recommend following the steps in this link: https://t.co/zbJd4ohrdo to help you troubleshoot Windows 10 activation errors. Let us know the outcome.

— Microsoft Support (@MicrosoftHelps) November 8, 2018
If you are facing the issue, you can resolve it using the Activation troubleshooter, located in the Windows settings, under the Update and Security. To deal with any specific activation error, head over to this Microsoft website.
This is not the first issue with Microsoft October Update version 1809. Previously, Windows 10 users have been hit by several bugs like file deletion, sound issues, font issue and much more.