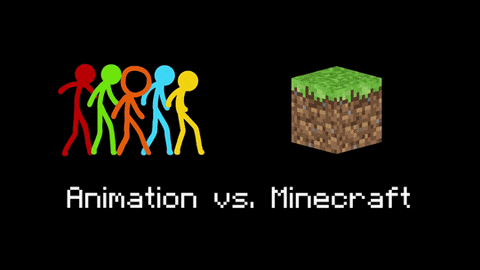 Short Bytes: The latest installment of the  Animator vs. Animation series was launched few months ago and it received a wide round of applause from the fans. Dubbed Animation vs. Minecraft, Alan Becker takes his sticky figures inside the world of Minecraft and tells another crazy story so well without a single dialogue.
D
o you remember Alan Becker's intelligent stick figures from his
famous Animator vs. Animation web series
? Well, they are back. This time, they accidentally discover the magical world of Minecraft on a Windows 7 PC.
Animation vs. Minecraft is the fifth major installment of the Animation vs. Animator series created by Alan Baker. This story unfolds in a Windows computer where main characters enter a new world and change it forever.
The stick figures go mad with power after they obtain a Minecraft block and realize its potential. The Minecraft block is passed between the Fighting Stick Figures. The Yellow makes a windmill, Blue creates trees and plants, Yellow makes a beacon tower, and red beat everyone and runs away with the block.
The animation grows into an epic battle as other members team up to stop the red stick figure from destroying their computer desktop world.
I won't be spoiling the rest story for you. Here's the complete 16 minutes and 30 seconds of awesomeness. Enjoy!
Alan Becker has also released a behind the scenes video that shows his process of making the Animation vs. Minecraft video over a period of 800 hours.

Bonus video: Here's the previous video in Alan Becker's Animator vs. Animation series.
I hope that you liked this struggle between stick figures and its creator. Feel free to share the article with your friends and express your views in the comments below.