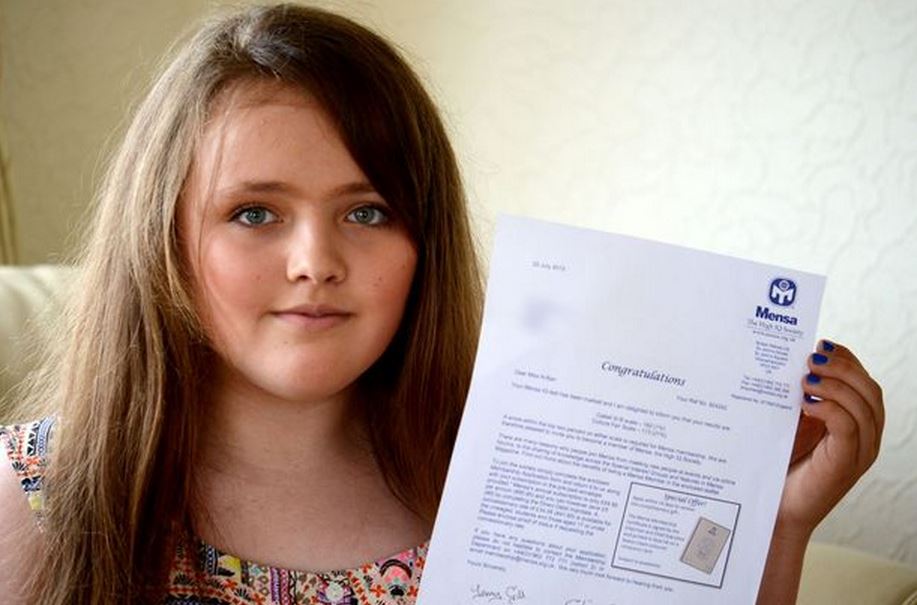 Short Bytes : Nicole Barr has scored 162 in Mensa IQ Test which makes her smarter than Albert Einstein and Stephen Hawking, topping both these geniuses by 2 points.
T
he kids these days!! While we used to get tanned playing in the Sun, today's generation prefers to focus on their computer screens. But, this is not just any ordinary kid. She is presumably smarter than Einstein and Hawking.
Nicole Barr is a regular 12-year-old girl of Harlow, Essex who happened to score 162 in the Mensa IQ test. Both Albert Einstein and Stephen Hawking scored 160 in their tests. This feat makes Nicole enter into the elite group of the smartest people on Earth.
Touted as a genius from a very young age, her mother says that she could pick out mistakes in books and magazines, and could solve complex algebra before she turned ten. The average score of adults in this IQ test is 100, while above 140 shows a prospective genius. Thus, Nicole Barr's IQ puts her in the top one percent of world's population as reported by mirror.co.uk
Mensa is an organization for people with incredibly high IQs. Currently, there are 110,000 members of Mensa worldwide, including 20,000 in the British Isles. Mensa has only 8% members that are under 16 and only 35% of the top intelligent people are women.
Nicole Barr definitely stands out in the category. Despite being a genius, she is a 12-year kid after all. She attends drama classes and will make an appearance in Shakespeare's Twelfth Night. She attends the Burnt Mill Academy and enjoys reading, singing and of course, is academically brilliant.
Did you like this article? Tell us in comments below.
Also Read: Little Girl Hacks Dad's Computer on Her Raspberry Pi
For more updates and interesting stories, subscribe to fossBytes newsletter. [newsletter_signup_form id=1]