Kodi is a popular media players you can use to watch movies, TV shows, listen to music, and more. It has been around for a while now. While other more popular media players have emerged, Kodi has solidified its position with a strong community. If you are someone who has never used Kodi and wants to give it a shot, we have prepared a detailed article about what is Kodi, its features, how does it work, and more.
Before heading over, we recommend you to read our article about best media players for Windows and Linux to know more about other Kodi alternatives.
What is Kodi?
Kodi is an open-source media player that has been making bold headlines in the recent months–both for good and bad reasons. However, Kodi has existed since 2002, when it was known as Xbox Media Player. In 2014, it was renamed Kodi by the maintainer XBMC Foundation.
While the Xbox Media Player was launched for the first-generation Xbox game console, now it's available for Android, macOS, Linux, BSD, iOS, tvOS, Windows, etc. You can also download Kodi App from Google Play Store and Apple App Store. If you want to download the software on your desktop or MacBook then you need to visit kodi.tv, their official website. Moreover, Kodi download and setup procedure is fairly easy and anyone can set it up without facing any issue.
What Are The Features Of Kodi?
Kodi is a feature-packed media player that you can use for playing music, movies, your favorite TV shows, browsing photos, watch live tv and much more. There are tonnes of customization options in Kodi so you can set it up as per your wish. One of the best Kodi features is Kodi addons which form the backbone of the software. You can install official Kodi addons as well as third-party addons for accessing movies, tv shows, live tv and popular services like YouTube on Kodi.
Kodi 18 Is Finally Here
Kodi 18 Leia is finally released after two years of development. Download it here and read about the best and new features:
Kodi 18 Leia
How Does Kodi Work?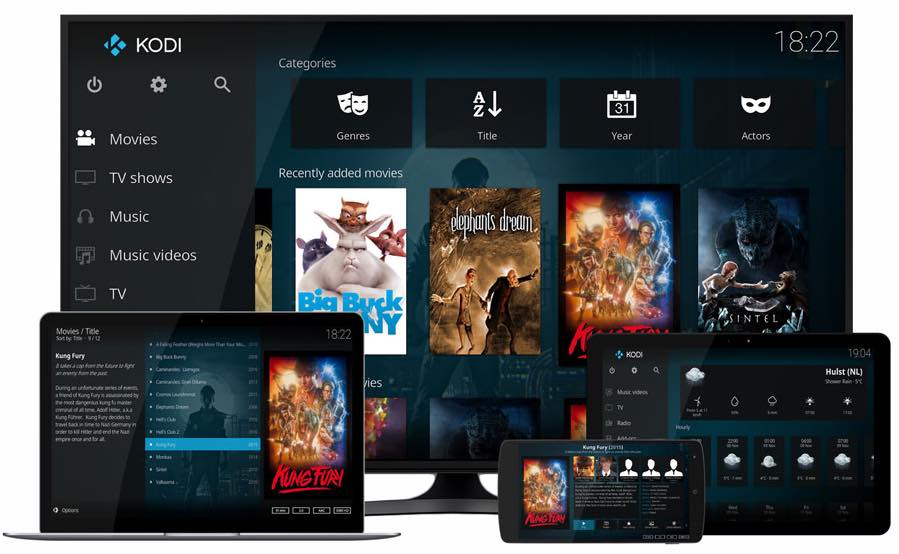 It's an XBMC foundation owned centralized media center that lets you store all your content at a single place and gives you the ease to access it virtually from anywhere. It should be noted that Kodi doesn't provide media itself; the users have to provide their own content or point it manually to online media. It has been designed by keeping the TV audience in mind who accustomed of enjoying the digital content–this interface is also called 10-foot UI.
Kodi platform supports almost all audio and video file formats. This gives you the flexibility to run old and newer files with equal ease. With the help of numerous plugins, you can stream content from tons of free video services like YouTube, Vimeo, etc.
Apart from playing the common media formats, Kodi also supports slideshows, weather forecasts reporting, audio visualizations, etc. However, unlike other solutions like MythTV and Windows Media Center, it doesn't come with an internal digital TV-tuner backend for Live TV functionality. With the help of a suitable Kodi add-on, you can get started with TV streaming on Kodi.
Further, Kodi can also function as a gaming console. There are many Kodi addons that allow you to browse and launch emulator roms and stand-alone games in XMBC.
Is Kodi Illegal?
"Is Kodi safe to use?" is one of the most asked questions whenever we talk of Kodi. Kodi is a fully-legal software; It's as legal as your web browser. If you're calling Kodi illegal as it's being used to stream pirated content, you should also call browsers illegal as they are used to download pirated content and watch them on such websites.
However, Kodi is attracting bad publicity due to the third party add-ons that are being used to connect to access subscription streaming services for free. A large number of Kodi Boxes, which are totally unaffiliated with official Kodi Team, are being sold with add-ons that link to pirated streams. But, if a Kodi Box doesn't ship with add-ons that promote pirated streaming, then it's legal to use such box.
In the past, on many occasions, Kodi has made it clear. "Kodi does not provide any media itself. Users must provide their own content or manually point Kodi to third-party online services. The Kodi project does not provide any support for bootleg video content," Kodi's official website states.
However, we recommend you use a VPN with Kodi to make sure that your digital footprints are concealed. Since there are many third-party add-ons that use copyrighted content, therefore, the risk to attract legal repercussions is always there. Hence, it would be safe if you use a VPN with Kodi.
Kodi vs Other Media Player Apps
Before using Kodi, you must know about how it fares with other media player apps. One of the biggest benefits offered by Kodi in comparison to other apps is that it is open source. This offers a high level of flexibility to users. You can install add ons as per your wish, a feature that isn't possible in other Kodi alternatives.
With Kodi, you get a vast library of addons that you can install to watch videos, listen to songs and even play some retro games. Other features that make Kodi a better option include a high level of personalization, the feature to record live TV, and a large community to help you all along.
How to use Kodi?
Kodi is an easy-to-use application. You begin by installing the Kodi app and then the addons from the official Kodi repository. You can think of a repository as an app store from where you need to download different apps to make a smartphone functional. The official Kodi repository has a large collection of addons but if you want more, you can also install third-party repositories from the internet. You can refer to our list of best Kodi repositories to customize the software as per your needs. Once the addon is installed from a Kodi repository, you launch it and enjoy the media. If you want detailed steps, you can read our Kodi beginner guide to know more.
Audio and video playback in Kodi
As said above, Kodi brings a wide-ranging support to your entertainment world. Apart from the traditional file-types, Kodi can also play media from SMB/SAMBA/CIFS shares, NFS, WebDAV or UPnP (Universal Plug and Play) shares. Kodi can also upscale all the standard definition videos to 720p, 1080i, and 1080p resolutions. Moreover, you also get the facility to stream video from YouTube, Netflix, Hulu, etc., with the help of add-ons.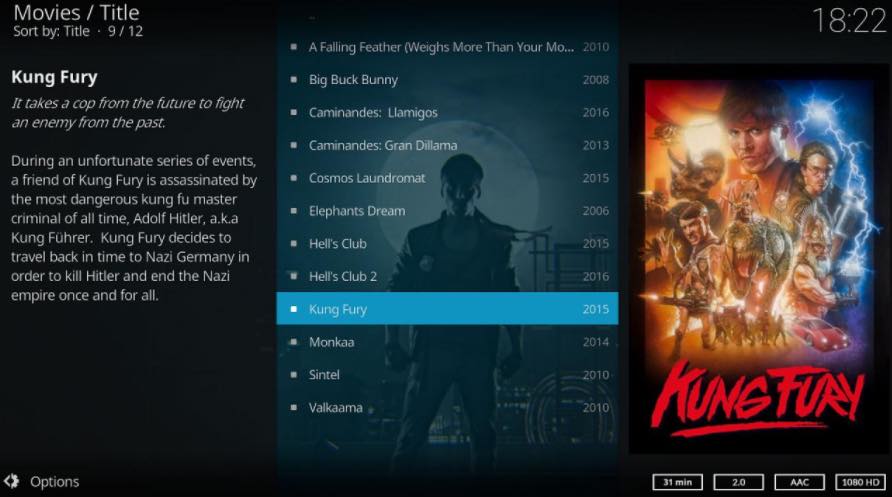 Kodi's video library organizes the video by the information, which can be obtained via scrapers, associated with them. In the library view, you can browse and sort the content by Genre, Title, Year, Actors, Directors, etc.
For playing video, Kodi uses a video player named DVDPlayer. It's Kodi's homegrown, cross-platform player, which is based on FFmpeg. Its notable feature is on-the-fly pause and playback of DVD movies directly in ISO, IMG, RAR, ZIP, etc., formats.
For audio playback, Kodi's PAPlayer comes into the picture. This player's notable features are on-the-fly resampling of the audio frequency, gapless playback, crossfading, etc.
What Are Kodi Add-ons?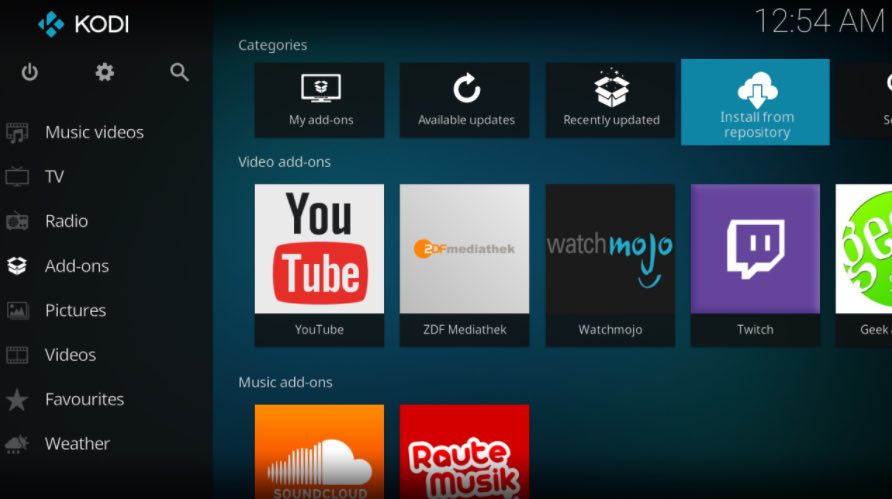 For any software, Add-ons are the functions and features that don't ship with the base package. Kodi addons are developed by Team Kodi and the third-party developers. You can easily find add-ons for different services from official Kodi repository and from third-party repositories. There are different kinds of addons for Kodi that can enhance the overall experience of users. The different add-on categories are Gaming, Lyrics, Video, Audio, Web Interface, Weather, etc.
Kodi skins are add-ons that you can install to change the basic UI and appearance of your media solution software. You can also create your skin, modify existing skin, and share it via different public websites. If you want to skip extra efforts, you can also download a Kodi build.
The scraper add-ons let you import the detailed information of a media from various internet resources. This information can include titles, genres, reviews, posters. etc. The web interface add-ons allow you to browse your Kodi media library from a remote location.
Now that you know what are Kodi addons, have a look at 10 best legal Kodi addons you must install in 2021.
What is a Kodi Build?
A Kodi Build is an easy way to install add-ons, skins and electronic program guide. You can install a build from Kodi repositories. These builds come in the form of a preconfigured Kodi file which installs addons, shortcuts and UI improvements. By installing a build, you can enjoy Kodi to its full extent without going through the process of installing Kodi repositories.
However, Kodi builds come with aplenty addons and shortcuts that are installed on your device which can hog up the memory and RAM and there are possibilities that some addons might be broken. To install Kodi builds or not to install is your sole decision.
Can I Watch Live TV and record video on Kodi?
Kodi ships with powerful Live TV and DVR/PVR (video recording) features. With the help of third-party Kodi backend add-ons or DVR device, one can watch Live TV, listen to the radio, perform recordings, and other TV functions. For the lesser tech-savvy users, the first time setup of Live TV and recording could be cumbersome. On Kodi's website, there's a detailed guide to help the enthusiasts. Once you're done, you can find TV-related add-ons to leverage all the features.
Kodi Repositories
Repositories are locations where softwares are stored and distributed from. In simple language, the concept of repositories is similar to the concept of app stores in Android and Apple devices. Repositories are used for downloading Kodi addons that enhance the overall functionalities of the XBMC software. Some of the popular and best Kodi repositories are Kodil repository, SuperRepo, Dandy Media, XVBMC repository, Supremacy, etc. Kodi also has an official repository from where you can download plenty of addons.
What are Kodi boxes?
In the recent times, Kodi has become increasingly common, thanks to the exploding sales of "Kodi Boxes," which has prompted many people to cut the cable cord completely. A Kodi Box is a standalone device that can be connected directly to your monitor or TV. These boxes come with pre-installed apps and you can get your entertainment hub running in no time.
Did you find this article on what is Kodi and its features interesting? Don't forget to share your views and we will be sharing more articles to help you get started with Kodi.
Kodi FAQs
1. How to update Kodi on Firestick?
To update Kodi on Firestick, you need to install and third-party installer on your Firestick and download the latest Kodi version from there.
2. Will Kodi work without VPN?
Yes, Kodi works without VPN but we recommend you use VPN for Kodi to avoid any legal repercussions as there are several third-party add-ons that feature copyrighted content.
3. Will Kodi work on the iPad?
Kodi is not officially available for iPhones and iPads but you can use third-party app stores like App Valley to install Kodi on iOS without jailbreaking your device.