For the anime fans on the lookout for some good old anime classics or new anime, Funimation is a name you should be familiar with. The platform is among the top anime streaming platforms with a massive collection of anime. Meanwhile, in this article, we'll share everything you need to know about Funimation.
There's much to know about Funimation, and without wasting any time, we'll get straight to it. Meanwhile, if you wish to subscribe to the platform, we'll make sure to leave a link for you.
What precisely is Funimation?
Funimation is an anime streaming platform owned by Sony. Moreover, it operates out of the US and hosts a number of popular ongoing and classic anime series. Funimation is also the prime platform for English dubbed anime; the anime streaming platform provides lightning-fast English dubs of recently released episodes of all popular ongoing anime.
That being said, much of Funimation's English dubs are exclusive to the platform. Not only anime streaming, but Funimation also hosts a collection of vast anime merchandise; from T-shirts to action figures to anime DVDs and Blu-Ray sets, it's all there.
Meanwhile, after acquiring Crunchyroll, another major anime streaming platform, Sony announced that the company would be merging the two anime streaming platforms into one. While there's no confirmation as to when the merger will happen, we do know that it is bound to happen sometime soon. Meanwhile, you might want to look at our article featuring Funimation and Crunchyroll comparison.
What are Funimation's subscription prices?
For those wondering how much it costs for anime streaming platform subscriptions, make sure to give this part a good read. To be precise, Funimation has a three-tier subscription model, and below are the details.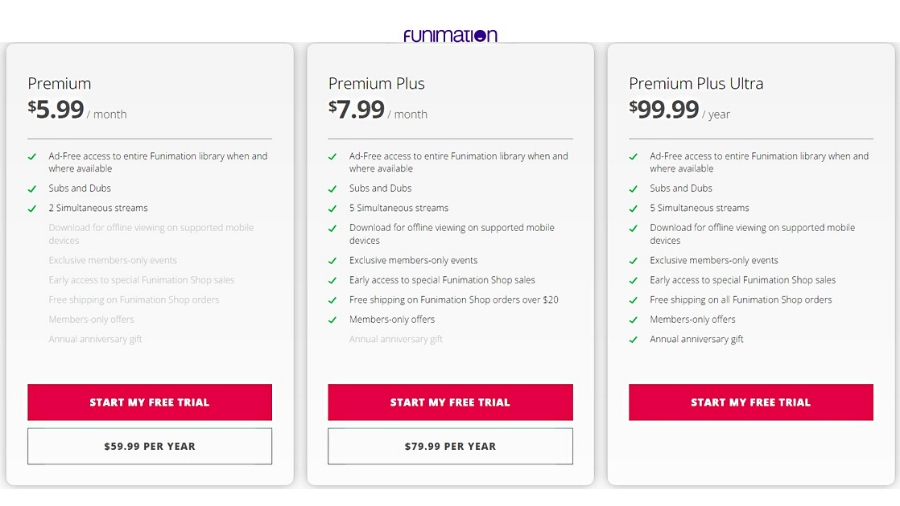 Premium:
This plan costs $5.99 a month or $59.99 annually.
Ad-free access to the entire anime library.
Anime streaming across a range of platforms.
Access to both English dubbed and subbed anime content.
Subscribers can stream on two devices simultaneously.
Premium Plus:
Includes everything included in the basic premium plan.
This plan costs $7.99 a month or $79.99 annually.
Support for offline viewing on mobile.
Access to special Funimation shop sales with free shipping on orders above $20.
Access to exclusive member-only events.
Subscribers can stream on 5 devices simultaneously.
Premium Plus Ultra:
This subscription plan only has an annual one priced at $99.99.
Includes everything included in the premium plus plan.
Free shipping on all orders with no minimum purchase cost.
Subscribers get an annual anniversary gift.
In addition, subscribers get two rentals per year.
Platforms & Devices supported by Funimation
If you're wondering if you can watch anime on your smart TV or Amazon Fire TV Stick, yes, you can. Furthermore, there's a whole list of supported devices where you can stream your favorite anime on Funimation.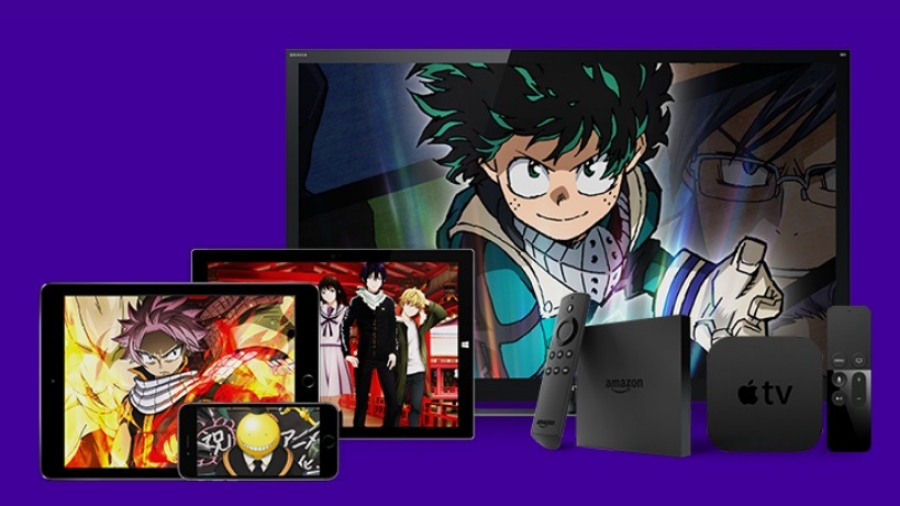 Android devices
iOS devices
Amazon Fire TV
Amazon Kindle
Apple TV
Android TV
Chromecast
Samsung Smart TV
LG Smart TV
Roku
PlayStation
Xbox
Where is Funimation available?
This is where things might seem a bit dull as the service is not available worldwide. Funimation is available only in select countries, and these are The US, Canada, The UK, Ireland, Australia, and New Zealand. However, there's always an option of using a VPN service if you don't reside in one of these countries.
Is there a way to use Funimation for free?
Short answer, yes. We have free access to Funimation, and no, we're not talking about the 14-day free trial. In addition to the free trial, Funimation offers viewers some anime content to watch for free. However, the free content on Funimation will come with ads; and will probably not include the latest episode. The entire library of the anime streaming platform is not available to watch for free.
Is Funimation worth getting?
Now that all is said let's take a look at if the subscription to the anime streaming platform is worth getting. Before we go on to say that you should get a subscription to Funimation, did we say that the platform hosts a huge library of anime from the latest and classic anime? Or that the yearly plan will save you lots of bucks with some exclusive offers?
Meanwhile, if you're not all set for yearly plans with exclusive offers, you might like the cheaper monthly plan. Or the fact that the streaming platform provides English dub for all the latest anime episodes quickly. On the flip side, there's always an option to watch anime for free on Funimation if you're ready to deal with the ads and a small library. Here's what you can do if you're looking to unsubscribe to Funimation.