As E3 2021 nears, excitement and expectations arise from fans around the world. On the coming Saturday, June 12, Ubisoft will showcase its arsenal of upcoming games, among other updates in Ubisoft Forward.
E3 is one of the biggest events of the video game industry, and Ubisoft always has a new game up to its sleeve. Without any more rambling, let's get straight to how and when you can watch Ubisoft Forward at E3 2021 and what you should expect from the event.
How and when can I watch Ubisoft Forward at E3 2021?
E3 2021 is just a few hours away, and Ubisoft Forward will take the stage on June 12th after the official launch of E3 2021. Ubisoft Forward will begin at 11 am PT, whereas the main show will begin at 12 pm PT. You can check the local time in your region here for reference.
Further, keep in mind that the main show will be a long event. You can watch Ubisoft Forward on Twitch, YouTube, and Ubisoft's Website; Or you can catch Ubisoft Forward on the 1st day of E3 2021 with the link added above.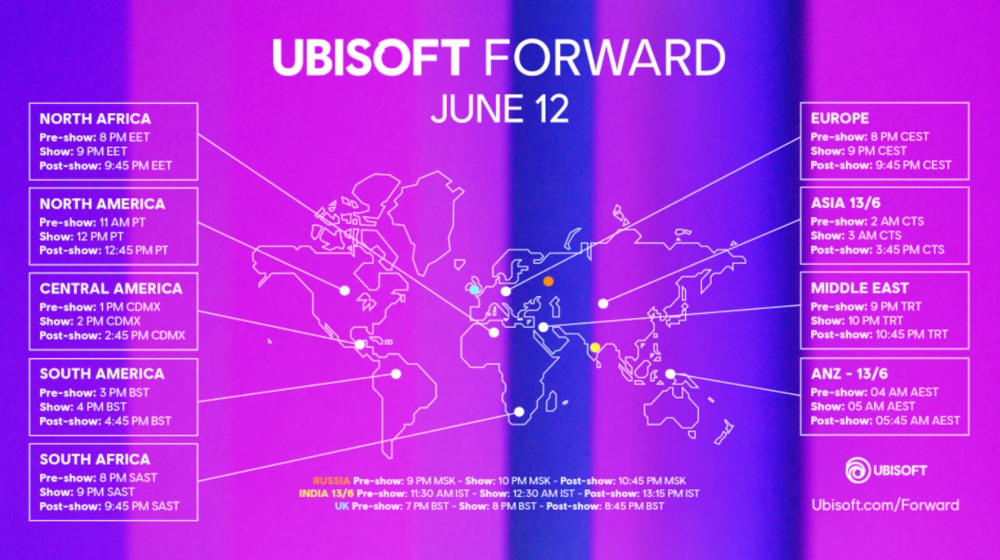 Which games to expect from Ubisoft Forward main show?
It is expected that the Ubisoft Forward main show will feature new games from the publisher with recent developments and updates in the other games too.
Far Cry 6
As per the official statement last month, Far Cry 6 will release on October 7th. This upcoming open-world game from Ubisoft is set in Cuba, with the protagonist as one among the rebel faction opposing the ruthless dictator.
While the official gameplay trailer gave us plenty of information about the game's background other than the actual gameplay, we surely hope to see some exclusive footage at Ubisoft Forward on June 12th.
Tom Clancy's Rainbow Six Extraction
The game was originally called Rainbow Six Quarantine, which was later changed to Rainbow Six Parasite. However, the game is now being officially called Tom Clancy's Rainbow Six Extraction.
While Ubisoft has already released a teaser for the upcoming game set to release this year, we're positive to see some gameplay footage and concrete information regarding the game at the event.
Skull & Bones
Skull and Bones is an upcoming action-adventure pirate multiplayer video game from Ubisoft. The gameplay of Skull and Bones was released at E3 2018 and looks promising, wherein the game lets you be a pirate and features a fascinating story. Interestingly, the game is still in development, and nothing about the release date is revealed yet.
Moreover, the game has seen multiple delays and is now expected to be released in 2022. We suggest not to get excited to see anything related to Skull and Bones at Ubisoft Forward at E3.
Beyond Good and Evil 2
Beyond Good and Evil 2 is an upcoming action-adventure game from Ubisoft with a fascinating background. While the story is mostly unknown, we know that the prequel to Beyond Good and Evil will feature some of the characters from the original game.
We saw the gameplay footage of Beyond Good and Evil 2 at E3 2018; since then, no solid information about the game has been revealed so far. We believe it's about time Ubisoft shared some details regarding Beyond Good and Evil 2. Better keep an eye out for this one at this year's Ubisoft Forward.
Riders Republic
When the developers at Ubisoft arent busy making popular AAA titles such as Assasin's Creed or Far Cry, they do make sports games. The Riders Republic is Ubisoft's upcoming extreme sports game and a massively multiplayer online game.
The game, however, was set to release in February 2021; we suppose the game is ready, and hopefully, we'll get to see more of this adrenaline rush game at Ubisoft forward on June 12th.
Ubisoft's Star Wars game
Yes, another Star Wars game, and it's going to be an open-world game. Fans of the franchise worldwide rejoiced upon hearing a new Star Wars game from Ubisoft. Since Ubisoft has successful games that need no introduction, we're hopeful that the upcoming open-world Star Wars game will be amazing.
While there's no such information on the game, we're expecting a teaser or trailer at E3 2021.
Ubisoft's Avatar game
The Avatar Project, a working title from Ubisoft, surfaced way back in 2017. While the game is still in development, we're hopeful that the game could appear at this year's E3 at Ubisoft Forward.
Assasin's Creed Valhalla
Assasin's Creed Valhalla is still ongoing with updates and DLC rolling out recently. The main show at Ubisoft Forward at E3 2021 will feature more updates aimed at Assasin's Creed Valhalla, alongside a "Siege of Paris" DLC, due this year.
Roller Champions
A closed alpha of the Roller Champions game was released back in March 2020. Another sports game from Ubisoft, the game is supposed to be out sometime later this year. Hopefully, Ubisoft will reveal a release date and some more information on the game at Ubisoft Forward.
The Division Heartland
With recent leaks showing us a clip from the next Tom Clancy's The Division game, we were hopeful that the publisher would reveal some information at Ubisoft Forward. However, a recent tweet showed that The Division Heartland would not be on Ubisoft's roster for E3 2021.
According to the tweet, the game is still in development, and the team will feature "additional tests" for the ones eager to take a look at the upcoming game.
Ultimately, some of these games might feature this year's Ubisoft Forward, and some might not, but we're sure Ubisoft will give its fans a wonderful treat.