'Apple Find My' is a digital network that lets you locate your Apple devices and friends/family members using the internet, GPS, and Bluetooth technologies. Let's suppose you forgot your iPhone in a taxi. You can quickly use Find My on your other Apple device or browser to trace the steps back to your expensive tech.
'Find My' consists of billions of Apple devices present across the globe, making it possibly the biggest offering of its kind. If you live in an urban area, the network might provide block-level accuracy.
What can i track using Apple Find My?
You can keep an eye on various devices connected to your Apple ID, including iPhone, iPad, MacBook, Apple Watch, AirTag, AirPods, and even your dog.
The Find My network has gained more popularity in recent months after the launch of Apple AirTags. Cupertino-Giant has also opened up the network to third parties, bringing Find My support to bicycles and other products.
How does Find My work?
After opening the Find My app on your iPhone, iPad, or Mac, you can view all your devices on the map and find out exactly where they are. It works by recording the GPS location of an iPhone, iPad, Watch, etc., and relaying it to your device via iCloud.
Also, the app has separate sections where it lists people, devices, and items connected to your Apple ID. Items like AirTags and third-party gadgets that you need to add manually.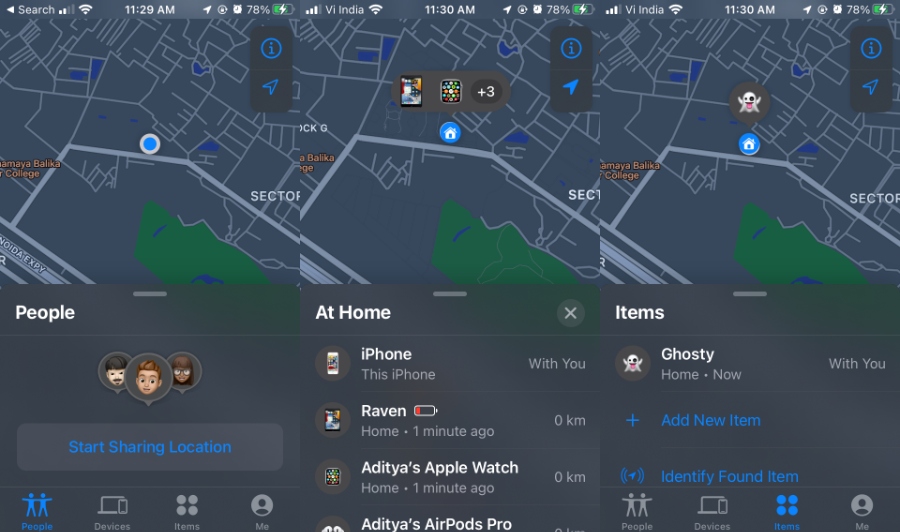 In the case of non-GPS devices like AirPods and AirTag, Find My picks the location of a nearby Apple device and updates it on iCloud. This requires no interaction from the users.
If your device goes missing, you can turn on Lost Mode, which triggers active tracking of your device. Using the app, you can locate your device, play a sound, erase all data, and put an activation lock to make it inaccessible. Find My is also available on the iCloud website so that you can access it on a Windows PC as well.
What's interesting is that your device can be tracked using Find My even when it's offline. A lost device can send encrypted Bluetooth signals to nearby Apple devices and update its Find My network location.
If you are concerned about privacy, you can turn off location sharing on individual devices. Find My is designed so that even Apple can't tell your location or the strange devices used in the process. All the stuff remains encrypted and works in the background, maintaining the stranger device's privacy as well.
Is 'Apple Find My' free to use?
Yes, Apple doesn't charge anything from users who take advantage of the Find My network. However, it may take a fee from third parties who want to make their device compatible.
If you like this simple explainer, check out our Short Bytes section. We take complex tech topics and break them into short, easy-to-understand articles.
More Simplified Tech Topics!